Breitling Bentley watches are one of the most exquisite luxury watches available on the market. The appeal of these timepieces is evident in their breathtaking appearance and the fascinating array of features the brand uses to enhance them. But, what makes these even better is the unique blend of style and functionality, making them perfect for anyone who wants to make a statement with their timepiece.
Buying a Breitling Bentley watch is a worthy investment. These watches are a part of the Breitling watch family. They're designed with the same attention to detail and craftsmanship as other Breitling Chronographs but with a unique look that makes them stand out from the rest. Since its launch, Breitling Bentley watches are a favorite among collectors and watch enthusiasts alike – they appreciate the timeless design and quality craftsmanship. 
If you're planning to purchase a Breitling Bentley, this comprehensive guide makes it much easier to find one that complements your personality and style.
A Product of Long-Standing Partnership Between Two Legends
Breitling and Bentley have long been associated, a relationship that lies in the shared aspiration for accuracy and reliability, precision, and tradition. While bespoke watches have always enjoyed a strong association with automotive racing, it was only natural to add Bentley to the list.
In 2002, the British luxury carmaker, Bentley, commissioned the Swiss famous watchmaker Breitling to engineer a clock specifically for Bentley cars. At that time, only one watch was made to celebrate Bentley's win of Le Mans in 2003.
For these two legends, to work together isn't only reason enough, but also a dream come true. Their watches combine the craftsmanship, technical expertise, and precision of Swiss watches with the unparalleled performance of luxury cars to create watches that are as extraordinary as they are functional.
Together with Bentley, Breitling has unveiled an incredible collection that includes the famous Premier B21 Chronograph Tourbillon 42 Bentley Limited Edition. It's a redesigned model of a 1940′s premiere wristwatch. The years of partnership between them have also led to the release of many special editions of Chronomat and Premier editions, including the B01 Chronograph 42 Bentley, a centenary limited edition.
Soon after these creations, the Breitling Bentley series became a hit among those who appreciate fine watchmaking and well-engineered automobiles.
Why Should You Buy a Breitling Bentley Watch?
Breitling Bentley watches are known globally for their high quality, innovative design, and durability. Beyond quality craftsmanship, here are some reasons to inspire you to buy such a worthy timepiece:
Quality watches blend the unique designs of both Breitling and Bentley.
Limited-edition timepieces are worthy investments.
Feature chronometer-certified chronograph calibers.
Custom-made tourbillon watches.
Can be a valuable family heirloom.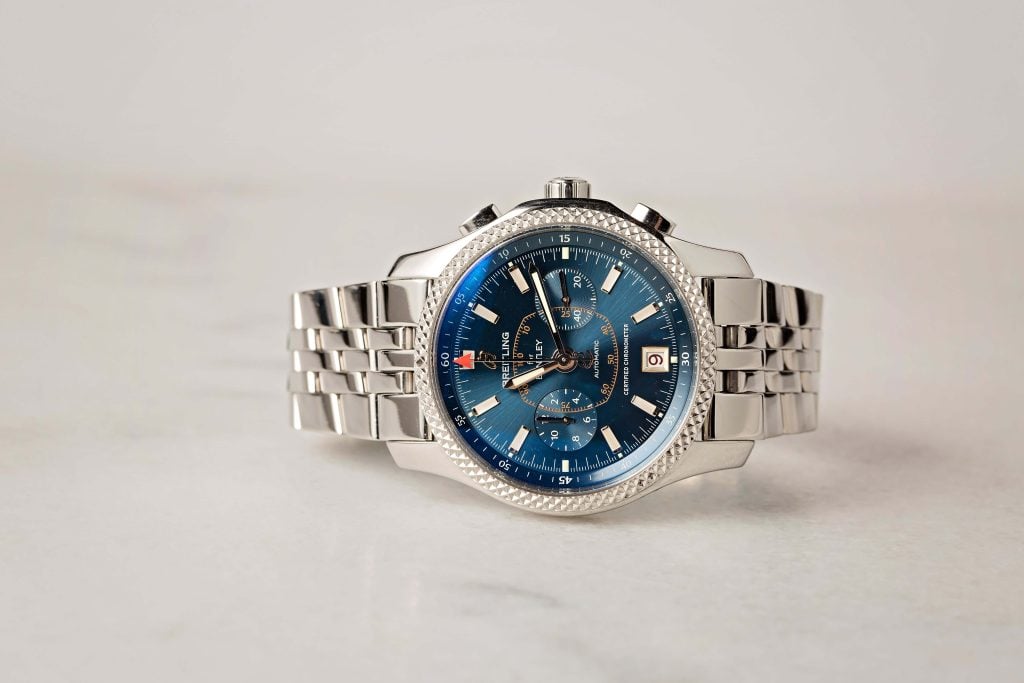 Factors To Consider When Buying Breitling Bentley
If you're looking to buy new or pre-owned Breitling Bentley watches, there are some things that you should keep in mind. These are:
Authenticity
The first thing to look out for when buying Breitling Bentley watches is authenticity. Breitling Bentley watches are widely counterfeited, so it's necessary to ensure that the watch is authentic before purchasing it.
For new watches, you need to look for the manual and warranty card. In the case of preloved watches, licensed sellers like Bob's Watches provide their own guarantee for your peace of mind.
Model
Another factor is determining exactly what type of model you want based on its price range and features, such as dials and gold casing. However, don't forget other details, such as the model, colors, and materials — because these factors can affect the price, too.
Furthermore, ensure that you're getting the right size for your wristwatch. The company has various styles and sizes, so choose one that best fits your needs and preferences.
Budget
The best thing about Breitling Bentley watches is that there are many options available for sale at different prices. You should take your time and do research before making a purchase, so you don't end up with something that costs more than what you intended to spend on it.
Distinctive Features & Design
Over the years, Breitling Bentley watches were characterized by large, masculine cases, whose knurled bezels are modeled after Bentley's famous radiator grilles. The bold design was matched with a myriad of metals and colors — from steel, rose gold, and yellow gold, to dial colors like burgundy, and green. The clean lines and innovative designs make them the epitome of modern luxury watches. Like all models of Breitling watches, the Bentley series is made with a high degree of quality and precision.
The Breitling Bentley series boasts features that make it a popular choice among watch enthusiasts. For example:
Chronograph movement: The chronograph function can be used to time lapse during racing events. It also comes in handy for timing other activities, such as cooking or sports.
Tachymeter scale: It allows users to calculate speed based on the distance covered.
Up to 60-hr power reserve: You don't need to worry about winding your watch every day.
Water-resistant: The watches are water resistant up to 300 meters (1,000 feet).
Alarm function: Users can set reminders and alerts throughout the day.
Luminescent dials: You can easily read the time even in low light conditions.
Broader cases: Their 42mm to 49mm cases are sure to make a statement.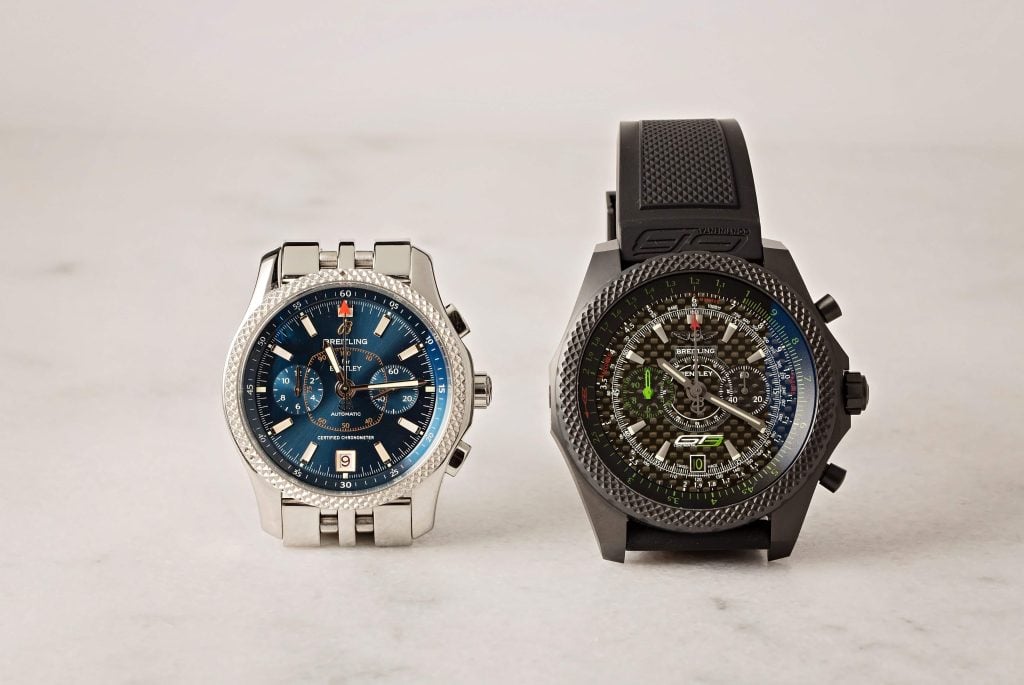 Best Selling Breitling Bentley Watches
Each timepiece in this collection is backed by the technical experience and design aesthetic of both Breitling and Bentley. To make shopping easier for you, here are some of Breitling Bentley best selling models:
Breitling Bentley Chronomat
The Chronomat is a general, all-purpose timepiece. It's a gorgeous modern watch that can be used for almost any occasion. These are sleek and low-profile in design and just fancy enough to be able to work in almost any situation. The watch is fitted with a sapphire crystal and scratch-resistant case, which means that its beautiful design will never go stale.
Breitling Bentley Black Midnight Carbon
A slice of history, the Midnight Carbon series is a homage to the flamboyant motor cars that were designed to conquer the roadways. The entire range honors the rich and powerful automobiles while ensuring they keep their value over time. This chronograph honors the 6.75-liter engine used to power up Bentley Mulsanne limousines using a steel casing, beveled bezel, and a sleek black dial. It also features a black rubber strap and a scratchproof PVD coating for extra durability.
Breitling Bentley Motors GT
Like the Bentley GT, this watch is built for endurance and comes dressed in stainless steel. The day and date calendar window is located conveniently at 3 o'clock so you can view it at a glance. It's equipped with a bi-directional rotating bezel, a stainless steel crown, pushers, and a scratch-resistant sapphire crystal.
Breitling Bentley Mark VI
Innovative and elegant, the Mark VI model is an awe-inspiring timepiece. It features a handsome 42mm stainless steel case with a mesmerizing textured platinum bezel. The textured dial has bold chronograph functionality and coordinating registers, while the white-toned hands stand out against the striking deep blue dial.
Breitling Bentley Chronograph
The Breitling Bentley Chronograph comes in several different styles. However, all have a similar design: the outer ring of the face contains a tachymeter scale, and the inner ring contains three subdials (hour, minute, second). It also has a chronograph function that can measure up to sixty minutes. With its elegant design and features, this watch is sure to make you feel like a million bucks.
Breitling Bentley Centenary
The Bentley Centenary limited edition is the first of a series of commemorative pieces marking Bentley's 100th anniversary in 2019. Powered by the manufacture caliber 01, the dial is inspired from the luxury seats of a Bentley. It features an engraved logo on the left side of the case and a unique number on the back to indicate its limited quantity. A distinctive feature of the timepiece is the unique brown burl elm dial finished with a brown calfskin strap.
Breitling Bentley Mulliner Tourbillon
The Mulliner Tourbillon model is the highlight of the Breitling Bentley collection. It's for the reason that it is made-to-order. It offers a unique customization experience because the owner can choose the preferred material of their case and dial and the wooden finish on the case back. This special collection produces only a few examples each year.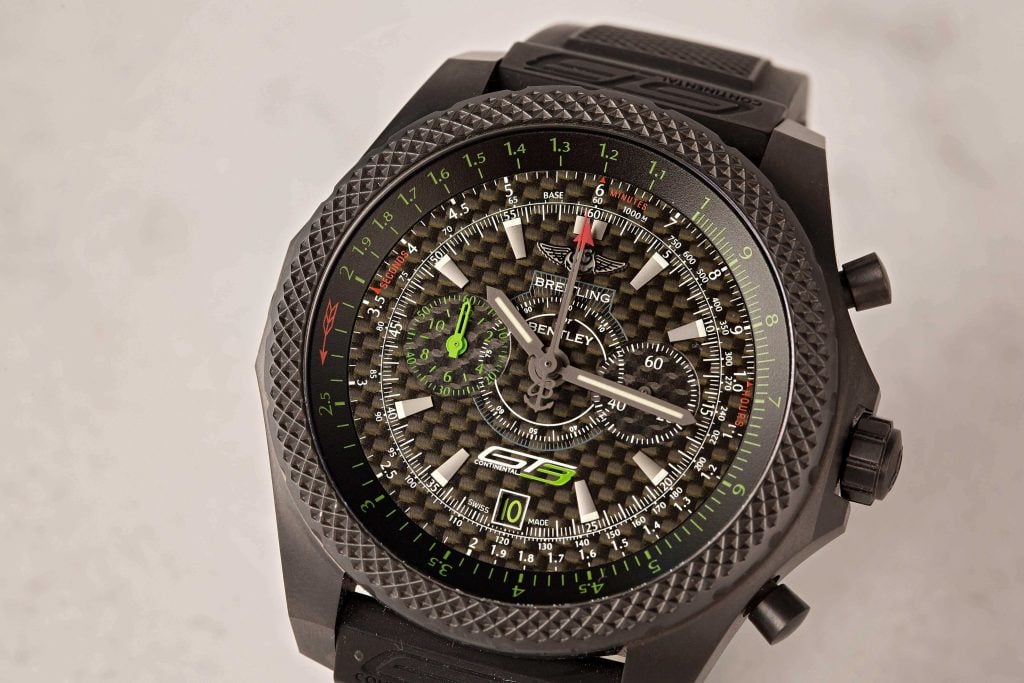 How Much is a Breitling Bentley Watch?
The Breitling Bentley is the blend of two companies that were known for manufacturing luxury watches and cars. The collection of watches has different prices that range from affordable to luxurious, depending on the model and material. The good news is that you can acquire used Breitling Bentley watches at a reduced price tag, yet in a very pristine condition.
Explore Our Used Breitling Bentley Collection
You love Bentley cars, but you don't buy them because they're too expensive for your budget? Fortunately for you, our Breitling Bentley collection can have you wearing an avant-garde watch that looks as luxurious as the automobiles. With Bob's Watches, you can find a Breitling Bentley that meets all of your needs and expectations. Shop our collection today before they're gone.