As we all know, Rolex has never stopped bringing the best luxury watches to the market. The brand prides itself on its leadership and high standards in the world of watchmaking – with its reputation for premier technology, engineering, and durability. One product of this excellence is the Rolex Oyster Perpetual Blue.
The Rolex Oyster Perpetual Blue is a watch you can wear for any occasion. It's the perfect addition to any outfit, whether you're heading to work or going out for the night. The blue face of the watch's face also adds a unique splash of color to any attire and will make you stand out from the crowd.
On the flip side, buying the ideal watch can be confusing as there are many models available. Whether you're looking for a new or used Rolex Oyster Perpetual Blue, this comprehensive guide will help you make an informed decision before making your purchase.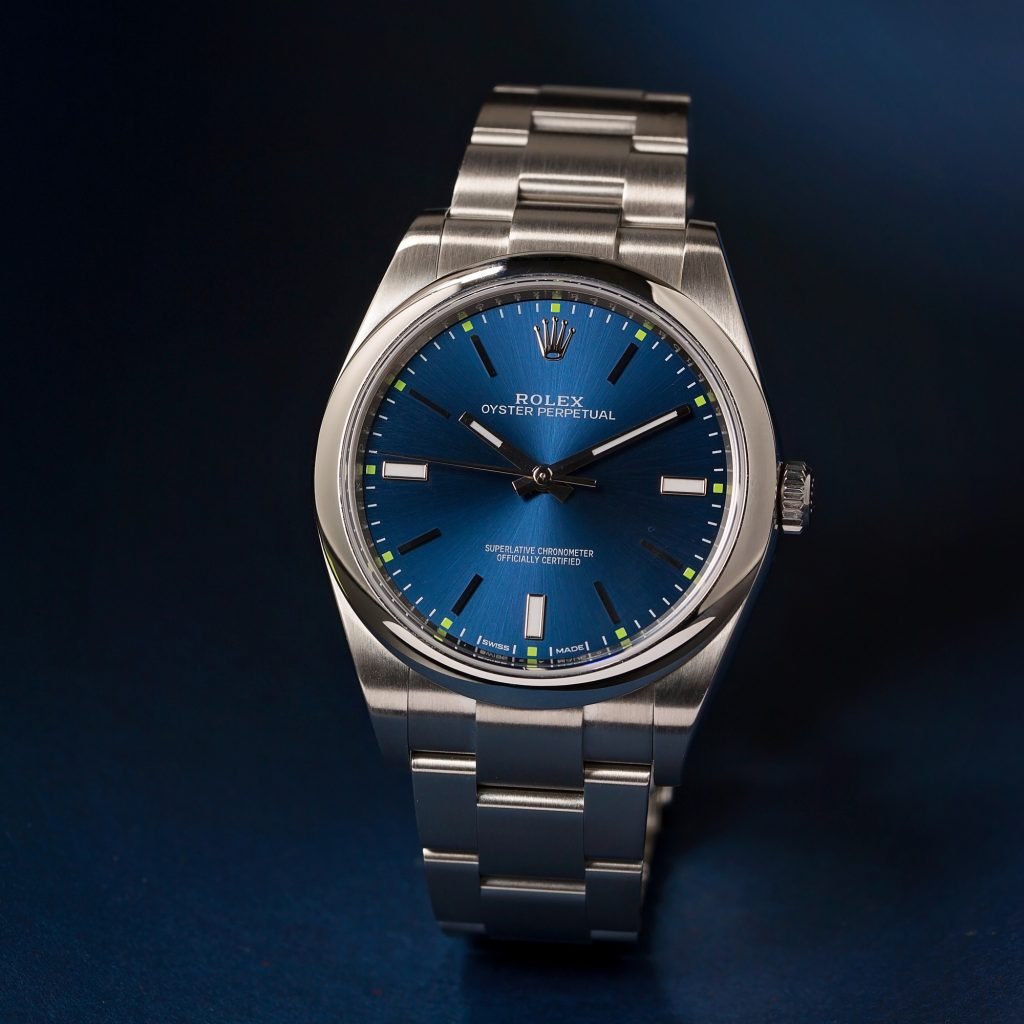 What Is a Rolex Oyster Perpetual Blue?
From the time when timepieces were merely tools, Rolex helped define what has become a timeless model for innovation and prestige. This led to the creation of the Oyster Perpetual family with its various dial colors. The graceful aesthetics of the Oyster Perpetuals are what sets them apart, making them the first choice for any successful person. They represent the timeless form and function firmly rooted in Rolex's pioneering origins.
When it comes to features, the Rolex Oyster Perpetual Blue is no different from others in the Oyster Perpetual series. The only distinctive feature is its blue dial. Other Oyster Perpetuals sparkle in yellow, black, green, or champagne, yet this variant sparkles in blue, boosting its masculinity. The model was originally released in the 1950s and has since been updated to include modern features that make it even more functional and beautiful.
A superlative chronometer timepiece, the dial is simple in design but still manages to look elegant due to its blue color scheme. Additionally, the luminous hands make them stand out against their blue background without being too flashy for everyday use. In fact, many people are drawn to its classic look and quality design. Indeed, it is a piece that will never go out of style – a classic, time-tested design that will always be in demand.
The Oyster Perpetual Blue comes in various styles and features. You can choose between steel or gold cases, as well as with or without diamonds on the face (diamonds are what give it that gorgeous sparkle). Besides, you can also pick one with or without a day-date window. You will also want to consider whether you want Roman numerals or Arabic numerals on your dial, which are both stunning options. They also come in various case sizes (34 to 41mm) to ensure you get the perfect fit for your wrist.
Choosing Your Rolex Oyster Perpetual Blue Watch
Buying a Rolex watch can be an exciting process, but it can also be very daunting. The sheer amount of information available on the internet makes it difficult to figure out which to buy, where to buy it, and how much you should pay for it.
This article will help walk you through the process of buying a Rolex Oyster Perpetual Blue in five easy steps!
Determine Your Budget
The first step in buying a Rolex Oyster Perpetual Blue is deciding on your budget or how much money you're willing to spend on your timepiece. This will help you determine what kind of watch you want and how much you can afford to spend.
If you're on a tight budget but are eager to invest in a luxury watch, we recommend going for pre-owned Rolex. There are several authorized dealers, such as Bob's Watches, where you can purchase used timepieces at a competitive price. The good news is that these watches are carefully examined for authenticity, and are still in good working condition. Thus, you can get the best deals for your hard-earned money.
Identify the Model You Want
To avoid wasting your time, it's best to list your preferred model and compare each one until you come out with a perfect choice. There are several models available in this line, each with its own unique features and design. For example, some models have a day-date on their dials and some don't. You can also choose between an automatic or manual movement. Either way, it's necessary to choose one that fully satisfies your tastes.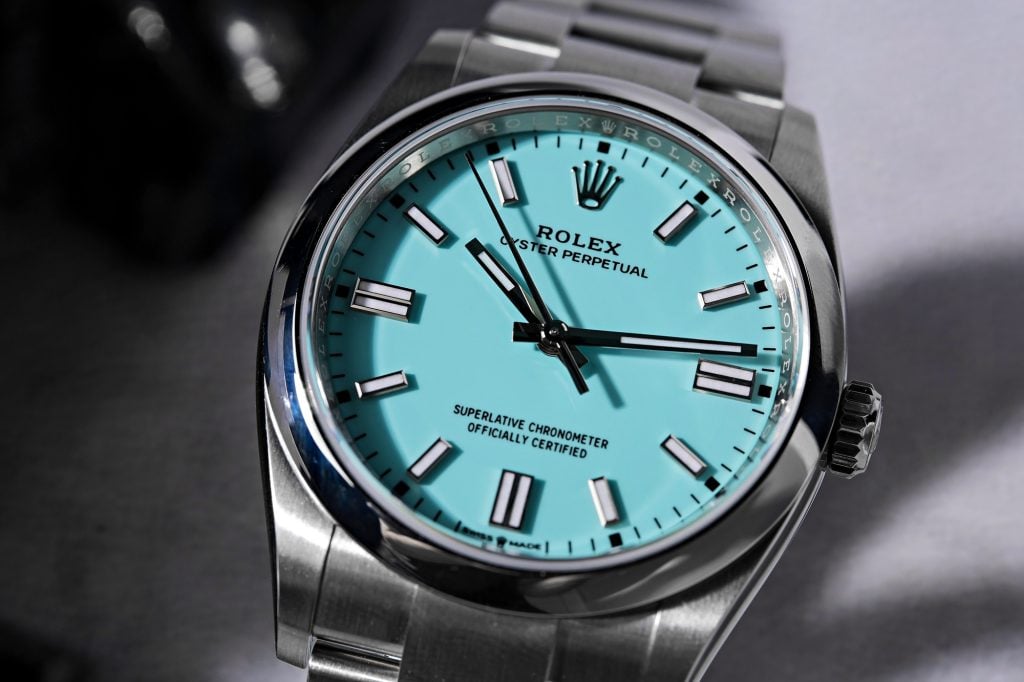 Choose the Band
Moreover, you should also consider what kind of band comes with your watch. For example, the Oyster Perpetual Blue comes with either leather bands or stainless steel bracelets. These specific details can make a big difference in terms of how much wear and tear they can withstand over time. Hence, it's crucial to think ahead before purchasing anything else besides just the watch itself.
Find a Reputable Dealer
Once you have decided on the model, it's time to find a trusted watch dealer who has been around for at least five years or more. This will ensure that they have the experience in selling high-quality, authentic watches. It's also good practice to ensure the company provides a warranty. If they're not an authorized retailer, they may not be able to offer a valid warranty if something goes wrong with your watch down the line.
Enjoy Your Timepiece
Once you have purchased your dream watch, all you have to do is take care of it. A Rolex watch is a worthy investment, so you must proudly wear it and avoid damaging the piece. These watches tend to appreciate over time due to their rarity and quality.
Popular Rolex Oyster Perpetual Blue Models
Among the Oyster Perpetual family, the Blue is one of the best-sellers. This stems from its rich, deep color and quality. The Blue version also has a matte finish that contrasts well with its polished case and bracelet.
If you are on a quest to look for the perfect Rolex Oyster Perpetual Blue, the following are some of the most popular models:
Rolex Oyster Perpetual Blue 124200
The OP ref. 124200 is the latest mid-size addition to the Oyster Perpetual lineup, with a next-generation caliber 2232 movement. It was crafted by Rolex master watchmakers, and features COSC certification. The watch utilizes 904L-grade Oystersteel and has a COSC-rated movement for durability. In addition, it has been fitted with a long-lasting Chromalight Lume on the dial and a comfortable bracelet for extended use. With a clean, sophisticated design, it can look extremely elegant in formal or casual settings alike.
Rolex Oyster Perpetual Blue 114300
When you are looking for a stunningly sophisticated Rolex OP men's watch, nothing beats the ref. 114300. Its sapphire crystal is scratch-resistant, and its face and hands glow in the dark for maximum readability. Its 904L Oystersteel is sturdy, luxurious, and polished to perfection, and is fitted on an Oyster bracelet with a folding clasp, which can be adjusted to fit any wrist. With its eye-catching subdued design, this timepiece looks handsome for any occasion.
Rolex Oyster Perpetual Blue 114200
If you are in the market for a luxury timepiece, this model provides you with a chance to own the finest wristwatch on the market. It was designed to be an affordable yet elegant timepiece, perfect to wear on your next big date or to impress your boss at a business dinner. The OP ref. 114200 is available with an all-steel case and is fitted with a reliable movement that powers it reliably for years to come. It's also eye-catching with its sapphire crystal and blue dial. It can look great when paired with any outfit.
Shop Our Rolex Oyster Perpetual Blue Collection
We understand that buying a Rolex Oyster Perpetual Blue means something to you. That's why we want to ensure that you will own a timepiece that works well and remains accurate, no matter the occasion. Explore our Rolex Oyster Perpetual Blue collection today, and make sure to select your favorite before they're gone.