If you're looking for a wristwatch that embodies timeless style, yet still holds up to modern standards, you'll want to check out the Rolex Oyster Perpetual 36mm. Are you looking to dive into the world of luxury watches? Perhaps you're seeking out an aspirational reward and want to treat yourself to a Rolex watch.
In either case, our comprehensive buying guide will give you all the information needed to find the perfect Oyster Perpetual 36mm for your needs.
The Elegance of Rolex Watches
Before we dive into the numerous Rolex Oyster Perpetual features, let's chat about the brand itself. Why does adding another watch to your Rolex watch collection simply make sense?
Rolex watches have come to represent the epitome of timekeeping excellence. With a history that spans over a century, Rolex has long been hailed for the elegance and intricate design of its classic Swiss timepieces.
Rolex watches are iconic not only for their luxurious style but also for their functionality and reliability. From pilot aviators during World War II to celebrities in Hollywood, Rolex watches have donned the wrists of many famous people throughout history.
This means that Rolex watches provide an elegance that's hard to match. It's no wonder why Rolex watches are so beloved by both collectors and fashion connoisseurs alike. After all, they embody the perfect blend of charm and sophistication.
Each Rolex watch contains a unique blend of classic design details. It's these details that make Rolex one of the leading brands in the world. After all, Rolex is a brand that promises not just extraordinary beauty, but also superior performance over time.
From its coveted Oyster Perpetual line to vintage Rolexes encrusted with diamonds, Rolex has earned its place at the top through decades of passion and dedication.
A History of the Rolex Oyster Perpetual
Rolex Oyster Perpetual 36mm watches have become icons of classic style, the epitome of timeless sophistication.
Originally released in 2014 (the 39mm version was released later at Baselworld in 2015), these Rolex watches have been popular ever since. They remain popular today because of their stylistic versatility. These features allow you to wear them casually or formally, mirroring the occasion.
What's so special about the features? This watch boasts:
Classic round case
Screw-down crown
Rolex's signature three-piece link bracelet
That's not all, of course. But that's part of what makes this beautiful Rolex watch a timeless classic. It comes in a variety of sizes, materials, and colors for both men and women. Overall, this makes it a great gift for any Rolex enthusiast.
Simply put, the Rolex Oyster Perpetual 36mm is an iconic watch that will fit into any watch collection. However, there's a lot more than meets the eye here. Sure, you can expect nothing less than high-quality from Rolex, but what makes this watch so special?
The Rolex Oyster Perpetual Features
Before you decide to treat yourself or a loved one to the Rolex Oyster Perpetual 36mm, make sure you read up on all its features.
This extraordinary watch offers invaluable features. Among them are the Rolex-exclusive self-winding system, waterproof casing that reaches depths of 100 meters, and top-notch precision.
Take the time to check out these Rolex Oyster Perpetual features. It'll ensure you'll be choosing the best and most unforgettable timepiece for your watch collection.
Oystersteel
Rolex's celebrated Oyster Perpetual watches boast unmatched durability and timelessness. This is largely thanks to the Rolex Oystersteel used in every model.
Rolex has managed to create a proprietary type of steel that is corrosion-resistant. This means it can last a long time while maintaining its attractive and sophisticated aesthetic. Not only that but it's crafted with careful consideration of performance.
This watch's 904L low-carbon stainless steel is a formidable combination of strength and corrosion resistance. Then, Rolex tops it off with added copper, chromium, nickel, and molybdenum.
Do you need a day-to-day companion that is fit for any occasion or a sophisticated timepiece for a night out on the town? If so, Rolex's iconic Oystersteel ensures that not just your look, but also your trust in Rolex remains unshakable.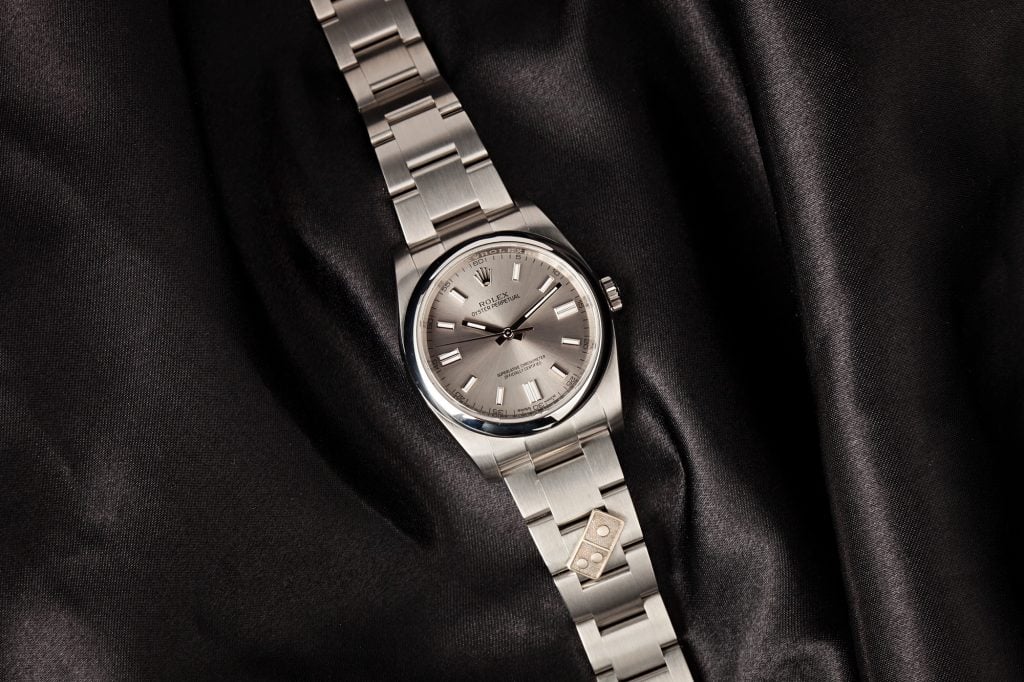 Oyster Bracelet
The Oyster bracelet by Rolex is truly a remarkable piece of craftsmanship. It features the classic flat three-piece links that have been a defining feature of the Rolex brand since the early 20th century.
If you happen to own a Rolex Datejust, Day-Date, or Sky-Dweller then you'll notice this bracelet as it's the same style.
This iconic design is both visually striking and highly durable. It's a combination that has made this signature Oyster bracelet a popular choice for those who appreciate quality watchmaking at its finest.
What sets it apart from the competition is the skillful precision with which Rolex creates each Oyster link. You'll also enjoy its durability under almost any conditions.
Our opinion? Once you experience an Oyster Perpetual bracelet for yourself, you'll understand why this timeless design continues to be sought after by watch aficionados all across the globe.
Clasp
This watch also features an impressive folding Oysterclasp. Proprietary to Rolex, this clasp provides optimal security and comfort. Not to mention, it looks stylish.
Along with the folding Oysterclasp, you'll find the excellent EasyLink 5 mm comfort extension link. This ensures a great fit no matter what size wrist you have. Expect nothing short of excellent Rolex craftsmanship here. It's designed to hold up to wear and tear over time.
Colors
You've got plenty of options for colors with this Rolex watch. This includes colors like:
Candy pink
Bright blue
Green
Silver
Bright black
Turquoise blue
Regardless of which color you choose, you'll enjoy the classic steel dial version adorned with baton indexes. It's just as timeless as Rolex itself. It provides an understated yet iridescent sunburst shine that is elegance personified.
After all, there's nothing quite like owning a Rolex (or wearing one, for that matter). The Rolex Oyster Perpetual 36mm colors embody this sentiment. With over five unique options available, you're sure to find something that ticks all of the right boxes.
3230 Movement
Rolex has gone above and beyond with its Rolex Calibre 3230. Simply put, they're revolutionizing the watchmaking industry with their innovation and precision.
This self-winding mechanism, designed and crafted by Rolex, launched in 2020 and is the epitome of modern technology.
With impressive energy efficiency and great dependability (thanks to Rolex's Chronergy escapement patent), it also stands out for its other features. This includes a long-lasting power reserve and high shock resistance.
All in all, it's no surprise that Rolex Calibre 3230 has made headlines across the globe. With this technology, Rolex has made grand steps towards advancement in the watchmaking industry. However, do note that you'll need to purchase a watch made after 2020 to enjoy this precision technology.
Bezel
Not only are domed bezels aesthetically pleasing, but they serve practical purposes as well. The domed shape of the bezel provides additional protection to the Rolex 36mm dials. This allows them to maintain their precision.
The domed bezel also adds visual depth and detail which, along with other features, give Rolex watches their distinct look. Whether you desire a classic style or a modern twist on tradition, the domed bezel of the Oyster Perpetual 36mm is sure to provide you with an effortless elegance.
Scratch-Resistant Sapphire
The scratch-resistant sapphire on the Oyster Perpetual 36mm from Rolex is something to behold. Because it is scratch-resistant, you don't have to worry about day-to-day use diminishing the look of the watch any time soon.
This sapphire glass is strong and prevents scratches from everyday wear and tear, as well as accidental knocks and bumps. In addition, this scratch resistance ensures that it will be a timeless feature of your Rolex, no matter how old it becomes.
It's an elegant feature that's worth investing in. Plus, who doesn't want to walk around wearing synthetic sapphire on their wrist?
Water Resistance
The Oyster Perpetual 36mm from Rolex is water resistant up to 100 meters, a feature that's pretty typical among Rolex watch models.
The water resistance fine-tunes the look and functionality of your timepiece, giving you the confidence to wear it every day while going about your water-related activities such as swimming or diving in the pool.
And with its impressive water-resistant capabilities, you can enjoy the confidence of knowing that your timepiece could handle most water-based activities and be intact after contact with water.
Power Reserve
The power reserve of a Rolex tells you how long your watch will remain active as it sits untouched in a drawer or jewelry box. Depending on the model, power reserves can range widely.
The Oyster Perpetual 36mm from Rolex, however, boasts an impressive power reserve. It gives it amazing stamina of about 70 hours. This means that whether you're using it daily or storing it away for a special occasion, it'll last quite a bit longer than most watches.
There's nothing quite like knowing you have a reliable and long-lasting watch that won't let you down no matter what your life throws at you. With its power reserve, the Oyster Perpetual 36mm proves its versatility again and again.
Precision
When precision matters, the Rolex Oyster Perpetual 36mm is a timepiece worth looking into. Crafted with precision and dedication, this watch never skimps on performance. Boasting an accuracy of -2/+2 seconds per day, this watch ensures accuracy is never in question.
The beauty of this type of craftsmanship? You can measure every second with precision as you take in life's greatest moments without worries. Outfitted with modern manufacturing techniques and the finest materials available, you can keep track of time with confidence using this Rolex.
Certification
Finally, the Rolex Oyster Perpetual 36mm boasts a Superlative Chronometer Certification. A painstaking process goes into ensuring each timepiece meets the Superlative Chronometer certification standards from Rolex.
However, this certification guarantees precision, power reserve, waterproofness, and self-winding. All in all, the Superlative Chronometer certification extends beyond the traditional standards set forth by Contrôle Officiel Suisse des Chronomètres (COSC).
With these demanding tests in place, it's no wonder why so many people love this watch across the globe.
Rolex Oyster Perpetual Price
So, how much will all of these exclusive watch features cost you? Depending on the size of the Rolex Oyster Perpetual you're interested in, pricing ranges from about $5,800 to well over $16,000. However, the current retail price suggested by Rolex is €5,850. This translates to just under $6,200 for a basic version if you purchase it directly from Rolex.
A word of advice for those purchasing brand-new Rolex watches? When purchasing a new Rolex, be aware that Rolex is highly sought-after and certain models may not always be available. You can only purchase a new Rolex exclusively through Official Rolex Retailers. They determine Rolex allocations and sales to the public.
When it comes to making a watch investment, used Rolex Oyster Perpetual 36mm watches are much more than a wise financial decision. Depending on the condition of the used luxury timepiece, you may be able to purchase one for thousands less than what it sold for brand new.
Not only will you save money, but used Rolex Oyster Perpetual 36mm watches still retain their iconic style and timeless appeal. Plus, used Rolex Oyster Perpetual 36mm watches offer the same superior quality materials and excellent craftsmanship.
This means that, with used Rolex Oyster Perpetual 36mm watches, you experience the prestige and luxury of owning an iconic timepiece for a fraction of the cost. However, we'll dive into the benefits of buying used luxury watches below.
Rolex Oyster Perpetual Wearability
When it comes to wearability, the Rolex Oyster Perpetual 36mm is an unbeatable watch; the unique combination of dependability and classic styling makes it perfect for any wardrobe. Not only do they look amazing, but they are also comfortable to wear.
Rolex's meticulous attention to detail has been in place since 1926 and the Rolex Oyster Perpetual 36mm is no exception. The well-crafted case with its bracelet links makes for a seamless wearer experience. Rolex engineering results in a smooth fit that allows owners to wear their Rolex all day without feeling discomfort or irritation from the strap or buckle.
Whether you're looking for something timeless and stylish, or durable and reliable, the Rolex Oyster Perpetual 36mm ensures you won't be disappointed. Keep in mind, though, that 36mm watches are ideal for people with an average wrist size. However, 36mm is still a relatively small watch and may not be comfortable for those with larger wrists.
There are also other design features to consider, such as the shape of the case and bezel size, that could make a 36mm not quite right for your style and needs. Some 36mm watches come with deployable clasps which provide an adjustable fit and added security when worn.
Ultimately, selecting the ideal 36mm watch is largely dependent on personal preference and wrist size. Keep in mind that there are other Rolex watch sizes to fit your needs. For the Oyster Perpetual, this includes 28mm, 31mm, 34mm, and 41mm.
Benefits of Buying a Used Rolex Oyster Perpetual 36mm
If you're looking for an investment-grade timepiece with timeless style, a pre-owned Rolex Oyster Perpetual 36mm may be a great choice. You find used versions of this classic watch readily available at discounted prices. On top of that, they're also stylish and durable. Here are some benefits of buying a used Rolex Oyster Perpetual 36mm instead of a brand-new Rolex.
Appreciation Value
Buying a pre-owned Rolex Oyster Perpetual 36mm is always a great choice for those looking for a stylish luxury watch. In addition to being a glamorous timepiece, these watches offer appreciation value that you won't find with a brand-new Rolex. Not only will you have an exquisite timepiece, but you can also benefit from the appreciation value of your watch as it ages over time.
With proper care (which we'll get into below), you can expect to appreciate your Rolex to become even more valuable by the day. While it's tough to know how much a luxury watch will appreciate over time, it's a great investment that's worth looking into.
Authenticity
Buying a used Rolex Oyster Perpetual 36mm is an excellent way to get the authenticity of having a Rolex watch. It comes with all of the traditional features and design flourishes that make Rolex a sought-after brand. Plus, it also comes with the peace of mind that comes with knowing its authenticity.
Compared to buying a brand-new Rolex, it can also be more cost-effective in terms of money because you are possibly paying less for your timepiece. Buying a used Rolex ensures that the previous owner took care of it so you don't have to worry about getting a broken or damaged watch.
All in all, when investing in a luxury timepiece like a Rolex Oyster Perpetual 36mm, authenticity is key.
Features
Additionally, purchasing a used Rolex Oyster Perpetual 36mm is an excellent option for those looking to reap the luxury features of a Rolex, without the hefty price tag. While there may be some visible signs of wear, the value of owning and wearing a luxury timepiece should not be overlooked — that timeless design at a much cheaper cost makes it a smart decision.
Despite being previously worn, all luxury features remain intact and present in a used Rolex: durability, reliability, diamond accents, and exquisite handcrafted details.
Quality
If you love precision then you'll love the Rolex Oyster Perpetual 36mm for sure. However, combine that precision with Rolex's signature craftsmanship and quality and that's what makes this watch such a great option.
When purchasing any used Rolex, you can take advantage of the fact that Rolex watches can last for many years. This means you will benefit from these same benefits as if you had purchased the watch brand-new.
Whether you choose a new Rolex or a used Rolex Oyster Perpetual 36mm, you can trust that your watch will be reliable and last for years to come. Additionally, Rolex watches make perfect keepsakes that you can pass down through generations.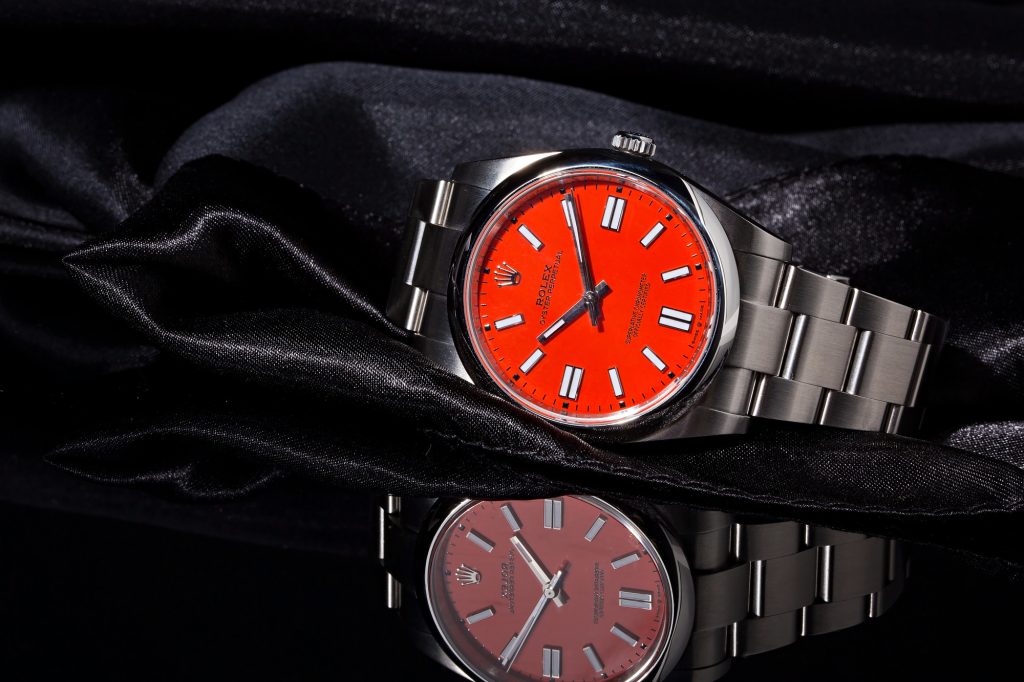 How to Care for a Rolex Oyster Perpetual 36mm
Are you set on getting a new Rolex watch? If so, you'll want to ensure you know how to properly care for your investment. When it comes to caring for a Rolex Oyster Perpetual 36mm, the advice we have is similar to the care instructions for other types of Rolex watches.
Fortunately, when it comes to how to care for a Rolex watch, specifically the Oyster Perpetual 36mm, your watch will require minimal effort. To maintain its shine, lightly clean the watch every once in a while with a microfiber cloth.
Moreover, you can wash the case and bracelet occasionally with soapy water and a gentle brush. Before doing so, it is important to make sure that the winding crown is properly screwed down against the case for ensured waterproofness.
With a little bit of care, your Rolex will stay looking great for years to come.
Rolex Oyster Perpetual vs. Datejust: Which Is Better?
If you're in the market for a new or used Rolex watch, you've likely seen a few other models around, right? Namely, the Rolex Datejust is a pretty popular option for watch enthusiasts. After all, the Rolex Oyster Perpetual and Rolex Datejust are two of Rolex's most beloved models. However, which one is better?
The Rolex Oyster Perpetual has a timeless design and comes in multiple sizes while the Rolex Datejust has a classic look that never goes out of style. Both watches feature:
Precision movement
Sapphire crystal face
Unique Rolex winding crown
Various sizing options
The major difference between the two is the fact that the Rolex Datejust also offers date functions including a date window at the 3 o'clock position and instant date change (which is not currently present on Rolex Oyster Perpetual timepieces). Likewise, the Datejust features a Cyclops lens over the date and a five-piece link Jubilee bracelet. This lends itself to a slightly more classic look.
Ultimately, both of these iconic timepieces from Rolex are fantastic additions to any watch collection. Choosing between them will largely depend on personal preference when it comes to design and mechanics.
Alternatives to the Rolex Oyster Perpetual 36mm
Has all this talk about Datejust piqued your interest in other types of Rolex watches? We don't blame you. With so many options available, it's important to consider your needs and preferences before deciding to buy a Rolex Oyster Perpetual 36mm. If you're on the fence about this watch, here are some alternatives you can compare it to before you make your purchase.
Vintage Rolex Datejust
The vintage Rolex Datejust is an iconic watch that has stood the test of time. Dating back to 1945, this classic wristwatch exudes sophistication and timeless elegance. Not only has it graced the wrists of many esteemed individuals over the years, but its distinctive look sets it apart from any other watch on the market.
Available in various colors and styles, its unmistakably beautiful design makes this watch attractive. Combine that with superior craftsmanship and you've got a watch that can be cherished for generations. Whether you buy it for yourself or as a gift for someone special, owning a vintage Rolex Datejust is something to be proud of.
Is a vintage Rolex right for you, though? We believe so. When buying a vintage Rolex, you're buying a piece of history. These vintage watches respond to the impressive demand from connoisseurs around the world. That's why their market value has seen a surge in recent years. Recently, auction houses report record prices for watches of historical significance.
Take the 2017 example of a highly-coveted Rolex Daytona Paul Newman. It sold for over $17 million. With the potential for appreciation value being so high, buying a vintage Rolex is an excellent idea for any seasoned collector or novice enthusiast alike.
Omega Seamaster
You don't have to buy a Rolex watch to enjoy a piece of timeless, elegant history. Brands like Omega and Tissot offer similar styles and levels of quality. The Omega Seamaster is a great example of an equally luxurious alternative to the Rolex Oyster Perpetual 36mm.
The Rolex Omega Seamaster is truly a marvel of modern watchmaking. With its distinctive design, quartz movement, and robust materials, it stands out from the crowd. Not only does this watch look great, but it also offers some impressive specs too. Its sapphire crystal glass is resilient to scratches and boasts a water resistance rating of up to 30 atmospheres or 300 meters.
The luxury watch also has luminescent hands and hour markers as well as unidirectional rotating bezels for improved timekeeping accuracy. For those with an eye for detail, there's a range of dial colors available, all enabling the Rolex Omega Seamaster to exude style and elegance.
Tissot Gentleman
Similar to Rolex, the history of the Tissot brand is a long and prestigious one. Founded in 1853 by Charles-Felicien Tissot and his son, Charles-Emile, Tissot has been producing exquisite timepieces for nearly two centuries.
Initially crafted in large part from recycled pieces of pocket watches, the Tissot brand quickly gained traction during its founding years due to its commitment to high-quality work. As the company expanded, Tissot pushed itself to innovate further and expand upon their already strong reputation.
This included pioneering features such as scratch-resistant faces; a technological breakthrough that had a major impact on the watchmaking industry at the time. Today, Tissot continues to be an incredibly popular choice among watch aficionados around the world thanks to its renowned history of crafting quality products with unsurpassed precision and attention to detail.
One great option? The ever-popular Tissot Gentleman. The Tissot Gentleman is a modern men's watch that is designed for the contemporary gentleman. It features elegant Swiss craftsmanship as well as an innovative technology for a luxurious timepiece.
The features of this watch include a round stainless steel case and black dial with 3 Tissot T-hands that are rhodium-plated, plus six indexes inlaid with luminous material for maximum readability in all lighting conditions. Its quartz movement ensures precise timing and long life for years of reliable use.
Tissot Gentleman also has a scratch-resistant sapphire crystal glass covering the dial, along with an impressive 100m water resistance rating adding to its already robust construction and design. With incredible specifications and craftsmanship, Tissot Gentleman will be a timeless addition to any man's collection of watches. They're also a slightly more cost-effective option.
Buying Rolex Watches: Are They a Good Investment?
Walking you through some alternatives to the Rolex Oyster Perpetual 36mm isn't meant to stray you away from the Rolex brand. However, investing in a Rolex watch is a major decision that deserves careful consideration.
On the one hand, investing in a Rolex can bring you a considerable financial payoff if you buy it right and sell it at the right time. On the other hand, investing in a Rolex may not be as stable as investing in stocks or bonds because the values of vintage luxury watches can change drastically due to limited market availability and repair costs.
If you're planning on purchasing a used Rolex watch like the Oyster Perpetual, here's what you should keep in mind before investing.
Consider Supply & Demand
Investing in a Rolex watch is no small decision, because of the high demand for secondhand Rolex watches. However, that doesn't mean all Rolex watches are good investments as not all models increase in value over time. Therefore, it's important to consider the supply and demand of different Rolex pieces when thinking of investing in one.
Supply and demand can be important factors when looking at which model could appreciate significantly in value over time. Overall, investing in a Rolex watch involves doing research and being aware of which models represent the best investments over time.
If you want to own a watch considered an investment piece, then it's important that you consider not only the production date but also how many were produced and whether they're still popular today.
Take a look at what's currently popular on the Rolex resale market and what kinds of prices those watches are being offered for. Lucky for you, the Oyster Perpetual 36mm is still quite popular today. Not only that, but the value of a used Rolex Oyster Perpetual is quite a bit higher than other similar watches such as the Tissot Gentleman.
Think About Future Availability
If you're looking at buying a Rolex watch as an investment piece, it's important to consider the future production and availability of the timepiece. Rolex makes its watches using high-quality materials that generally hold their value well over time. However, if availability is limited, the value of your watch could increase over time.
A reduced availability could increase its desirability and also make your watch a more sought-after item in the watchmaking world. For you, this could translate into a potentially higher resale value. Overall, thinking about availability can help ensure you are purchasing an item that not only holds its value but may even appreciate over time.
Purchase Professional Watches
When in doubt, you can pretty much always rest assured that professional watches will be a better long-term investment than sports watches. For starters, professional watches tend to have greater longevity and can therefore last longer than their more sporty counterparts.
Additionally, professional watches tend to be more carefully crafted. They're usually made up of higher quality materials that better stand up over time. Finally, you're often able to wear professional watches in a variety of settings and occasions. They usually feature simple yet universally-appealing designs, making them the ultimate choice when looking for an investment piece.
Consider the Material
Finally, when it comes to investing in a Rolex watch, the material is an important factor to consider. Steel watches are generally the ones that yield the highest value in the long run. This makes them an ideal choice for those looking for an investment that can appreciate value.
Sure, some argue that having a watch made out of precious metal will maintain its material value if market interest disappeared. However, this generally isn't the case when it comes to luxury watches.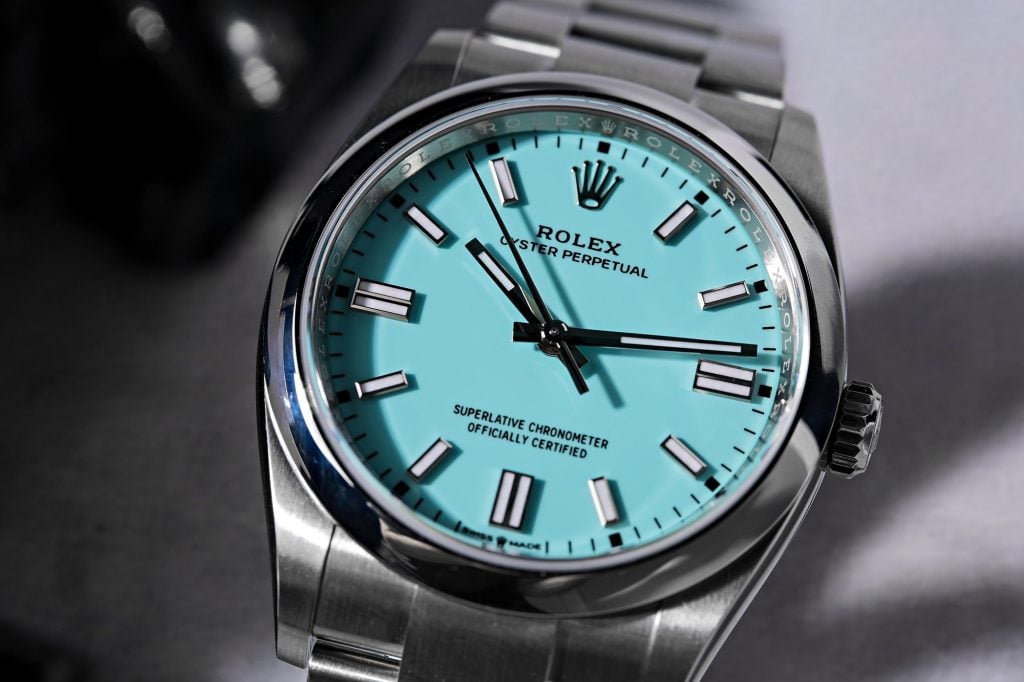 Is the Rolex Oyster Perpetual 36mm a Good Investment?
With the above-mentioned factors in mind, is the Rolex Oyster Perpetual 36mm a good investment? Yes! The Rolex Oyster Perpetual 36mm is a great investment option for those looking for a reliable watch that offers excellent value for money.
This timeless design is known for its durability thanks to its Rolex Oyster case and self-winding perpetual movement. It also features subtle yet exquisite details such as the hour markers and Rolex logo engraving which add to its luxury appeal.
While Rolex watches are typically an expensive purchase, the Rolex Oyster Perpetual 36mm tends to hold its value well. This makes it an excellent investment piece. This is especially true for those who are looking to build or add to their collection of watches.
Overall, this Rolex watch is ideal for both casual and formal occasions, so you can be sure your Rolex Oyster Perpetual 36mm watch will last you through any situation. Invest in this timeless classic today and enjoy years of reliability backed by renowned Swiss craftsmanship.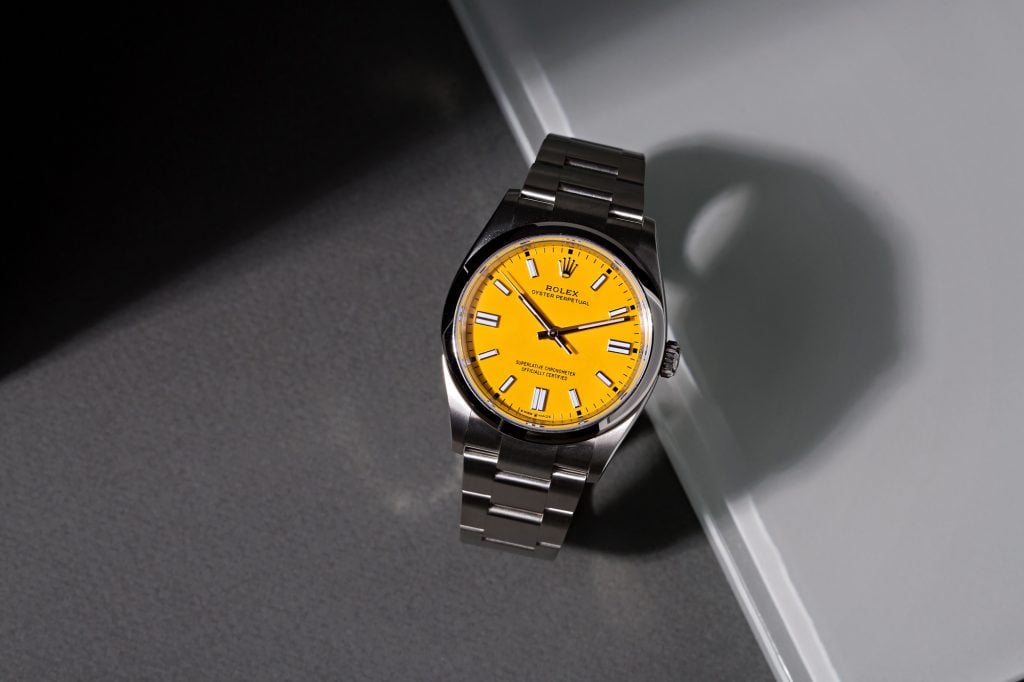 How to Choose the Best Oyster Perpetual Watch
With so many watch sizes and colors available, how do you choose the right Rolex Oyster Perpetual for your needs? There are several factors to consider when settling on the perfect watch.
Firstly, take into account your style. Decide whether you prefer a simple look or something a bit more daring. Additionally, choose a size that fits comfortably on your wrist. A watch that is too small or large can be uncomfortable for everyday wear.
Finally, pick a color that complements your wardrobe and lifestyle. Ultimately, with careful consideration, you'll be able to choose the perfect Rolex Oyster Perpetual watch that best suits your needs.
Overall, your chosen watch should serve both practical purposes such as possessing the right level of waterproofing and a timeless look that you'll enjoy wearing for years to come. Fortunately, Rolex has an ever-changing selection of watches that can satisfy any taste or need, no matter how unique. Take the time to do research and find the perfect watch for you.
Are There Rolex Oyster Perpetual Financing Options?
Are you ready to buy a used Rolex Oyster Perpetual 36mm? Great! We're here to help you find the right watch for your needs. One of the main questions we receive, though, is regarding financing. With a price tag of well over $5,000, many people wonder whether they can finance a used Rolex or not.
At Bob's Watches, the answer is yes! If you've found the Rolex Oyster Perpetual 36mm you're interested in, follow these three steps:
Choose the watch you want on our website
Select "Paypal" and then "Paypal Credit" as your payment option when you check out
Follow the instructions for approval and then select your desired payment plan
Likewise, if you're purchasing a watch that's worth over $9,000, you can also finance it through Klarna. With this option, you'll be able to finance your new luxury watch over 6, 12, 18, 24, or even 36 months.
Find Your Rolex Oyster Perpetual 36mm
At Bob's Watches, we provide an extensive collection of used Rolex Oyster Perpetual 36mm watches at unbeatable prices. Our selection features watches from all different years and styles, and we make it easy to find the perfect one for you. We offer a quick process so you can find your Rolex watch today. Browse our available offerings to find the right look for you. If you need help, feel free to reach out to us with any questions!