Ho, ho, ho! The holidays are fast approaching! Although we have yet to cut the turkey and give thanks for the people and things that we're grateful for, it probably isn't too early to start practicing your best "thank you face" – just in case your friends or family gift you with a beautiful luxury watch this holiday season. 
We always say that luxury watches make the perfect gifts. That's why we have put together the ultimate holiday gift guide to aid you in your search for the perfect watch to give this year. Suggestions range from the most iconic pieces that the industry has ever produced to lesser-known gems hiding just off the beaten track. As always, we have mixed in a little bit of something for everyone, so you can find that perfect watch that strikes a chord with your timepiece-adoring loved ones.
The Best Holiday Gift Watches
$5K and Under
Have you budgeted $5,000 or less for a luxury watch gift for a loved one? Then you'll be happy to know that there are plenty of options in this price range. Here are three of our favorite pre-owned luxury watches for men priced at $5,000 and under. 
Omega Planet Ocean
One of Omega's most popular sports models, the Planet Ocean is the brand's beefy saturation dive watch that can withstand depths of 600 meters (2,000 feet). Its design characteristics include a helium escape valve protruding from the case at 10 o'clock, a 60-minute rotating timing bezel, and 3, 6, and 9 numerals on the sleek dials. While Omega makes the Planet Ocean in several materials colorways, steel with black and orange details is the classic choice. 
Tudor Heritage
As its name suggests, the Tudor Heritage collection is home to vintage-inspired watches that draw inspiration from the brand's archives. From mid-century divers and field watches to 1970s chronographs, the Heritage line is ideal for those who like the combination of retro aesthetics and modern specs. Some great options include the Heritage Ranger, Heritage Black Bay, Heritage Advisor, and Heritage Chrono.
Breitling Navitimer 8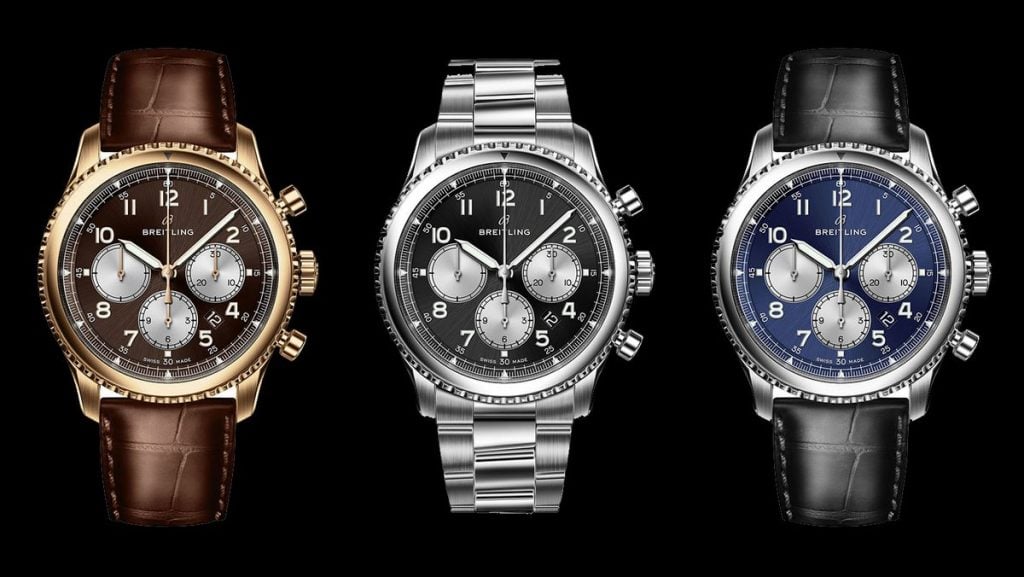 Navitimer 8 watches are pared-down versions of the famous Breitling Navitimer pilot watch, borrowing design cues from the eight-day power reserve onboard clocks made by Breitling's Huit Aviation Department from 1938 onward. Not only are Navitimer 8 watches more streamlined in their designs compared to the original Navi, but they're also generally more affordable. 
$10K and Under
The choices of pre-owned luxury watches for men between $5,000 and $10,000 are abundant, ranging from classic to sporty – and some in between. Here are our top three picks for men's watches priced at $10,000 and under. 
Panerai Radiomir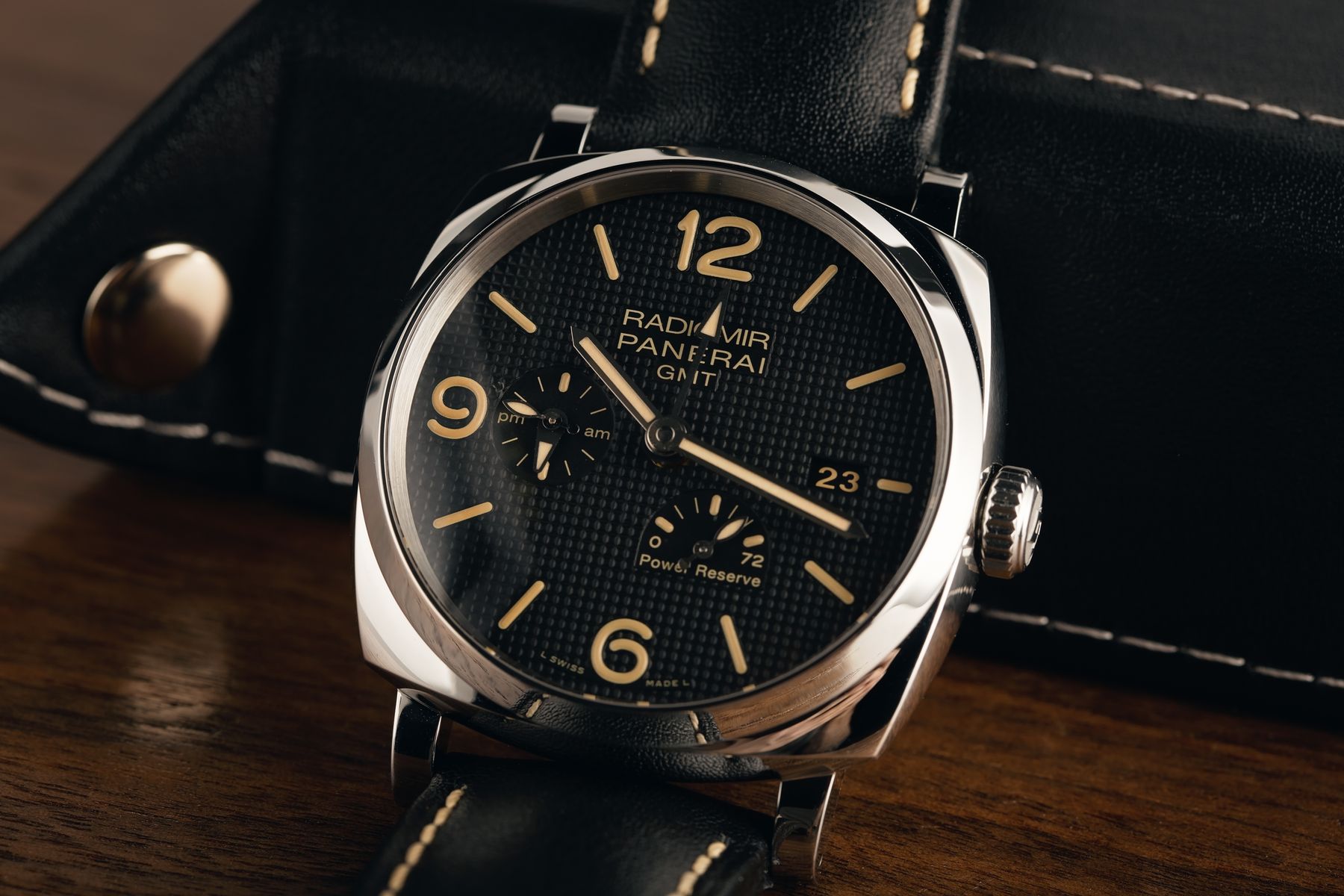 With their large cushion-shaped cases, exaggerated dials, and oversized winding crowns, Panerai Radiomir watches are one of the most recognizable high-end watches ever made. A Panerai is often what one thinks of when the words "wrist presence" are brought into the conversation. What's more, they look essentially the same as when they were developed for the frogmen of the Italian Royal Navy at the onset of World War II. 
Rolex Air-King
The Air-King is one of Rolex's longest-running collections, and these stainless steel watches come in two distinct flavors. Those made pre-2016 are compact (generally 34mm) and feature understated three-hander dials in muted tones like silver, white, and black. Conversely, modern Air-King watches made in 2016 and after sport larger 40mm cases and more flamboyant black dials that include a combination of hour markers and minute markers, along with green accents and a bright yellow Rolex crown. Regardless if you go with the older style or the newer one, Air-King watches are fantastic Rolex watches to gift this holiday season.
Rolex Datejust 16233
A two-tone Datejust is the quintessential dress watch and the ref. 16233 from the 1980s and 1990s was the must-own timepiece of its era. Some say the combination of steel and yellow gold is making a comeback, but we say it never left – it's a genuine classic that offers the best of both worlds. While the Datejust 16233 is available with a sportier Oyster bracelet, we'd argue that the dressier two-tone Jubilee bracelet would be the superlative choice. After all, the Jubilee bracelet was made especially for the Datejust watch and it's a beautiful pairing. 
$20K and Under
If your watch gifting budget stretches to $20,000, then the world is your (Rolex) oyster. Here are three legendary Rolex watches to give this season, all priced at $20,000 or less.
Rolex Submariner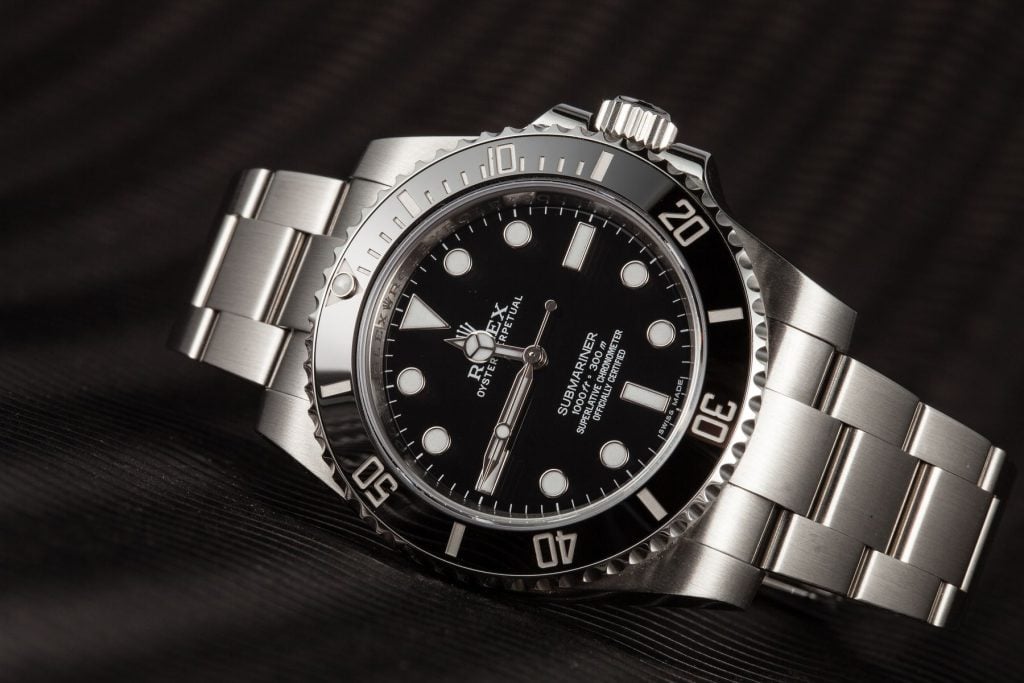 There are diving watches, then there are Submariners. The Rolex Submariner has set the standard of what a high-end diver should be for almost seven decades now and its appeal continues to go from strength to strength. Whether you opt for archetypal steel and black variants, collectible steel and green variants, or flashier two-tone and blue variants, you can't go wrong with a Rolex Submariner.
Rolex GMT-Master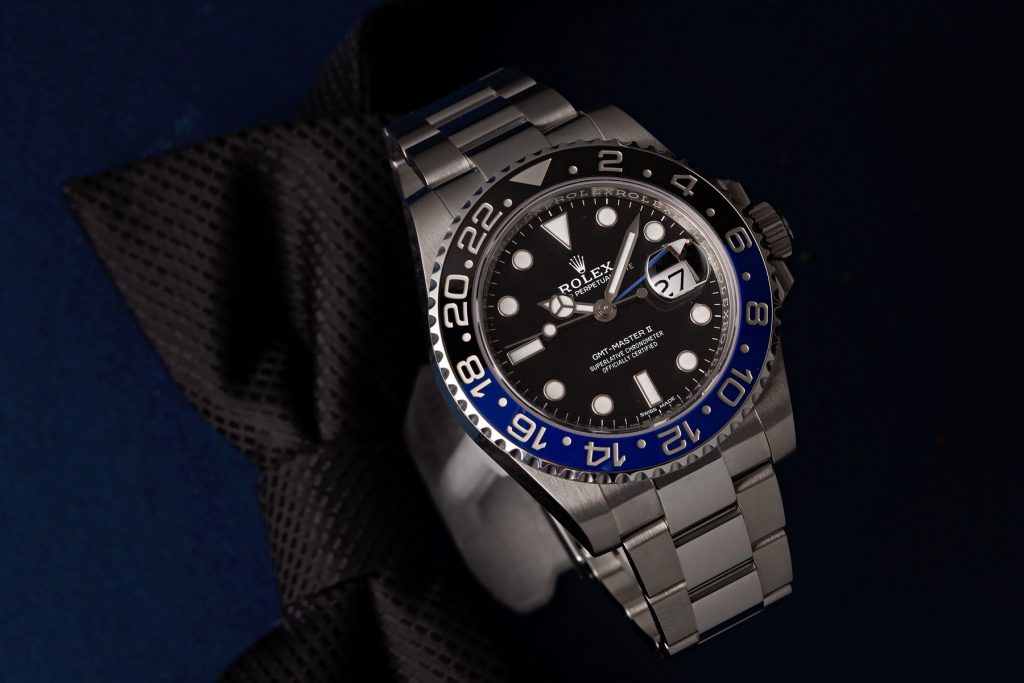 The Rolex GMT-Master is as attractive as it is functional, offering wearers a way to track multiple time zones at once if need be. The GMT-Master's signature trait is its rotating 24-hour marked bezel, which Rolex has made in a plethora of colors over the years. There's the blue and red "Pepsi," the black and red "Coke," blue and black "Batman," brown and gold "Root-Beer," black and green "Sprite," and even a monochromatic black one. Whichever bezel you choose, make no mistake, a Rolex GMT-Master pilot watch is an outstanding gift to give any time of the year.
Rolex Datejust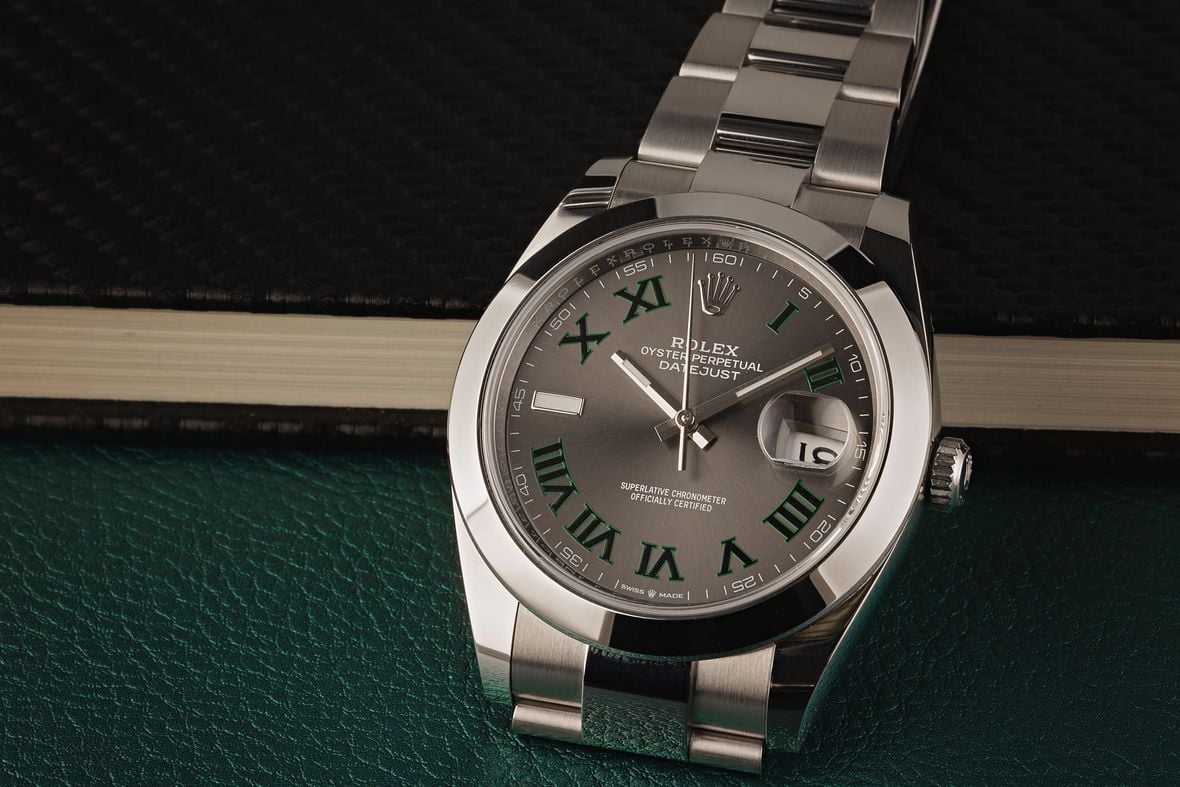 The Datejust is Rolex's most varied collection, offering an assortment of sizes, materials, bezels, bracelets, and dials. And with up to $20,000 in your pocket, the selection of men's Datejust watches that you could buy is immense. You could go with the classic 36mm or the more modern 41mm case size. Then there's the choice of sturdy stainless steel or a luxurious mix of two-tone gold and steel, not to mention choosing between a traditional fluted bezel or a sleek smooth bezel. They're all great; it's just a matter of deciding what style would suit the lucky soon-to-be Datejust recipient best.
Unlimited Budget
When the price is not a concern when buying a top-tier timepiece, then you gotta go with the icons, also known as today's hype watches. With an unlimited budget, we suggest the following three watches, which are, to put it bluntly, the most coveted on the planet.
Audemars Piguet Royal Oak
Born in the 1970s and now Audemars Piguet's flagship watch model, the Royal Oak, designed by Gerald Genta, established the luxury sports watch genre as we know it today. The watch's bold style, comprising of an eight-sided bezel with exposed screws, an integrated bracelet, and a hobnail "tapisserie" dial, is one that watch enthusiasts go (with good reason) crazy for. Not only is the Royal Oak lineup a broad one with too many sizes, metals, and complications to list, but there are notable spinoffs too such as the beefier Royal Oak Offshore and the futuristic Royal Oak Concept.
Patek Philippe Nautilus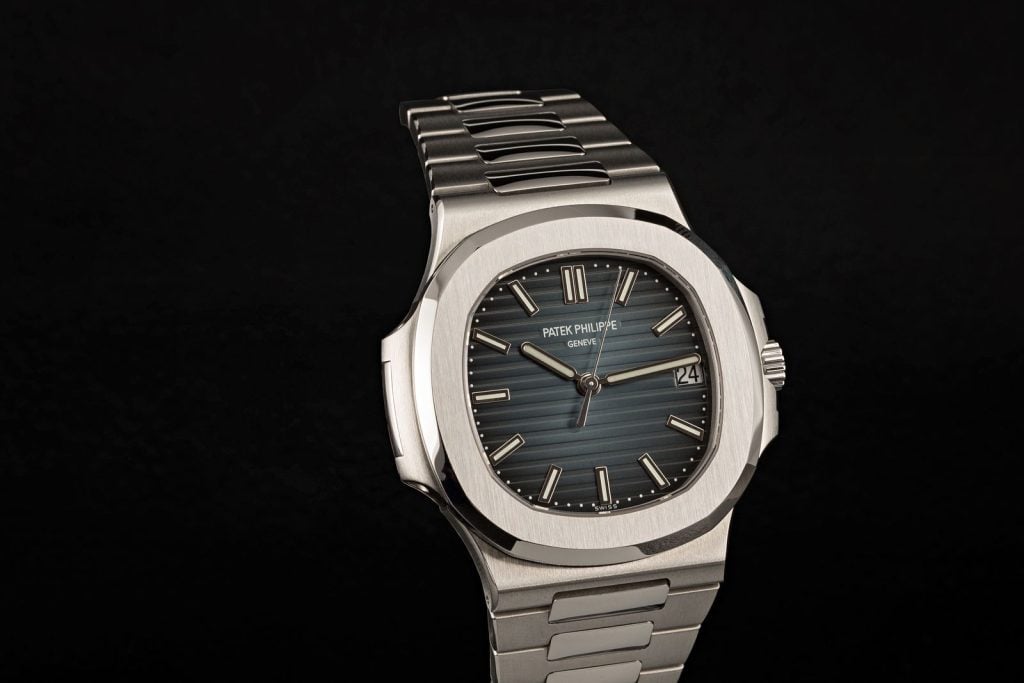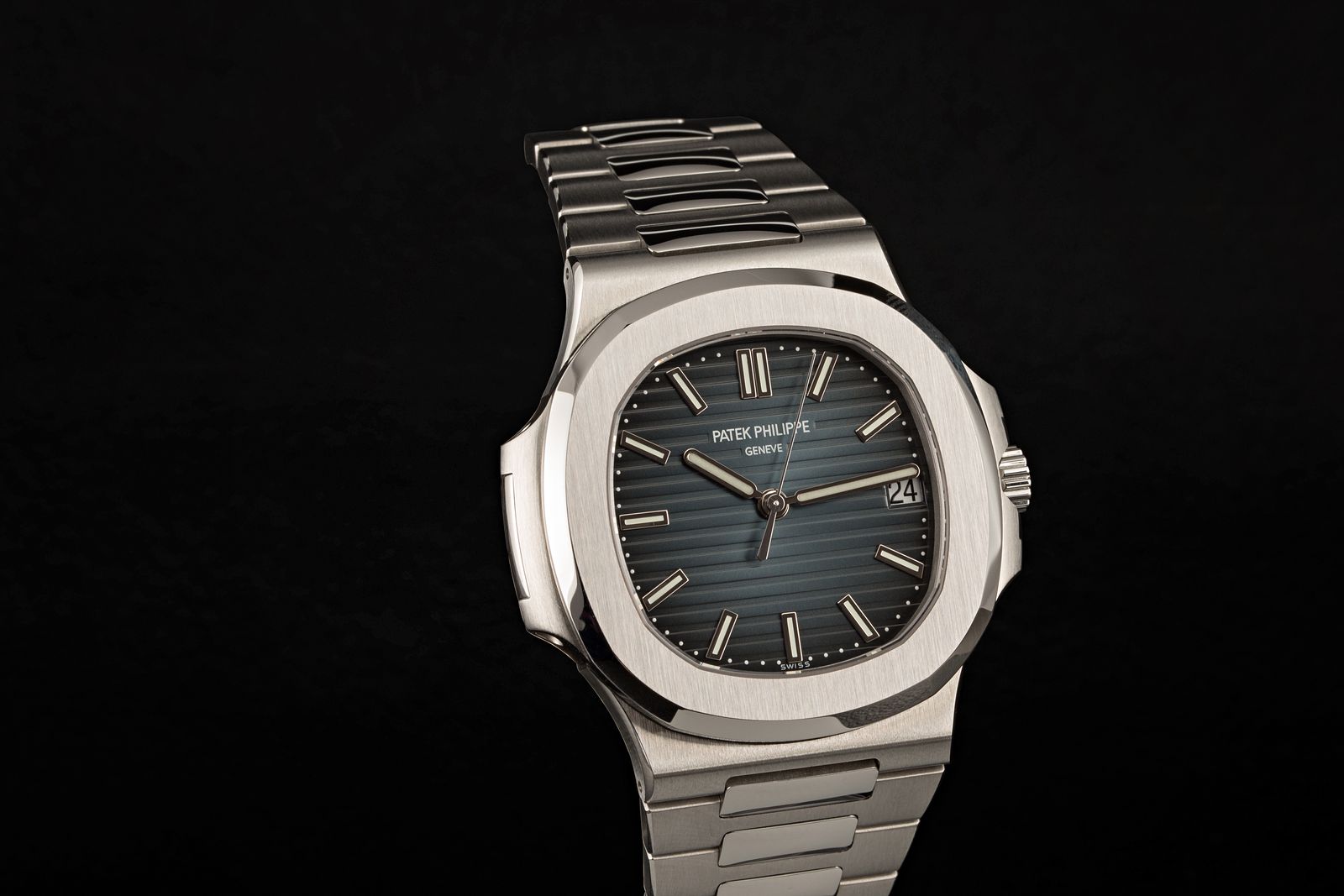 Yet another Gerald Genta luxury creation from the 1970s, the Patek Philippe Nautilus is a casually cool (as casual as an insanely expensive watch can be) take on the ultra-luxurious sports watch. Its case is fashioned after a porthole, which is topped with a rounded octagonal bezel. It's often paired with an integrated bracelet and while the most popular choice is the simpler time and date Nautilus in steel, in true Patek Philippe fashion, it's also available in a range of precious metals and complications.
Rolex Daytona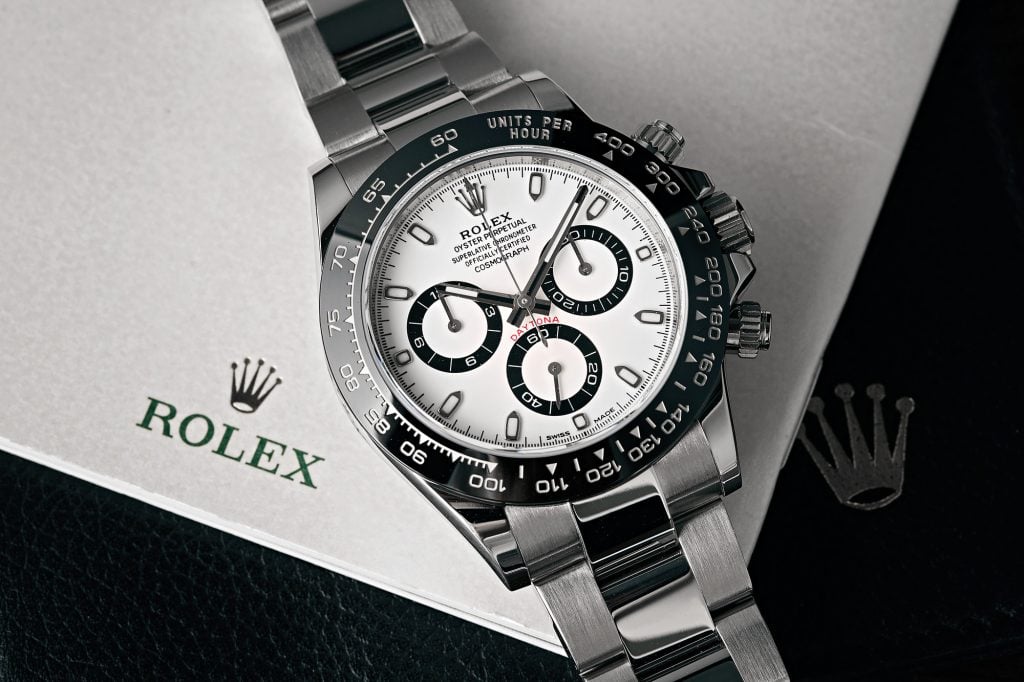 The Daytona made have had a slow start when Rolex released it in the 1960s but it has since transformed into the brand's most coveted watch series. Vintage Daytonas are the grails of serious watch collectors while modern Daytonas are notoriously near-impossible to find at authorized retailers. In short, to own a Rolex Daytona chronograph is a dream of many, so to gift one would be exceptionally impressive.
Women's Watches As Gifts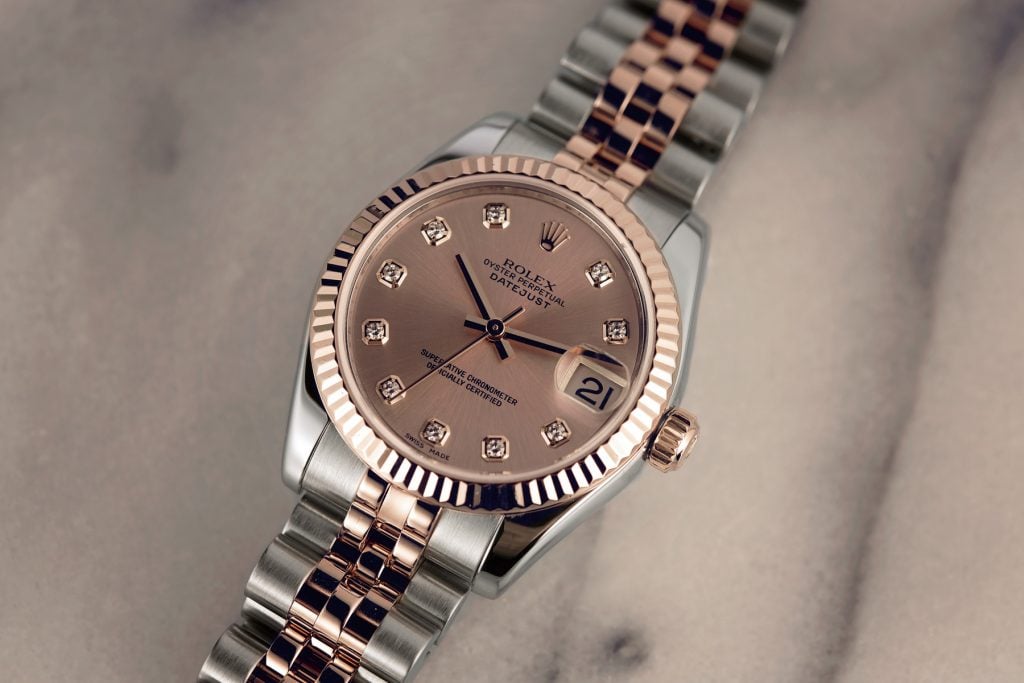 Rolex Ladies Oyster Perpetual 67194
With its compact 26mm steel case, white gold fluted bezel, and white dial with Roman numerals, an Oyster Perpetual 67194 is an excellent everyday Rolex watch for her. It's also one of the more affordable women's Rolex watches you can find, priced below $4,000.
Cartier Tank Française
So many of Cartier's creations go on to become mainstays in the luxury watch landscape but none are as famous as the Tank. Cartier has developed countless iterations of the rectangular Tank since the watch's debut in 1919 and the Tank Française, which is defined by its integrated chain-link bracelet, is a relatively modern variation that's beloved by women watch wearers everywhere.
Rolex Lady Yacht-Master 169622
The Yacht-Master is the only Rolex sports watch that is available in a multitude of sizes, including petite versions. For instance, the Lady Yacht-Master 169622 includes a 29mm steel case, which is paired with a sandblasted platinum bezel and dial. The texture of the dial and bezel of this chic monochromatic sports watch is especially striking in the sun thanks to how it captures light.
Rolex Oyster Perpetual 34 Pink
In 2020, Rolex unveiled a new collection of colorful Oyster Perpetual watches in various sizes, all of which went on to become immensely popular. The pastel-colored dials, such as this playful Candy Pink version, were especially popular. The 34mm case of the Oyster Perpetual ref. 124200 looks great on a range of wrist sizes and like all modern Rolex watches, its three-link Oyster bracelet is supremely comfortable.
Rolex Lady-Datejust 279171
The Lady-Datejust is Rolex's flagship women's watch collection, filled to the brim with options to suit various styles and budgets. However, we're particularly partial to this glamorous number that combines a two-tone steel and Everose gold case and bracelet with an olive green dial accented with diamond-set hour markers. It's a beauty.
Rolex Pearlmaster 80319
The Rolex Pearlmaster, which takes its name from its distinct Pearlmaster bracelet, is an ultra-exclusive range of women's jewelry watches. These gorgeous pieces are exclusively crafted in polished precious metal and almost always decorated with diamonds. The Pearlmaster 80319 is a 29mm white gold version, set with a dozen gleaming diamonds on the bezel.
Rolex Lady President 179178
The "President" version of a Lady-Datejust is one that's entirely fashioned in precious metal and paired with the renowned three-link President bracelet. The Rolex 179178 is an enduringly elegant pick, made in 18k yellow gold and frequently fitted with a diamond-set dial. When it comes to giving a fine ladies' dress watch, it doesn't get much better than the Lady President.
Patek Philippe Ladies' Annual Calendar
For a connoisseur of complications, the Patek Philippe Ladies' Annual Calendar is an exquisite choice. The white gold case is sumptuously decorated with diamonds on the caseband and bezel while the blue leather strap matches the blue dial flawlessly. However, the real star of the show is the annual calendar complication, which indicates the day, date, month, and moon phase beautifully on the dial and only requires one adjustment per year. Truly a show-stopping watch gift to give her this holiday season.
Watches for The Jet-Setter
For all of the air-mile hoarding, wanderlust-ridden, itchy-footed globetrotters, we have assembled a hanger full of options to help you navigate your way towards a purchase.
In the Jet-Setter category, you'll find all of the usual suspects that never seem far from seasoned travelers' wrists, as well as a host of nuanced options that work just as well for the experienced collector or the industry neophyte looking to set themselves apart from the pack.
Watches for the Driver
It is pretty common for those who have an interest in watches to also have at least a passing interest in automobiles. Given the significant differences in terms of size and functionality, there would initially seem to be very little overlap between watches and cars, but the cross-appeal of these two items doesn't really come down to cost at all – it's all about the mechanics, intricacy, and artisanship of both disciplines. And if your loved one is a closet motor-head, why not drag them out into the light with a motor-sport-themed timepiece?
On the track, a fine wristwatch can be used to time a car's performance and while off the track, it becomes an ever-present companion on long drives to nowhere. Both cars and watches are known for pushing the boundaries of what is possible in pursuit of incremental gains in speed or accuracy – and as such, the wealth of options available in the Driver category is vast.
Watches for the Collector
Buying watches is not necessarily the same as collecting watches. Certain types of watches, typically those with immense provenance rooted in history, appeal most to those looking to build a collection that focuses either on a particular style of watch or attempts to assemble an assortment that collectively gives an overview of the entire industry.
At the very highest echelon, watch collecting may not even be about wearing a piece, and so the regular considerations that run through the minds of would-be purchasers may not always apply. In the Collector category, we put forward a selection of luxury timepieces that takes these niche desires into account, and zeroes in on the rare and important pieces that collectors frequently aim to add to their watch boxes.
Watches for the Pilot
Not many of us can take to the skies in the cockpit of a plane and have the controls at the mercy of our fingertips; however, for some people, this is a regular daily occurrence. And for others with a keen interest in aviation and its history, pilot's watches and other models inspired by those who live above the clouds make for the perfect everyday timekeeping companions.
Known for large, highly legible dials and simple cases with large and easily-operated crowns (for use while wearing gloves), the pilot watch genre is one of the fastest-growing within the luxury watch industry. Some of the most advanced models in the Pilot category are fitted with travel-ready features such as chronograph complications or even the ability to simultaneously display multiple time zones.
Watches for the Classic Man
The idea of what it means to be a man is changing, but how a gentleman chooses to outfit himself has remained remarkably constant over the years. Classically-sized watches (those with smaller diameters and slimmer profiles) have enjoyed a renaissance recently – and that is good news for the dapper man looking to add a vintage or heritage-inspired piece to his collection.
In the Classic category, dressier styles and precious metals become a common theme, and watches that look more at home with a finely tailored suit than board shorts and sneakers are the order of the day. In terms of aesthetic longevity, it is (and always has been) hard to beat the timeless aesthetic of a traditional wristwatch.
Watches for the Athlete
Sports watches are an extremely popular category of timepieces due to their dynamic styling, robust cases, and highly-capable movements. Models from this genre of wristwatches tend to be made for active use with grittier designs, a function-first mindset, and reliable workhorse calibers. While only a few professional athletes wear luxury timepieces while competing, those that pursue extreme sports often find themselves in need of a mechanical companion to go along with their regular electronic kit.
The Athlete category encompasses both the watches the modern-day adventure would wear en route to the summit of Everest, alongside the vintage models used by explorers of the past. This includes contemporary tool watches that offer the latest and greatest technologies and also the early dive watches that Jacques Cousteau can be seen slipping onto his wrist before strapping on an air tank and descending into the depths of the ocean.
Watches for Him and Her
With more women than ever interested in luxury watches and the craft of traditional mechanical watchmaking, an increasing number of brands are now producing horologically-interesting models that can be comfortably worn (and look great) on any wrist, regardless of size or gender. The His & Hers collection consists of amazingly versatile watches with appealing designs and versatile case sizes that can effortlessly be worn by both members of any couple.