The Ultimate Luxury Accessory to Your Personal Style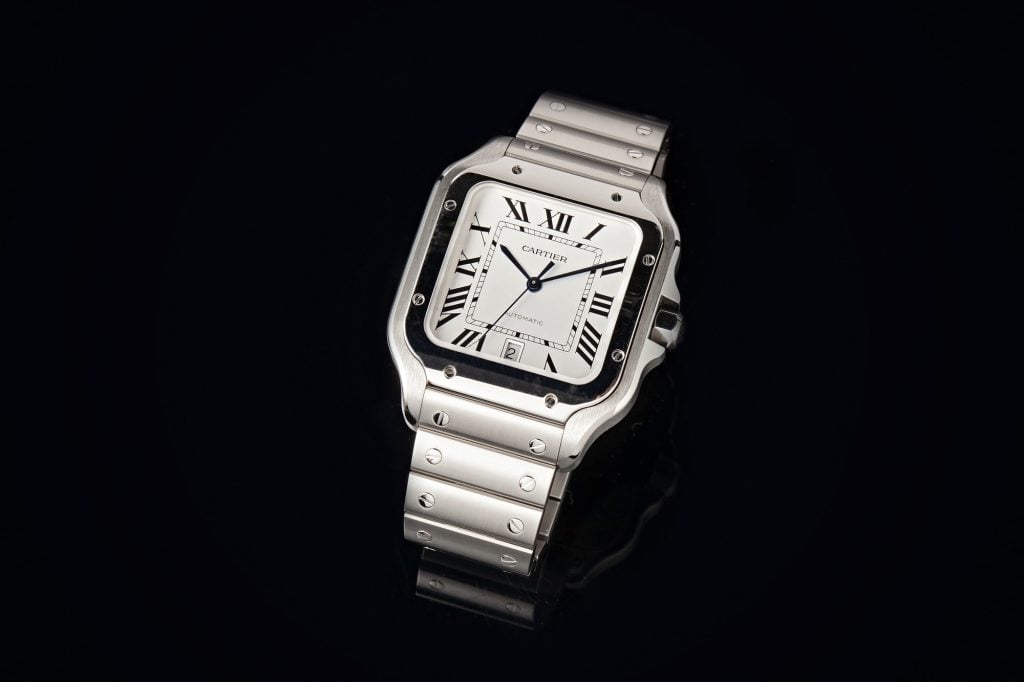 A Classic Timepiece to Be Treasured
No matter who you are, you have definitely seen a round watch. While circular timepieces are comfortable, it may be time to spice things up with a square watch. Square watches may not be everyone's choice, but we're not talking about ordinary watches. Many square watches are among the most popular and influential watches ever made. If you are looking for a square watch with the most iconic designs, look no further than Cartier Santos. This square dial is not only stylish but also quite rare.
History of the Cartier Santos
Cartier Santos is one of the popular collections within the Cartier brand. It has been in existence for more than 100 years. The Cartier Santos first came to in 1904 when Louis Cartier made a watch for his friend—Alberto Santos-Dumont. The Brazilian aviator asked Louis Cartier to craft him a watch that didn't need him to remove his hands from the plane's controls. Named after the pilot, the timepiece features a square case inspired by the architectural symmetry of Paris.
While it was created in 1904, the Cartier Santos was officially launched and named in 1911. Over the years, the watch changed in style. Today, the watch models of Cartier Santos luxury are available in a wide variety of styles to choose from.
Shop from the Best Cartier Santos CollectionSantos de Cartier
In the 1970s, there was an introduction of new luxury sports watches. From the Patek Philippe Nautilus to Audemars Piguet Royal Oak, these were high-end pieces made in stainless steel. In the wake of these revolutions, Cartier used his Santos collection to capitalize on the new trend. He redesigned and renamed his original Santos watch to Santos de Cartier in 1978. The watch features an integrated bracelet made of stainless steel instead of the customary leather strap. This gives it a sportier look.
The series also is home to intricately skeletonized models and chronographs. There is a wide selection of Santos de Cartier models available in stainless steel, gold, and two-tone types with three hands. The large timepiece measures 39.8mm, while the medium is 35.1mm. The XL version adds an extra 4mm to the case width.
Cartier Santos 100
A predecessor to the Santos de Cartier, the Santos 100 premiered in 2004. It was in honor of Santos' 100th anniversary. Aside from being more striking than the original watch, this was the first Santos model to feature a crown guard. The Roman numeral hour indices grew consistently with the case size. Its modernity also shows in the watch's case materials. You can find it in various versions, including carbon, titanium, the infamous stainless steel, and traditional gold. There are also watches with black ADLC coating.
Cartier Santos Dumont
Introduced in 2004, the Santos-Dumont is the closest to the original 1904 Santos timepiece. This model's most outstanding features are the square bezel with rounded corners and the decorated crown fixed with a blue cabochon. This watch retains the same style and shape as the iconic Cartier Santos. But replaces the automatic movement with a more simple quartz movement. Also, the location of the characteristic minute track moved from the center of the dial to the outer edge.
The change to the internal mechanisms of the timepiece allows consumers to buy a model of the Cartier Santos at an attractive price point. The Santos Dumont comes in various sizes and is available in stainless steel, rose gold, or yellow gold. All the timepieces in this series come on a high-quality alligator leather strap.
Cartier Santos Galbée
Cartier never fell behind on trends when it came to movements. The Santos Galbée from 1987 used advanced quartz movements. This model of the Santos is a little curvier than the former editions. If you are a collector, you may appreciate the curved, smooth look of the case. The radical redesign of the Santos Galbée changed from the iconic square shape to something smoother. Additionally, the new design sits closer to the wrist, making it much more comfortable to wear.
Cartier Santos Skeleton
This timepiece is an ultra-luxe version of the Santos. It features a stripped-back skeleton dial for maximum visual appeal. The skeleton reveals the manually wound 9611 MC movement. In addition, the bridges of the watch take the form of Cartier's iconic Roman numerals.
Cartier Santos Ronde
Cartier Santos Ronde also launched in the 80s. The physical attributes were more drastic compared to other Cartier Santos watches. It set itself apart with its round case, round dial, and octagonal bezel. Its releases were in gold, stainless steel, as well as two-tone editions of the watch. This timepiece was also available in both automatic and quartz models.
Why You Should Buy a Cartier Santos Watch Versatility
The Cartier Santos has a lot of exceptional attributes associated with it. If you are a Cartier watch aficionado, you can choose from rose gold, stainless steel, or yellow gold versions of the watch. As for watch bracelet options, the Cartier Santos gives you plenty of options to select from.
You can opt for a watch with a leather strap, stainless steel bracelet, or gold bracelet. If you want a taste of all, you should consider buying Cartier Santos models that come complete with interchangeable straps. Whether you want a flashy or modest style watch, Cartier Santos offers variety to match consumers' tastes.
Comfortable
Wearing a square-shaped watch doesn't have to feel unnatural when it comes to the Cartier Santos. Watches in this collection have a unique and precise design, providing an excellent wearing experience. Since it features a proper aesthetic alignment, the square watch will look beautiful on your wrist. While it may look square, it feels round thanks to the way it curves around the lugs. This makes it even more comfortable. What's more, the Cartier Santos can fit a wide range of different wrist sizes.
Unique Case Design
One of the most vital aspects of Cartier Santos is its case design. It's offered in two different case sizes – large and medium. The design of the timepiece stays true to the original with some subtle upgrades. It still has the distinctive eight screws that stud the square bezel. But it has a tapered bezel, spreading out to the lugs. This gives the case a more up-to-date look. Additionally, the case is currently rated to 100m of water resistance.
Durable
You don't want to spend money on a watch that damages in a few days. Cartier Santos is guaranteed to give you value for your money. They are extra sturdy and resilient. For instance, Cartier Santos watches coated with a black Amorphous Diamond-Like Carbon (ADLC) are the right fit if you're looking for durability. The ADLC coating is ultra-hard, serving to boost the case's resistance to impact and scratches while still enhancing its sleek look. The watch is also resistant to corrosion, making it more robust.
Stylish and High-Class
If you're in search of a watch that's sturdy and also refined, it may be time you consider buying a Cartier Santos watch. They are not only chic but also have an excessive class to them — from the design to their materials. Each collection has a beautiful and enthralling story it. This makes it a fashion statement that highlights the love of heritage. Cartier Santos watches are ageless and can complement anything you wear. Whether you are going to a business meeting, party, or casual hangout, these timepieces can also suit any occasion.
Good Investment Option
Cartier Santos watches are not only known for their perfect timekeeping but are also a commendable investment. They have great value. When you buy them, they are likely to command a decent price in the resale market even after use.
The Movement
With the Cartier Santos, you can expect an in-house built movement powering the watch. The watches have a mechanical movement with automatic winding—caliber 1847 MC.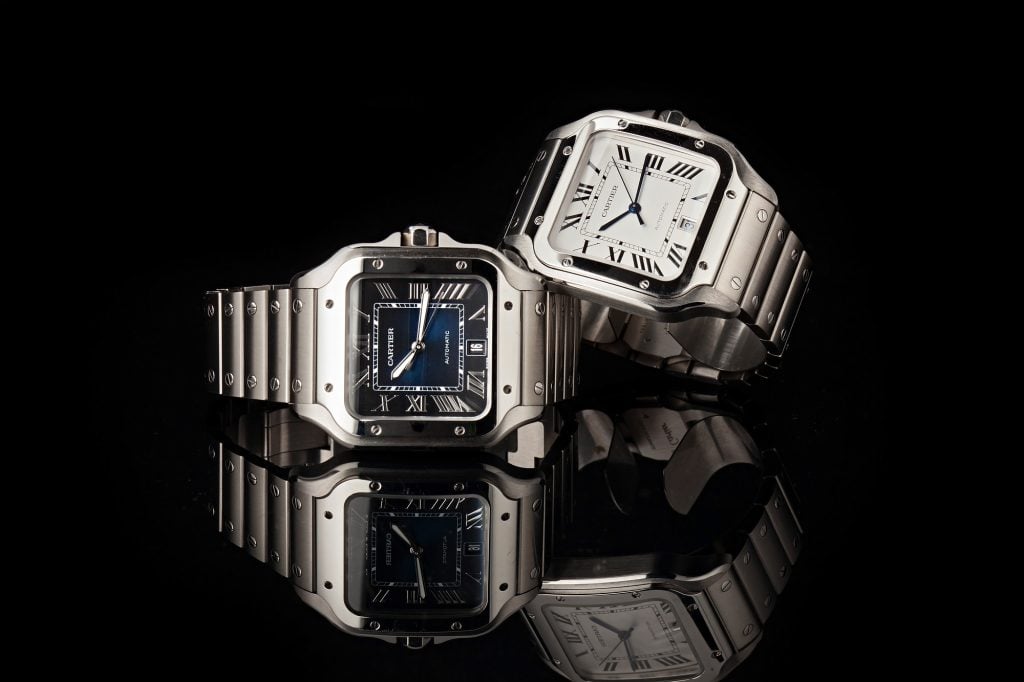 Cartier Santos Price
The cost of a Cartier Santos goes from $3,500 to $120,000, based on several factors. The price you get will depend on the version of the Cartier Santos watch you want, the condition of the timepiece, and the seller.
Who Wears The Cartier Santos?
Cartier Santos has earned itself a legion of fans, including some of Hollywood's best-dressed men. Jake Gyllenhaal was the face of the Santos when it was introduced in 2018. Actor Regé-Jean Page and Academy Award winner Rami Malek was also spotted wearing Cartier Santos-Dumont. British actor Tom Holland is also a fan of the Santos 100. Oscar winners Daniel Kaluuya and Mahershala Ali were both seen sporting the Santos Skeleton on the Academy Awards red carpet.
Buy a Piece of Luxury That's Yours Alone
Looking to own the robust and luxurious Cartier Santos watch? Look no further than Bob's Watches. We're a leading online marketplace for buying, selling, and trading used Cartier watches.
Our pre-owned Cartier exchange offers the best prices through our low-price guarantee. We meticulously inspect and authenticate our luxury watches by third-party experts to ensure you get 100% authentic timepieces. Get yours today.