Do you want to invest in a classic Cartier Tank watch? Find out everything you need to know before your purchase one or browse our exclusive collection today.
The Timeless Luxury and Power of the Cartier Tank Watch
Cartier is most known for its exquisite jewelry, but its Cartier Tank watches are in a class all their own. These iconic watches are known for their clean lines and unparalleled craftsmanship. They have developed a cult following, worn by some of the most influential people in the world. If you want to invest in a high-quality watch with superior design, look no further than the Cartier Tank watch. Continue reading to learn more about these treasured pieces, or shop our collection of authentic, pre-owned Cartier Tank watches today.
History of the Cartier Tank Watch
The Tank watch was created by Louis Cartier in 1917. Inspired by the French Renault FT-17 tank in World War I, these watches feature clean lines, Roman numerals, and a rectangular face. They also feature their signature blue hands and blue cabochon-cut stone set in the winding crown. The original prototype had a leather band, but today's pieces also feature gold, stainless steel, and other metals.
Cartier gifted this first watch to American General John Pershing, who served as the commander of the American Expeditionary Forces (AEF) on the Western Front in War I. Since then, this innovative watch has been worn by Princess Diana, John F. Kennedy, Jacqueline Kennedy, Muhammad Ali, Fred Astaire, and many other influential people.
What Makes Cartier Tank Watches Unique
Cartier Tank watches hold a special place in the world of fashion. They offer innovative designs and timeless style that instantly elevates the status of the person wearing them. Their versatile modern style appeals to both men and women, offering understated elegance. They are ideal for black-tie affairs but are also simple enough to be worn every day. With superior performance, they are designed to last a lifetime with proper care and are meant to be passed down to future generations.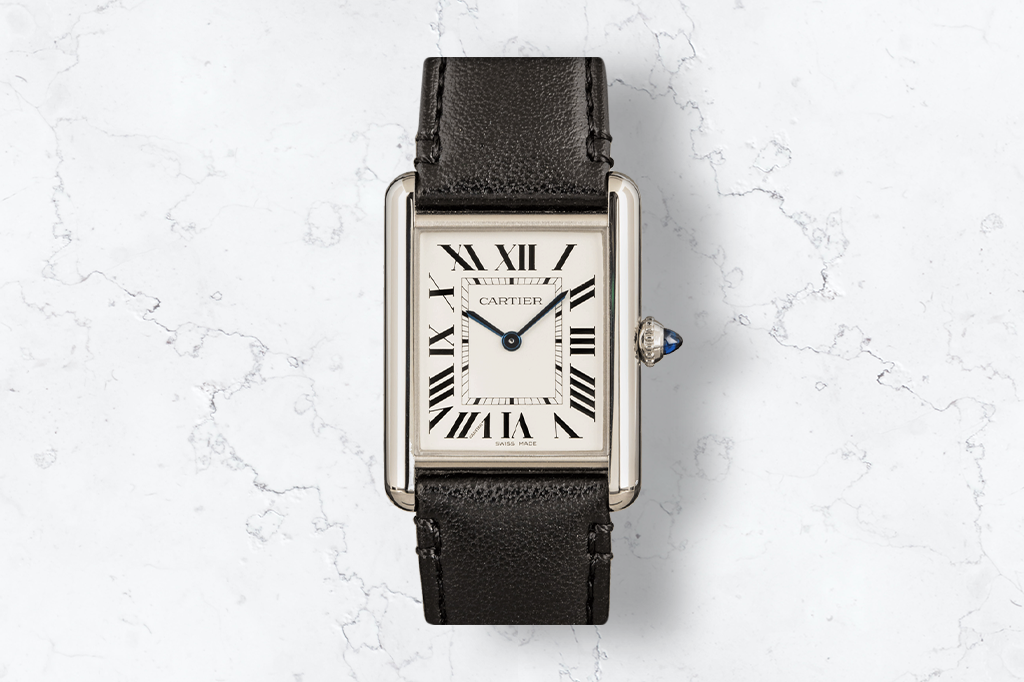 Vintage Cartier Tank Watches
Cartier initially only produced six of these watches, which were released publicly in 1919. Since then, there have been several different versions and designs. Learn more about some of the most popular Cartier Tank watches.
Cartier Tank Normale
The first Tank watches released to the public are now known as the Cartier Tank Normale and include the original six watches. These watches feature fine leather wristbands and are considered the "grandfather" of modern Tank watches. Rudolph Valentino famously wore his gold Cartier Tank with its alligator skin wristband in his final film, The Son of the Sheik.
Cartier Tank Cintrée
Released in 1921, this was the second generation of Tank watches. Fred Astaire owned several of these watches, as well as Ralph Lauren and Steve McQueen. These watches retain many of the features of the Cartier Tank Normale, including their rectangular design.
Other Tank Watches in the 1920s & 1930s
In addition to the Tank Cintrée and Tank Normale, Cartier released several other models during the 1920s and 1930s, including the Asian-inspired Tank Chinoise in 1922, the Tank Louis Cartier in 1922, the Tank Obus in 1923, the Tank à Guichet in 1928, the Tank Etanché in 1931, the Tank Basculante in 1932, and Tank Monopusssoir in 1935. In total, there were less than 6,000 of these watches produced, making them highly sought after by collectors.
Cartier Tank Watches After the 1930s
The popularity of the Tank watch never diminished after the 1930s, as Cartier continued to release new lines, including the Must de Cartier in 1977, the Tank Américaine in 1989, and the Tank Française in 1996. They continued to be a favorite among Hollywood elites and even rockstars like Mick Jagger.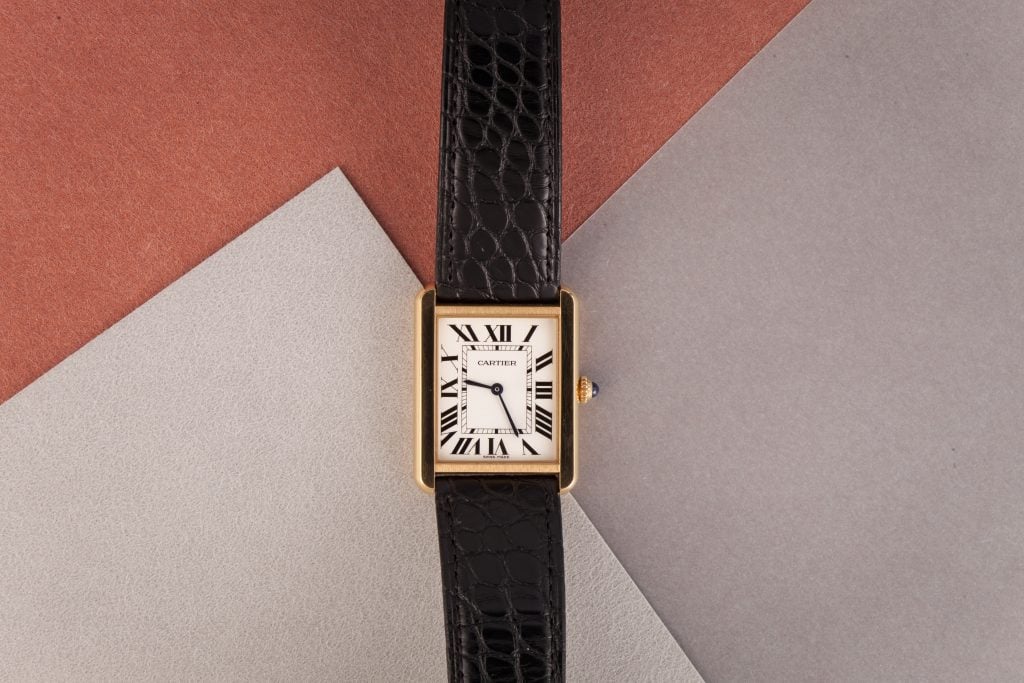 Today's Cartier Tank Watches
The Cartier Tank line is still going strong, with several different collections available, all at various price points and several different options. These collections include:
Tank Louis Cartier
This line pays homage to Cartier's founder and the original design of the Tank watch. These art deco watches have rounded lugs, and many have leather straps. Some even have skeleton cases so you can see the gears and inner workings of your timepiece.
Cartier Tank MC
Known for its bold design, this watch is one of the line's most masculine timepieces, with larger, thicker cases and a squarer shape. It's also one of the less expensive Cartier Tank watches. It's perfect for those looking for a heavier, more substantial design.
Cartier Tank Americaine
The Cartier Tank Americaine, introduced in 1989, is more elongated than other Tank models and is considered a modern version of the Cintrée. Originally introduced in stunning yellow gold, today's models feature a wide variety of metal types.
Cartier Tank Anglaise
Released in 2012, the Tank Anglaise is also reminiscent of the earlier Tank models but with updated features. This is one of Cartier's largest collections, with 17 models to choose from. They come in a range of metals and movements.
Cartier Tank Française
The Cartier Tank Française is one of the sportier Cartier Tank watches with a more modern, squarer case and two-tone band. These watches are versatile and perfect for dressing up or dressing down.
Cartier Tank Solo
Introduced in 2004, the Tank Solo is the perfect entry-level Tank watch with a classic design and a modest price tag. It features a simple quartz movement and takes inspiration from the original Tank watches.
Must de Cartier Tank
Introduced in 1977, these watches were also designed to be a more affordable model of this iconic timepiece. They were reintroduced in 2021 and feature one-of-a-kind band styles and other delightful features that have made this watch a real hit.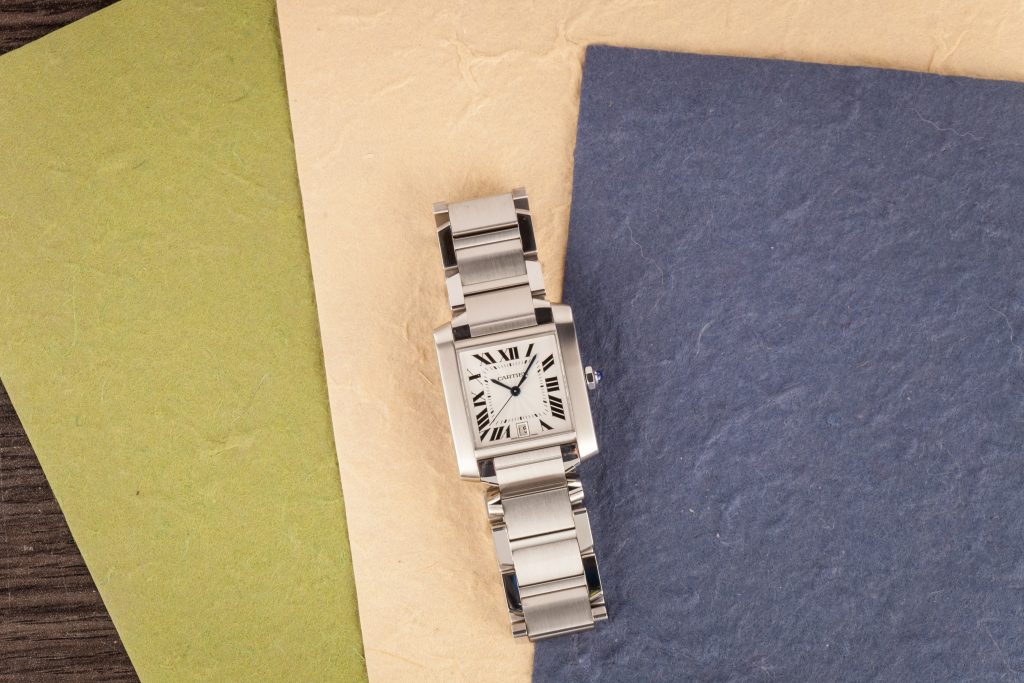 What to Consider When Choosing a Cartier Tank Watch
When it comes to buying any luxury watch, there are several things to consider to ensure that you are choosing a timepiece you will cherish for years to come. Continue reading to learn more.
Authenticity
One of the more important decisions you will make when purchasing a Cartier Tank watch is choosing the right dealer, especially when buying a pre-owned watch. At Bob's Watches, we carry only 100% certified authentic watches. You'll also want to check the serial number. All Cartier Tank watches have a serial number that is engraved, not etched into the back. The number will have two letters and six numbers.
Style
Style is also important to consider, especially when considering a Cartier Tank watch. This line is exceptionally diverse and includes an extensive range of band types, cases, and metals. Most Cartier Tank watches are great for formal occasions, but you'll also want to consider whether or not you will be wearing your watch daily.
Price
Cartier Tank watches come in a wide range of prices. The cost of your watch will depend on its age, style, and condition. However, there are several great entry-level watches. You'll want to consider your budget before choosing the right one.
Movement
Cartier Tank watches offer several different hand movement types depending on the model. More affordable watches feature a quartz movement. However, if you want the most precision and durability, you might want to consider a watch that offers Cartier's innovative mechanical movement.
New vs. Preowned
Another choice you'll have to make is whether to buy a new or preowned watch. Choosing a new watch guarantees that your watch has never been worn, but a preowned watch will be significantly more affordable. Either way, Cartier Tank watches are known for their superior quality and durability.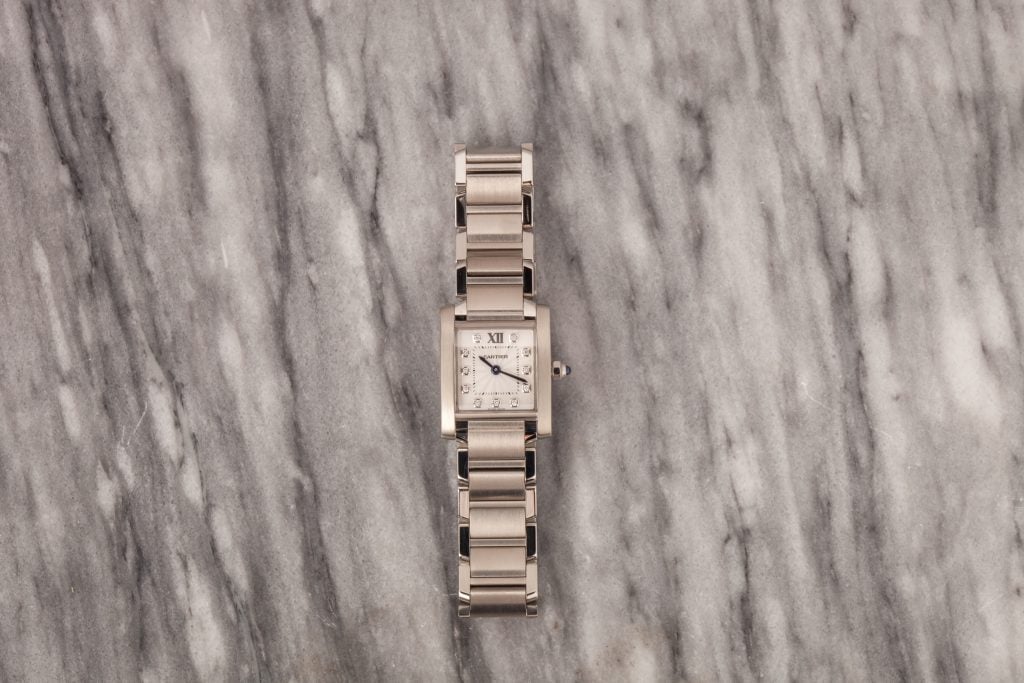 How to Buy a Cartier Tank Watch
Step 1: Explore Our Collection
We carry some of the best pre-owned, and vintage Cartier Tank watches for you to choose from. Browse our collection today to begin.
Step 2: Choose Your Model
All our watches carry an authenticity and price guarantee, so you can feel confident while browsing our pre-owned Cartier watches.
Step 3: Show Off Your Watch
Cartier Tank watches are meant to be seen and worn, exuding power and status. When you choose a quality pre-owned watch from Bob's Watches, you'll never leave home without it.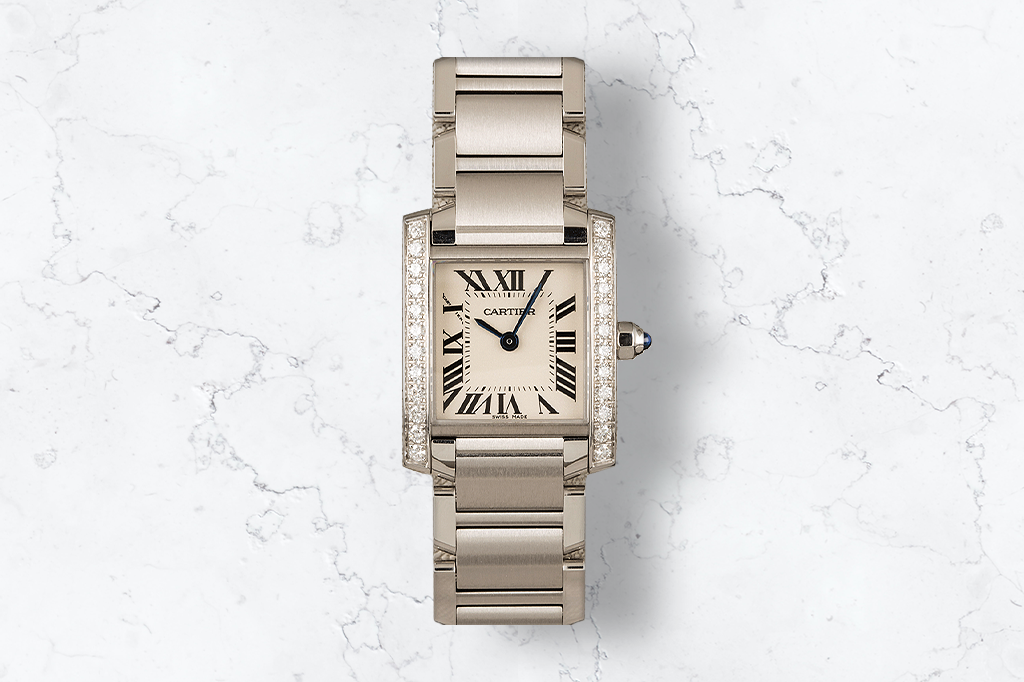 A Premium Supplier of Luxury Watches
At Bob's Watches, we specialize in buying ad selling luxury watches from all the major retailers, including Rolex, Cartier, Omega, and more. All of the watches we carry have been carefully chosen for their exclusivity, quality, and uniqueness and come with a certificate of authenticity. Have a watch to sell? We off some of the best prices for your unwanted watches. Contact us today to learn more about all our services.
How Much Do Cartier Tank Watches Cost?
Cartier Tank watches offer a wide range of prices, starting in the low four-figures, and can cost as much as six figures or more. Browse our selection for our guaranteed pricing.
Shop Our Collection of Cartier Tank Watches Today
Are you ready to add the timeless look of a Cartier Tank watch to your collection? Shop our stunning collection of vintage, and pre-owned Cartier Tank watches today.