Swiss luxury watch company, Longines, has been in business since 1832 and boasts such accolades as the first wrist chronograph, the first wristwatch outfitted with a rotatable bezel, and the first flyback chronograph. The company is a self-proclaimed pioneer in watchmaking, and we couldn't agree more.
Today, Longines produces beautifully constructed timepieces that are on the more affordable end of the Swiss luxury watch spectrum, and this means you can invest in a classic Swiss wristwatch from one of the most innovative companies in the industry without breaking the bank. Additionally, when you consider the many dial, bracelet, movement, and model options within the catalog, the possibilities seem endless. As you can imagine, it can be difficult to determine which Longines watch belongs on your wrist.
We're here to help with this comprehensive Longines buying guide, complete with a brief overview of most of the brand's collections and sub-collections.
History & Overview of Longines Watches
Longines was founded in 1832 by Auguste Agassiz and is currently located in Saint-Imier, Switzerland. Their story began with pocket watches but eventually evolved to wristwatches around 1913 with the invention of the world's first wrist chronograph. Longines developed the first wristwatch equipped with a rotating bezel in 1931, followed by the first flyback chronograph in 1936. Without the pioneering company, the watchmaking industry as we know it today wouldn't be the same.
Longines has earned numerous contracts and forged countless partnerships throughout its history, including the official supplier of the International Aeronautical Federation shortly after WWI, the official timekeeper of World Championships, a partner of International Sports Federations, and watchmaker for the British Ministry of Defense during WWII. Their influence is impressive, with famous wearers including Albert Einstein, Amelia Earhart, Kate Winslet, and Andre Agassi, many of whom once served as Longines brand ambassadors.
Looking at the Longines catalog, there seems to be a watch for just about everyone. In fact, there are over 1,000 watches from which to choose. However, it can be pretty easy to navigate the brand's portfolio once you understand how it's structured. Longines watches are divided into two main categories, Classic and sport. The Classic category consists of two sub-categories, the Watchmaking Tradition Collection and Elegance Collection. From there, each boasts several model options. The Sport category includes the Diving, Avigation, and Performance collections. Like the Classic collection, the Sport category also consists of a handful of model options each. Many of these watches boast multiple design set options, such as dial colors, bracelet type, and metal finish, totaling over 1,000 watches.
Longines Watchmaking Traditions
This collection draws a lot of inspiration from Longines' trailblazing history, featuring classic lines and retro elements. Sub-collections include the Longines Master Collection, Longines Elegant Collection, Heritage Classic, Record Collection, the Longines 1832, and Longines Evidenza. Let's explore a few of them.
Longines Master Collection
The Longines Master Collection boasts automatic watches in various design set options, ranging from more complicated movements to those with only a date mechanism and those with or without diamonds or precious metals. From simple, everyday watches to elegant Moonphase watches and even chronographs, there's a timepiece within the versatile Longines Master Collection to suit nearly any wrist.
Longines Elegant Collection
While the Longines Master Collection features a bigger variety of movement options, the Longines Elegant Collection keeps it simple with a date mechanism and either small seconds or three centrally-mounted hands. It's everything you need in a simple dress watch while leaving out everything else. Reference L4.910.4.92.6 is a watch box staple that embodies classic dress watch style with a sharp blue dial and stainless steel finish.
Longines Heritage Classic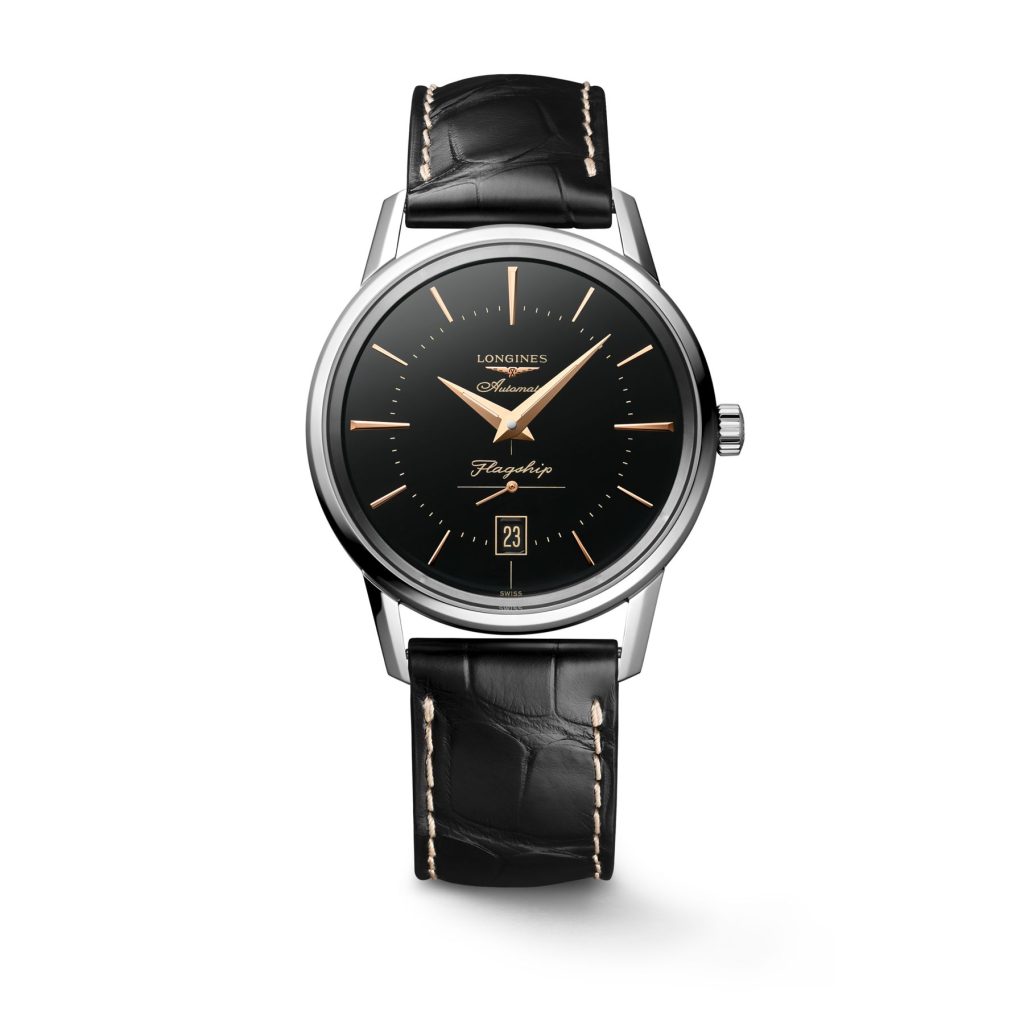 The Heritage Classic combines vintage appeal with modern amenities. It's the best of both worlds when it comes to aesthetics and function, and the Flagship Heritage ref. L4.795.4.58.0 embodies that design ethos with long, tapered hands, simple stick hour markers, and small seconds. Superluminova, scratch-resistant and anti-reflective sapphire crystal, and the self-winding cal. L615 with a 50-hour power reserve to remind the wearer that the Heritage Classic is still a modern timepiece.
Longines 1832
The Longines 1832 earns its name after the year the company was founded. Reference L4.827.4.52.0 is a classic example of the collection that relies on the caliber L897 automatic movement with both a date and month display. The dial is striking in matte black and features beautifully faceted indices, tapered hands, and Superluminova. With water resistance up to 3 bar and scratch-resistant sapphire crystal, the Longines 1832 is the perfect weekender or special occasion timepiece.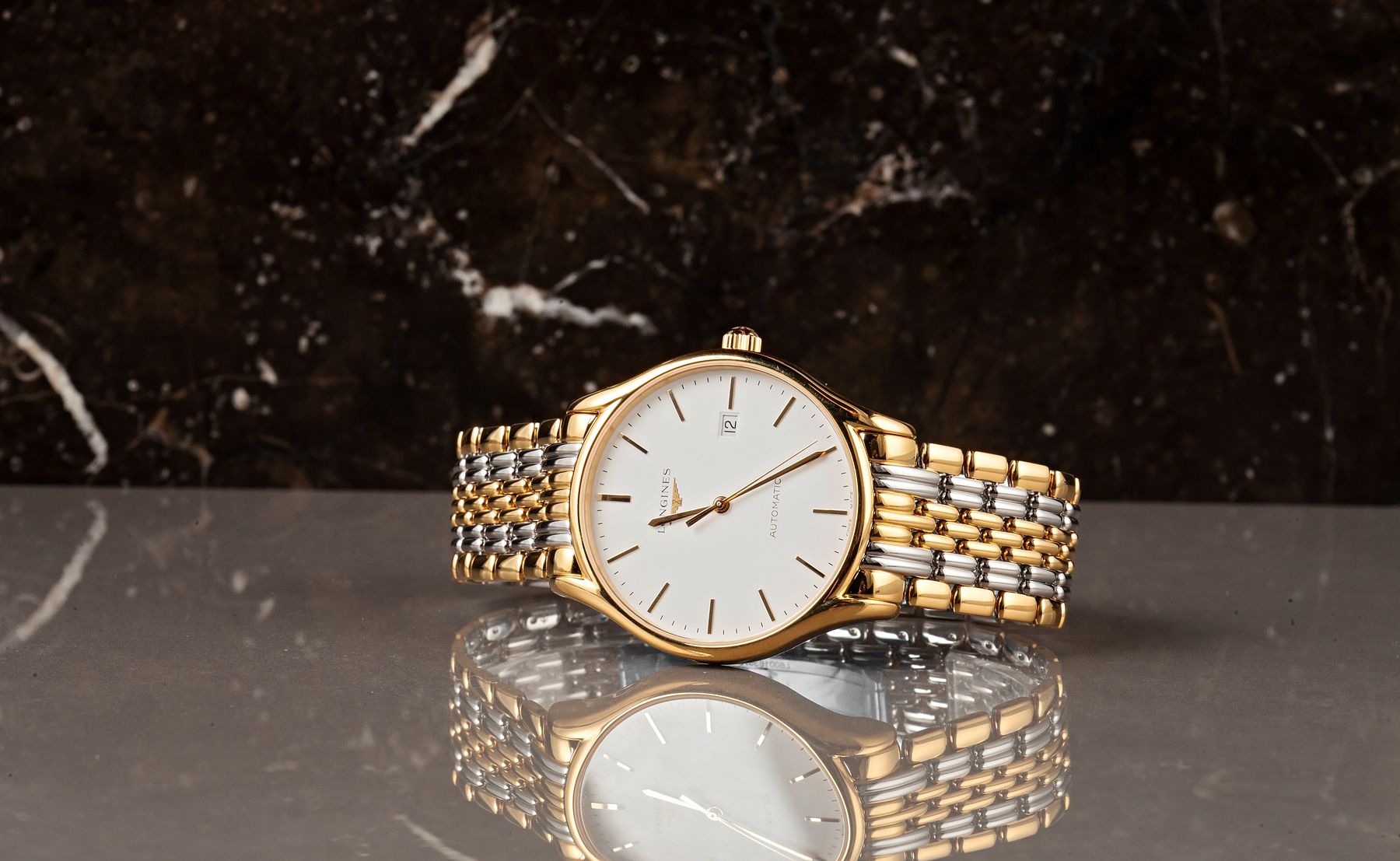 Longines Elegance
The Longines Elegance Collection primarily consists of dress watches in a selection of sophisticated case shapes, metal finishes, and dial designs. This collection's subcategories include the DolceVita, La Grande Classique de Longines, Longines PrimaLuna, Présence, and Flagship.
Longines DolceVita
The DoceVita is one of the most recognizable models in the brand's catalog, featuring a contemporary rectangular case, your choice of dial color, material, bracelet, and either automatic or quartz movements. Ref. L5.512.4.16.6 is a classic quartz-powered DolceVita in stainless steel. This lady's model is petite and elegant. It's one of those luxury watches that you won't ever want to part with because it always seems to be in fashion—an absolute watch box staple.
Longines PrimaLuna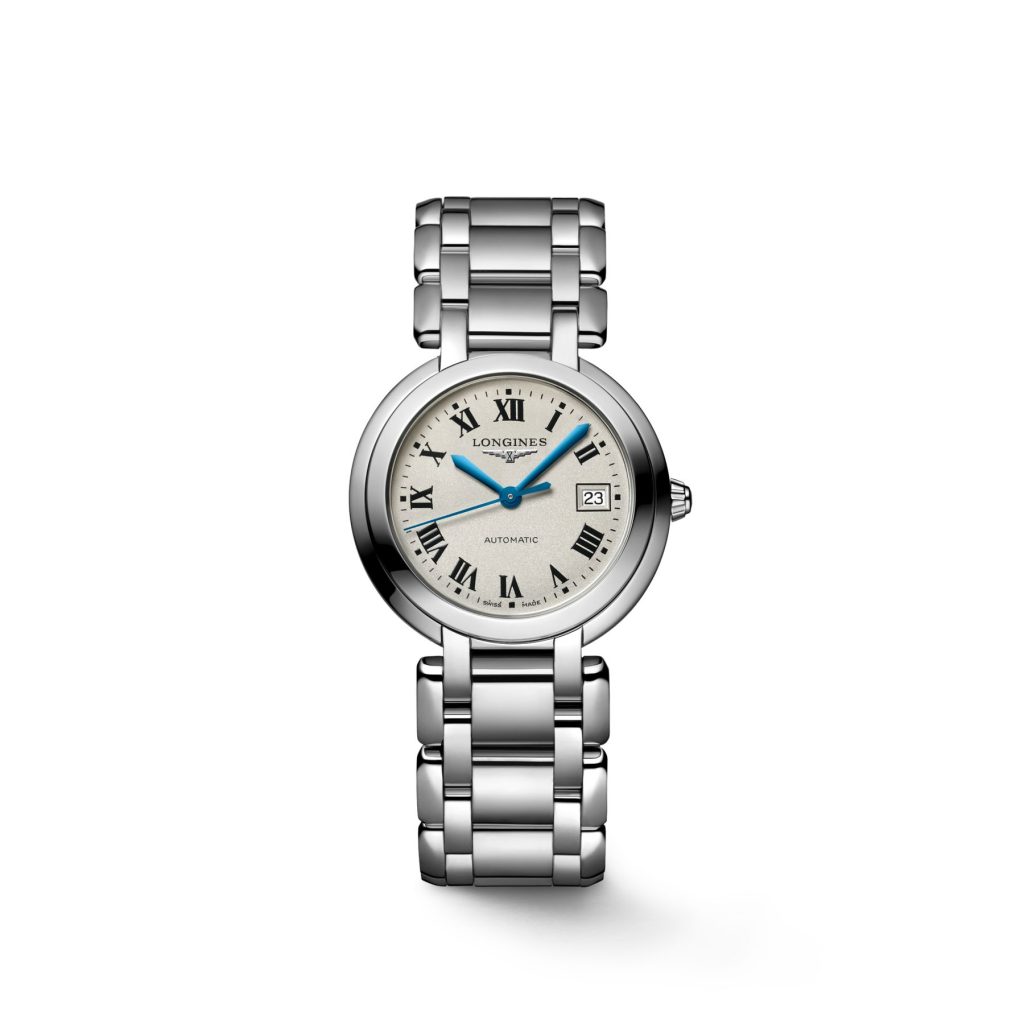 Characterized by round cases and oversized, chunky bracelets, the Longines PrimaLuna is contemporary elegance at its best. The collection is fashion-forward, yet it appeals to collectors from all generations. You have your choice of automatic or quartz-powered watches and steel or two-tone. Size options range from classic 26.5mm to 34mm. Reference L8.113.4.71.6 is reminiscent of the Cartier Ronde Solo de Cartier with similar Roman numeral hour markers and blued hands but at a fraction of the price.
Longines Flagship
The Flagship is another Longines staple that boasts a broad range of design sets to suit anyone's wrist. From stainless steel to two-tone and case sizes ranging from 26mm to 40mm, there's a Flagship model for almost everyone. Ref. L4.984.4.12.6 is about as classic as dress watches come with a round case, matching multi-link bracelet, and elegant white dial with sleek indices and hands.
Longines Diving Collection
Dive watches are popular among modern collectors. Nearly every luxury watch company on the market includes them in their catalog. The Longines Diving Collection consists of the HydroConquest and the Longines Legend Diver watch, of which there are countless design set options, including modern and vintage-inspired.
Longines HydroConquest
If you're anything like us, you're always on the hunt for an affordable luxury dive watch, and the HydroConquest delivers. Style options include classic metal bracelets or rubber, automatic or quartz movements, and even ceramic cases. Reference L3.780.4.56.6 has the traditional stainless steel and black dial and bezel combo that many modern collectors are looking for. It also features a similar 300-meter depth rating and three-link bracelet as the coveted Rolex Submariner, but with a slightly smaller 39mm case.
Longines Legend Diver
We have yet another vintage-inspired Longines. This time it's the Legend Diver mirrored after a dive watch from the 1960s. The collection is characterized by an inner bezel and twin screw-down crowns. Of course, it also boasts several modern features, such as scratch-resistant sapphire, water resistance up to 300 meters, and Superluminova. The movement is just as impressive as the watch's exterior, boasting automatic winding and a convenient 72-hour power reserve. While there are numerous design sets to choose from, one we can't help but admire is ref. L3.774.4.70.2 with a radiant grey dial and matching grey strap.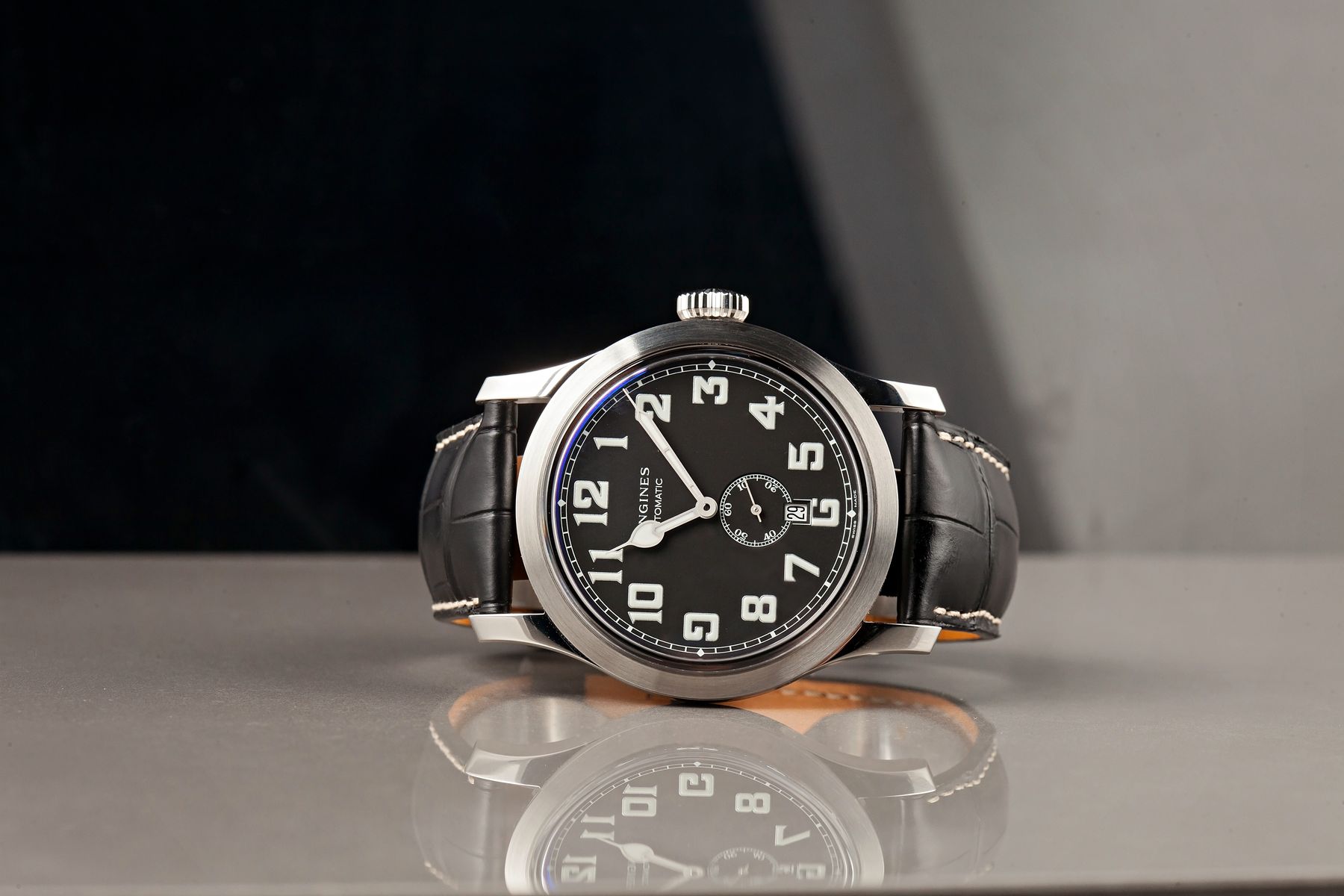 Longines Avigation Collection
The Longines Avigation Collection is heavily vintage-inspired. In fact, many of the sub-collections are based on vintage watch models. Their design focuses on minimalism and highly legible dials, just like any pilot now or decades ago would prefer. Offerings include the Longines Spirit, Heritage Military, and Heritage Avigation.
Longines Spirit
Green dials are on-trend, and this edition of the Longines Spirit gets it right in matte military green. This watch isn't too outrageous, though, even if you don't prefer colorful watches because the case and bracelet are both presented in traditional stainless steel. The applied Arabic numerals and silvered hands are filled with contemporary Superluminova. The Spirit offers water resistance up to 100 meters and features a scratch-resistant sapphire crystal. The perfect balance between old and new watch design.
Longines Heritage Military
It isn't hard to imagine the Longines Heritage Military L2.811.4.53.0 flying high above the clouds decades ago because it draws much of its design from vintage Longines pilot's watches. Features include older-style cathedral hands, retro Arabic numeral hour markers, a date mechanism, and small seconds.
Longines Heritage Avigation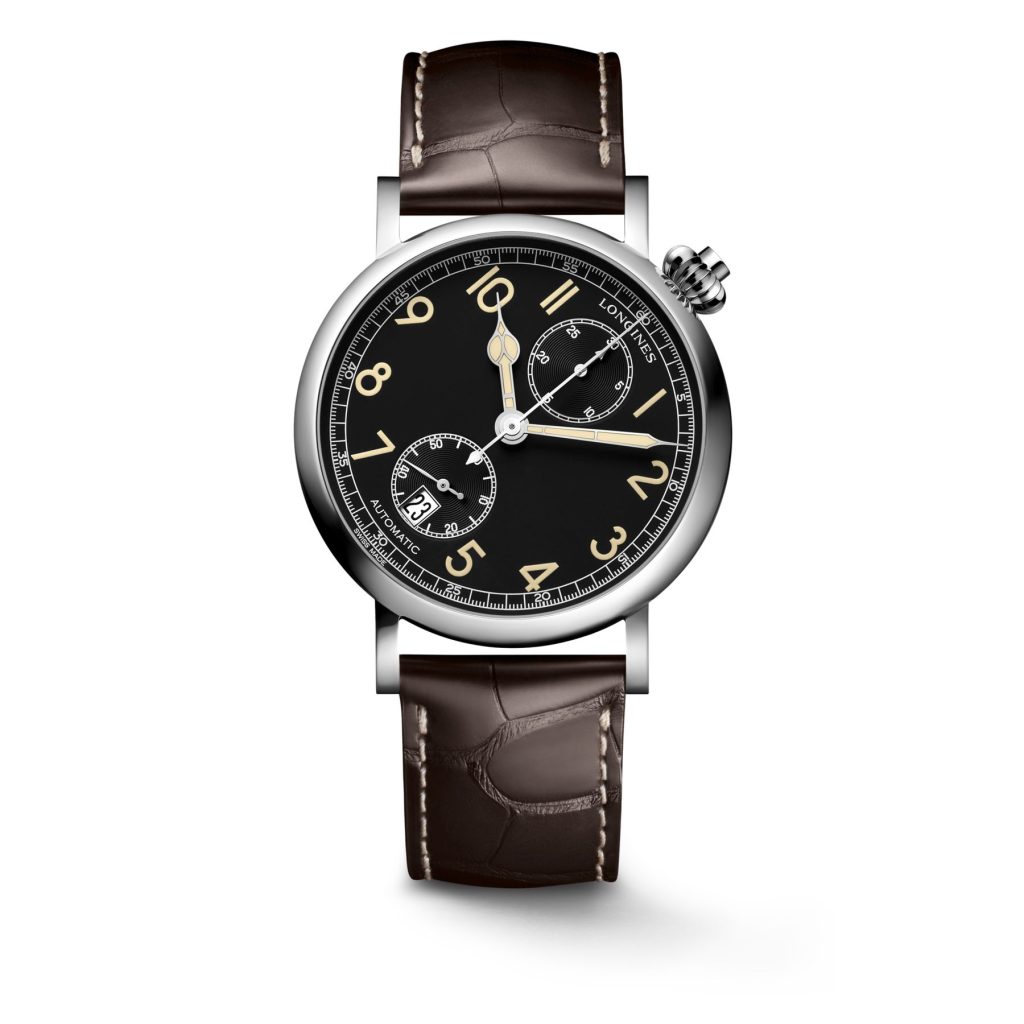 It's not every day that you see a modern watch with a crooked dial. The Longines Avigation Watch Type A-7 1935 reference L2.812.4.53.2 displays the time at a 45-degree angle, which wasn't uncommon on vintage pilot's watches. Because the dial is tilted, the wearer can read the time at-a-glance without moving their hands from the controls. Other features include vintage-style cathedral hands, vertical chronograph registers, and a single side pusher.
Longines Performance Collection
Last but certainly not least, we have the Performance Collection, which boasts various iterations of the Conquest, including the Conquest Classic, Conquest, and Conquest V.H.P.
Longines Conquest Classic
The Conquest Classic will speak to your style if you appreciate minimalist design. There are no complicated movements or ornate dials here, just watchmaking in its purest form. Reference L2.386.4.72.6 boasts a similar design as some of the more expensive options on the market, but for a significantly more affordable price. It pairs the silver dial with exquisite pink hour markers and hands for a subtle contrast.
Longines Conquest
While the Conquest Classic is only available with a Quartz movement, the Conquest gives you the option of either Quartz or Automatic movements and more case size, dial color, and metal finish options from which to choose. Reference L3.777.4.58.6 pairs a black dial topped with Arabic and baton hour markers with a smooth bezel and stainless steel case and bracelet. If you appreciate the style of the Rolex Explorer, it's an excellent alternative, albeit much larger at 41mm in diameter.
Longines Conquest V.H.P.
Add a "Very High Precision" movement, and you've got the Conquest V.H.P. The current collection boasts eight models, including either a chronograph, GMT, or just a date mechanism and either black, white, or vibrant blue dials. V.H.P. Quartz movements also boast a very impressive accuracy of up to +/- 5 seconds per YEAR. Discontinued ref. L3.727.4.96.6 is the perfect companion for any stylish watch collector with a sleek blue dial, stainless steel finish, and chronograph side pushers.