Watches featured in films aren't just handsome accessories; they tie into the storyline and add depth to characters. Back in the olden days, watches featured in the movies often became incidental icons – the right watch being strapped to the right (handsome) wrist. Later on, the watches in films became well-placed product placements orchestrated by the studio. But no matter how they got there, some of the luxury watches that have graced the wrists of Hollywood's biggest actors have become stars in their own right.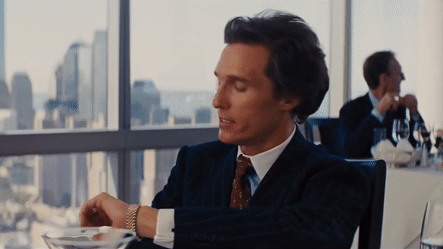 The silver screen is the world's best billboard. Not only do you have the visual aspect, but you also have time to explain a product, associate it with a desirable movie star, and even (in some cases) give it a distinct character that audiences will forever associate with that timepiece. So much can be said about a character through their choice (or anti-choice) of wristwear. Throughout the ages of cinema, many characters have sported watches and fashions that have experienced unprecedented success or longevity as a result. Astute product placement can make a brand a lot of money, but more emotively affect our cultural backdrop in a real and tangible way.
What we particularly love about luxury watches on the silver screen is the awe they inspire. Avid collectors love rewinding to the past and seeing these beautiful (now vintage) – pieces. Often, these watches even inspired an entire generation to get into collecting. So here, we rounded up some of the most iconic movie watches that you might have missed.
Click here for a closer look at some of the most iconic luxury watches all collectors should know.

American Psycho (2000) — Rolex Datejust Two-Tone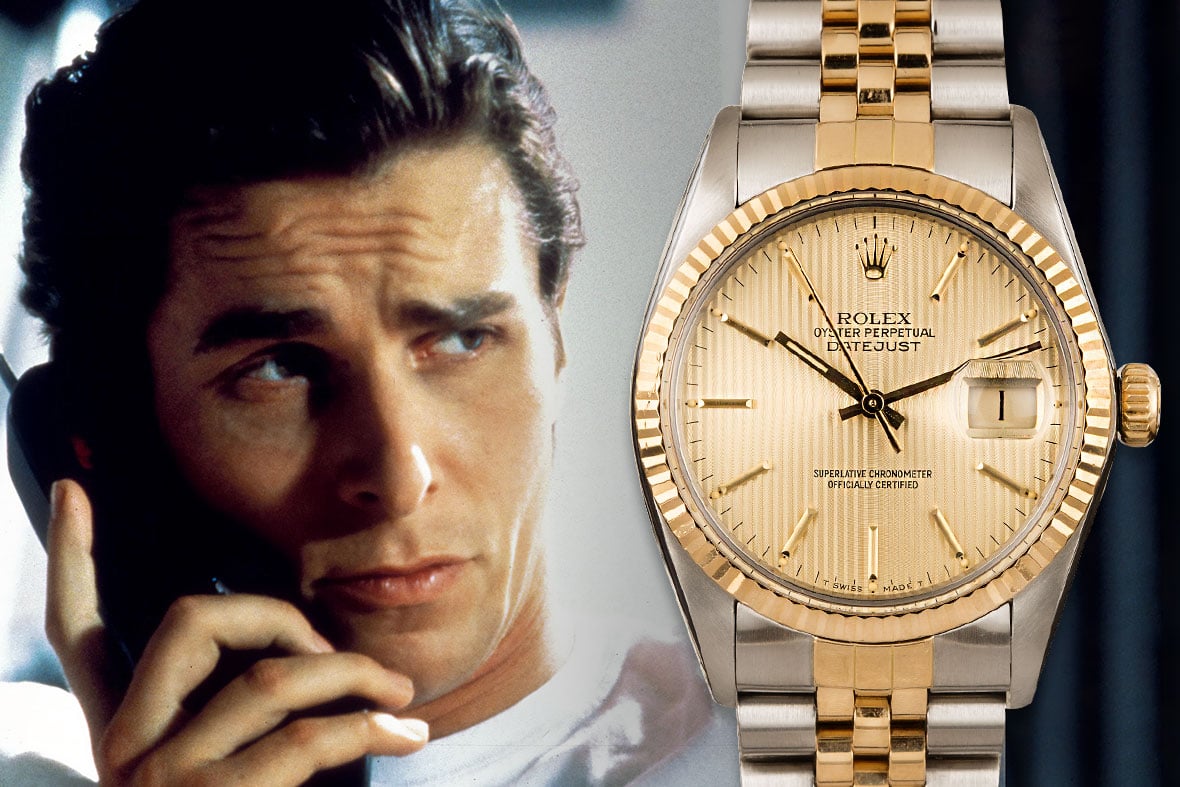 – Movie: American Psycho
– Actor: Christian Bale
– Character: Patrick Bateman
– Movie Date: 2000
– Watch: Rolex Datejust

American Psycho's protagonist Patrick Bateman has become an unlikely pop-culture icon. Despite being a psychotic killer, Christian Bale's character is stylish and well-groomed. So, it's not a surprise that movie-goers paid special attention to his watch, a two-tone 36mm Rolex Datejust reference 16013 with a Jubilee bracelet and tapestry dial in the film.
The story unfolds in New York during the 1980s when two-tone watches, forged out of stainless steel and gold, were incredibly popular. Since its release in 2000, American Psycho has become a true cult-classic. So much so, that the Rolex watch worn by Bateman is to this day known as the "American Psycho Rolex" among many collectors.
Apollo 13 (1995) — Omega Speedmaster Moonwatch
– Movie: Apollo 13
– Actor: Tom Hanks
– Character: Jim Lovell
– Movie Date: 1995
– Watch: Omega Speedmaster Moonwatch

Okay, this was an obvious choice, but still, not one that should be forgotten! In the Apollo 13 movie, Tom Hanks wears an Omega Speedmaster – the official watch certified for space flight by NASA. When Apollo 13 went into space, this is the watch that the astronauts actually wore, including NASA's Gemini 4 mission and the historic moon landing.
The Omega Speedmaster is easily one of the world's most famous and iconic timepieces. Seeing it on the silver screen just cements its status – especially because it was on Tom Hanks' wrist during this famous Hollywood film.
Glengarry Glen Ross (1992) — Rolex Day-Date "President"
– Movie: Glengarry Glen Ross
– Actor: Alec Baldwin
– Character: Blake
– Movie Date: 1992
– Watch: Rolex Day-Date President

"You see this watch? You see this watch? … That watch cost more than your car. I made $970,000 last year. How much did you make? You see, pal, that's who I am. And you're nothing."
This watch only made a cameo in the famous film Glengarry Glen Ross. But today, we're still talking about it. Alec Baldwin, who plays an outside exec "from downtown," delivers these cutting words and flashes this famous yellow gold Rolex Day-Date and it immediately goes down in movie history. This watch was already famous for being worn by world leaders, dignitaries, and celebrities – the movie plug was really just a boost for this iconic gold Rolex watch.
Money Monster (2016) — Omega Speedmaster Professional 18k Gold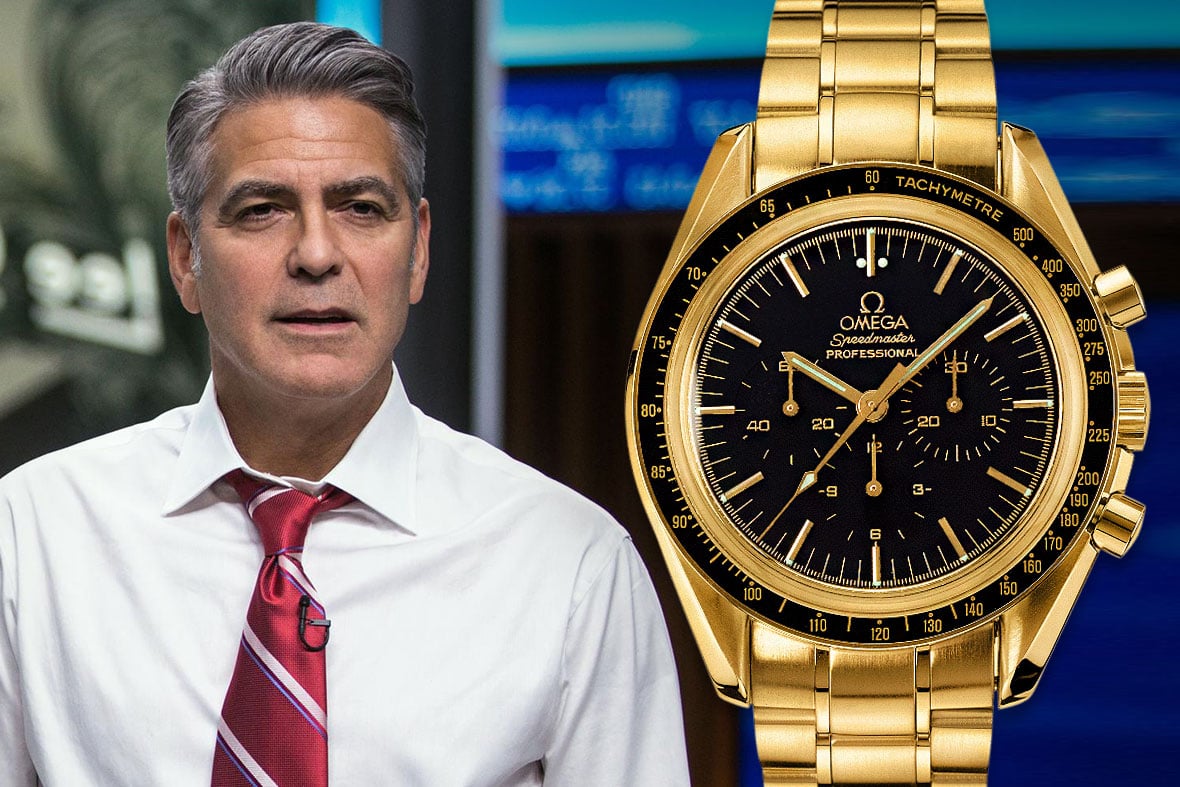 – Movie: Money Monster
– Actor: George Clooney
– Character: Lee Gates
– Movie Date: 2016
– Watch: Omega Speedmaster Professional 18k Gold

This is a sneaky good movie with an even better luxury watch lurking on the wrist of the debonair Mr. Clooney. George Clooney plays the difficult role of Lee Gates with aplomb, but the wordless performance of his solid yellow gold Omega Speedmaster Professional is truly sensational.
The premise of Money Monster is scary. A disgruntled investor goes berserk and overtakes a game show while it is being broadcast live on TV. The show's host? None other than George Clooney. His character, Lee Gates, is taken hostage along with his tantalizing ticker. To find out his (and its) fate, you'll have to watch the film.
Wolf Of Wall Street (2013) — Rolex Datejust 36
– Movie: Wolf of Wall Street
– Actor: Matthew McConaughey
– Character: Mark Hanna
– Movie Date: 2013
– Watch: Rolex Datejust

Matthew McConaughey plays the uproarious Mark Hanna in this 2013 classic. Hanna is a perfectly played paradigm of the era. A genius of sorts, his methods and practices are…unconventional, to say the least. These men featured in the film were very much wolves in many senses of the word. You kind of needed to be a bit wild to survive in that dog-eat-dog environment.
The Rolex Datejust is a flawless badge of power but it can also double as a disguise to the rest of the world for characters like Mark Hanna. A luxury watch and a smart suit can go a long way towards earning somebody's trust. One of the smartest investments he ever made…
Lucy in the Sky (2019) — Omega Speedmaster X-33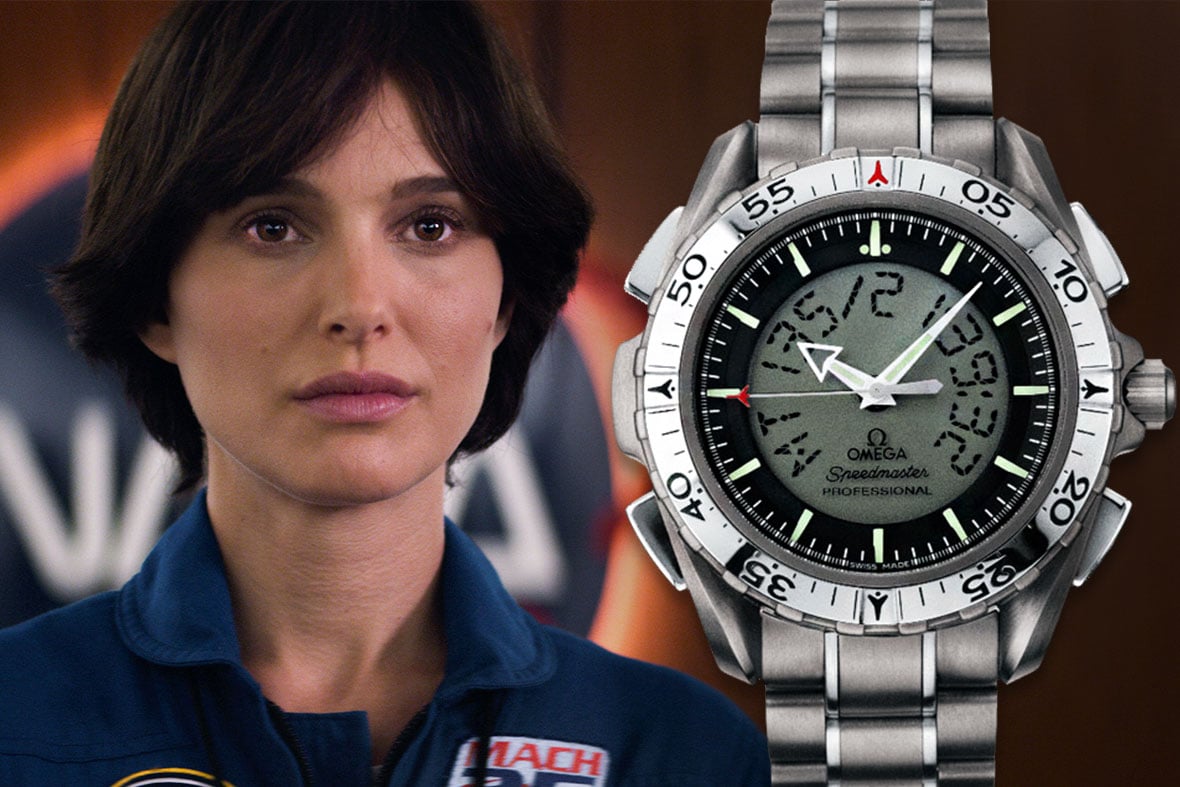 – Movie: Lucy in the Sky
– Actor: Natalie Portman
– Character: Lucy Cola
– Movie Date: 2019
– Watch: Omega Speedmaster X-33

We're ending this list with a real curveball. Few people doubt Natalie Portman's ability to play any role sent her way, but her performance as astronaut Lucy Cola is really something. The Oscar winner shines in the role, as does the unusual-yet-authentic Omega Speedmaster X-33 in titanium that calls her wrist home.
The film is a really compelling exploration of an astronaut's mental state, having done and seen so much more than many mere mortals can ever comprehend. Perhaps that explains her somewhat oddball choice, although this unusual analog/digital hybrid quartz timepiece really is the model that astronauts wear due to the high degree of functionality that it offers. While it is far less recognizable than the classic Speedmaster Moonwatch, the X-33's appearance in the film is highly accurate and only furthers the realism of this must-watch movie.