Watches featured in films aren't just handsome accessories, they tie into the storyline and add depth to characters. Back in the old days, watches featured in the movies often became incidental icons – the right watch being strapped on the right (handsome) wrist. Later on, the watches in films became well-placed brand sponsorships orchestrated by the studio. But no matter how they got there, some of the watches that have graced the wrists of Hollywood's biggest actors have become stars of their own.
Most Iconic Timepieces Worn in Movies
What we particularly love about luxury watches on the silver screen is the awe they inspire. Avid collectors love rewinding to the past and seeing these beautiful (now vintage) – pieces. Often, these watches even inspired an entire generation to get into collecting. So here, we rounded up some of the most iconic watches to ever be featured on film. Excited to go down memory lane?
Below we have included the top 9 most iconic timepieces from the world of cinema as well as 1 watch from every luxury watch category. Be sure to also check out our modern movie watches guide!
American Psycho (Featuring The Rolex Datejust)
American Psycho's protagonist Patrick Bateman has become an unlikely pop-culture icon. Despite being a psychotic killer, Christian Bale's character is stylish and well-groomed. So, it's not a surprise that moviegoers paid special attention to his watch, a two-tone 36mm Rolex Datejust 16013 with a Jubilee bracelet in the film. The story unfolds in 1980s New York when two-tone watches, forged out of stainless steel and gold, were incredibly popular. Since its release in 2000, American Psycho has become a total cult-classic. So much so, the Rolex worn by Bateman is to this day known as the 'American Psycho Rolex' among many collectors.
Movie: American Psycho
Actor: Christian Bale
Character: Patrick Bateman
Movie Date: 2000
Watch: Rolex Datejust
Reference: 16013
Bracelet: Two-Tone Jubilee Band
Bezel: Fluted Bezel
Case: 36mm
Dial: Champagne (Tapestry pattern)
Click here to learn more about the history of the Rolex Datejust.

Skyfall (featuring The OMEGA Seamaster Planet Ocean 600M)
James Bond has been wearing sophisticated, luxury timepieces since the beginning. So it's no surprise that in the 2012 film Skyfall, James Bond is pictured wearing an Omega Seamaster Planet Ocean 600M. While James Bond famously wore Rolex in the early days, the franchise has been sporting the Seamaster in the world-famous spy films since 1995's GoldenEye. Omega even came out with a commemorative watch for this James Bond feature – the Skyfall Omega 232.30.42.21.01.004. Special features include a 007 logo at the 7-hour marker as well as the wording "Skyfall 007" engraved on the rotor, which is visible via the exhibition case back.
Movie: Skyfall
Actor: Daniel Craig
Character: James Bond
Movie Date: 2012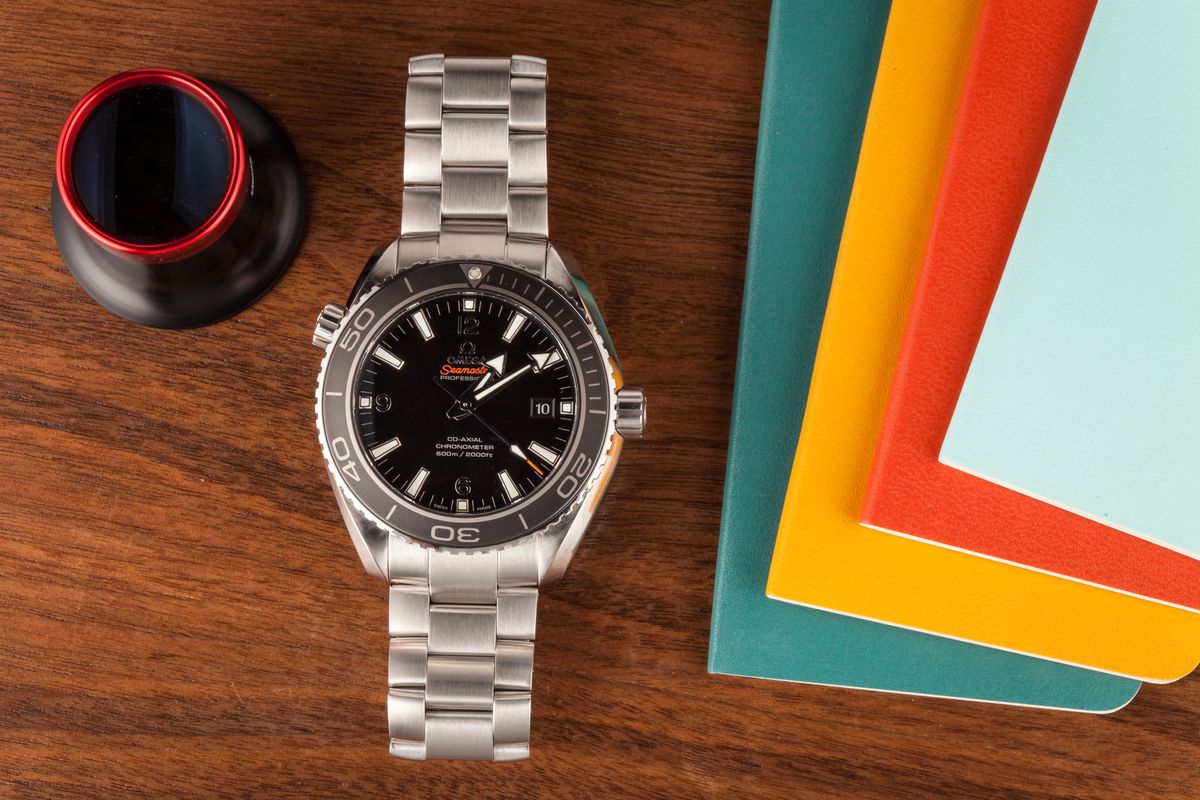 Watch: Omega Seamaster Planet Ocean 600m
Reference: 232.30.42.21.01.001
Bracelet: Stainless Steel
Bezel: Rotating 60-minute
Case: 42mm
Dial: Black
Click here to read the complete history of he Omega Seamaster Planet Ocean.

Dr. No (Featuring The Rolex Submariner 6538)
Often referred to as the holy grail of movie watches, the Rolex Submariner ref. 6538 is incredibly popular because it was worn by two icons: James Bond and Sean Connery. The movie debuted in 1962, making it one of the earliest watches to be featured on the silver screen that gained cult status. Legend has it, Rolex was never even involved in the feature, and that one of the movie's producers gave Connery the watch off his wrist to wear for the film. Besides being featured in the legendary spy series, the ref. 6538 is an early Rolex Submariner model, making it pretty difficult to track down. If you want to wear this piece of film history on your wrist, it will easily set you back a minimum of tens of thousands of dollars and prices can reach well into the six-figure range.
Movie: Dr. No
Actor: Sean Connery
Character: James Bond
Movie Date: 1962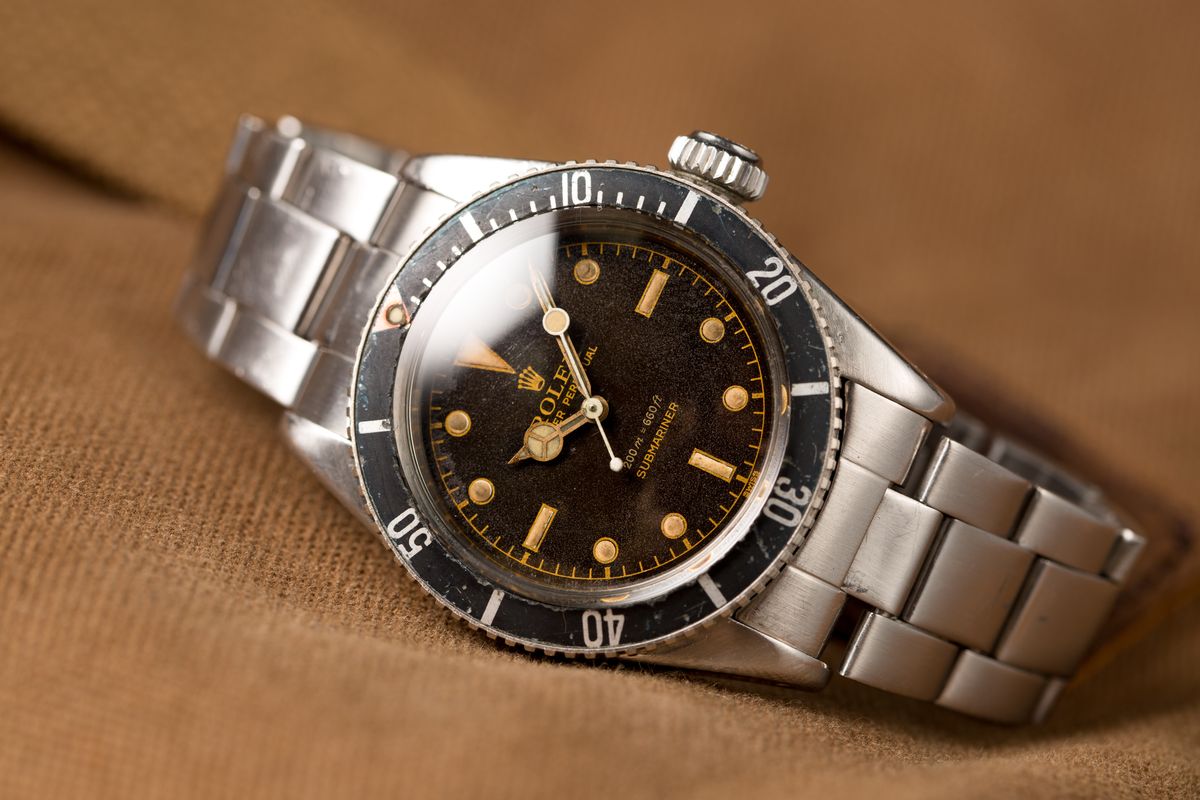 Watch: Rolex Submariner
Reference: 6538
Bracelet: Stainless Steel
Bezel: Rotating 60-minute
Case: 38mm
Dial: Vintage gilt Submariner Dial (200m)
Price Range: Six Figure (minimum)
Click here to discover the full history of the Rolex Submariner.

Le Mans (Featuring The Heuer Monaco)
In 1971, two years after it was first released, the Heuer Monaco was made instantly famous because Steve McQueen decided to strap one on for the film Le Mans. Rumor has it Omega approached McQueen about featuring one of their watches in the film, but he chose the Heuer Monaco on his own. Some sources say that Heuer provided the watch for the film, while others maintain that it was McQueen who chose to wear it – some say he was even inspired by Jo Siffert, a famous race car driver at the time, who famously wore Heuer chronograph watches. In the movie, Michael Delaney sports a blue dial version of the square Monaco on a black leather strap, which is still associated with the Grand Prix today. Without the star power of McQueen, who knows what the fate of this iconic watch would be today.
Movie: Le Mans
Actor: Steve McQueen
Character: Michael Delaney
Movie Date: 1971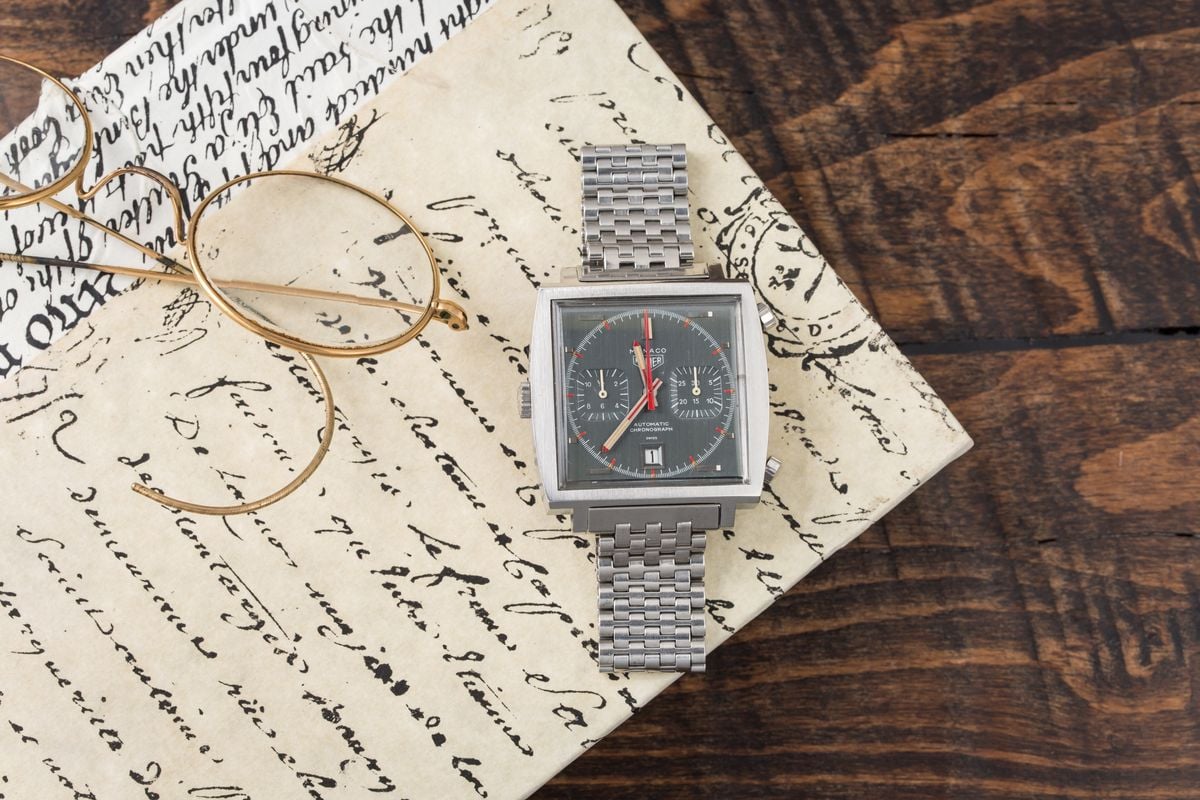 Watch: Heuer Monaco
Reference: 1133B
Bracelet: Stainless Steel (or leather strap)
Bezel: Fixed stainless steel
Case: 40mm x 38.5mm
Dial: Blue with red accents (other colors available)
Click here to learn more about the vintage Heuer Monaco.

Glengarry Glen Ross (Featuring The Rolex Day-Date 'President')
"You see this watch? You see this watch? … That watch cost more than your car. I made $970,000 last year. How much did you make? You see, pal, that's who I am. And you're nothing."
This watch only made a cameo in the famous film, Glengarry Glen Ross. But today, we're still talking about it. Alec Baldwin, who plays an outside exec "from downtown," delivers these cutting words and flashes this famous yellow gold Rolex Day-Date and it immediately goes down in movie history. This watch is already famous for being worn by world leaders, dignitaries, and celebrities – the movie plug was really just a boost for this iconic gold Rolex watch.
Movie: Glengarry Glen Ross
Actor: Alec Baldwin
Character: Blake
Movie Date: 1992
Watch: Rolex Day Date President
Reference: 18038
Bracelet: 18k yellow gold President
Bezel: Fluted
Case: 36mm
Dial: Champagne
Click here to learn about the nicknames and defining elements of the Rolex Day-Date.

Daylight (Featuring the Panerai Luminor)
This watch feature wasn't orchestrated by the studio, but rather the actor himself. Sylvester Stallone famously loves Panerai – the story goes he discovered the Italian brand while filming a movie there and has worn Panerai watches ever since. It's a perfect pair if you ask us, the oversized, masculine feel of Panerai perfectly matching the Sly brand. The actor even had his own versions called, 'Slytech,' and has worn Panerai so much that he's credited with helping revive them in the 1990's. But back to the movie, Stallone famously wore the Panerai Luminor (the one he supposedly bought in Italy) in the film Daylight where he plays hero Chief Kit Latura. Over the years, Stallone has continued to wear Panerai in his films, including The Expendables 3.
Movie: Daylight

Actor: Sylvester Stallone

Character: Chief Kit Latura
Movie Date: 1996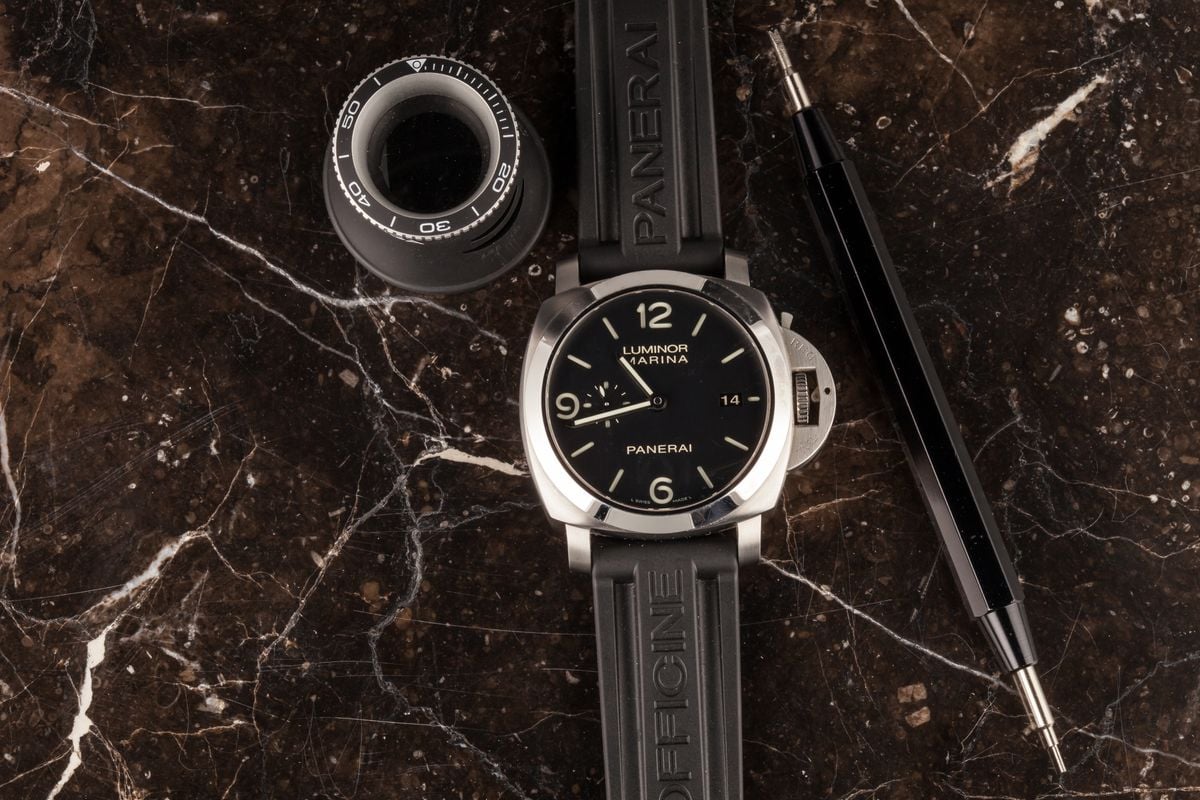 Watch: Panerai Luminor Marina
Bracelet: Panerai rubber strap
Bezel: Smooth stainless steel
Case: 44mm
Dial: Black (sandwich dial)
Click here to for our complete buying guide on the Panerai Luminor.

Apocalypse Now (Featuring the Rolex GMT-Master)

Some think Marlon Brando cemented his 'difficult' reputation on the set of Apocalypse Now when he supposedly was told to take off his Rolex GMT Master ref. 1675 for filming, but refused. Apparently he insisted on wearing the watch, but to make it fit in more with the setting of the movie and his character Colonel Kurtz, he popped the bezel off. The movie quickly became a classic, as did Brando's 'naked' GMT Master 1675. It actually went up for auction in 2019 and sold for an eye-popping $1.95 Million. You can still get your hands on a vintage ref. 1675 today, but it won't be Brando's.
Movie: Apocalypse Now
Actor: Marlon Brando
Character: Colonel Kurtz
Movie Date: 1979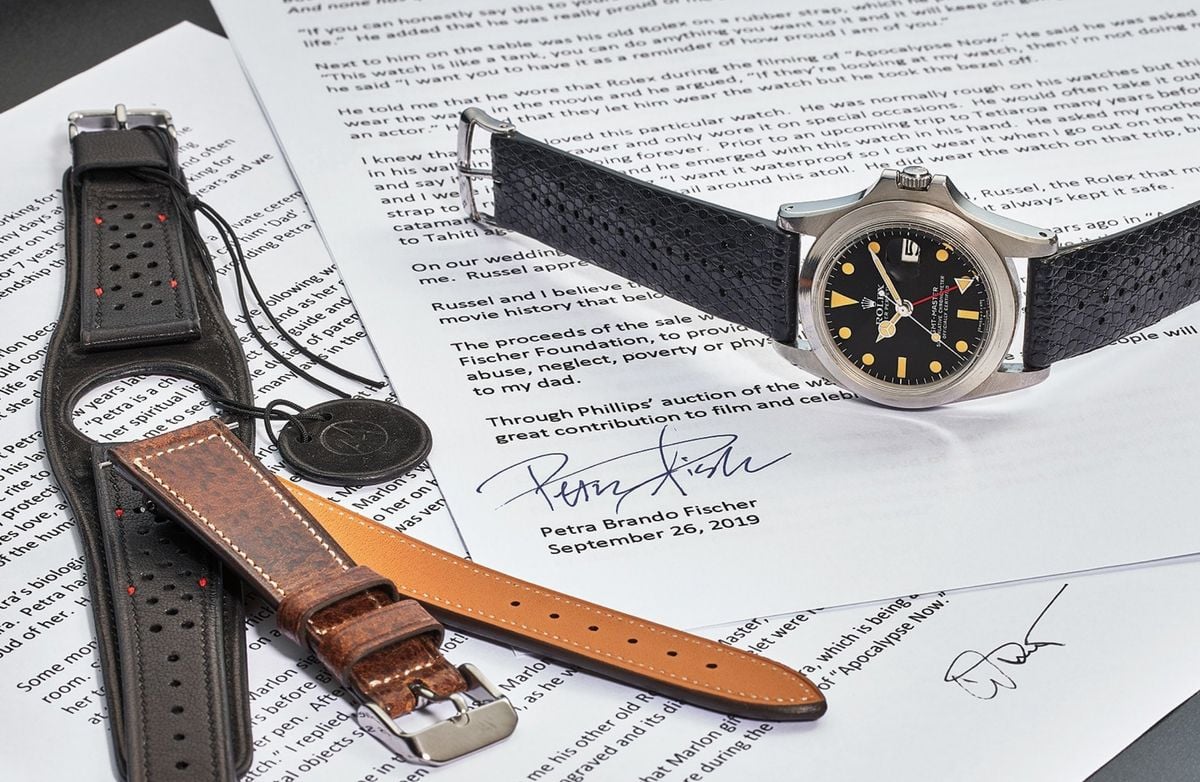 Watch: Rolex GMT-Master
Reference: 1675 (stainless steel)
Bracelet: Stainless steel Oyster (worn on a black strap in the film)
Bezel: Rotating 24-hour GMT bezel (removed for film)
Case: 40mm
Dial: Black (matte dial)
Click here to learn more about the history of the Rolex GMT-Master.

Apollo 13 (Featuring the Omega Speedmaster)
Okay, this was an obvious choice, but still, not one that should be forgotten! In the Apollo 13 movie, Tom Hanks wears an Omega Speedmaster – the official watch certified for space flight by NASA. When Apollo 13 went into space, this is the watch that the astronauts actually wore, including NASA's Gemini 4 mission and the historic moon landing. The Omega Speedmaster is easily one of the world's most famous and iconic timepieces, seeing it on the silver screen just cements its status – especially because it was on Tom Hanks' wrist.
Movie: Apollo 13

Actor: Tom Hanks

Character: Jim Lovell
Movie Date: 1995
Watch: OMEGA Speedmaster Moonwatch
Bracelet: Stainless Steel
Bezel: Black Tachymeter
Case: 42mm
Dial: Black with tri-compax chronograph layout
Click here to learn more about the Omega Speedmaster.

Batman Begins (Featuring the Jaeger-LeCoultre Reverso)

Christian Bale is known as one of the world's best actors, so it's not really a surprise that he's helped make multiple watches reach 'movie icon' status. But, when it comes to Batman, we do have to note that back in the day Val Kilmer's Bruce Wayne famously wore a luxurious, beautiful, Swiss, Jaeger-LeCoultre Reverso. So when Bale took on the role of Bruce Wayne for Batman Begins, it only made sense that he donned the Reverso Grande Taille. Later in Christopher Nolan's trilogy, Jaeger-LeCoultre even created a limited edition Grande Reverso Ultra Thin Tribute to 1931 which even featured a Batman symbol. Talk about iconic, right?
Movie: Batman Begins

Actor: Christian Bale

Character: Bruce Wayne
Movie Date: 2005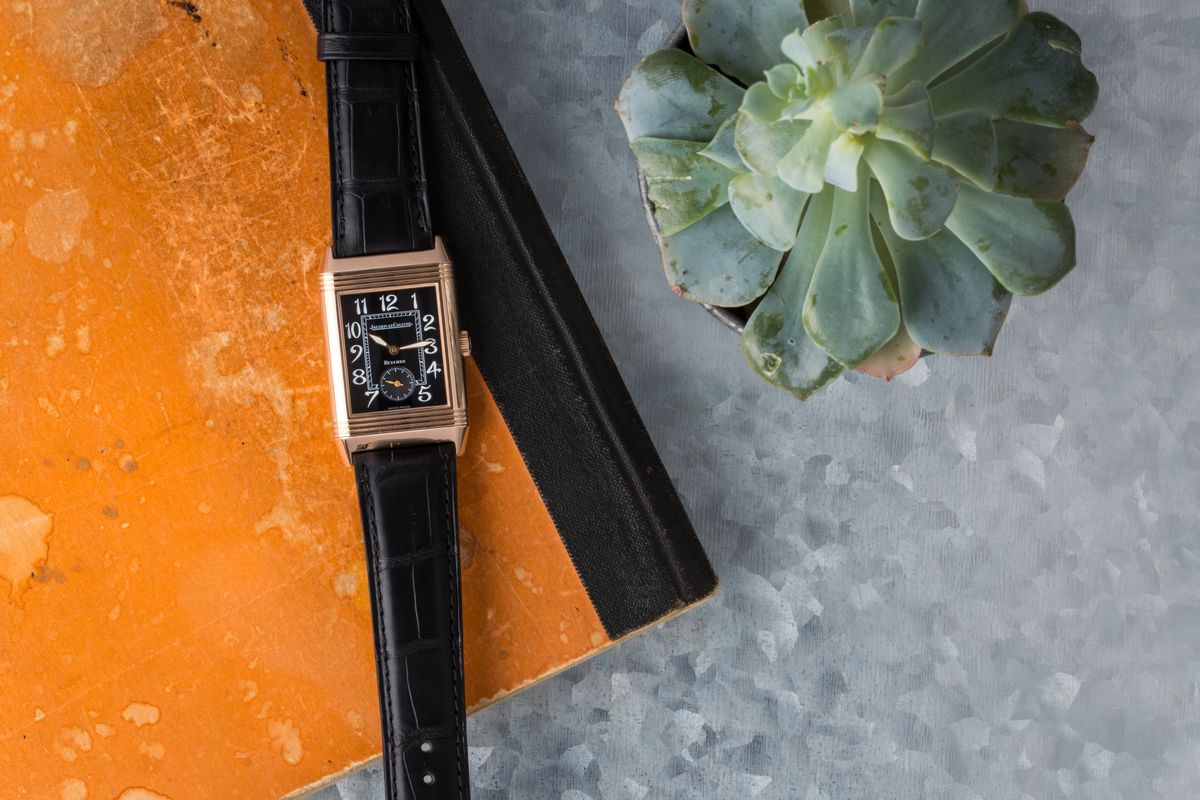 Watch: Jaeger-LeCoultre Reverso
Bracelet: Leather strap
Bezel: Fixed, rectangular
Case: Multiple sizes and materials available
Dial: Multiple options; dual dial configuration (select models)
Click here to learn about the Venice Film Festival Jaeger-LeCoultre Reverso watches.

5 Of The Best Watches Worn in Modern Movies
The silver screen is the world's best billboard. Not only do you have the visual aspect, you also have time to explain a product, associate it with a desirable movie star, and even (in some cases) give it a character of its own.
I've often fantasized about being Hollywood's go-to guy for wrist props. So much can be said about a character through their choice (or anti-choice) of wrist wear. Throughout the ages of cinema, many characters have sported watches and fashions that have gone on to experience unprecedented success or longevity as a result. Astute product placement can make a brand a lot of money, but more emotively affect our cultural backdrop in a real and tangible way.
For this list, in order to dodge some of the more common choices and open the door for newcomers, I limited myself to watches from the last decade. As it turns out, the oldest member of this list hit the big time in 2013, so it's a pretty fresh line-up. Please let me know your all-time favorites, and which recent debutants you'd have chosen instead.
Wolf of Wall Street (2013) – Featuring the Rolex Datejust
McConaughey plays the uproarious Mark Hanna in this 2013 classic. Hanna is a perfectly played paradigm of the era. A genius of sorts, his methods, and practices are…unconventional to say the least. These men were wolves in many senses of the word. You kind of needed to be a bit wild to survive in that dog-eat-dog environment. The Rolex Datejust is a flawless badge of power, but doubles as a disguise to the rest of the world – a luxury watch and a smart suit can go a long way towards earning somebody's trust. One of the smartest investments he ever made…
Check out our trading platform of R to find an era-appropriate model. Most bi-color Datejust models of this era can be picked up around $5,000.

Interstellar (2014) – Featuring The Hamilton Field Khaki
Worn By Mackenzie Foy/Jessica Chastain/Ellen Burstyn As Murph 
Not just a member of the movie watches club, the 'Murph' was exclusively a prop before it was turned into a production model due to an overwhelming demand (Image: Hamilton).
A firm personal favorite, the Hamilton Field Khaki Murph is a bargain slice of movie history, Swiss know-how, and American style. Coming in for just under $1,000, the 'Murph' boasts an 80-hour power reserve and a sapphire display caseback showing off a nicely decorated rotor weight. The first 2,555 will be delivered in a tesseract-inspired box. One for the safe or the wrist, this watch is affordable enough to be worn and enjoyed, but has multifaceted collector potential if you want to sit on it for a while.
Kingsman (2015) – Featuring The Bremont Kingsman
Worn By Taryn Egerto
The 'indie-Bond', Kingsman flung Taryn Egerton into the public consciousness. He's since gone on to star in a slew of blockbusters, with his new Elton John biopic, Rocketman just around the corner. The Bremont Kingsman watch collection was released to accompany the film's roll out. Three versions were available in real life: rose gold, stainless steel, and a DLC variant.
I was actually working as a watchmaker for Bremont when the film debuted. I got to see a few of these pass over my bench. They are all really cool models, with the stainless version my personal favorite. With retail prices around $7,000-$15,000, all three models were limited.
Eagle-eyed movie buffs will have noticed the rose gold model featured in the film was worn with a steel buckle. Rest assured, the real life version comes with a matching rose gold buckle, although I'm sure Bremont would accommodate if you desperately wanted a screen-accurate recreation.
Spectre (2014) – Featuring The Omega Seamaster 200
Worn By Daniel Craig As James Bond 
Ever since Omega took over from Rolex back with 1995's Goldeneye, James Bond has worn a Seamaster. Only recently, however, have these iconic watches really started to flourish. Although the Seamaster 300m on Brosnan's wrist played a huge part in reinvigorating the industry en masse, it wasn't really 'all that'. In the last five years, Omega have really stepped up their game. The vintage-inspired Spectre Seamaster is limited, comes on a black and gray NATO as standard, and has bucketloads of cool. For under $10,000 you can still pick up one of these on the pre-loved market, and I doubt you'd be disappointed.
Dr. Strange (2016) – Featuring The Jaeger-LeCoultre 
Worn By Benedict Cumberbatch As Dr. Strange
The addition of Dr. Strange's Jaeger-LeCoultre was a genuine, and very pleasant surprise for me. I loved the prominent presence it was given on-screen. It was clearly used as a device to convey the character's wealth, status, and meticulous nature (along with several other watches that appeared in the film, including several pieces from Rolex and JLC). It was an interesting choice – all of the other watches featured on this list were very clearly direct sales drivers, whereas this Jaeger-LeCoultre Master Ultra Thin Perpetual feels like more of an overarching brand ambassador given its $30,000 retail.
A classic piece in another rip-roaring film. If only Tony Stark gave his collection as much screen time as Dr. Strange, Marvel may well be regarded as the defining franchise for watch lovers the world over.
4 More Luxury Movie Watches You May Have Missed (by Model)
Rolex's commercial during the 2017 Academy Awards reminded many of us just how frequently their timepieces make an appearance on the silver screen. However, Rolex is by no means the only manufacturer to have their watches featured in blockbuster films; many other luxury manufacturers have become common sightings in Hollywood's biggest movies.
Did You See Any Of These Movie Watches?
Omega
Of all the films in which Omega watches have made an appearance, the James Bond franchise is easily the most famous. Additionally, the 007 films also place the greatest amount of attention on the watches that appear in the films, as they frequently house hidden gadgets that aid Bond during his spy missions.
Although author, Ian Fleming, originally wrote that Bond wore a stainless steel Rolex, in 1995, Omega won a bid to become 007's official watch. From that point forward, an Omega timepiece has been an omnipresent sight on James Bond's wrist.
Breitling
As a company that is known for its large, bold designs, Breitling has become another luxury watch manufacturer that is popular among Hollywood's costume designers and prop departments. In the 2006 film Blood Diamonds, actor Leonardo DiCaprio wore a Breitling Avenger Chronograph while playing a diamond smuggler, Danny Archer.
Additionally, as a Breitling Global Ambassador, John Travolta can frequently be spotted wearing different Breitling watches – not just in his movies, but also in his personal life. From Broken Arrow (1996) and Wild Hogs (2007), to The Taking of Pelham 1 2 3 (2009) and numerous red carpet and talk show appearances, John Travolta can almost always be seen wearing a Breitling timepiece.
Panerai
Panerai is another company whose bold and instantly recognizable designs have made them a favorite for characters in Hollywood films. Throughout the entire Transporter franchise, actor Jason Statham wears Panerai watches while playing specialized, freelance courier driver, Frank Martin.
Although Panerai is now a common choice for action heroes in big feature films, the company can owe much of its success to Sylvester Stallone. Rumor has it, that at some point during a trip in Rome, Sly picked up a Luminor to wear during his movie, Daylight (1996).
Click here to shop all Panerai Watches.
As Stallone continued to be a major player in the action movie scene, he frequently wore Panerai watches in his films. Over the years, Panerai's popularity grew as an increasing number of celebrities were spotted with them on their wrists – both in their films and in their personal lives. As a result of their bold designs and prominent film appearances, Panerai has become one of the most widely recognizable watch brands in the world.
Heuer / TAG Heuer
While Steve McQueen, AKA the "King of Cool" is often most frequently associated with Rolex watches; McQueen wears a Heuer Monaco in his 1971 film, Le Mans. The large, square case and white sub-dials of the Monaco is instantly recognizable as a Heuer chronograph in the film, and the watch gets plenty of screen time, as McQueen wears it throughout most of the movie.
A very similar Monaco chronograph with a blue dial and white registers makes an appearance in both Speed Racer (2008), and the hit television series, Breaking Bad. While these watches appear almost identical to the one featured in Le Mans, they are actually two different timepieces.
While the Monaco worn by McQueen was a vintage Heuer Monaco chronograph, the watch that appears in both Speed Racer and Breaking Bad is actually the TAG Heuer rebirth of the classic Heuer Monaco, which features a sapphire crystal, an exhibition caseback, and the TAG Heuer name printed on the dial. In both instances, it is the Monaco's shape and appearance that make it instantly recognizable; and it is likely this iconic design that is responsible for the watch's success throughout the decades.