Haven't you heard? The Rolex Daytona is one of the most desirable watches in the world. So much so, that collectors will happily sign up for multi-year waitlists just for the chance to get their hands on a brand new model. But where does all that demand come from? Part of it has to do with this watch's rich and storied history and it is only exacerbated by its relatively limited production numbers.
Rolex Daytona
Daytona Key Features:
– Case Size: 40mm
– Materials: Stainless Steel, Yellow Rolesor, Yellow Gold, White Gold, Everose Gold, Platinum
– Functions: Time w/ Running Seconds, 12-Hour Chronograph
– Dial: Multiple Options Available
– Bezel: Fixed, Cerachrom or 18k Gold, Tachymeter Scale (Gem-Set Options Available)
– Crystal: Sapphire (Flat)
– Movement: Rolex Caliber 4130
– Water Resistance: 100 Meters / 330 Feet
– Strap/Bracelet: Oyster Bracelet; Oysterflex Bracelet
Click here for our Ultimate Buying Guide on the Rolex Daytona.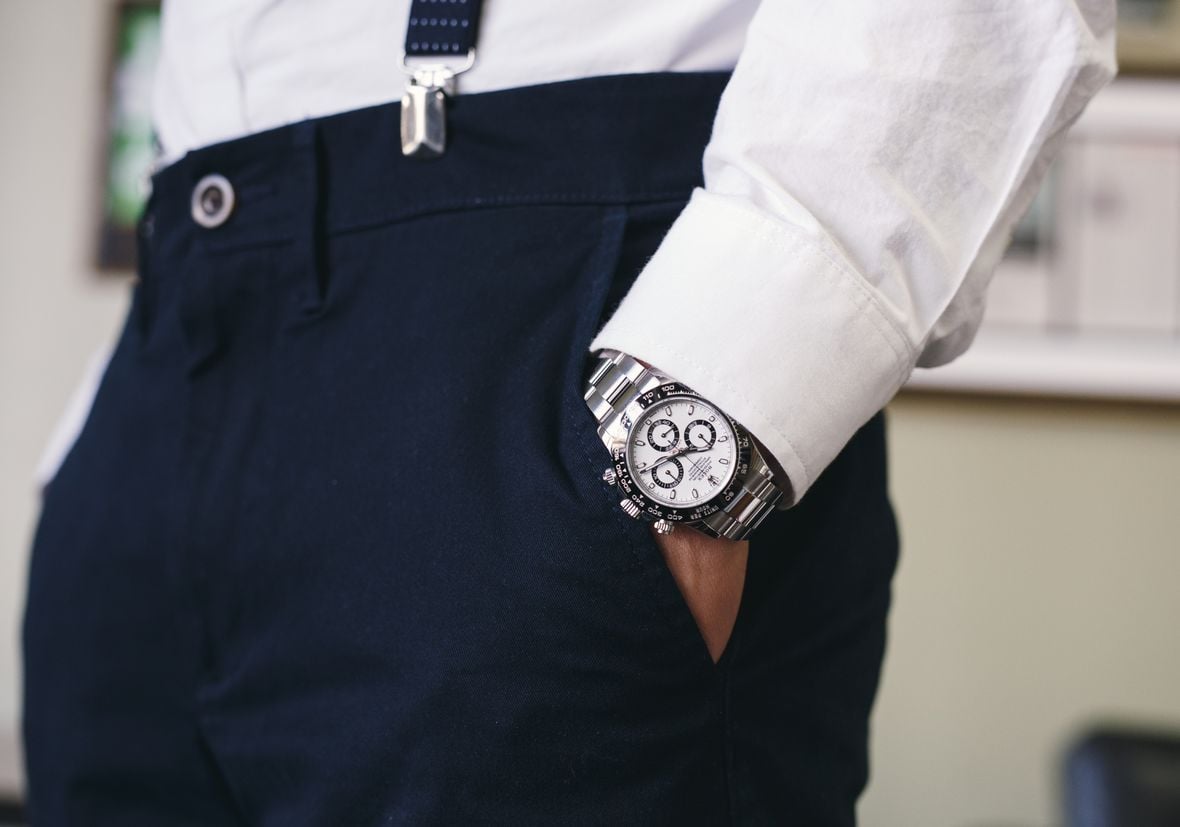 The Rolex Daytona Is Rare With Limited Production Runs
The Rolex Daytona is such a hard watch to find because it has relatively limited production runs. At first, this watch wasn't popular at all, so production numbers were naturally low. However, once the Daytona was popular, it was in Rolex's best interest to keep this luxury sports watch's production numbers low to preserve its high demand. Additionally, since the Daytona uses a movement that is more complex than most of the other watches in the brand's catalog, Rolex can only ramp up production so much since the Daytona's movement is not shared with any other watches. But, to understand that history, let's back up a little.
Named after the famous Florida race track to help attract an American audience, the Rolex Cosmograph Daytona was actually mostly scoffed at in its early years because of its bold dial defined by three contrasting sub-dials. It wasn't until Paul Newman – the famous actor and race car driver – strapped one on that this timepiece was considered cool and desirable. While it is now easily one of the hottest watches in the world, it took a major Hollywood heavyweight wearing one for the world to accept it.
The Paul Newman endorsement made the Daytona far more famous than Rolex could have ever imagined, so much so, that it is unclear what the fate of this previously unpopular watch would be without it. Newman's endorsement has also helped make this first generation of Daytona watches incredibly collectible today. In fact, these 'exotic' or 'Paul Newman' dials are among the most collectible Daytona watches on the planet. However, because this Art Deco style dial was highly unpopular while it was in production, only a small number were originally produced, and many owners even had these dials replaced with standard ones, further decreasing the number in existence today.
It's important to note that Rolex never officially releases its production numbers, but we do know that over the next two generations of Daytona watches, Rolex has continued to keep these production numbers relatively low compared to the rest of its other models. What we've also found is that generally speaking, stainless steel Daytona references were produced in higher numbers than their precious metal counterparts, making these ultra-luxurious sports watches even less common today.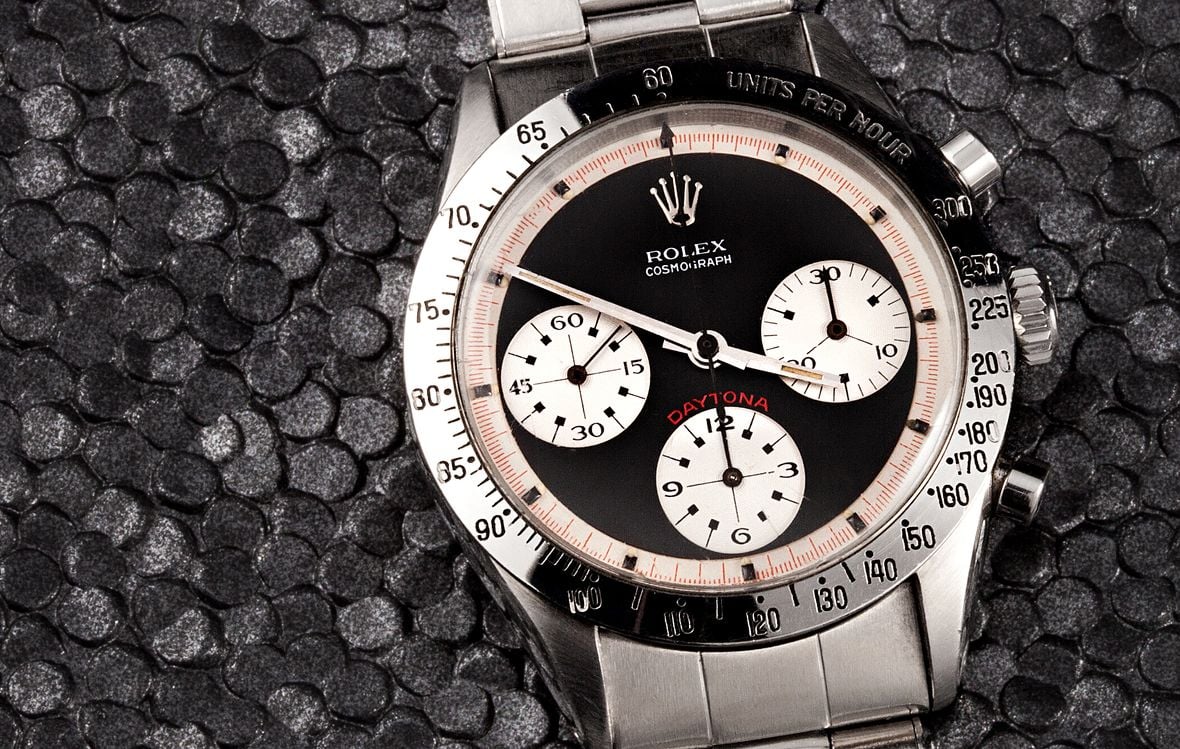 The Rolex Daytona Has Long Waitlists
These relatively low production numbers play into the Rolex Daytona's multi-year waiting lists. Here's how it works. When Rolex sends Daytona watches to its retail shops and authorized dealers, those retailers don't just put the Daytona in the window and wait for someone to walk in and buy them. Retailers usually have a long list of clients who have already said to them, "Hey, I want to buy a Daytona. When you get one in, call me." If you're lucky and you have a great relationship with that retailer, it can be a bit easier to get a priority spot on that waiting list. Otherwise, you will have to put your name down and wait for your dealer to get one in and make it available for you – which can take multiple years.
The reason people are willing to sit on these long waitlists? The price. While you might spend years on a waitlist, if you do finally get your hands on one, it costs significantly less than what you would otherwise pay on the open market to buy one immediately without the wait. As a point of reference, the modern stainless steel and Cerachrom Rolex Daytona costs just $13,150 USD at retail, yet it trades hands for around twice that on the secondary market.
The Rolex Daytona Holds Incredible Value, Making It Incredibly Desirable
The other big advantage of buying a Rolex Daytona is that not only will this watch last you for the rest of your life, but it is surely expected to rise in price as the years go on. Let's give you a tangible example – a stainless steel and ceramic Daytona that cost $13k in 2019 is now selling for more than $25k. So, if you can get on a waitlist and buy a brand new Daytona, it is one of the best Rolex investments you can make. But why is the price so high? Well, collectors value being able to get their hands on the current production Daytona without having to wait for multiple years. There's such high demand for this ultra-desirable watch that collectors will pay significantly above retail to ensure that they can actually get one.
However, pre-owned Rolex Daytona watches are incredibly valuable investments as well. The second generation of Rolex Daytona models, revered for their Zenith-based automatic movements, have an incredible cult-status among collectors today. These watches were produced for just 12 years, from 1988 and up until 2000, meaning that not all of these references have hit 'vintage' status yet (which many consider to be around 25-30 years). Nonetheless, these watches have shown to not only hold great value but grow in value, with many being worth tens of thousands of dollars today. And as these watches continue to increase in age, based on how well the current vintage models are doing, we can expect to see their value increase.
Ultra-Collectible Vintage Rolex Daytona Watches
Of course, we have to talk about the vintage Daytona references that have reached astronomical levels of value and collectibility. The first generation of Rolex Daytona watches are the only true 'vintage' Daytona models, as they are the only ones with manual-wind movements and acrylic crystals, which further helps cement their value. It's also important to note that although it is ultra-desirable today, at the time of its initial release, the Daytona was not all that popular among buyers, so production numbers were only a small portion of Rolex's total output. Additionally, this first generation features a lot of small variations that can make watches from it both unique and rare. This is another part of what makes the first generation of vintage Daytona watches so valuable.
Among the most valuable are the 'exotic' or 'Paul Newman' dials that come in variations of either white dials with black sub-dials (aka Panda) or black dials with white sub-dials (aka Reverse Panda) on the stainless steel models. The extreme rarities present among vintage Daytona watches occur with small dial changes like 'floating text,' retailer signatures like 'Tiffany,'  the famous 'Big Red' Daytona, and swapping out "Rolex Oyster Cosmograph" for "Rolex Cosmograph Oyster" – among others.
Another example would be the valuable 'tropical' dials, which are sought after for their surface finishes that have discolored over time. This is not a design feature, but an abnormality due to small imperfections in the finish that turns the dial from black to brownish, yet many collectors covet this hard-to-find anomaly and are willing to pay steep premiums to add one to their collections. With the combination of rarity, high-desirability, and high-value across the generations, the Rolex Daytona can be incredibly hard to come across.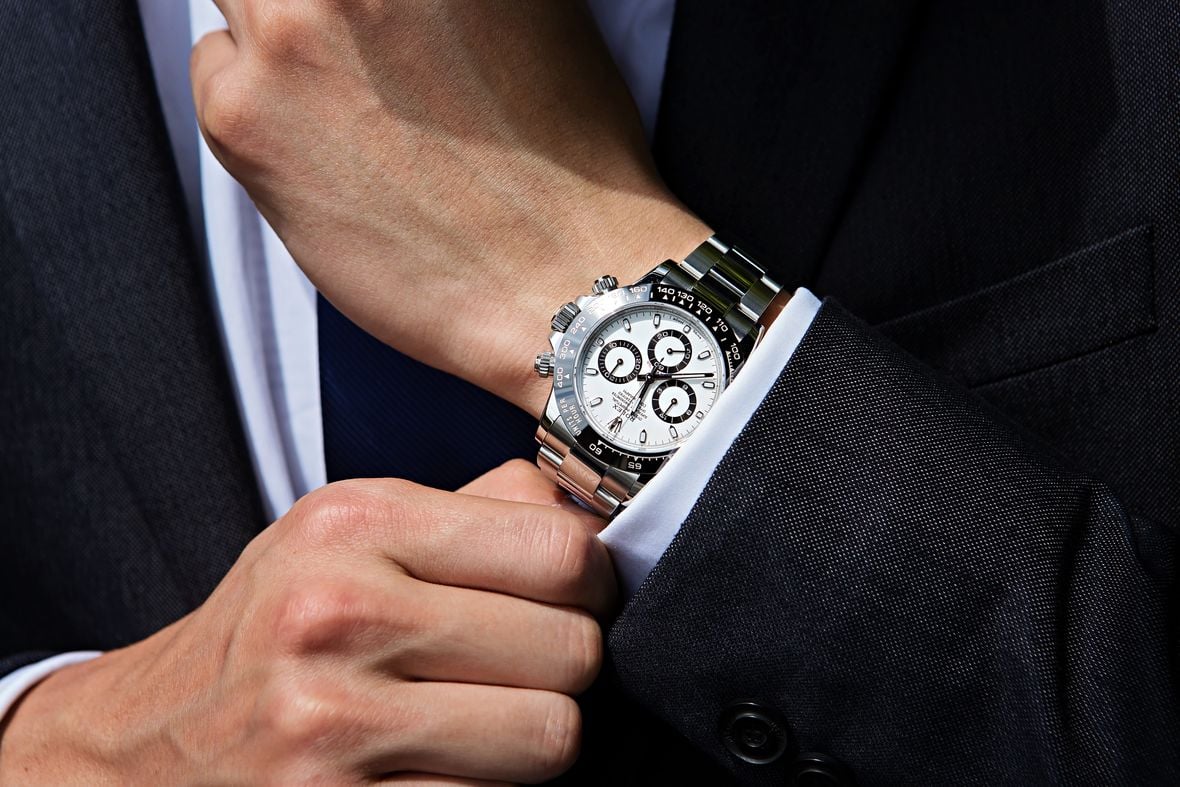 The Rolex Daytona Is a Status Symbol
What makes a watch a status symbol, you ask? To us, it's a magic combination of exclusivity, enduring design, and premium quality. The exclusivity? We already went into this – check. The premium quality? It's a Rolex, also check. The Daytona officially cemented itself as a status symbol when Rolex started outfitting this luxury sports watch with true luxury features like diamonds, colored gemstones, and exclusive alloys like 18k gold and 950 platinum.
With that in mind, even the stainless Rolex Daytona watches are incredibly desirable and worn as status symbols by collectors, celebrities, and the world's rich and famous. They are, in fact, among the most expensive stainless steel watches that Rolex offers because of this pairing of exclusivity, premium quality, and technologically advanced movements. While their price point alone does not necessarily make them automatic status symbols, the lack of availability and the long waitlists required to buy one have made them bonafide statement pieces that offer a level of exclusivity that rivals that of their precious metal counterparts.
Today, the Daytona collection represents exclusivity and Rolex knows it. That is why the brand increasingly creates ultra-luxurious models outfitted with dozens of gemstones and crafted from the finest precious metals. To a certain degree, Rolex can't simply ramp up production of the Daytona due to the fact that it features a chronograph movement, rather than one of the more simple time-only or time-and-date calibers. However, it is also not in Rolex's best interest to ramp up production to completely satisfy demand. If the Rolex Daytona was infinitely available, it would lose some of its exclusivity, so Rolex keeps production numbers relatively fixed to help preserve the desirability and long-term value of its watches.
So, how can I find a Rolex Daytona?
If you want to buy a Rolex Daytona, your best bet is the secondary market. You can purchase a brand new Daytona via an authorized Rolex dealer or Rolex boutique, but often the waiting lists for a new Daytona can be many years in length. When you shop on the secondary market, you have the advantage of being able to immediately purchase the exclusive and luxurious Rolex Daytona without the wait. However, you likely will have to pay a premium. The tradeoff is that you get access to this ultra-desirable watch right now and that it is going to hold great value over time, with huge potential for appreciation.
The other advantage of shopping on the secondary market is that you have more options available. When you shop at a retailer, the only models that are available are the current-production ones, and even those cannot be purchased without spending a significant amount of time on a waiting list. On the secondary market, you will find everything from unworn Daytona watches that are complete with their original boxes and paperwork to excellent condition pre-owned Daytona models, along with discontinued and sought-after vintage references. As long as the Rolex Daytona remains one of the most desirable watches in the world, your best bet in terms of getting one is through a trusted and reputable dealer on the secondary market.