Omega is one of the most prominent brands in Swiss watchmaking, known for its daring designs and premium timepieces. "Anything you can do, we can do better." That is essentially the catchphrase that defines Omega watches. From the initial designs to the features and functionalities of the collections, the brand has been providing world-class timepieces for over a century.
For the ultimate look, accessorize with an Omega dress watch made for both formal wear and sporty occasions. These Swiss-made timepieces offer the perfect combination of elegance and functionality that will turn heads at any event. With this timepiece on your wrist, you can count yourself among the modern-day James Bonds. Regardless of the activity, these elegant and sturdy watches will accompany you from the red carpet to your underwater adventures without missing a beat.
The Omega dress watch collection is available in a wide range of styles and color combinations. Designers have pushed the boundaries of excellence and created models with a new degree of sophistication, confidence, and style. When choosing an Omega dress model, it is challenging to choose from a wide array of options. Thus, our buyer's guide will help you pick the best model and let you fully understand and appreciate this luxury timepiece.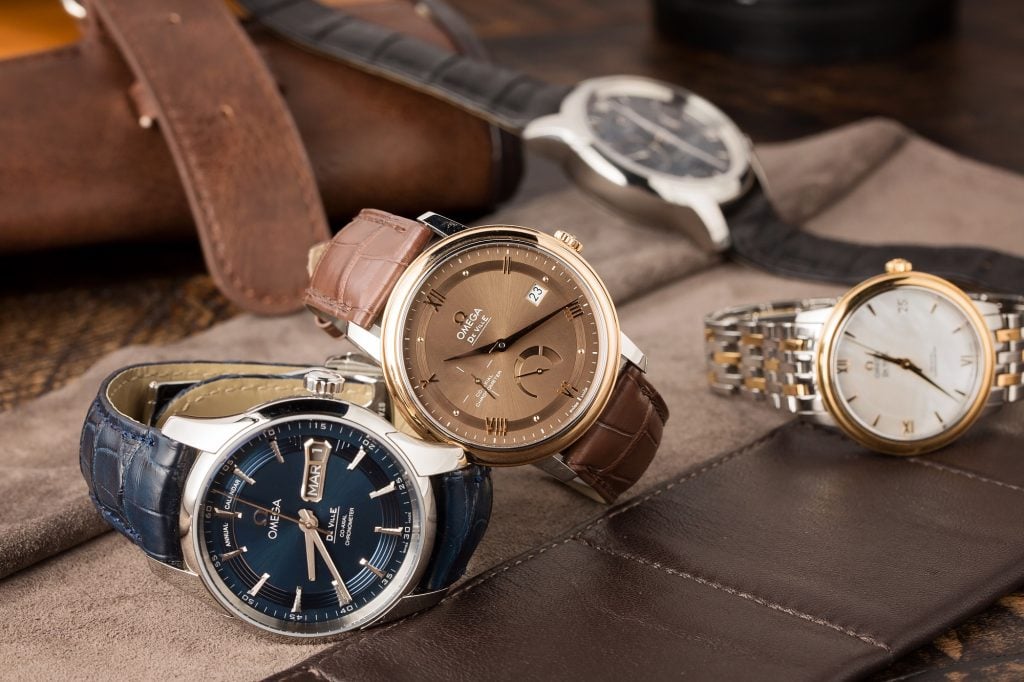 Omega Dress Watch: A Versatile Timepiece for Your Wardrobe
Traditionally, a dress watch is a finely crafted timepiece fitted with all the qualities of a classic men's accessory. However, with so much more choice and variety these days, a more modern definition of a dress watch should be an elegant, stylish accessory that complements any clothing style and occasion.
While the rules of dress etiquette are constantly changing, it is generally agreed that one characteristic of a dress watch is that it stands out and makes you look stylish and elegant. Crafted to perfection with premium materials and remarkable designs, you can choose between elegant diving watches and sleek chronographs to match any sophisticated outfit.
The Omega dress watch collection is a range of timepieces designed to complement formal attire. They are elegant and timeless, and communicate a sense of character that goes beyond mere functionality.
Although a dress watch may have been the standard for formal affairs in days past, today it is no longer reserved only for black tie affairs. It can be a perfect piece for your next outing. With a dress watch in your trousseau, you are more than ready to face the rigors of an action-packed lifestyle. Regardless of your outfit, you can wear a dress watch and add a touch of elegance to any look.
What To Consider When Buying an Omega Watch Dress
Before you rush to buy an Omega dress watch, here are some considerations to keep in mind:
Features: The Omega dress watch is one you want if you are looking for luxury and high-class. However, before purchasing one, you should research the features of each model to see if they suit your preferences.
Authenticity: Omega is a luxury watch brand, so many fakes and cheap imitations make it onto the market. Thus, be sure to buy from authorized dealers to get an authentic product.
Price: When planning to buy an Omega dress watch, you should set a specific amount you are willing to spend on this luxury watch and search within your budget. It is also important to research how much are Omega watches to ensure you are getting the best value when purchasing your timepiece.
The Most Popular Omega Dress Watch Models
Regardless of style, you can find the perfect Omega men's dress watch to elevate your look. To make it easy for you, we've provided a list of our top picks below:
Omega Dress Watch – Seamaster 300 Co-Axial
A classic watch with a rich history, the Seamaster 300 Co-Axial is one of James Bond's choices for a dress watch. It captivates any watch aficionados because it combines smooth lines and a rich tone with striking luminescence. Its Superluminova hour markers are a nod to the early days of wristwatches, while its scratch-resistant sapphire crystal, Master Chronometer movement with Co-Axial Escapement and waffle pattern guilloche dial offer the utmost in luxury and functionality.
Although created to be the ultimate sports luxury watch, the Omega dress watch model is elegant enough for a night out on the town or a day at work. Made of only the finest materials, the watch makes it easy to stay on schedule and look like a million dollars.
Omega Dress Watch – Speedmaster "Gray Side of the Moon"
The beautifully decorated Omega Speedmaster watches have become iconic timepieces in horology. Best known for landing on the Moon, the Omega Speedmaster Gray Side of the Moon is dedicated to the memory of astronaut William Pogue, who piloted the first American space flight intended to reach another world. Acknowledging his powerful contribution to the future of space travel, Omega has commemorated his achievement with this stunning new watch.
At 44mm, this watch boasts a rare meteorite dial harvested from an actual piece of extraterrestrial rock. The 18K Sedna™ gold bezel provides a subtle pop of luxury and denotes prestige. The gray ceramic case and matching gray leather strap make it easy to match with any outfit to complete your fashionable look.
Omega Dress Watch — Seamaster Aqua Terra
On the secondary market, Pink Gold has been gaining traction and demand. It's a versatile color that pairs well with stainless steel or red-gold accents. The Omega Seamaster Aqua Terra is a good example of the stainless steel and pink gold trend done well.
When you wear this Seamaster Aqua Terra watch, you benefit from outstanding technology and elegant design. Moreover, you make a visual impact on anyone who sees the timepiece. Its exquisite features include a stainless steel case, an anti-reflective treatment on the crystal, and a powerful self-winding movement. With its sleek dimensions, it's unobtrusive on the wrist and can be worn comfortably with any outfit.
Omega Dress Watch – De Ville Hour Vision
An iconic and original creation, this elegant watch retains its traditional play on gradient colors and sparkling sapphire crystals. The 41mm stainless steel case houses a chronometer-rated cal. 8601 self-winding movement. As the ultimate expression of the De Ville collection, the De Ville Hour Vision is a powerful timepiece for today's fashionable man and woman alike, built to sustain the test of time.
The delicate look of the premium steel case contrasted by the unique design of the watch gives a rich and luxurious feel. Whether you want something that looks professional or casual, this watch will suit all occasions, even if it's just hanging out at home or going out on the town.
Omega Dress Watch – Seamaster 2022 Olympic Games
This Seamaster is a limited edition commemorative watch for the 2022 Olympic Games in Beijing and has been released by Omega in an extremely limited quantity. The dial on the watch features a unique frosted finish and the case back bears the logo of the Beijing 2022 Olympic Games, along with exclusive engravings that add to its exclusivity.
Made from the finest materials, it combines a stunning white dial with dazzling diamond markers and red accents. As part of the Olympic watch collection, it is time-tested for the perfect balance of elegant, sharp design and technical prowess. Created for the true watch connoisseur, this luxurious timepiece is suitable for a multitude of occasions, from casual to formal.
Omega Dress Watch – Speedmaster Moonlight
A modern take on the Moonwatch, this historic chronograph captures the glory of the Apollo missions and is crafted with the most cutting-edge technology. This modern watch continues to boast a long history of excellence, from the rounded case with beveled lugs and straight-winding crown to the black lacquer dial with subdials at three, six, and nine o'clock.
With the Speedmaster Moonlight chronograph, you enjoy 42mm of the finest delicately contoured stainless steel. The unique, supple leather strap accentuates the 42mm case, domed and scratch-resistant sapphire crystal, and caliber 1863 movement. This watch is, quite simply, a timeless classic for the discerning watch enthusiast.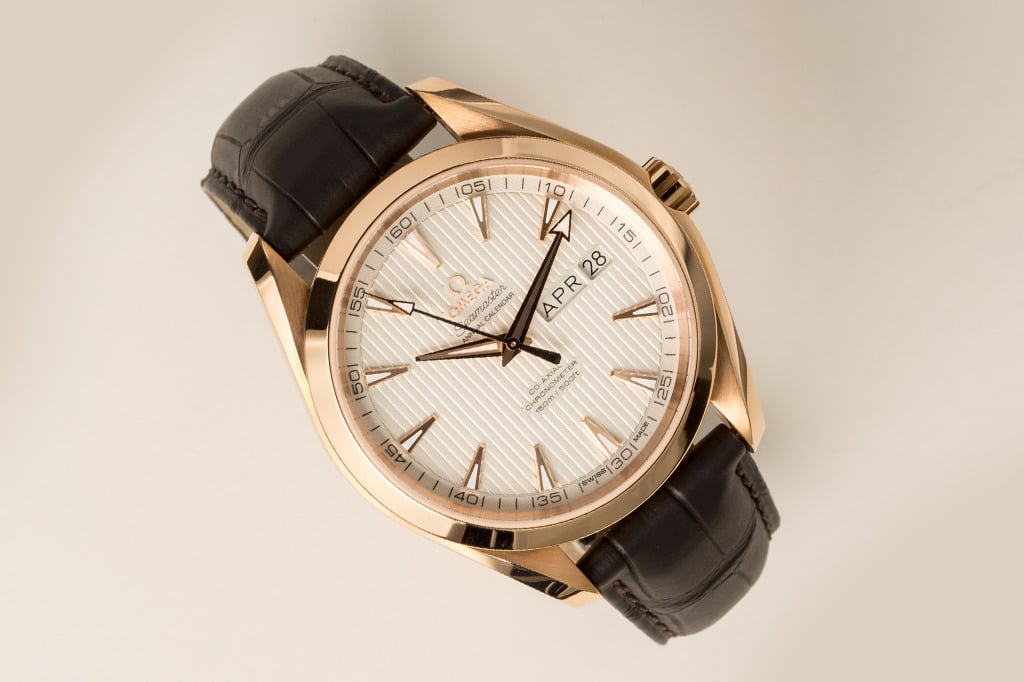 How Much Is an Omega Dress Watch?
The Omega watch is synonymous with luxury and timeless elegance. The brand sets a standard for quality, function, and style that has been continually upheld since its inception. Thus, you can expect to splurge a bit to own one. At Bob's Watches, you can buy this timepiece for a price range of around $3,000 to $10,000, depending on the model.
Shop Omega Dress Watch at Bob's Watches
Driven by precision, the brand's dress watch series drives the innovation of the most accurate watches in the world regardless of the price, purpose, or category. If you are looking to sport one of these luxury timepieces, Bob's Watches offers a wide range of options. Explore our new and pre-owned selection, and surely you will find the one that fits your preferences and lifestyle.