Professional and Amateur Divers Alike Trust in TUDOR Dive Watches.
Dive Into the Legend That Is Tudor
Throughout the years, TUDOR has been a trusted brand that creates innovative and reliable watches. Their robust, luxurious, and cutting-edge watches are the chosen timepieces by professionals and adventurers around the world.
You want a watch that can withstand the elements when you're diving at any depth. TUDOR offers various models that deliver sleek designs and the leading technology in the watch industry. Find your next favorite watch by pursuing our TUDOR dive watch ultimate buying guide.
Bob's Watches carries a wide range of used TUDOR watches. Shop our selection today.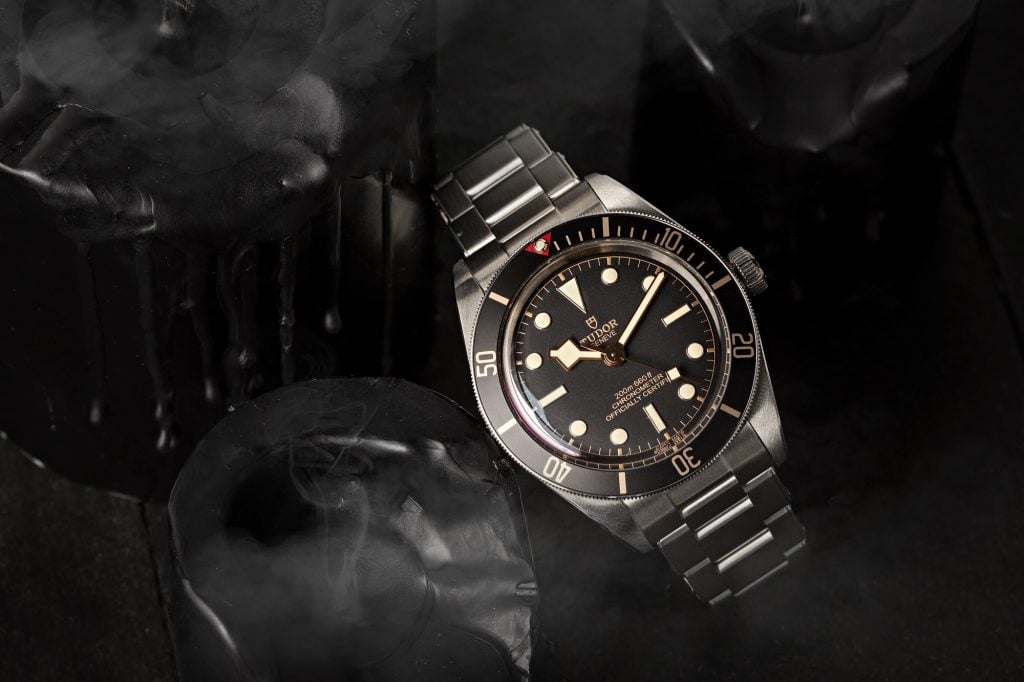 Learn More About the History of TUDOR
Hans Wildorf created the TUDOR brand in 1926. The watch line was developed to be an entry-level luxury watch alternative to Rolex. Since then, the watches have developed a cult following.
TUDOR watches were designed to be used by mariners and divers. The brand has formed partnerships with naval companies around the world, such as the US and French Navies.
The Launch of the Submariner
The first divers' watch from TUDOR was the Oyster Prince Submariner. The watch debuted in 1954. It was created to be waterproof, reliable, and durable.
Since its inception, the Submariner has evolved. The design has gotten improved and tweaked so it can meet the requirements of various types of divers.
The second era of Submariner watches began in 1969. The main difference between this watch and the first version was its new face.
The second Submariner was designed specifically for divers. It featured unique dials with matching hands and square hour markers.
Enjoy the Features of TUDOR Watches
Each model in the TUDOR line includes unique features that set it apart from its predecessors. There are several overarching elements that you'll find with all TUDOR watches.
Rugged Construction
Every TUDOR watch was created to withstand harsh conditions and elements. Even their dress watches get built to withstand anything that life throws at them. Some TUDOR watches offer 100-meter water resistance or better.
Mechanical Movements
All of the watches in the TUDOR line are mechanical watches. Some watches utilize modified ETA movements. Most of their watches use in-house movements.
Minimal Precious Metals
TUDOR doesn't use a lot of precious metals in their watch cases. The exception is the gold that's used in their two-tone watch models.
Steel is the primary metal used in their watches. Other materials, such as carbon or bronze, get used in select models.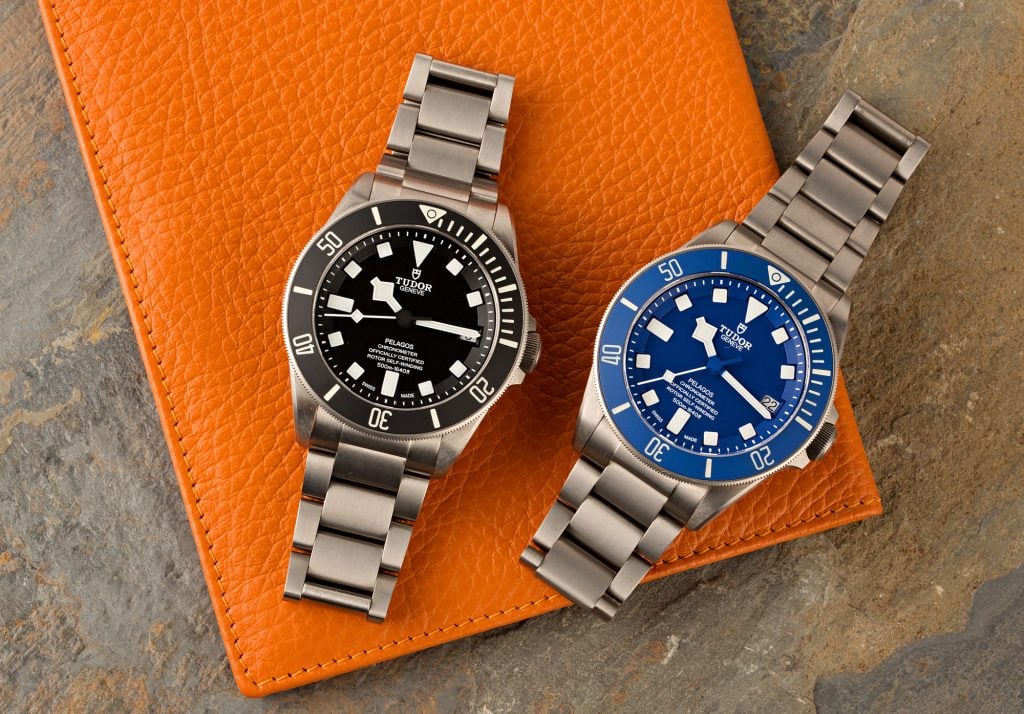 Reasonable Prices
The company was founded to be a more cost-effective alternative to Rolex watches. There is some overlap between the two brands. However, the price for TUDOR watches stops around where Rolex prices begin.
High-End Bracelets and Straps
The bracelets featured in TUDOR watches are robust and supple. The fabric and leather straps are made from high-quality materials that provide the wearer with comfort and flexibility.
Diving Not Required
While TUDOR's dive watches are marketed at divers, you don't have to be a diver to enjoy the benefits of the watch. TUDOR is a great brand for those looking for something different and impressive.
Timeless Designs
TUDOR takes inspiration from previous models in its watch lineup. That illustrates that the designs are timeless and will be in fashion for many years to come.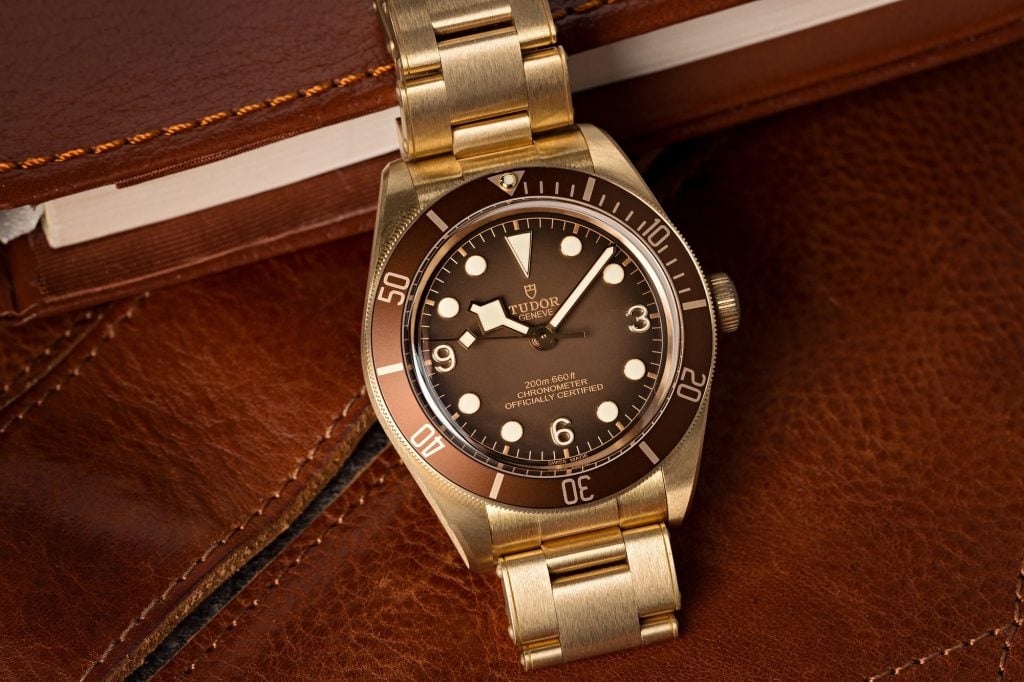 Explore the Current Lineup of TUDOR Dive Watches
At Bob's Watches, our certified pre-owned TUDOR watches are guaranteed to be 100% authentic and genuine. We ship our watches with certificates issued by WatchCSA. WatchCSA is the industry's leading third-party authority on watch authentication.
Learn more about the dive watches from TUDOR that Bob's Watches carry. Check our online store often as we continually update it with new models.
Pelagos
The TUDOR Pelagos watch combines urban sophistication with innovative technology. The Pelagos features a titanium bracelet. The bracelet includes a steel folding clasp that has an auto-adjustable spring mechanism.
The spring system allows the watch bracelet to get adjusted while you're diving. The spring contracts as it gets compressed at greater depths. It then expands as the pressure decreases as the diver goes back to the surface.
The Pelagos also includes a rubber strap. The rubber strap is equipped with an extension system, allowing you to easily adjust it in any diving condition.
This watch features "Snowflake" hands. The hour hand is the characteristic TUDOR square tip. The wearer can easily tell it apart from the minute hand at a glance. This design is known as the "Snowflake."
The TUDOR Manufacture Calibers powers the Pelagos models. This system provides wearers with precise and robust performance. The watch features a power reserve of 70 hours.
Some Pelagos models include an instantaneous jump date display that's visible through an aperture at the 3:00 spot. You'll also find a helium escape valve on some of the watches. They're guaranteed to have a depth of 500 meters.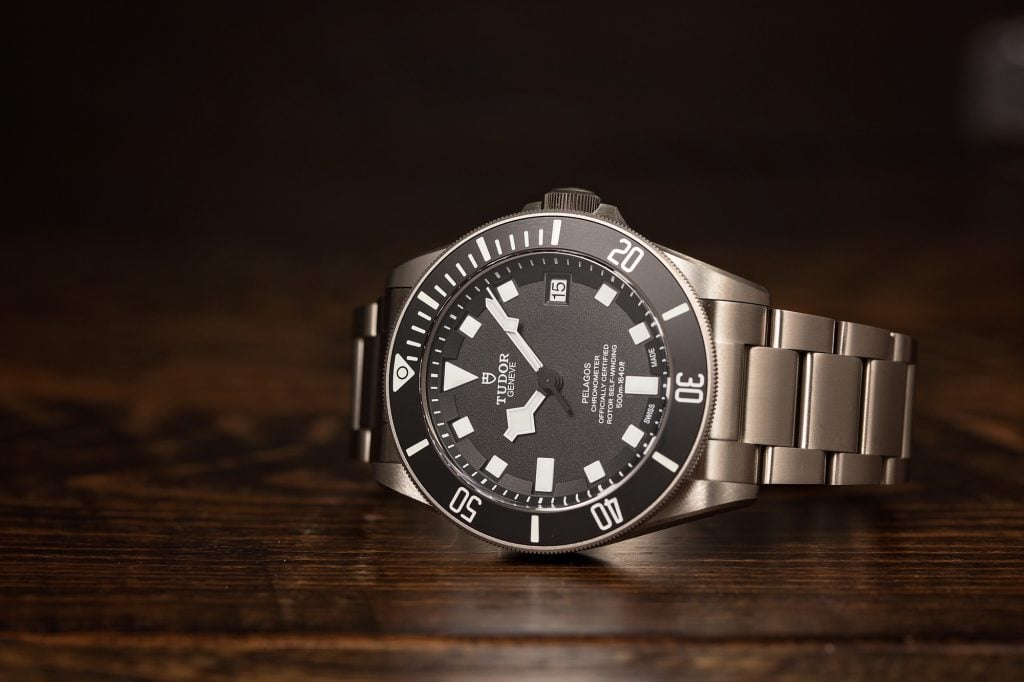 Black Bay
The Black Bay model from TUDOR illustrates the brand's technical expertise. It's an extraordinary watch that has a case in matte black ceramic. It also has a Master Chronometer certification from METAS.
The Black Bay watch pays homage to past models in the TUDOR line. Its crystal, domed dial, and general lines found inspiration from the first TUDOR dive watches.
It includes a prominent winding crown that comes from the Big Crown watch from 1958. The angular, "Snowflake" hands were borrowed from the TUDOR watches the French National Navy used during the 1970s.
The Manufacture Calibre powers the Black Bay watch. The finish is entirely black, emphasizing its distinct look.
You can choose from a fabric strap, aged leather strap, or steel bracelet for this watch. The steel bracelet was reworked from the brand's bracelets during the 1950s and 60s.
The Black Bay watch is a reliable and functional tool. It provides an ergonomic and accurate watch for divers to use.
How to Buy a Watch From Bob's Watches
Step One: Browse Our Selection of TUDOR Dive Watches
We carry a wide selection of certified pre-owned TUDOR dive watches. Explore our collection.
Step Two: Add to Cart
Once you've found the watch you're looking for, easily add it to your cart. You can pay via wire, credit card, or by financing the watch. We offer our customers a 3% discount if they pay by wire.
Step Three: Receive Your Watch
Every watch that you see on our website is in stock and ready to ship. Our watches ship out within one business day of your order. All domestic orders get shipped via FedEx overnight and are fully insured and no extra cost to you.
Why Buy a Watch From Bob's Watches
Bob's Watches is proud to be the world's first and only pre-owned Rolex exchange. Our customers can buy, sell, and trade vintage high-end watches at true fair market value.
We openly publish the current sell and buy values for each watch model. This transparency allows us to serve as an online marketplace for sellers and buyers looking to get the best deal.
Built on Integrity and Trust
Our goal at Bob's Watches is to get our customers the best possible results. We're the leading destination for used and vintage luxury timepieces. Unlike our competitors, everything on our website is in stock and ready to ship.
Focused on the Customer Experience
Bob's Watches aims to be a trusted source for buying and selling watches. We want our customers to have a positive experience with us. Even though our business has grown over the years, we're committed to providing exceptional customer service.
Designed for Buyers and Sellers
Bob's Watch is the top destination for buyers looking to purchase a genuine watch from a trusted reseller. We help our sellers receive a fair price for their watches from a trusted buyer. Get paid promptly.
Frequently Asked Questions
How Can I Buy a TUDOR Watch?
You can purchase a TUDOR dive watch online or in person. We have a retail location in Newport Beach, CA. Our online store is always open.
Do Your Ship Internationally?
We do ship to other countries outside of the United States. Keep in mind that we only accept wire payments for most international locations. We accept PayPal for customers shopping from the UK, Australia, and Canada.
We'll ship your watch for a flat rate of $150. Your watch will ship the day we receive your payment. You can expect to receive your watch within two to three business days.
How Much Do TUDOR Watches Cost?
The cost of a TUDOR dive watch depends on various factors. Some watches get priced as low as $1,895 while others are over $12,000. We encourage you to browse our online selection to find a dive watch that fits within your budget.
Shop Our Selection of TUDOR Dive Watches
Our TUDOR dive watch ultimate guide will help you find the best watch for your needs. You can't go wrong with any model from the TUDOR line.
Browse our extensive collection of TUDOR dive watches. Buy with confidence from Bob's Watches.