Many of us are old enough to remember when Tudor still wore the 'poor man's Rolex' tag. Despite living in the shadow of its illustrious parent company for much of its history, it always struck us as a harsh assessment of an excellent brand, even during its more inconspicuous times.
Today, this label is just flat out wrong. Tudor may still be cheaper to buy than the average Rolex, but the gap between the two as far as quality and innovation is concerned has narrowed a lot in recent years.
We can look to Tudor's dive watches as a perfect example. The current portfolio gives us the choice between two ranges: there's the headline-stealing, nostalgia-drenched, good-ole-days-advocating Black Bay collection, with the Black Bay Fifty-Eight series being a particular standout. And then there is the Tudor Pelagos collection. This is where all thoughts of yesteryear are forgotten and Tudor has given us quite possibly one of the best modern divers of recent times.
Tudor does, in fact, have a long and illustrious dive watch ancestry, supplying many of the world's underwater combat fighting units in the past. The Pelagos range is where the best of that military heritage meets the best of the brand's most recent innovations, wrapping it up in a luxury tool watch you might actually take diving. Below, we take a closer look at this somewhat unsung hero of the Tudor line and discover just how good it really is.
Tudor Pelagos
Pelagos Key Features:
Case Size: 42mm
Materials: Titanium & Stainless Steel
Functions: Time w/Running Seconds, Date Display, Helium Escape Valve
Dial: Black or Blue w/ Luminous Hour Markers
Bezel: Unidirectional, Black or Blue Ceramic w/ 60-Minute Scale
Crystal: Sapphire (Flat)
Movement: Tudor Caliber MT5612
Water Resistance: 500 Meters / 1,640 Feet
Bracelet: Titanium w/ Diver's Extension System
Retail Price: $4,575 USD
Click here for 6 fast facts about the Tudor Pelagos.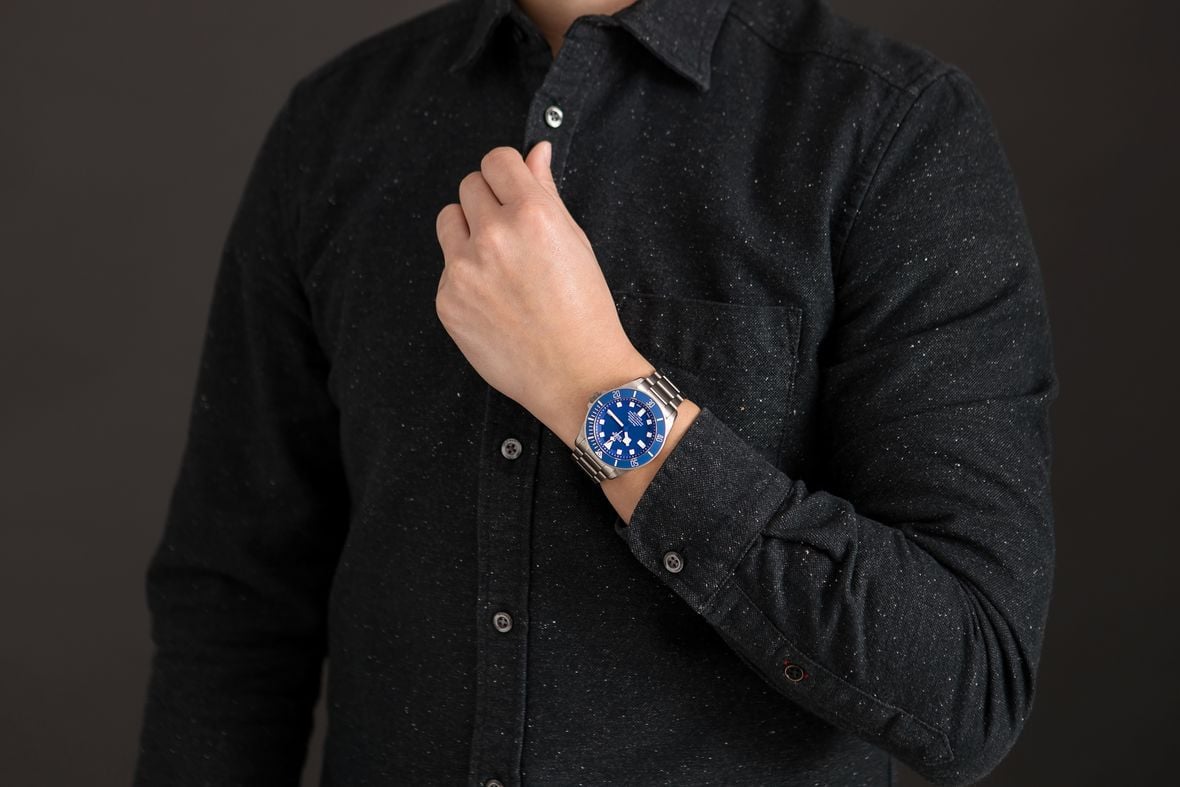 Tudor Pelagos History
Launched in 2012, the Tudor Pelagos arrived in the same year as the first of the Heritage Black Bay models – two outstanding examples of their genre, released at the same time, with the same movement, but with very different remits. The Black Bay diver was created for lovers of all things classical, and there's nothing wrong with that. The Tudor Pelagos on the other hand, its name derived from the Ancient Greek for 'open or deep sea' – was aimed at a younger, more dynamic audience, a pure sports model with an energetic design.
Waterproof to a Submariner-humbling 500 meters, measuring 42mm in diameter, and forged from titanium – the only piece from either Tudor or Rolex at the time to utilize the metal for the entirety of its case (although the caseback is still steel) – the Pelagos was an obvious sign from the get-go that the perpetually overshadowed sibling brand was intent on announcing its presence with some authority.
So the Tudor Pelagos may have had all those disparate elements every dive watch has to have in order to warrant the name: unidirectional bezel, waterproof case, high contrast dial, etc. but it delivered them in a refreshing style that allowed it to stand out in horology's most congested field. The original generation was powered by the ETA 2824, one of the most widely used third-party movements ever made and a robust engine all around. However, when the second iteration of the Pelagos was released in 2015, it came with a homegrown caliber, the MT5612.
Tudor is a wholly-owned subsidiary of Rolex and (more importantly) ultimately is backed by Rolex's bank account. The enormous expense of designing, fabricating, testing and mass-producing mechanisms was well within its reach, and the Caliber MT5612 was just the first in a small series of domestic movements that the manufacturer has since built.
Producing calibers in-house is recognized as a significant badge of honor for any brand, drastically upping their value proposition in the eyes of collectors, and Tudor's efforts have seen them get closer than ever to matching Rolex's output. The fact that it has managed it while keeping a realistic pricing structure is, if anything, even more impressive.
That reissue also introduced two other versions of the Pelagos. Alongside the black dial and bezel watch, we were treated to another with face and surround in a stunning matte blue. In 2016, they were joined by a left-handed model, with the crown on the opposite side, made to be worn on the right wrist. That was the Pelagos's last update, and the series has remained a very well-respected and popular addition to a Tudor lineup which seems to get stronger by the day.
Tudor Pelagos Cases
The Pelagos arrived as very much an antidote to all the vintage-inspired releases of the last 10-years. Its 42mm diameter – large, but not too large – is perfectly in-keeping with the current period coming off the back of the oversized trend, where things are beginning to get scaled back again. However, it still keeps within that ideal modern tool watch sweet spot; big enough to read easily and get noticed, not so huge as to be unwieldy.
But it is in the materials that the range really comes bang up-to-date. As we said, this was the first full-titanium release from either Tudor or Rolex, and it is hard to see why it took either quite so long. For a metal with such a long list of positive attributes, and especially for a dive watch, you would think both manufacturers would have jumped on the bandwagon before now.
Starting from the top, it is a highly corrosion-resistant metal, meaning that it is virtually immune to pitting and rust caused by exposure to seawater. Secondly, titanium is around twice as hard and five times stronger than stainless steel (assuming it is Grade 5, a commonly used variety for watch cases), and it also has the added benefit of being hypoallergenic. Steel alloys contain a certain percentage of nickel which can irritate the skin (Rolex's 904L actually has a higher nickel content than the 316L used by the majority of the industry).
Most notably, titanium is particularly light, around 40% the weight of steel. That last factor may, in fact, explain why Rolex has so far shunned the metal on a large scale. Many of us equate how luxurious a product is with how heavy it is (no matter how accurate a perception that may be) and since the brand's signature 904L "Oystersteel" is incredibly corrosion resistant itself, it may feel as though it is best to stick to what works and never produce a watch whose weight might ever give some the false impression of a lack of quality.
Stacked against that is the idea that titanium scratches easily. This isn't 100% accurate though. Titanium forms an oxide layer on its surface, the reason it is so compatible with the skin, and it is that coating that can pick up scuffs.
However, these scuffs will often eventually fade away once the oxide layer has a chance to reform. However, one area where titanium loses out to steel is in polishing. It is a difficult metal to add a shine to, but Tudor has got around that by going the other way and embracing the metal's natural gray matte, leaving a masculine and muted finish as befits a true tool watch.
Elsewhere, the case as a whole has a rock-solid feel, with slim and nicely chamfered lugs and rounded crown guards. The 500m water resistance is extremely impressive, and the HEV is there just in case you decide to go live in an underwater habitat and breathe helium for a couple of weeks. All around, it is hard to see where Tudor could have improved on the Pelagos. From the typically no-nonsense aesthetics to the state-of-the-art materials, it is a class act from head to toe.
Tudor Pelagos Dials and Bezels
There are three variants of the Tudor Pelagos as of now. There's the standard black dial and bezel model, another with similar coloring but in a left-handed version and with a slightly more vintage-leaning color palette, and a third with all-blue detailing. All are superb, but each has its own enticing factor.
The black piece is about as understated as you could want, a simple, minimalist dive watch with enough versatility to match with anything. Its hour markers, as with the other two models, are a mix of squares, with rectangles at the cardinal points and an inverted triangle for the 12 o'clock. Just like the snowflake hands, the indexes are lifted from mid-20th century Tudor divers and are an acquired taste for some. Regardless of your stance on them, there's no denying that they are distinctive, and have become a signature aesthetic of the Tudor brand.
The left-handed watch, the Pelagos LHD, is the closest concession to the current retro craze. All of its dial and bezel components are filled with a beige Super-LumiNova to give it that aged look. It is something many brands have been doing recently, with varying levels of success.
One of those things it is very easy to overdo, Tudor seems to have walked the tightrope nicely. On top of the false patina, the LHD ups the vintage quotient with a roulette date wheel (even numbers in red, odds in black) as well as a single line of red text on the dial, à la the earliest Rolex Submariner ref. 1680.
And finally, the blue model. Tudor had been producing a blue version of its own Oyster Prince Submariner since the 1960s and fans were clamoring for a return with their new diver. And what a return it is (but in an entirely modern form).
If you've ever been to a Greek island and sat on a hotel balcony overlooking the Aegean in blinding sunlight, that's the kind of blue Tudor has managed to produce for the blue Pelagos. It manages to lift the entire watch and give it a real modern pop, even though it has the same unpolished finish as the other two models, and it is a shade virtually unique to the brand.
To denote the presence of their new in-house, chronometer-certified movements, this new generation of Pelagos watches featured additional lines of text on the lower half of their dials. While the inaugural model had just two, the new series has five, and some collectors consider this to be slightly excessive, but gladly accept it for the superior performance that the movements offer.
As for the bezels, they are another highly impressive constituent. Again forged from titanium, each has a hard-wearing ceramic insert matching the dial color. The diving scale is engraved as per usual, but the Tudor Pelagos does one better by having the luminescent material injected directly into the numerals, making them visible in the dark. An extremely useful feature, and not just for diving in poor lighting conditions.
Tudor Pelagos Movement
The original Tudor Pelagos model from 2012 to 2015 used a Tudor-modified ETA 2824-2. A comparatively straightforward, three-hand-and-date workhorse of an engine, it has featured in an almost uncountable number of watches since its introduction in 1982. When Tudor decided to start building its own movements, it marked a major step forward for the brand, with the additional effect of bringing Tudor still closer in prestige to its illustrious parent company.
The MT5612 was the first caliber to emerge, and as debuts go it has been a significant success. It now sits inside all three of the Pelagos models, including the LHD, except the mechanism is rotated 180° in that version to accommodate the left-hand crown configuration.
As a movement, the Cal. MT5612 isn't going to win any Geneva Seals for exquisite finishing, as is the story with any caliber made by the Rolex group. They tend to leave all the Clous de Paris and guilloché decoration for the brands with display case backs to show them off, and content themselves with building the types of power plants which simply keep on ticking forever with the minimum amount of fuss.
The balance frequency is 28,800vph, providing a smooth, eight beats per second glide to the seconds hand, and other benefits include a silicon hairspring to shrug off magnetic forces, along with a generous 70-hour power reserve. As for accuracy, the Caliber MT5612 comes with chronometer certification from the COSC, guaranteeing a timekeeping precision of between -4/+6 seconds a day.
The one possibly noticeable difference you might find between the first and second generation Pelagos is that the later watches have a slightly thicker case to accommodate the new mechanism, which comes in about 2mm deeper than the ETA, at 6.5mm versus 4.6mm. However, that translates as the current watch being only approximately 14.3mm thick against the older style's 13.8mm. Neither watch could be considered exactly thin, but these are highly-capable dive watches and their cases wear their dimension well due to the lightness of their titanium cases.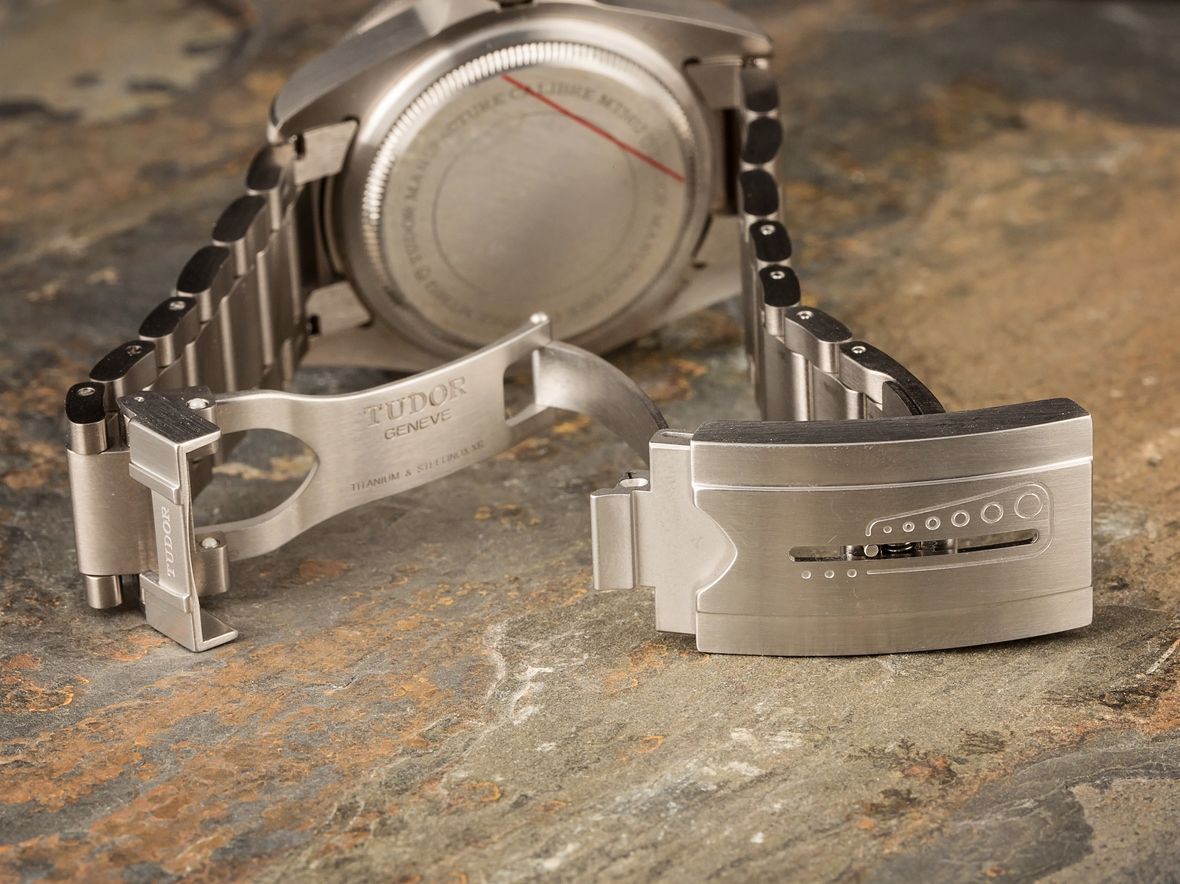 Tudor Pelagos Bracelet
Arguably the most overlooked feature of any watch, the Tudor Pelagos's bracelet warrants special mention here, and specifically its clasp. Available on a three-link, Oyster-style steel bracelet along with the additional option of a color-matched rubber strap, the bracelet is fitted with Tudor's own patented micro-adjust fastener with diver's extension.
The clasp can be fixed in one of three settings for a perfect fit, as well as a self-regulating position for use underwater. As the wearer's wetsuit compresses with the increased pressure the deeper they go, the spring-loaded system automatically compensates and tightens the bracelet, ensuring that it is always held securely on the wrist.
This unique extension system is actually a really impressive addition to an already excellent professional dive watch. Does it outdo Rolex's Glidelock? That's a matter of opinion, but there's no doubt it has been designed with real divers in mind and it is extremely cool and useful even on dry land too.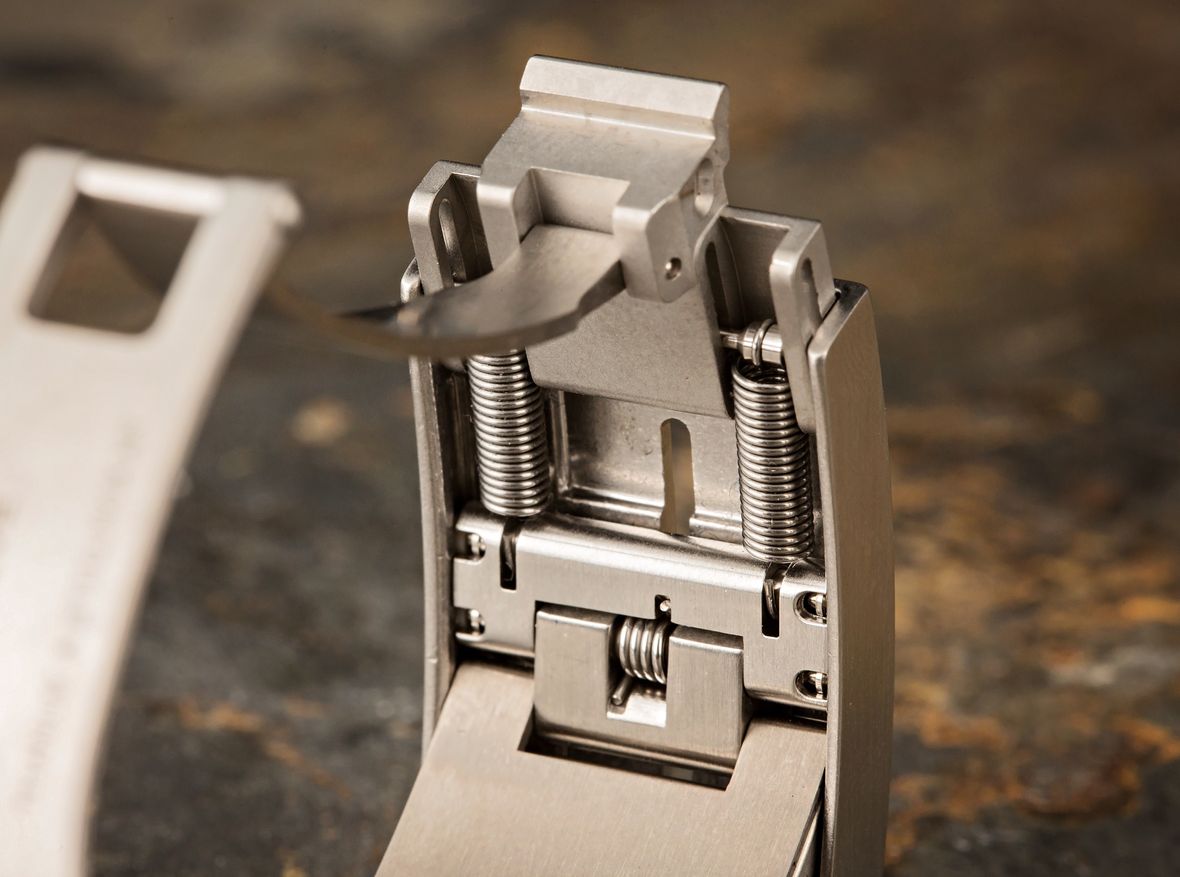 Tudor Pelagos Price
And so we come to the part where we traditionally find the biggest gap between Tudor and Rolex: the price.
Once upon a time, there was the whole in-house versus outsourced movement debate to explain why a Rolex watch cost so much more than its Tudor counterpart. Surely now both are running on in-house calibers, there must be very little difference between their retail prices, with those from Tudor now not long behind their Rolex siblings? Nope.
The Pelagos costs $4,575. The nearest equivalent Rolex, the Sea-Dweller, comes in at about $11,700. If you were happy to forego a Helium Escape Valve and 200m of water resistance, the date-displaying Submariner is yours for $9,150.
Both are still twice or more the cost of the Tudor, and the Sea-Dweller is closer to three times. And that is if you can even get hold of these ultra-desirable Rolex watches at retail – which you can't.
Pre-owned, the difference in price is bordering on ridiculous. It all makes the Tudor Pelagos one of the best value propositions on the market. A thoroughly modern dive watch, packed to the gills with talent and cutting-edge materials, an in-house movement, and robust styling – all from a brand with about as unsurpassed a pedigree as you can get – and all for less than $5k. Best of all, you don't have to sit on a waiting list for several years to pick one up.