Bob's Watches collaborated with Gwyneth Paltrow's lifestyle brand, Goop, to bring you a remarkable collection of one-of-a-kind Rolex watches. The carefully curated collection was personally selected by the Bob's Watches co-owner and lead buyer Carol Altieri and includes several incredibly rare Stella and specialty dial Rolex watches. These watches are ideal for anyone in the market for a unique watch that will hold its value well. Let's take a closer look at the watches included with the Bob's Watches x Goop collaboration below.
What are Stella and Specialty Dials?
When it comes to Rolex's classic dress watch collection, the company has remained true to the same design codes for decades. However, there are a few instances in the brand's history when they've explored different design elements, such as colorful specialty or Stella dials. These watches are coveted not only because they are unlike anything else in the Rolex catalog but also because they were produced in such small quantities and are becoming increasingly hard to find on the pre-owned market.
Rolex Stella dials were sold from the 1970s until around the early 1990s. While the rest of the offerings in the Rolex catalog sported muted dials, such as black, white, silver, and champagne, Stella dials are distinguished by colorful, lacquered enamel dials. These striking dials were produced primarily for the market in the Middle East and are almost entirely exclusive to the Day-Date collection. Specialty dials are a lot like Stella dials because they also have what would be considered unusual design elements for Rolex, including uncommon dial colors and gemstone hour markers.
Stella Dials
Rolex Day-Date President 1803 – Green Stella Diamond Dial
ITEM: 127382 CC
Rolex produces the Day-Date exclusively in precious metal, with yellow gold being one of the most common. This example pairs the green dial with 18k white gold and is among the rarest we've ever seen in the Day-Date collection. Brilliant and baguette-cut diamonds serve as the hour markers alongside Tritium lume in a creamy patina.
The Day-Date made history when it came to market in the 1950s as the first wristwatch to display the day spelled out in full on the dial, never abbreviated. The dial also features Rolex's signature jump date mechanism at 3 o'clock, making this watch just as functional as it is handsome. The Day-Date is also commonly distinguished by a "President" bracelet with semi-circular links and a hidden Crownclasp, as seen on this green Stella dial Rolex. We doubt we'll ever see another Day-Date quite like this one.
Rolex Day-Date President 18038 – Coral Stella Diamond Dial
ITEM: 124315 CC
Rolex recently released a Stella-inspired collection of Oyster Perpetual watches in similar hues as the original 1970s lacquered dials, including coral red. This Day-Date ref. 18038 is particularly valuable because it hails from the original Stella collection and features the recently-revived coral red dial. In addition to boasting an original Stella dial, you'll also enjoy the convenience of the caliber 3055 Perpetual movement with a Single Quickset function for the date, a waterproof Oyster case, and automatic winding technology. The glittering diamond hour markers, rich red dial, and 18k yellow gold finish have all the makings of a cult classic.
Rolex Day-Date President 1803 – Oxblood Stella Dial
ITEM: 126631 CC
Compared to the other dial colors included in the Stella collection, Oxblood is arguably the least flashy and, therefore, more sought-after. It's elegant and versatile and looks outstanding on this yellow gold Day-Date. We couldn't dream of a more suitable Stella dial combination. Features include matching yellow gold indices and hands, Tritium lume, the date at the 3-hour marker, and the day spelled out in full at the 12-hour marker. The 36mm case and exclusive President bracelet will flatter any wrist.
Rolex Day-Date 1803 – Coral Stella Dial
ITEM: 126763 CC
This Stella dial Rolex is special for many reasons, and not just because it features a rare dial. First, the watch is presented in pink gold, a metal finish we rarely see on a vintage Rolex Day-Date. Additionally, this ref. 1803 wears on the 5-piece link Jubilee bracelet instead of the usual Day-Date President bracelet with three-piece links. It's a stunning collector's item that is made even more remarkable because it also sports a unique Stella dial in a vibrant coral hue. This is the watch to buy if you're in the market for a special Rolex that turns heads.
Ladies Rolex Datejust 6917 – Oxblood Stella Dial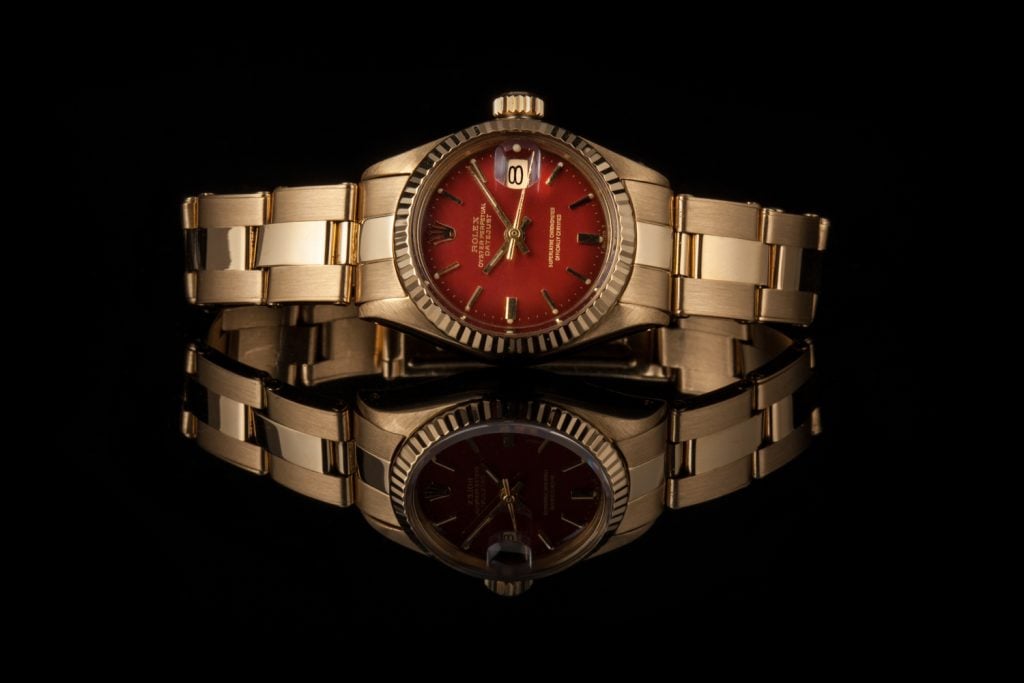 ITEM: 143883 CC
Stella dials are more common on the Day-Date. However, Rolex furnished some examples of the Lady-Datejust with the rare, lacquered dial, including the vintage ref. 6917. Rolexes outfitted with the Stella dial are usually on the higher end of the price spectrum, but our example here has an entry-level price of just under $10k. It's an excellent opportunity to gift your loved one a coveted Stella dial Rolex without breaking the bank.
The Tritium lume on the hands and above the hour markers have aged to a matching creamy patina. Keen-eye collectors will also appreciate the cracking – aka crazing – present on the dial, a rare characteristic only found on vintage lacquered dials.
Specialty Dials
Rolex Day-Date President 118238 – Blue Vignette Diamond Dial
ITEM: 135605 CC
Rolex released the Day-Date ref. 118238 in 2000, making it the "newest" specialty dial watch in our guide. It was the first yellow gold 6-digit Day-Date ever produced, replacing ref. 18238, and features a slightly more contemporary aesthetic. As a modern Rolex, our example exhibits only minor signs of wear, including a solid link bracelet with little to no stretch.
It also includes a fascinating vignette dial characterized by a lovely blue gradient that is darker around the dial's perimeter. Diamonds are hand-set in yellow gold surrounds, adding just the right amount of luxury to the dial.
Rolex Day-Date President 18238 – Black Onyx Dial
ITEM: 133192 CC
The black onyx Rolex dial is made from genuine stone and is distinguished by a pitch-black hue that contrasts sharply against the yellow gold finish. It also does not have any hour markers, a feature many Rolex enthusiasts will find desirable. Our example hails from the 5-digit collection, featuring scratch-resistant sapphire and the high-beat cal. 3155 Perpetual movement. What's nice about this watch is that it also features a convenient Double Quickset function that allows the wearer to adjust both the date and day with a quick twist of the crown.
Rolex Datejust 16238 – White Index Dial
ITEM: 133067 CC
The Datejust debuted in 1945 to much acclaim because it was the first mechanical wristwatch to feature an automatically changing date mechanism. The inaugural model included a yellow gold finish, a waterproof Oyster case, a textured bezel, and a 5-link Jubilee bracelet, just like the example we have here.
Instead of an opulent dial like the rest of the watches in this guide, ref. 16238 features a classy white dial adorned with yellow gold index hour markers, centrally-mounted hands, and a black railroad chapter ring. The white dial Datejust is the perfect holiday gift because it's so timeless and versatile.
Rolex Date 15037 – Blue Diamond Dial
ITEM: 110503 CC
The Rolex Date is the smaller cousin of the Datejust. While the Datejust measures 36mm in diameter, the date boasts a modest 34mm case. It's the perfect size and weight for anyone in the market for an everyday watch or stylish weekender. The blue dial on this example of the Date ref. 15037 features a striking sunburst finish that radiates from the center and contrasts nicely against the yellow gold finish. Diamonds circle the dial alongside tritium lume and matching yellow gold hands. Gold text ties the entire watch together.
Rolex Date 15037 – Matte Blue Diamond Dial
ITEM: 152175 CC
The blue dial on this example of the vintage yellow gold Rolex Date features a desirable matte finish that almost appears purplish. Other features include Rolex's iconic Date mechanism at 3 o'clock, Tritium lume, and yellow gold hands. With its boxier acrylic crystal, older-style case, and rivet link Oyster bracelet, this Date exudes the retro aesthetic many avid luxury watch collectors seek. It's a memorable statement piece that will always hold a special place in your watch box. And the best part is that you can buy this gold and diamond specialty dial Rolex for under $13k.
Ladies Rolex Datejust 6917 – Coral Dial
ITEM: 152073 CC
Here, we have another gorgeous example of a stone dial Rolex watch, this time on the popular Lady-Datejust. The coral dial is void of hour markers, letting the unique striations of the stone shine. Since this dial is made of a natural material, it is completely unique. No other coral dial Rolex will look exactly like the watch offered in the Bob's Watches/Goop collaboration. The warm tones of the coral dial pair nicely with the yellow gold finish, creating a Rolex that will look lovely on just about any wrist.
Ladies Rolex Datejust 6917 – Tiger Eye Dial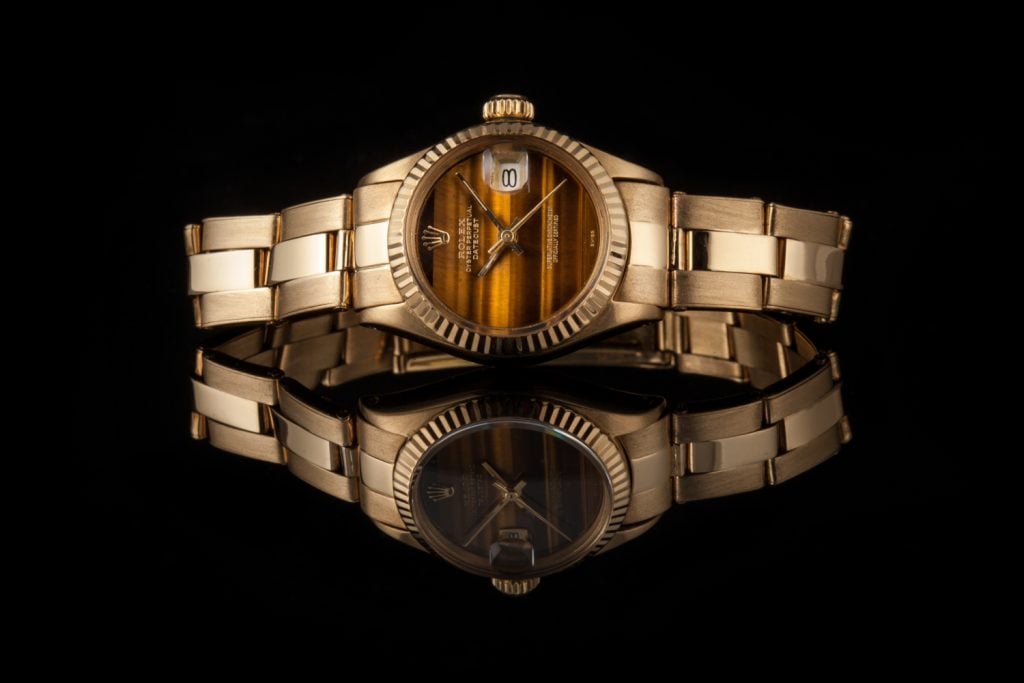 ITEM: 142903 CC
The Tiger Eye dial is made from genuine chatoyant gemstone and is distinguished by layered brown and gold tones. Like any other stone dial, the exact design of the Tiger Eye on this Rolex is unique. It doesn't have hour markers, a design element that allows the wearer to appreciate the stone's beauty and keeps the dial from appearing too cluttered. The golden tones of the dial mirror the rich 18k yellow gold finish of the watch, creating a perfectly cohesive design that transcends time and fashion.
Cocktail Watches
Ladies Rolex Cocktail – Hidden Dial
ITEM: 138293 CC
Cocktail watches typically resemble fine jewelry, featuring ornate design elements, smaller cases, precious metals, and gems. They have the potential to be cherished heirlooms because they hold their value well and boast very distinctive design sets. The hidden dial Cocktail is one of the most unusual Cocktail watches we've ever received. It features a classic Cocktail design set comprised of a petite round case and a mesh-link bracelet in white gold.
What makes this Cocktail watch so special is the diamond-encrusted outer case that swings open to reveal the watch case inside. At first glance, one might mistake this Rolex for an elaborate piece of jewelry. But, of course, it is so much more than that.
Ladies Rolex Cocktail – Diamond Bezel
ITEM: 151590 CC
This edition of the Rolex Cocktail is fascinating. It features an intricate filigree-style mesh bracelet and a small round case surrounded by a diamond-encrusted bezel. As a stand-alone statement piece, this Rolex is exceptional. We also think it would look lovely stacked with other bracelets- the possibilities are endless. This specialty dial Cocktail Rolex also happens to be one of the most affordable watches in our guide at just under $7k. It's an excellent introductory Rolex if you're in the market for a Rolex with character and immense collectability.
The Bob's Watches x Goop collaboration boasts a unique dial Rolex to suit nearly any wrist, from rare Stella dials to those in genuine stone or sprinkled with diamonds. Check out the entire collection here: https://www.bobswatches.com/rolex-stella-dial-watches