Rolex 24 Cadillac
From L-R:
PC Class winners James French (USA), Nicholas Boulle (USA), Kyle Masson (USA) and Patricio O'Ward (MEX) from the #38 Performance Tech Motorsports
GTD Class winners Daniel Morad (CAN), Michael de Quesada (USA), Carlos de Quesada (USA), Jesse Lazare (CAN) and Michael Christensen (DNK) from the #28 Alegra Motorsports
GTLM Class winners Joey Hand (USA), Sebastien Bourdais (USA), Dirk Mueller (DEU) from the #66 Ford Chip Ganassi Racing
Prototype Class winners Ricky Taylor (USA), Max Angelelli (MCO), Jeff Gordon (USA) and Jordan Taylor (USA) from the #10 Konica Minolta Cadillac DPi-V.R
European engineers are looking extremely sheepish in the wake of Cadillac's stunning victory at the Rolex 24 at Daytona. It was this past weekend with their DPi-V.R race car, built to IMSA's (International Motorsports Association) new Daytona Prototype international (DPi) formula. It's their first endurance race victory in 14 years. So they might not mind that Rolex pulled a bit of a fast one too. The famed Swiss watch brand traditionally awards a stainless steel Daytona to the winner of the race. Which this year would have landed the Wayne Taylor Racing team the desirable new Daytona 116500LN with the Cerachrome bezel.
Rolex Daytona Ref. 116503
Instead, Rolex presented the Daytona ref. 116503 in steel and yellow gold, which while no doubt desirable and to some perhaps even more valuable is to our way of thinking not as attractive and certainly nowhere near as coveted, cool and classic. A symbol, perhaps, of Cadillac's stunning upset (and somewhat controversial finish)? Or a chance to unload a bit of unwanted inventory? The boys in Geneva aren't telling. Otherwise, we'd be interested to see if this marks a new era in Daytona winner watches. This could make the steel models that much more rare and valuable.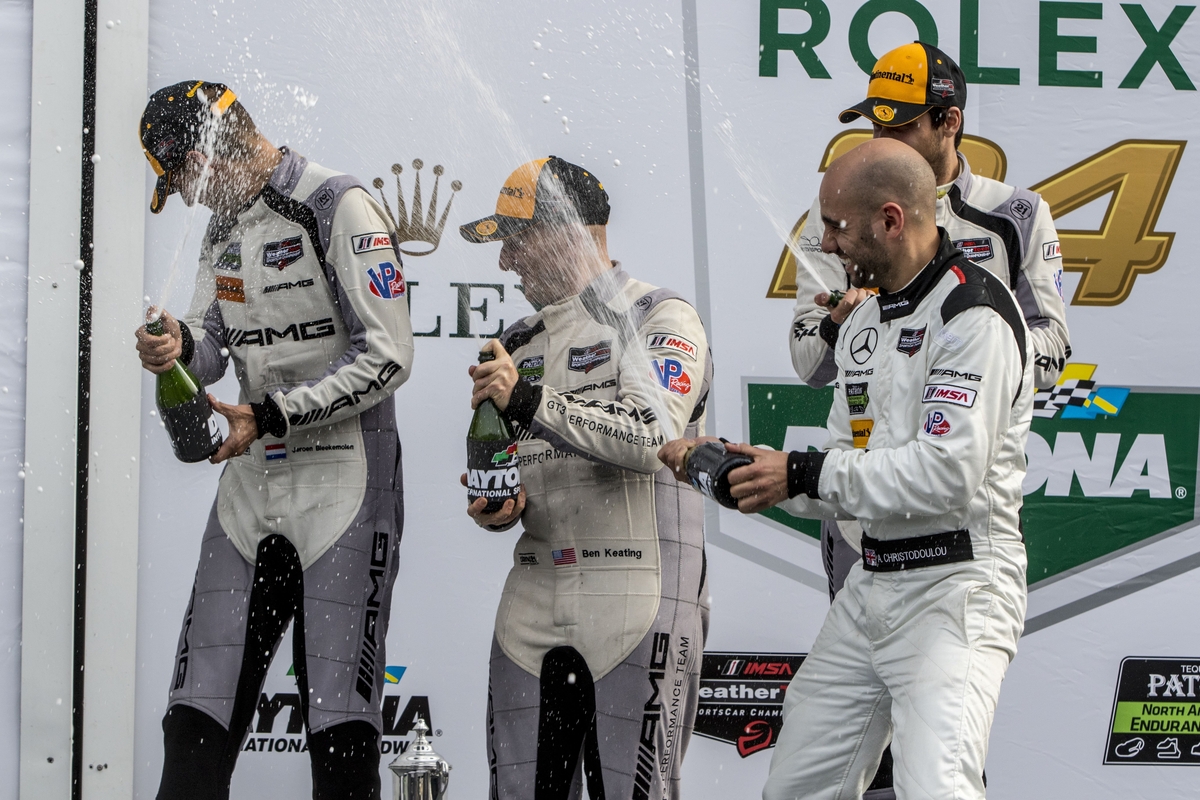 Cadillac Pulls Away
Cadillac – whose triumphant team included NASCAR legend Jeff Gordon – were merely the most important winners of the race in the marquee Prototype (P) Class. Chip Ganassi Racing won the GT Le Mans (GTLM) Class in the unstoppable new Ford GT, while Performance Tech Motorsports won the Prototype Challenge (PC) title in the Oreca FLM09, and Alegra Motorsports captured the GT Daytona (GTD) class in the rip-roaring Porsche 911 GT3 R, beating last year's champ, the Audi R8 LMS. For those keeping score at home Rolex gave out 16 watches in all to the winning drivers. Mercedes-AMG meanwhile won third place in the IMSA debut of the AMG GT3. They got a trophy and traditional champagne spray, but, alas, no watch. Better luck next year, boys….