Looking around at the wrists of many A-list stars and celebrities, you'll almost certainly spot plenty of Rolex and Audemars Piguet watches. However, there is another company with a history that dates back even further than either of those two brands – one with a legacy that is almost as long as those offered by Omega and Patek Philippe – and that is Tissot.
The History of Tissot
Tissot was founded way back in 1853 by Charles-Félicien Tissot and his son Charles-Émile Tissot in the Swiss city of Le Locle – a place where the brand still remains to this day. Located in the Neuchâtel area of the Jura Mountains, Tissot initially built its reputation by building highly-reliable, gold-cased pocket watches that found a strong and appreciative audience all over the world.
From there, Tissot merged with Omega in 1930, and now both brands produce luxury watches under the greater Swatch Group umbrella corporation, which they have both been a part of since 1983. Although the company is best known these days for producing finely crafted, yet surprisingly affordable luxury watches, Tissot remains one brand that should not be left out of any discussions concerning horology and the history of the greater luxury watch industry.
The Heritage of Vintage Tissot Watches
Before the advent of quartz timekeeping technology, watches were relatively expensive items to produce. Created by the collective functionality of anywhere between dozens and hundreds of tiny, interworking components, mechanical watches were both time-consuming to produce and labor-intensive to assemble. Consequently, most people only owned one watch (if they were lucky) and the concept of watches for specific purposes or occasions – sports watches, dress watches, travel watches, etc. – had not yet been conceived.
As a result of this prior mentality towards timepieces, the vast majority of wristwatch designs that existed prior to the mid-1950s have a significantly more dress-oriented aesthetic to them. This trend makes perfect sense because if you were only going to own one watch, it had better be something that you could also wear on formal occasions, where rules regarding attire were generally more strict. This trend continued well into the 1970s, and many higher-end watches from this area have a refined and elegant aesthetic to them, regardless of what features or complications they may offer.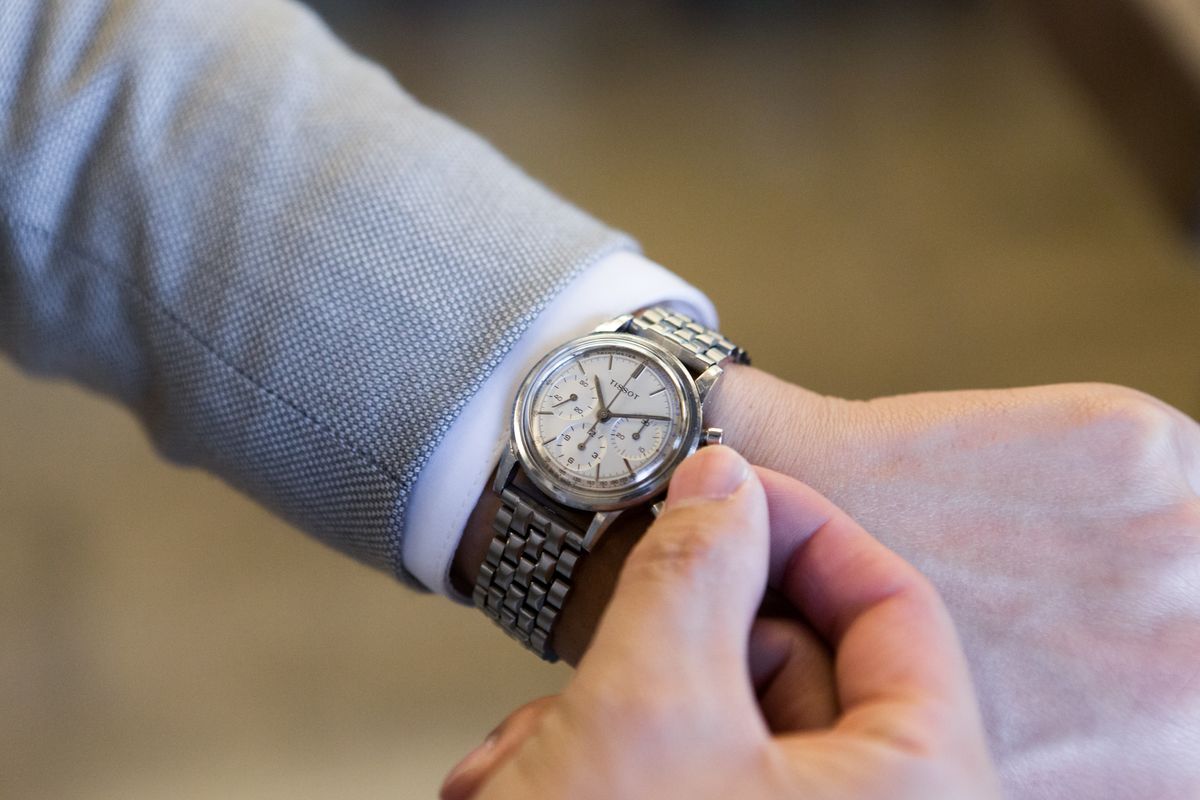 This approach to both design and wristwatches as a whole can be seen in vintage models such as this circa 1960s Tissot Chronograph reference 808A. Constructed from stainless steel and sized at 34mm (which was entirely in-line with preferences for the time), the case also featured a 'waterproof' screw-down caseback, an oversized winding crown, and large pump pushers to operate the chronograph – all features that would indicate that this was a watch intended for somewhat rigorous or professional use. However, the classic case shape, clean bezel, and long chamfered lugs, all provide it with an overall silhouette that would hardly look out of place if paired with a suit and tie.
The dial of the Tissot Chronograph ref. 808A is another expression of this tension between dress and tool-like aesthetics. Manufactured by Singer (the same dial producer that created the legendary Paul Newman dials for the Rolex Daytona), the dial of this vintage Tissot is a beautiful two-toned silver color, featuring oversized chronograph registers that are recessed into the surface and have a circular guilloché pattern engraved into them.
While the overall aesthetic of the dial is rather dressy, it also features both tachymeter and telemeter scales along its periphery – something that is generally characteristic of 'tool-watches' intended for professional use. Most interestingly, the dial on this particular ref. 808A Tissot Chronograph displays markings for both the tachymeter (in black) and telemeter (in blue) along the same scale – a design trait seldom encountered, as normally the telemeter and tachymeter markings are printed on their own separate scales. Additionally, the dial also features luminous material on it (not generally a requirement for vintage dress watches), and it is marked with a 'T SWISS MADE T' at the very bottom, indicating that the luminous plots and hands utilize tritium.
Internally, the watch utilizes a 17-jewel manually wound Lemania caliber 1281 movement. The Lemania caliber 1281 is a stablemate to the famous Lemania-made Omega caliber 321 found in vintage Speedmaster watches. Both movements feature the same position of the constant seconds, 30-minute, and 12-hour registers and visually are very similar in appearance, although parts for the two are not interchangeable, especially since the cal. 1281 is a cam-controlled movement, while the cal. 321 is a column-wheel movement. As expected, the movement on this vintage Tissot Chronograph is stamped with a 'TWA' import code, properly corresponding to the US import code utilized by Chs. Tissot & Fils.
Continuing the Tissot Tradition
Today, Tissot produces a wide assortment of luxury watches ranging from classically-styled, mechanical dress pieces, to technologically-advanced sports watches with quartz movements and touch sensitive sapphire crystals. However, despite embracing modern trends and technology within the pages of its remarkably diverse portfolio, Tissot still adheres to the same core values that it always has, and the brand's rich heritage can be seen in the modern watches that it manufactures today.
While Tissot now offers a number of collections specifically consisting of sport and tool watches, many contemporary models feature traits that call back to the early days of the brand's design language. Just like the vintage Tissot Chronograph ref. 808A, certain watches within Tissot's Couturier and Bridgeport collections still feature tachymeter scales printed along the periphery of their dials, despite otherwise following a classic and more dress-oriented aesthetic.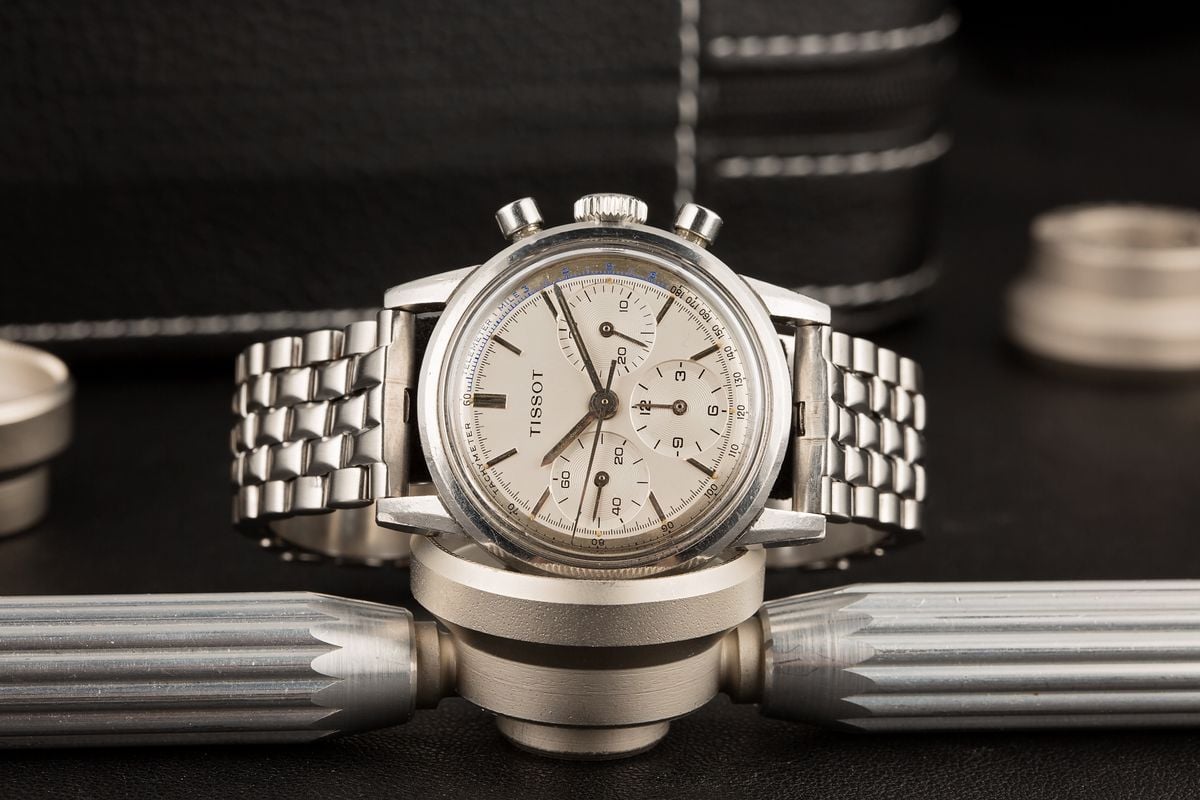 One of the great things about the present-day Swatch Group is that it is home to a wide range of watch brands, and each one (more-or-less) occupies its own level in relation to the others. All of the various brands still remain their own separate entities, yet they all benefit from the collective resources of one of the world's largest players in the watch industry. The benefit to consumers is that brands positioned towards the more affordable end of the spectrum such as Tissot are able to offer watches that represent almost unparallelled values for the money within the Swiss watch industry.
Tissot's contemporary automatic chronographs are one of the most cost-effective ways of getting your hands on a watch with the legendary Valjoux 7750 movement, and the brand's gold Powermatic 80 dress models sell for prices that are downright shocking considering that you are getting a Swiss-made luxury mechanical timepiece with a solid 18k gold case. An independent brand simply could not offer comparable watches at these same prices, and while this level of accessibility may slightly detract from the brand's general exclusivity-factor, the value proposition of Tissot watches must not be overlooked.