When you think of engraving a watch, you probably think of a dedication of some sort engraved on the back – a retirement "Thanks for your years of service" message, an anniversary, a birthday, or a milestone achievement.  And this is understandable. But that's not the kind of engraving we're talking about here.
We're talking about the kind of engraving you'd find on an elegant tea service. Or a fine double shotgun. And indeed, some of the folks we'll profile here also work on guns, knives, jewelry, lighters, and other potential heirloom pieces.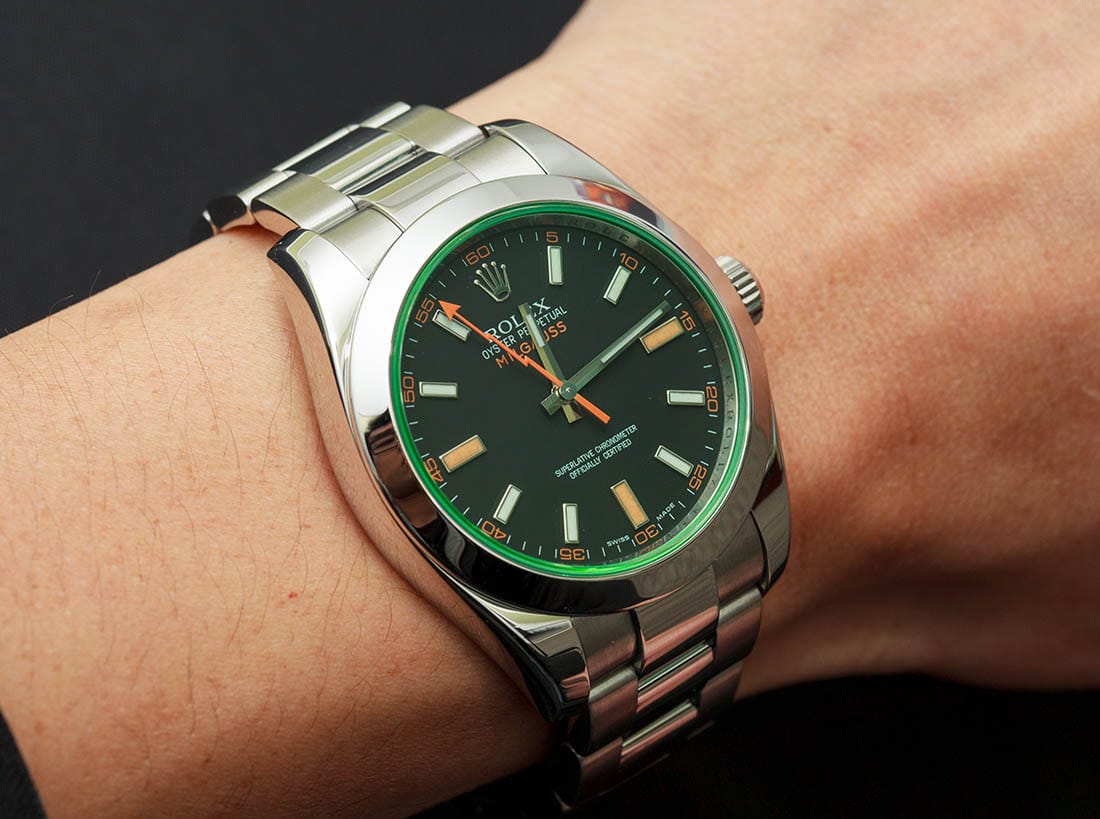 In fact, most of the folks we're profiling here feature many different objects on their websites and Instagram feeds.
But we're here to discuss luxury watches. The Rolex Milgauss is a popular target of engravers because of the relatively large surface area of the case and bezel, not to mention the bracelet. So is Panerai, and you'll see a lot of Cartiers as well – the Santos and the Roadster seem to be popular, as are versions of the Audemars Piguet Royal Oak.
But folks seem to focus on Rolex. We've seen several different models decorated this way – Air-Kings, Datejusts, and Daytonas among them.
So who are these engravers? These people who are unafraid to push a sharp metal object against the case of a watch costing in the high four- and five figures?
Watch engraving is just one of the many things Blaine Halvorson of MadeWorn does. According to his website, he "creates fine art, collectible fashion and heirloom products-apparel, footwear, accessories." And, being in Los Angeles, movie props. All through intensely personal, appointment-only service.
Tom Inslay is an Australian craftsman who's been in business since 2012. Judging by his work, he's been at it longer than he's made it his living. Tom works on guns and knives, watches too. iLook at his photo gallery and you'll see it's evenly split between watches and knives, with a bit of jewelry thrown in (there's a separate gun gallery). Self-taught, he began as a gunsmith and branched out to engraving in 2010, discovering a personal hobby that became a personal passion.
Changing gears a bit (as it were), Nick Harris of Watches by Nick is a boutique watchmaker and Seiko modder. He's got his own watch, the Orion, which is available several ways, including engraved.
David Sheehan goes by DSEngraver on his Instagram feed. It's populated with beautifully engraved guns, knives, jewelry, and watches. And for our money, the most interesting watch he's engraved is an Apple Watch. But dig a little deeper and you'll find some beautiful photos of two vintage Bulovas he's done – a cushion-shaped case and a tonneau case.
Based on her Instagram posts, Joanne Ryall splits her time between Zippo® lighters and fine watches. And unlike the other artists here, she's not limiting herself to metal. She does fabulous scrimshaw work too, including a BBC commission of a whale's tooth for their production of 'The Whale,' which starred Martin Sheen.
Now, whether you view this work as beautiful or blasphemous is another conversation (we've seen both sides in comments on Instagram and Facebook). But if this kind of artwork intrigues you, the best news is all these artists accept commission work. The only limit is your imagination (where've we heard that before?).