It very well might be the most ubiquitous analog watch in the entire United States; however, the Timex Weekender is an absolute staple within the ultra-affordable segment of the contemporary watch industry. Most frequently spotted on a nylon strap, everyone and their mother seems to own one, and there is a very good reason for this: the Timex Weekender can be picked up for less than the cost of a couple of rounds of drinks at a mediocre cocktail bar.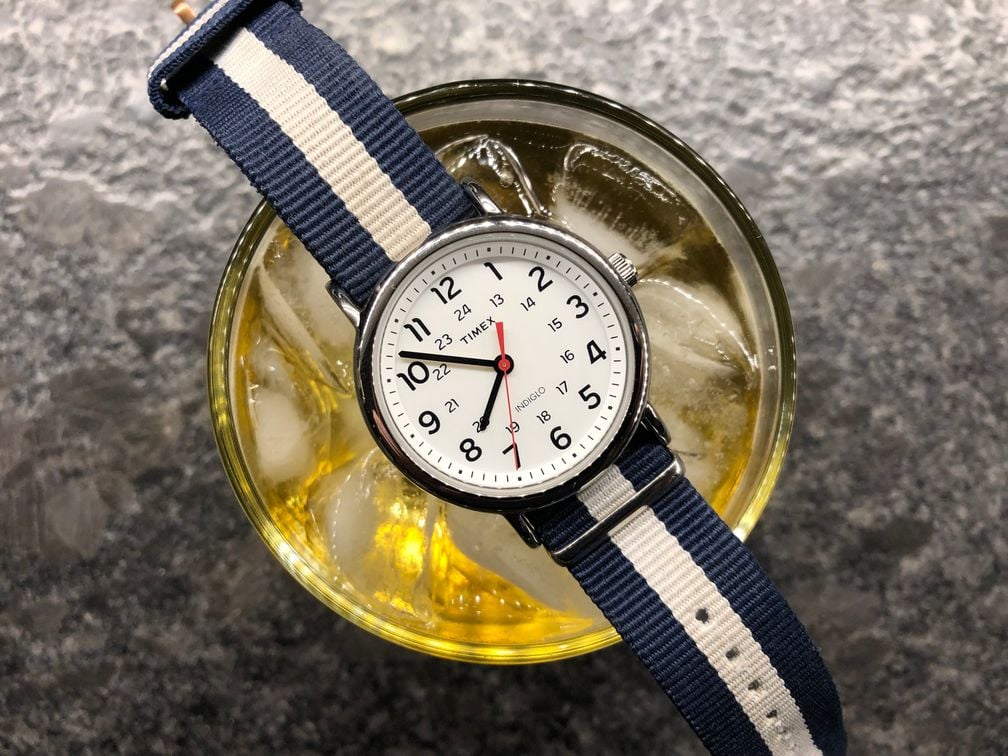 Why Bother Reviewing the Timex Weekender?
To be perfectly honest, if you're short on time and have been contemplating the purchase of a Timex Weekender, read no further and just buy the watch (even if you already have numerous luxury watches in your collection). Yes, it's a quartz watch, and a not very exciting one at that; however given the remarkably humble price point, I recommend giving the Weekender a shot. If you end up liking it, great. If not, then I'm sure you've probably dined at a restaurant that you weren't too fond of either, and likely weren't too upset about the monetary cost involved with the whole experience.
However, if you're anything like me, you will deliberate simple and inexpensive purchasing decisions to the absolute end of the internet, while simultaneously spending significantly larger sums on dinner, drinks, and dog treats without ever giving the purchases a second thought. So, for all of you like myself that will be inclined to read numerous reviews about the Timex Weekender before pulling the trigger on the purchase of a watch that quite literally costs about as much as a decent NATO strap, here you go.
A Weekender to Call My Own
For years, I had noticed the Timex Weekender on the wrists of countless 'non-watch people' – and since they didn't really care about the watch that they wore, I didn't either. I was more than happy to just let the Weekender exist as a well-acquainted but unexplored corner of the watch industry. However, that changed when I noticed that several of my cousins owned Timex Weekender watches, and two of them owned multiple Weekenders in different colors. Okay, what am I missing?
My cousins are aware that I write about watches, and that I would be more than happy to offer recommendations about decent timepieces at any price point. However, the fact that two of them were so content with the Weekender that they ceased looking any further for a "better" watch, and instead purchased yet another Timex Weekender (in a different color) really made me want to explore the source of all my horological FOMO.
So, off to Amazon where I was able to pick up a Weekender for roughly $23 with free shipping. I had initially wanted to get the version of the Timex Weekender that comes on the one-piece nylon strap; however as these were selling for slightly more on Amazon that day, I purchased the variant that comes on a leather NATO-style strap.
The included factory leather strap leaves a lot to be desired. Luckily, the standard Timex Weekender has 20mm lugs, and I own a drawer full of straps, so this was an easy fix. Within a minute of receiving the watch, I had it on a nylon strap and was setting it to the proper time.
Specifications
Case Diameter: 38mm
Case Thickness: 9mm
Lug-to-Lug: 45mm
Lug Width: 20mm
Case Material: Chrome-finished brass
Caseback: Stainless steel
Crystal: Mineral glass
Water Resistance: 30 meters
Dial: Arabic Markings (Full) + 24 Hour Time
Movement: Quartz Analog with INDIGLO® Night-Light
Battery: CR2016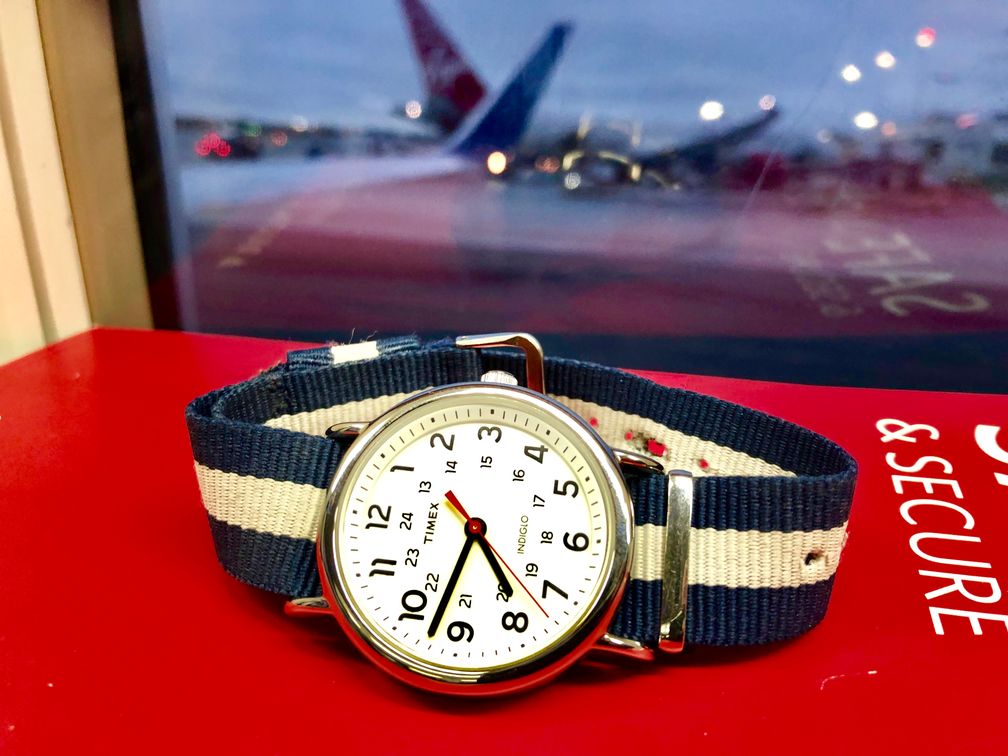 Initial Impressions
Overall, the watch is a relatively solid offering, especially given its modest and accessible price point. The fact that the case is chrome-plated brass rather than stainless steel initially struck me as somewhat strange. Can steel really be that much more expensive? However, Timex was originally founded as the Waterbury Clock Company in 1854, by Benedict & Burnham – a Connecticut-based brass manufacturer, so in a slightly indirect way, brass is more true to the heritage of the brand. Regardless, at this price range, it's hard to find a real fault with this aspect of the watch (same goes for the snap-on, rather than screw-in caseback).
The version of the Timex Weekender that I purchased has a white dial with black markings, black hour/minute hands, and a red seconds hand. Its appearance is inherently casual, which I don't think is a shortcoming in this instance, and the clear, high-contrast markings make it incredibly legible, even when viewed in dim light or at an extreme angle.
The INDIGLO light is always a nice feature on Timex watches. We often get caught up talking about the strength of lume on modern tool-watches; however, Timex's INDIGLO technology is a far superior solution (for the vast majority of day-to-day applications). Simply press the crown inward, and the entire dial lights up as long as you hold it down. With the entire dial glowing a bright blue/green color, the watch becomes incredibly legible, eliminating all issues regarding referencing the time in low-light conditions.
Performance and Use
As the Timex Weekender is a quartz watch, acceptable timekeeping is pretty much a given as long as you replace the battery in it every few years. Other than adjusting it when I switched time zones during my travels, not once did I think about whether or not the Weekender was running, or if it was keeping proper time. In the duration that I've had it in my possession, the Timex Weekender has consistently run within a couple of seconds per week. Additionally, with no date complication or other settings/features, there is nothing to adjust or fiddle with, making the Weekender about as 'set it and forget it' as you can get (until you need to pop a new battery in it or adjust it for daylight savings time).
Infinitely replaceable, and at a cost of only $23 with free shipping, I was not about to baby the Timex Weekender at all. Despite its relatively meager 30m water resistance rating, I swam with it, showered with it, brought it snorkeling, and even loaned it to a friend to use for an evening in the hot tub – not advisable, but what was the absolute worst that could have happened?
Despite all this, the Timex Weekender never once leaked, nor did it experience any other hiccups in performance. Now, I should really take this time to note that this isn't the proper way to treat a watch with a 30m water resistance rating, and if you want a watch for use in/around water, you should ideally look for something with a bit more water resistance. However, I wanted to see if the Timex Weekender could handle it, and it did.
With that in mind, the Weekender was not designed for aquatic use, and although I experienced no issues with moisture intrusion, this is one area where your mileage might vary. At this price point, it would hardly be the end of the world should the watch eventually fail to keep out moisture; however I'm happy to report that I've had zero issues with this during any of my time with the watch. Although entirely uneventful, the Timex Weekender did exactly what it was intended to do, and I enjoyed the care-free experience of wearing a watch that could be replaced for slightly more than the bill at lunch.
My biggest issue with the Timex Weekender is that it ticks very loudly (however please note that I feel somewhat ridiculous even typing this as my primary complaint). The watch becomes significantly quieter when it is worn on the wrist, but should it be sitting across a quiet room from you on a desk or dresser, you will more than likely be able to hear it tick. This kind of thing doesn't really bother me, and although I was told that this watch could be loud, I was still slightly caught off guard by exactly how loud this thing ticks.
Final Thoughts
If I am being completely honest, nothing about this watch – or any mass-produced quartz watch is all that inspiring. The Timex Weekender is hardly the timepiece that you will wear throughout your entire life and proudly pass down to the next generation; that is Rolex. However, the key to the Weekender's success in this rather uninspiring and inauspicious segment of the market is how earnestly it occupies the position. The Timex Weekender does not try to be anything more than what it is – an inexpensive quartz watch that can be worn by almost any member of the general population.
While I picked up the standard 38mm version of the Weekender, Timex manufactures the collection in a number of different sizes and variations. Case sizes range from 31mm to 40mm, and there is even a chronograph version that features a date display and an independently adjustable hour hand (perfect for travel). Additionally, there are numerous dial colors available for the Timex Weekender, and even some quirky Peanuts comic character-themed editions. If you like the general design language of the Weekender, you will almost certainly be able to find a specific model that speaks to your aesthetic preferences.
As I said at the beginning of this review if you are considering purchasing a Timex Weekender, just buy the watch. I almost guarantee that you will end up finding minor gripes with it, or finding things that you wish were different – I wouldn't even call it the absolute best budget analog watch; however, we must remember the price point here. If you're into watches, chances are that you probably already have some extra 20mm straps laying around that you can have fun with on the Timex Weekender, and like we have previously discussed, there are plenty of reasons to have an inexpensive quartz watch in your collection, regardless of the other luxury timepieces that you may also own.