Finding a luxury watch that doesn't clash with your Halloween costume can be a difficult task. What goes with everything, but doesn't distract people from your costume? Well, you're in luck because Bob's Watches has the answer.
This Halloween, ditch the Daytona and go for something a little more festive: a Rolex with a hauntingly beautiful ghost bezel.
What is a ghost bezel? I'm glad you asked.
A faded, or ghost, bezel is due to a defect in pre-Cerachrom bezels produced by Rolex on their popular tool watches: the Submariner, GMT-Master, and the Sea-dweller. This rare, and desirable, defect is caused by a number of issues including age, amount of time spent in the sun, and rubbing against clothing. Rolex phased out their aluminum bezels once they created their proprietary Ceramic, or Cerachrom, bezels. While Rolex may find this trait undesirable, many avid vintage collectors rush to buy these watches as soon as they come to market.
Here are a few ghost bezels watches we have in stock right now:
Rolex Submariner 16800 with a lovely ghost bezel
Even though the ceramic bezel Submariner is more popular with new buyers, the vintage 16800 certainly has some admirers. Its creamy patina and pristine bezel is completely devoid of any scratches. Any collector would be elated to wear this beautiful watch for Halloween.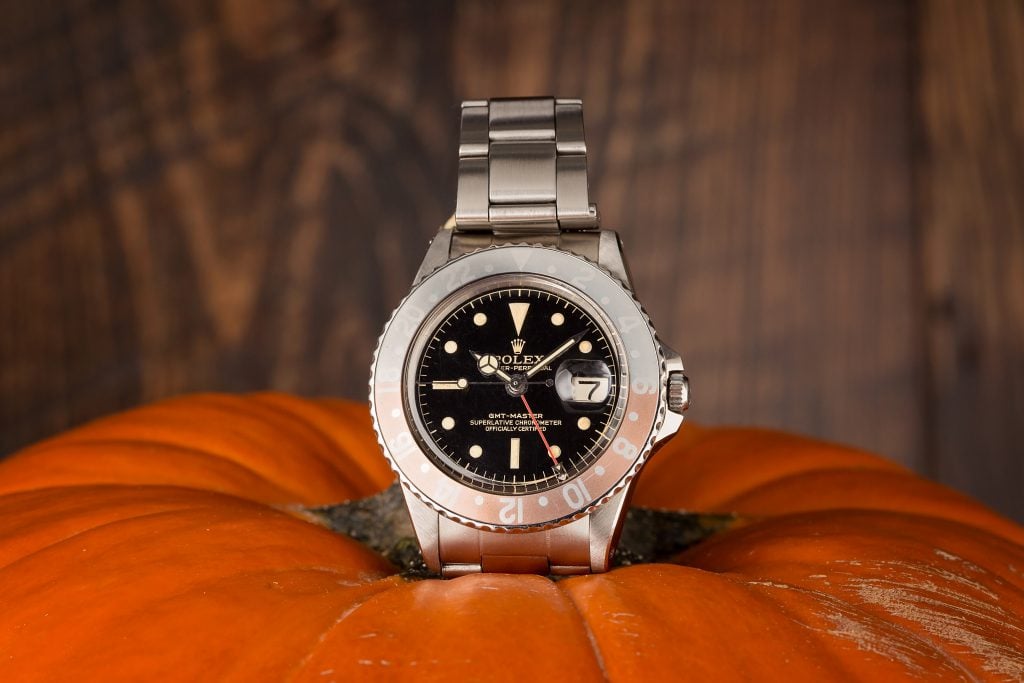 Rolex GMT-Master 1675 featuring a Pepsi ghost bezel
It's a Pepsi AND it's a ghost bezel. While seeing a Pepsi bezel Rolex GMT-Master in the wild is common, finding a Pepsi with a ghosted bezel is about as likely as seeing – well – a ghost. The GMT-Master 1675 featured an aluminum bezel prone to defects such as ghosting color change. Sometimes, on older 1675 bezels, the red coloring on the bezel has been transformed into a vibrant fuchsia. You can click here to see a beautiful example of this in real life.
Rolex Submariner reference 5513 with scratched and faded bezel
The bezel on this Submariner looks like it was used by Freddie Krueger, but the coloring is undeniably beautiful. For those who may not be as familiar with the reference 5513, this model was introduced in 1962 and replaced the 5508. Production of the 5513 lasted nearly 30 years, making it one of the longest continually produced references in Rolex history. The 5513 is the most iconic and recognizable references ever produced by Rolex. As a result, demand for this model is still incredibly high and warrants a hefty price tag.