Mother's Day is just around the corner, but it's still not too late to get her the perfect gift this year! The world is just now starting to reopen after more than a year of lockdowns, so while her favorite spa might still be temporarily closed and her favorite restaurant might be only doing take-out, you can still show Mom exactly how much you appreciate her by giving her a beautiful luxury watch.
As always, the sky's the limit when it comes to luxury watch prices, but there are many fantastic models that can be purchased for just a few thousand dollars. To help you find the best Mother's Day gift this year, we have put together a quick buying guide where we will highlight a few of the top luxury watches for Mom at different price levels, from under $5k to well into five figures.

Mother's Day Luxury Watches – Under $5k
Of course, Mom deserves the best; however, that doesn't mean you have to spend a fortune to get her a beautiful luxury watch from one of the world's top manufacturers. A budget of $5k may just barely get you through the door at most retailers but on the secondary market, you will find ample options from internationally renowned brands such as Rolex, Omega, and Cartier.
Rolex Lady-Datejust
Probably the most famous women's Rolex watch is the classic steel and gold Lady-Datejust, and older examples such as the reference 69173 can easily be found with a budget of $5k. With its traditional 26mm case and its two-tone construction of stainless steel and 18k yellow gold, this iteration of Datejust is the quintessential example of a ladies' Rolex watch, and the fact that examples can still be found for as little as several thousand dollars presents a strong value proposition, especially when you consider the current prices of many other Rolex models.
Omega Constellation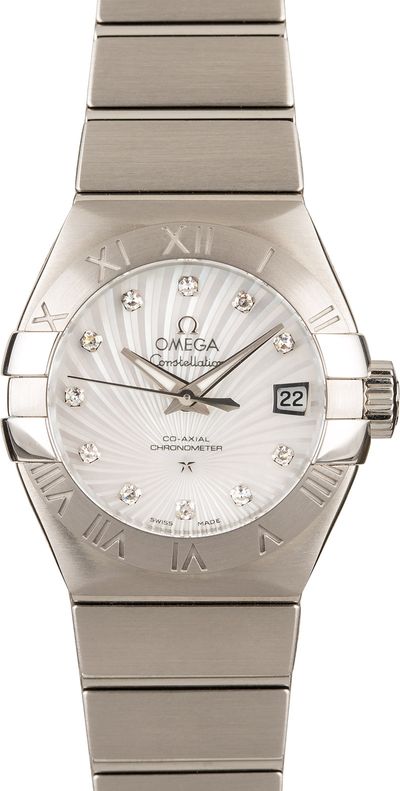 A similar budget also grants you access to modern iterations of the Omega Constellation, and you can even find examples with mother-of-pearl dials set with diamond hour markers for under $5,000. While the Constellation is one of the oldest names in Omega's catalog, once you start spending more than a few thousand dollars, you will start to find contemporary models powered by the brand's latest Co-Axial movements.
Cartier Ronde Solo De Cartier
For a completely different aesthetic, Carter is another celebrated manufacturer of fine luxury watches, and you can find classic models such as the Ronde Solo available for as little as a few thousand dollars. As Cartier is both a manufacturer of both jewelry and timepieces, a Cartier watch makes a fantastic choice for Mom, especially if she already owns other pieces from the manufacturer.
Mother's Day Luxury Watches – $5k to $10k
Once you get above the $5k price point, your options expand significantly. Not only will you start to find desirable current-production watches, but you will also find rare and ultra-premium editions of older models, and even some solid gold watches can be purchased for under $10k.
Rolex Datejust
Older examples of the Lady-Datejust start out at just a few thousand dollars, but between $5k and $10k is where you will find newer models, with most examples featuring either precious metals or diamonds. Watches like the reference 179173 represent the most recent editions of the now-discontinued 26mm Lady-Datejust, and while they still offer a traditional case diameter, the rest of the watch is thoroughly modern both inside and out, and you can find examples with diamond-set dials for significantly under the $10k price point.
Rolex Oyster Perpetual
Similarly, if you choose to go the more utilitarian route and opt for a model in full stainless steel, a budget of $5k to $10k means that many current-production models are going to be on the table – such as the ultra-desirable Rolex Oyster Perpetual series that was just introduced last year in September 2020. The reference 124200 is the 34mm model from the lineup, which offers a highly versatile case size and can typically be found towards the lower side of the $5k to $10k price range.
Rolex Lady President
You likely won't find any current-production Rolex watches in solid gold for under $10,000 but if you opt for a slightly older model, you can get something truly lavish for Mom this year. Iconic and instantly recognizable watches such as the reference 69178 Lady President in solid 18k yellow gold can often be found for under $10k and you can even find some with premium diamond-set dials without reaching the five-figure price point.
Mother's Day Luxury Watches – $10k to $15k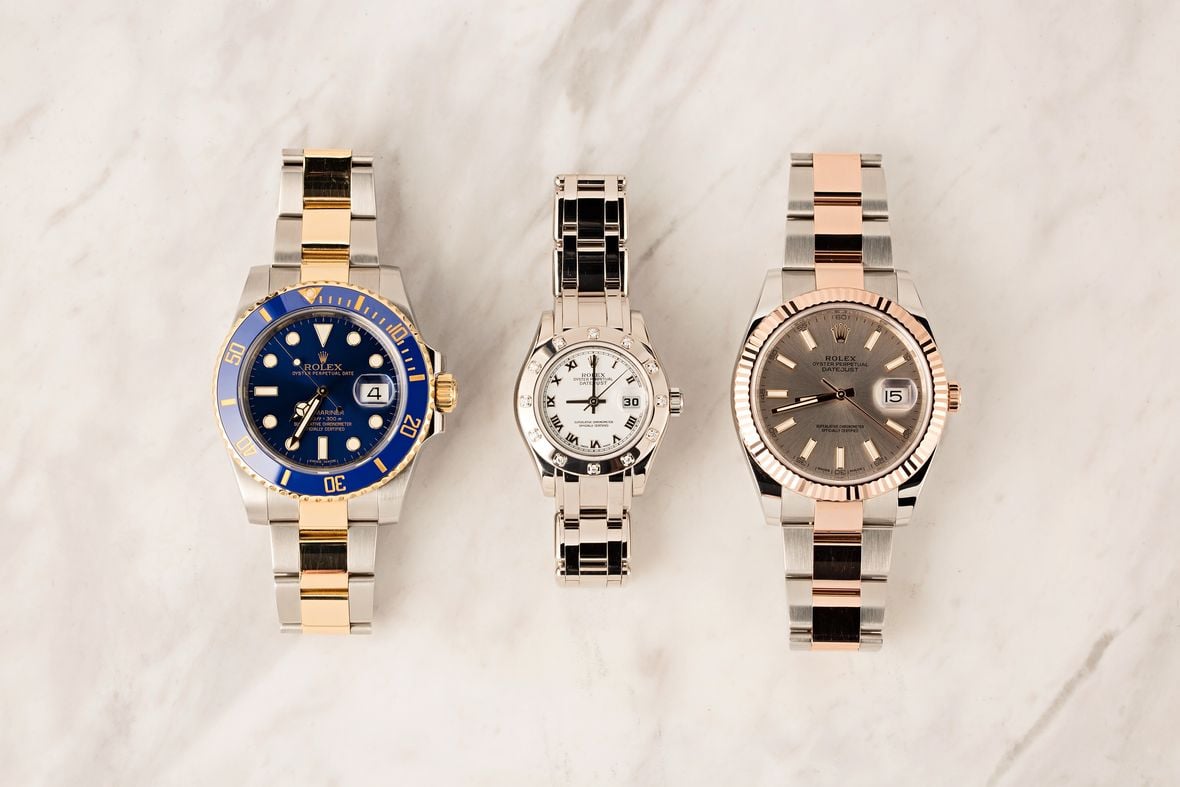 Above the $10k price point, the smaller women's watches start to get flat-out lavish, and you will also begin to find larger models that offer a significant amount of wrist presence. If you're shopping for a traditionally sized women's watch, you can essentially guarantee that you will be able to get one in solid gold, but you will also have access to larger models, including sports watches in either two-tone or stainless steel without exceeding $15k.
Rolex Lady Pearlmaster
For a classically sized ladies' watch with a smaller case diameter, a budget of $10k to $15k means that a decent number of ultra-premium models are on the table. Crafted from solid gold and always set with diamonds, the Pearlmaster is Rolex's line of jewelry-oriented watches, and models such as the reference 80319 in solid 18k white gold are attainable with a budget of $10k to $15k, which represents a tremendous value considering they are some of the most luxurious models available from the world's most famous watch manufacturer.
Rolex Datejust 41
Should you choose to go for a larger model, you can almost guarantee that you will be able to find one in a two-tone finish of steel and gold such as the Rolex Datejust 41 reference 126331 which is the largest edition of the classic Datejust, coming in at 41mm in diameter. Crafted from stainless steel and 18k Everose gold (Rolex's proprietary rose gold alloy that will not discolor or tarnish), is a premium version of the Datejust 41 and offers all of the hallmark Rolex design features in a bold and modern overall package.
Rolex Submariner
While a budget of $10k to $15k is far from where luxury prices top out, it does grant you access to some of the world's most desirable models such as the Rolex Submariner reference 116613LB. The two-tone Submariner fitted with a blue dial and bezel is one of the instantly recognizable icons of the watch industry, and as a professional dive watch with 300 meters of water resistance, it is more than ready to stand up to all of the daily rigors of motherhood.
Mother's Day Luxury Watches – $15k to $20k
A budget of $15k to $20k opens up the doors to all but the most lavish and collectible models and at this price point, you will have no trouble finding solid gold and diamond-set references. You will have your pick from a number of different full-size Rolex President watches, along with gem-set editions of smaller models like the Lady-Datejust and Pearlmaster.
Rolex President
Arguably the most iconic gold watch is the Rolex President, and the reference 18238 is the quintessential example of the watch in full 18k yellow gold and fitted with the brand's signature fluted bezel. While it features a 36mm case diameter, sapphire crystal, and double quickset movement just like the current production example, the fact that this is a slightly older reference means that it has more restrained case proportions, making it the perfect full-size Rolex President for those with smaller wrists.
Rolex Day-Date
If you like the day and date displays of the previously mentioned Rolex President but don't necessarily want such a universally recognizable watch, the Rolex Day-Date 118239 is a fresh and modern take on the brand's double calendar wristwatch. The entire watch and bracelet are crafted from solid 18k white gold, and since it is a newer model Day-Date, it has slightly thicker lugs with a full high-polish finish. Additionally, unlike the classic Rolex President, this Day-Date model is fitted with the brand's sportier flat-link Oyster bracelet, making this watch a fresh twist on a universally loved classic.
Rolex Pearlmaster
Should you choose to stick to the smaller sizes of traditional women's watches, you can pretty much guarantee that you will be able to find one in solid gold for under $20k, and the Rolex Pearlmaster reference 80318 is a fantastic and outwardly luxurious option. Not only is the entire watch and bracelet crafted from solid 18k yellow gold, but the dial and matching solid gold bezel are also set with diamonds. At its core, the watch is a Rolex Datejust and offers all of the same legendary accuracy and reliability but with its ultra-premium configuration, it is visually distinct and unmistakably luxurious.
Mother's Day Luxury Watches – Over $20k
Once you get above $20k, you can almost guarantee that unless you go for a super rare and collectible vintage model, whatever luxury watch you choose for Mom will either be crafted from solid gold or platinum. Additionally, once your budget reaches this premium price point, you will also have access to models that feature advanced mechanical movements with additional complications beyond just telling the time of day.
Rolex Midsize Pearlmaster
If you do stick with a standard time and date model, you can expect an unapologetically luxurious rendition of one such as the midsize Rolex Pearlmaster reference 81315. With a 34mm case and Pearlmaster bracelet crafted entirely from Rolex's proprietary Everose gold, this watch makes a serious statement on the wrist that is further emphasized by its matching diamond-set bezel and chocolate dial fitted with a diamond-set Roman numeral marker placed at the 6 o'clock location.
Rolex Daytona
Also available north of the $20k price point are flat-out luxury icons such as solid gold Rolex Daytona watches. Crafted entirely from full 18k yellow gold, the Rolex Daytona reference 116528 is the version of the watch that is fitted with a matching solid gold tachymeter bezel and Oyster bracelet. While the Daytona itself was originally developed for the world of automotive racing, the wide range of materials and dials options available for it allow the watch to take on multiple different personalities. A more intricate and luxurious dial such as mother of pearl instantly softens the racing aesthetic of the Daytona, while the practicality of its in-house caliber 4130 chronograph movement will still allow Mom to time events up to 12 hours.
Rolex Sky-Dweller
The Rolex Sky-Dweller is the brand's ultimate luxury travel watch that is capable of simultaneously displaying two different time zones and features an annual calendar mechanism that compensates for the different number of days in each month and only requires resetting once per year. The Rolex Sky-Dweller reference 326235 is one of the more recent introductions to the collection, having just joined the lineup in September 2020 and featuring the Rolex's Oysterflex bracelet paired with its solid 18k Everose gold case. The Sky-Dweller is the single most complex model in Rolex's lineup, and the solid gold iterations of it represent some of the most premium options available from the world's most famous luxury watch manufacturer.