The Rolex Submariner is an iconic watch that became an instant classic when it was released in 1954. When searching for a Rolex Submariner for sale many gravitate to the vintage models such as this reference.  This unique watch was specially designed with divers in mind and is well-known for its durability and resistance to water. Waterproof up to a maximum depth of 1000 feet, the Sub has been highly utilized by divers, explorers and even fictional icons like 007 agent James Bond. When you are looking to add a touch of classic taste and unparalleled style, nothing less than a Rolex Submariner will do.
A Classic Rolex
At first glance this vintage Rolex Submariner watch might look simple. Upon further inspection it is apparent that the Submariner offers both luxury and a multifunctional tool for those who enjoy a life on the go.
As a tool, this model has been used by divers because the bezel can only be rotated counterclockwise, which helps to ensure the diver does not stay underwater too long.
A Powerhouse Movement That Won't Let You Down
Wearing your Submariner means that you never have to worry about batteries or winding. The watch is part of Rolex's Perpetual line of watches which means that it utilizes a self-winding mechanism which powers the watch through the wearer's everyday movements. The wearer does not have to wind the watch, but can simply flick his wrist and it will be wound. Not only that, but the movement will conserve power and can run for up to two days without movement from the wearer.
Many Stylish Timepieces All From The Same Submariner Family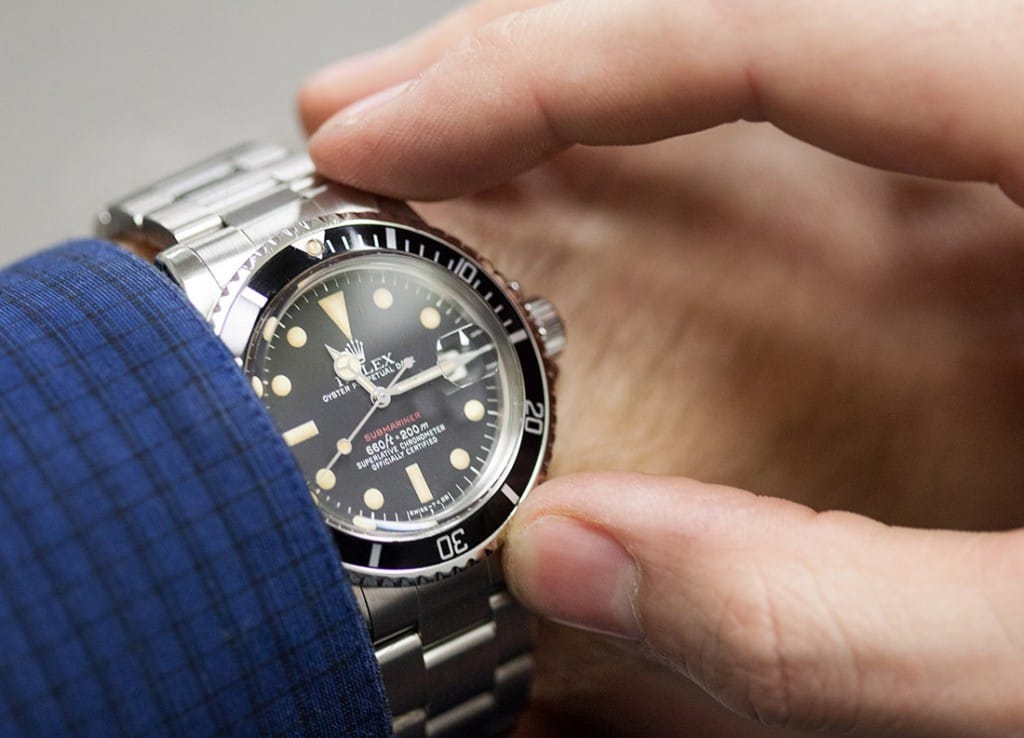 Over the years, the Rolex Sub was upgraded and improved. Many early models are highly sought after for specific details like the type of dial and hands or a specific style of signature. By the introduction of references 5512 and 5513, Rolex added "shoulders" to the crown side of the case to protect the winding mechanism. These references also featured oversized crowns which became a standard and highly recognizable feature of the watch family.
A Green Rolex Anniversary Edition Introduced
In 2003, the Submariner turned 50 years old and Rolex celebrated by launching a Sub-Date anniversary edition, reference 16610 LV. This particular reference features a distinguished green bezel and stunning Maxi dial. Today, the Submariner continues to be produced in a range of materials but always with the same quality, durability and functionality.
An Iconic, Classic & Stylish Watch Loved by Enthusiasts Around the Globe
The Rolex Sub is widely considered a "classic" wristwatch by collectors and enthusiasts alike. If you are looking for a great timepiece to add to your collection that is iconic, classic and a highly functioning tool, you will not go wrong with any Rolex Submariner.