Recently, the infamous Rolex "Rainbow" Daytona ref. 116595RBOW has been in the news thanks to celebrities like Mark Wahlberg, Adam Levine, and Post Malone, who have turned the eye-catching timepiece into a cult object. While many traditionalists still consider this rainbow-edition of the Rolex Daytona to be in questionable taste, there's no denying that it's also in demand, with pieces now selling for over over three times Rolex's retail price of $96,900.
While the Rainbow Daytona seems like a fairly feminine design, its sheer flamboyance transcends such considerations, in part because wearing one implies you just don't give a damn about that kind of thing. Now Jaeger-LeCoultre seems to be trying to get in on the action with a new watch –  the Rendez-Vous Celestial – which also features a rainbow-hued bezel, set with 64 baguette-cut sapphires (the Rainbow Daytona has 36) as well as lugs and crowns decorated with diamonds.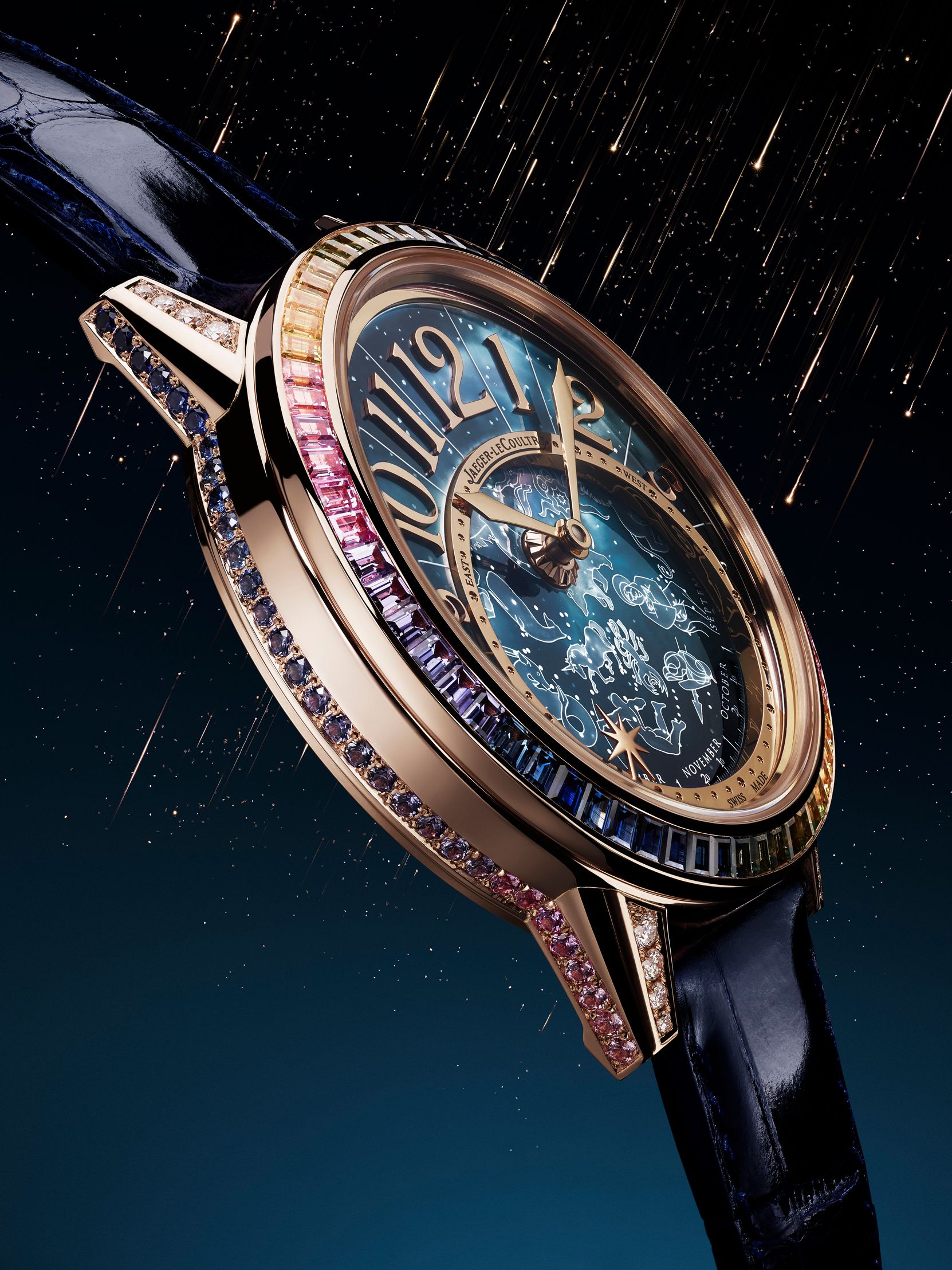 The Jaeger-LeCoultre Rendez-Vous Celestial
The Rendez-Vous Celestial, as JLC calls it, is ostensibly a women's watch, but the trendy rainbow bezel and 37.5mm case diameter might find a wider appeal. The watchmaker says it was inspired by the Northern Lights, aka Aurora Borealis – the natural light display that is mainly seen in high latitudes, rather than the Rolex Rainbow Daytona; however the influence seems obvious. "For the Jaeger-LeCoultre Manufacture, the night skies are eternally fascinating, not only for their magnetic beauty but because they hold the key to mankind's ability to measure time," is the official line.
JLC is producing two versions of the timepiece, one with a turquoise dial and one with a violet dial, limited to just 18 pieces each. The original Rendez-Vous, introduced in 2012, was designed to be "mechanically sophisticated and visually entrancing" even without a flashy bezel, but this version significant ups the stakes.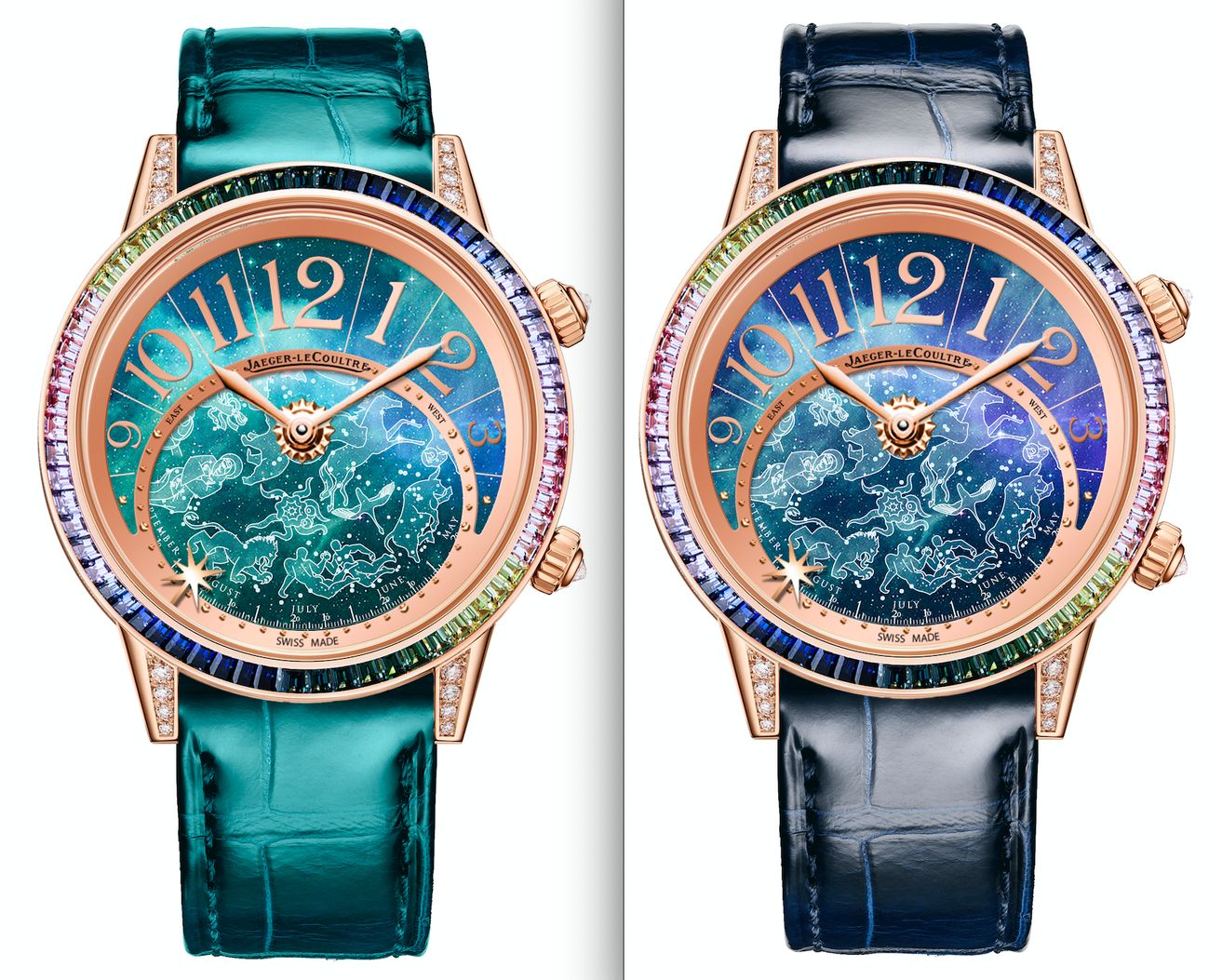 Aside from the bezel, the highlight of the Celestial design is an asymmetrical hand-painted mother of pearl dial formed by two sections set at different heights. The upper section features numerals that are graduated in size forming a crescent that hovers above the lower dial.
Outlined by an elliptical band of pink gold, the lower section features a disc bearing a hand-transferred imprint of a star chart, together with the signs of the Zodiac and names of the months. The night sky is depicted as it appears above Jaeger-LeCoultre's home in the Vallée de Joux, Switzerland.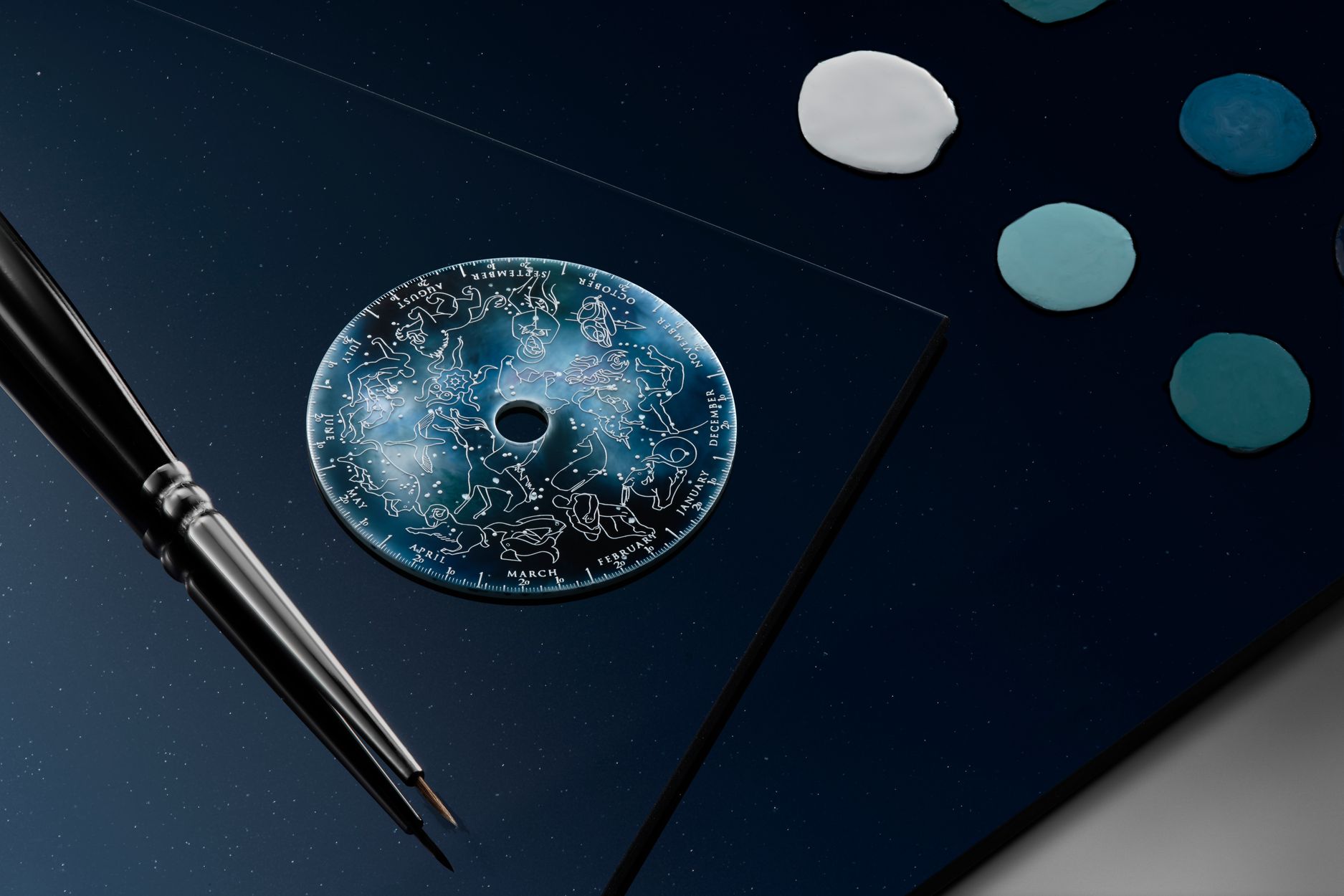 The night sky disc turns counter clockwise in relation to the stars, in step with the rotation of the Earth and is powered by JLC's automatic mechanical Calibre 809/1 movement.
Lastly, a hand-polished golden star is set along the edge of the dial, which is controlled via a second crown. Its purpose is to be moved to a position to "mark the time of a special rendezvous" – hence the name of the impressive rainbow timepiece.