There is something magical about the power of gold. And I don't just mean rose gold, which is far more commonly seen in luxury watches these days. I mean yellow gold too. In fact, if I have to rate the magical properties of both (and I'm no wizard so don't quote me on this) I would say yellow gold is even more alluring for its ancient appeal. Remember, this is the gold that was genuinely used as a currency. It is the gold to which all other forms of money were, at one point, tied. It is a rare, naturally occurring metal that cannot help but sire some weird, primal wonder in our flimsy human souls. It is, for want of an early hominid comparison, the precious metal equivalent of fire. Rolex Rolesor, AKA Rolex steel and gold watches first made an appearance on the Rolex Datejust line; however, the iconic metal combination quickly expanded to most of the brand's other watch collections.
When one stops and thinks about what gold actually is, the whole human race seems a bit silly for spending the majority of their time chasing after it. I mean, it is globally famous for being inert. I'm not sure there's anything else that can inspire the same theoretical desire and do so little in return for the effort poured into attaining it. But I suppose that's what makes it special. When we break it down, we're all just little Gollums running around in search of something precious.
And there are few more precious things in our industry than a gold Rolex. It is, right or wrong, the epitome of watchmaking class in the mind of the layman, which makes it, right or wrong, desirable to most watch lovers – even if it does make them feel a bit guilty for ignoring the straining effort of other, very deserving brands in its price point. As a good friend once said to me in regards to a job offer from the recognizable brand in our industry (and, arguably, the world), "When the Crown calls, you answer."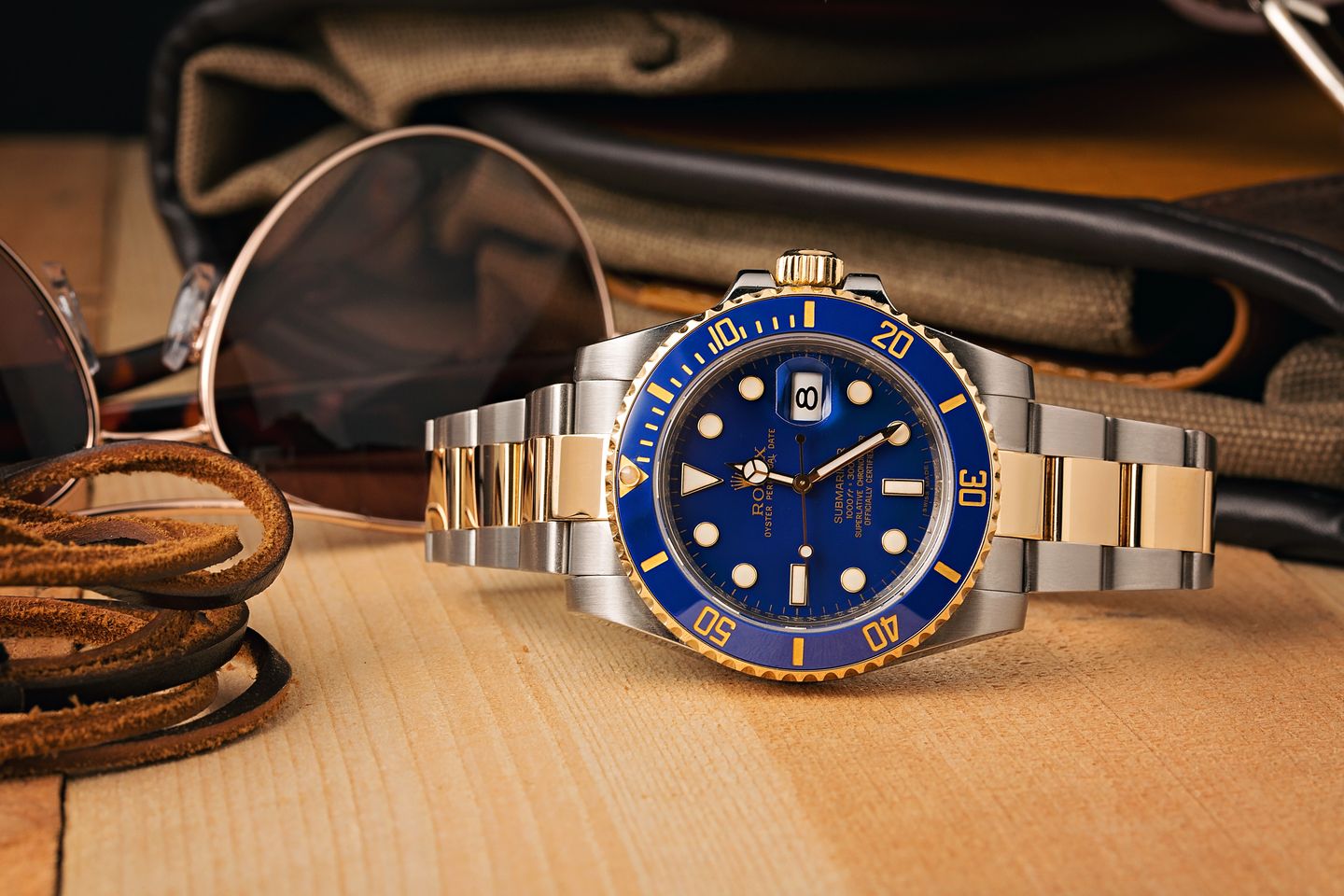 So who are we to ignore the call of not just the Geneva-based market-shaper, but also the wild desire of our hearts to own something really pretty and shiny? The majority of us are powerless, lust-filled fanatics, who would happily consider trading their pet guinea pig for a marginally higher spot on the waiting list for a preferential model.
But part of the problem is this: full gold Rolex watches are expensive. Really, really expensive. Unless you are packing some serious coin, it's going to be a long road to ownership. But there is a halfway house that doesn't just make owning a Rolex more realistic, but, in many ways, thanks to increased durability (which equals a reduction in stress) much more enjoyable.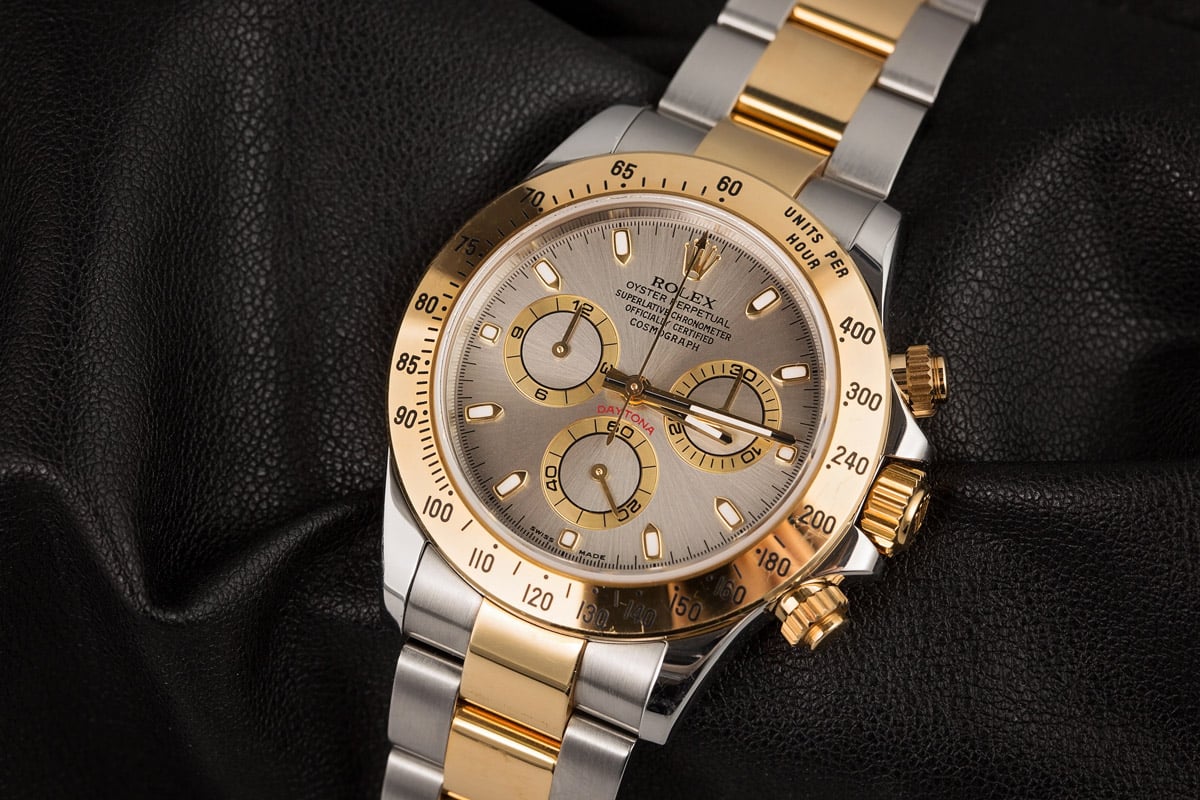 Rolesor. No, despite popular misconception it is not material itself, but rather the name was given by Rolex to any of its gold and stainless steel metal combinations. In addition to the fact that teaming 904L stainless steel with 18 karat yellow gold makes catching your watch on the edge of the dining table/car door/your skateboard as you try and pull that ollie you're 25 years too late to master slightly less stomach-churning, a Rolesor watch also increases the amount of things you can wear with it and, thanks to the weirdly timeless appeal of bi-color watches, how long you can wear it for while still being in vogue.
Once you have decided to save money by a) not buying a guinea pig you may be forced to hand over to an Authorized Dealer in return for waiting list perks, b) finally giving up skateboarding, and c) buying a Rolesor rather than full-gold Rolex, ask yourself this: Which one shall I buy?
Luckily, on the back of my own hunt for the perfectly balanced luxury/life-friendly watch I decided to create this handy Top 3 Rolesor watches currently being made by Rolex for your perusing pleasure. In reverse order of my preference, here they are:
Rolex GMT Master II "Root Beer" ref. 126711CHNR
When this model debuted in 2018, lurking in the shadow of the full steel "Pepsi" ref. 126710BLRO, I declared it the greatest thing Rolex had ever done (this was shortly after my conversion to the brand as a serious purchase proposition and I was still a bit wet behind the ears with my history, so forgive me if you think that was a bit of an overstatement).
I would have gladly handed over a bucketload of dollars I didn't really have to spare but could probably have laid my hands on had it been absolutely necessary, but one thing stopped. The bracelet. I don't mind a professional bracelet in many cases, but for this one model, for some reason still unknown to me, this Everose Rolsesor reference (126711CHNR) needed a jubilee. If they ever do bring out such a model, I may find my pockets considerably lighter, but until then, this gorgeous effort will remain third on a list of absolute howitzers.
Rolex Sea-Dweller ref. 126603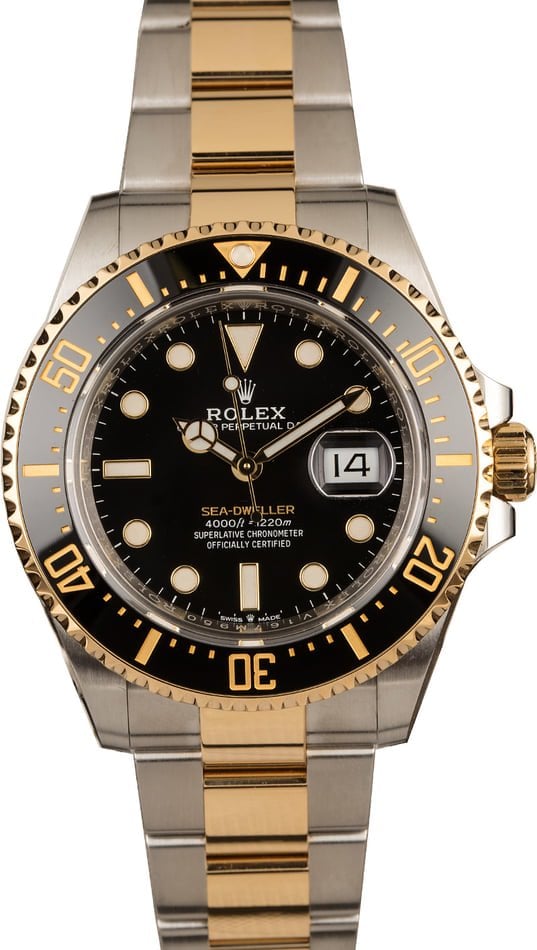 Call it recency bias if you like, but this year's 904L/18 karat yellow gold release is, as the youth of today would say, "fire". What I like most about the reference 126603 is how it is skillfully many things at once, while not seeming at all half-baked. It is a hulking sports watch for the weekend. It is a professional dive tool for the deep. It is a board-room deal-breaker. It is a red-carpet stunner. And you could probably beat a pack of ravenous wolves to death with it… If you had to.
For those of us not in the business of being set-upon by voracious lupines, the Rolesor Rolex Sea-Dweller 126603 is packed with notable features both on the outside and within. A surprisingly wearable 43mm case is topped by a unidirectional timing bezel with an insert made from Rolex's own Cerachrom material. Delightfully, the indices and numerals recessed into the bezel are coated in gold for a truly finished look. The case has the typical Oyster architecture, which guarantees water resistance to a staggering 1,220 meters (or a nice, round 4,000 feet if you prefer). Unsurprisingly, for a tool of this caliber, the watch features both a helium escape valve and Rolex's signature Triplock crown system.
Rolex Datejust 36 ref. 126233
The Rolex website is one of the best in the industry. No, scratch that. It is the best. While that isn't really surprising, it is so gratifying (from a professional and personal perspective) to see the quality of a product reflected in the tool designed to stoke your passion. Some brands are so big and so sought after they seem to think they don't need a decent website. In fact, some go so far in the opposite direction it's as if they're doing it deliberately. As if a dreadful website is some kind of badge of honor, proving that they are above such modern trivialities. Well, I get the message they're trying to send, but they are wrong. Spend five minutes with Rolex's watch configurator and you'll probably agree.
I mention the website at this point because it played an active role in the watch I chose to top my list becoming number one on my shopping list and the first Rolex I plan to purchase (pre-loved, from Bob's Watches, of course). There are many, many options to choose from within the Datejust range, which makes it a heck of a lot of fun to play around with.
Refreshingly, the Rolex website also shows you the price without having to be cajoled too much to do so. This is appreciated. I know the watches are expensive. I know that many of them are out of my price range and maybe always will be. But I hate being made to feel that "If you have to ask you can't afford it", because one day, I might be able to. I'd at least like to know what I'm aiming at so that I can buckle down at work and make my dreams come true.
Realizing I was in love with the Rolesor version of the Rolex Datejust 36mm was a revelation. I never, ever imagined that I would buy such a classic, grandfatherly Rolex to break my duck, but here we are. After years of tiptoeing around the Professional collection, I gave in and admitted I couldn't do without a jubilee bracelet. Weeks later I confessed to my girlfriend – having awoken in a cold sweat – that unless I had a fluted bezel in my life (and soon) I would never be happy. And, honestly, the champagne dial was the last straw.
Everything I thought I knew about my taste changed. I had fallen for a Rolex I'd always overlooked in authorized dealers. But there was no going back. After several hours of trying every combination of dial, bezel, case material, and bracelet on the configurator, I was set. The winner was the Rolesor reference 126233 And while I imagine it will make me anything but invisible, it really is my precious.