First launched at Baselworld earlier this year, the new 1,000-piece USA Exclusive Hydroconquest from esteemed watch company Longines is just starting to land at authorized dealers this month for a modest $1,800.
At first glance, this latest release appears quite similar to the standard-issue 41mm Hydroconquest that has been part of the brand's collection for a while now, but a closer examination reveals the brand has made a number of updates to the budget-friendly Swiss diver. First things first, choosing the 41mm variant of the Hydroconquest was a smart move. The watch also comes in a 44mm and 39mm case size, but applying the Goldilocks Principle, the 41mm case size is easily the most desirable to a broader range of clients seeking something that's not too big, and not too small. Generally speaking, limited edition market-specific watches are a bit of a crapshoot. Brands will pick new dial colors or configurations that are often about as targeted as throwing paint on a wall, banking that the exclusivity factor will do all the talking. In the case of this Longines though, we're seeing a stack of clever updates that clearly speak to the enthusiast/collector sect.
Without going over-the-top, Longines added a few key details to the Hydroconquest's design to hammer home the whole "USA Edition" point. Its minute track and the tip of its seconds hand are red, ensuring the "red white & blue" reference was properly achieved on the blue dial variant of the watch (though not on the grey and black PVD models). There is also a small "USA" printed in the minute track between the 20 and 25 minute indices. Finally, the 50-minute indice on its unidirectional rotating bezel is lumed, in nod to the country's 50 states. If you look at the bezel closely, you'll notice the other big change to the model—the arrival of a ceramic bezel. Though not quite as glossy as some we've seen in the past, the always-loved upgrade is perfectly matched to the sunburst finish of the Hydroconquest's dials. Pulling the whole package together, the USA Edition is fitted with an engraved caseback depicting the American flag, surrounded by the words "USA EXCLUSIVE EDITION."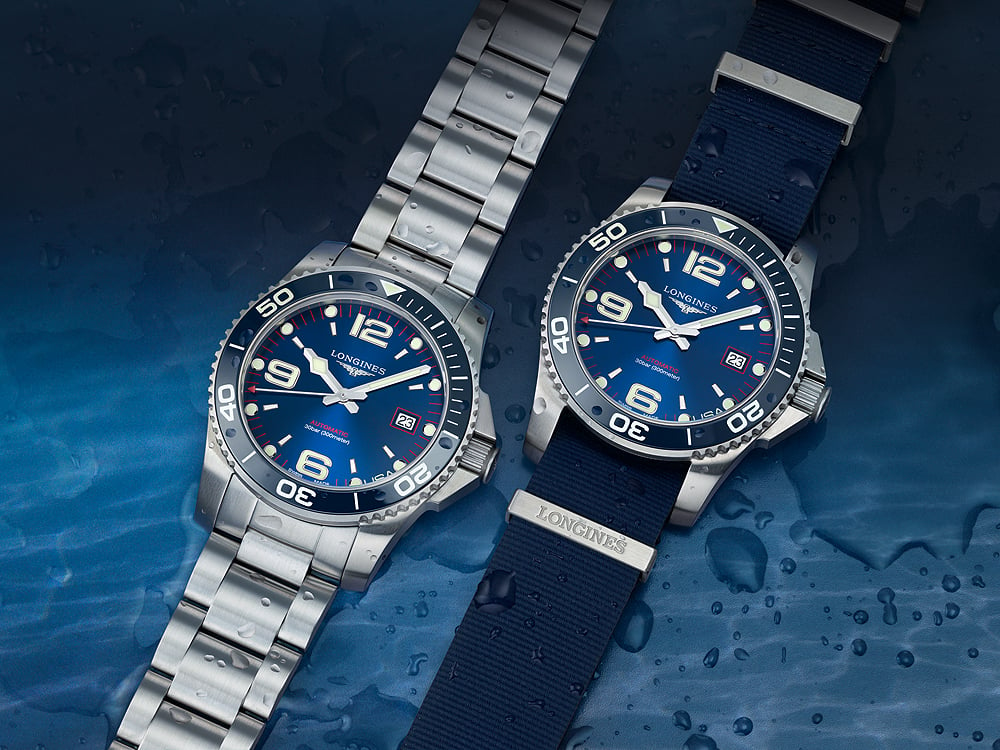 The other noteworthy change with this limited edition is that each model is being sold both with a leather bracelet and a unique rubber NATO strap. Rubber NATOs have been gaining popularity within the last year or two thanks to a couple aftermarket suppliers (and they're cropping up all over on Instagram), but offhand this is the first time we can recall seeing one offered directly from a brand. Having tried on a few of these straps in the past, including this specific Longines offering during our appointment at Baselworld, trust us when we say this is one of the more comfortable strap setups we've come across in a while.