In addition to producing some of the world's finest luxury watches, Omega also has a strong philanthropic side and supports a number of different charities and conservation projects. Since 2011, Omega has supported Orbis – an international non-profit NGO that is committed to preventing avoidable blindness in the world's most impoverished regions. Over the years, Omega has created a number of special Orbis-edition watches in support of Orbis's cause, and the latest effort comes in the form of a duo of Trésor watches from the Omega De Ville collection.
Omega De Ville Trésor Orbis Edition
Orbis Edition Trésor Key Features:
Case Size: 40mm
Materials: Stainless Steel
Functions: Time w/ Running Seconds; Date Display
Dial: Blue w/ White Gold Hour Markers, Orbis Bear on Date Wheel
Bezel: Stainless Steel or Diamonds
Crystal: Sapphire with anti-reflective treatment (both sides)
Movement: Caliber 8511
Strap/Bracelet: Blue Leather Strap
Click here for our Ultimate Buying Guide on Omega watches.

About The Omega De Ville Collection
As a brand, Omega is best known for its ultra-capable professional sports watches. It is an Omega Speedmaster that is the official flight-certified watch of NASA and it is the Omega Seamaster Planet Ocean Ultra Deep that currently holds the title for being the timepiece that has traveled further below the surface of the ocean than any other watch in history. However, despite this pedigree of producing some of the world's most noteworthy tool watches, Omega has an even longer history of producing classically-styled dress watches.
The Omega De Ville collection is the historic Swiss watch manufacturer's dedicated line of dress watches. The "De Ville" name first appeared in 1960 as part of Omega's greater Seamaster collection and originally applied to the more dress-oriented models from the Seamaster range – a position that is now more-or-less occupied by the Aqua Terra. However, by 1967, the De Ville had become its own standalone collection, and today, the Omega De Ville line represents a range of watches that pair classic and timeless designs with the brand's state-of-the-art mechanical movements.z
New Omega De Ville Trésor Orbis Edition Watches
The latest Orbis-edition watches to join the range come in the form of a pair of Omega De Ville Trésor models. Both timepieces are crafted from stainless steel, measure 40mm in diameter, and are fitted with rich blue dials and matching leather straps. The only thing separating the two Orbis-edition Trésor watches is the style of bezel fitted to them; one receives a classic smooth bezel, while the other is set with brilliant diamonds.
Powering the duo of Omega De Ville Trésor Orbis Edition models is the brand's in-house Master Co-Axial Caliber 8511 movement. Manually wound and offering users a 60-hour power reserve, the Cal. 8511 is a luxury-oriented movement and features a balance bridge crafted from solid 18k red gold. Like other Omega movements that hold Master Chronometer status, the Caliber 8511 is resistant to magnetic fields in excess of 15,000 gauss, thanks to its Si14 silicon balance spring governing its Co-Axial escapement.
As a subtle reference to Orbis and the great cause that the organization supports, the seconds hand is finished with a light blue varnish that is the same hue as Orbis's company colors. Additionally, there is another Orbis-inspired design feature in the new Omega De Ville Trésor Orbis Edition watches, but it is hidden the vast majority of the time and only makes an appearance once per month at the start of the second week.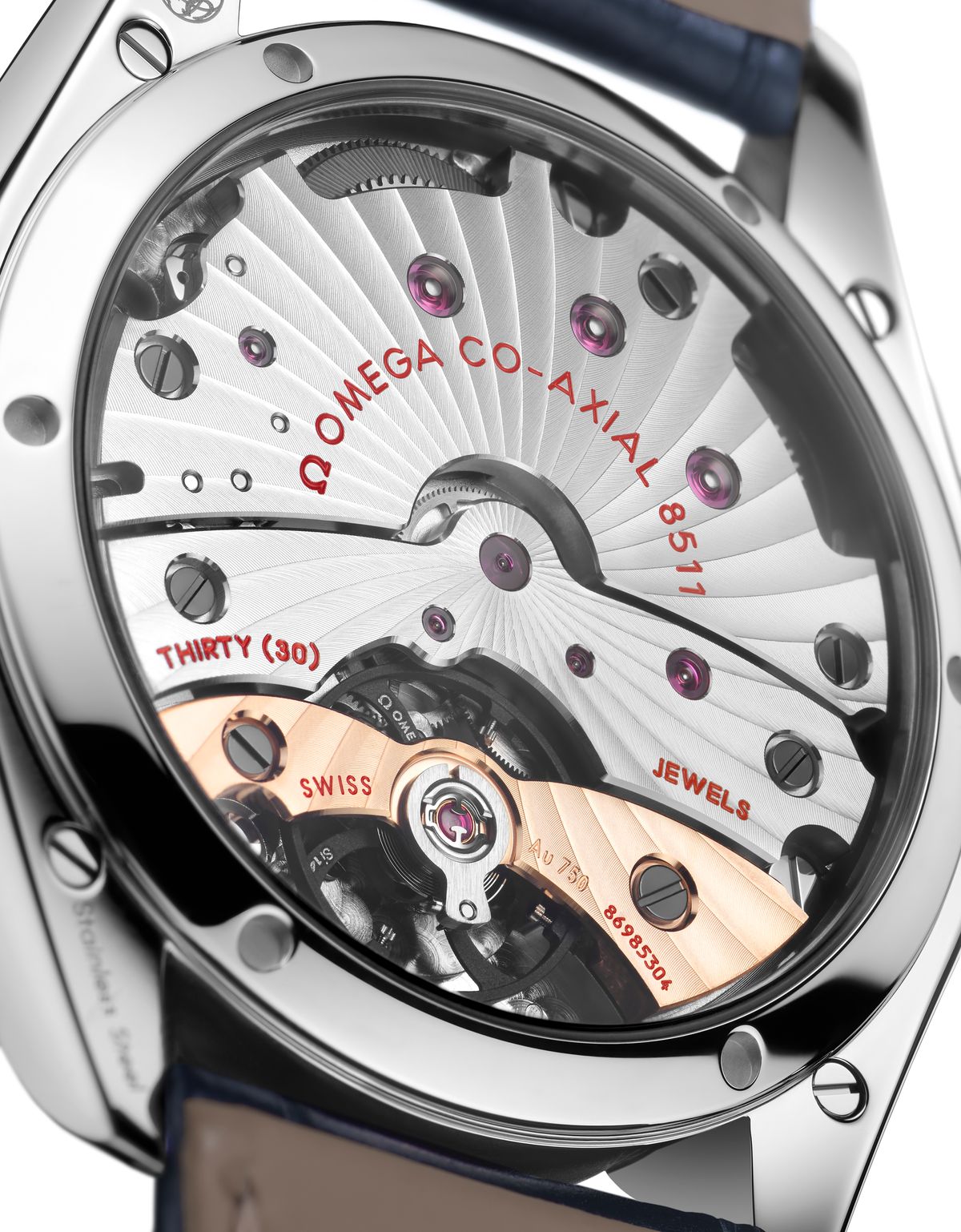 Seymour The Orbis Bear
Orbis's mascot is a teddy bear named Seymour, who is a reference to the cuddly toys given to the children that are undergoing eye surgery. In addition to the non-profit organization's signature light blue company color, the various Orbis-edition Omega watches that have been produced in the past have all featured Seymour the bear somewhere subtly placed in their designs.
On the new Omega De Ville Trésor Orbis Edition watches, the number '8' on the calendar disc is replaced by Seymour the Orbis bear in the company's signature light blue color. On the first day of the second week of each month, Seymour will make an appearance, perfectly complimenting the bright blue seconds hand and serving as a cute and constant reminder of the amazing work that Orbis does all around the world.
Omega Watches and Orbis
Blindness is a condition that can significantly impact a family, especially in impoverished countries. There are many instances where blindness is caused by an incident or is otherwise unable to be prevented; however preventing avoidable blindness is incredibly important and can drastically alter the life of an entire family.
Many countries lack the support systems that we have in the United States, and this means that easily remedied conditions that result in blindness become a life-long struggle for an individual's entire family. In a large number of these instances, these conditions can be remedied in simple outpatient surgeries and virtually overnight, the future of an entire family can be altered for the better.
Headquartered in New York, Orbis operates in many of the world's poorest countries and also runs a Flying Eye Hospital, which is a fully-outfitted, state-of-the-art ocular surgery center that is located inside what previously was a large cargo airplane. This enables Orbis to provide individuals with access to modern, cutting-edge medical technology in regions that simply lack these types of facilities. The new Omega De Ville Trésor Orbis Edition watches represent the historic watchmaker's ongoing commitment to bettering the planet, and every one sold helps give wings to Orbis's Flying Eye Hospital.