For a number of years, Supreme has been one of the hottest names in the world of streetwear. Massive lines perpetually adorn the exteriors of the company's various boutiques; and almost inexplicably, the brand has rapidly attained legendary cult status, with countless artist and brand collaborations earning the company a present-day valuation of over $1 billion.
In the same way that many Rolex watches sell for more than their retail prices on the secondary market, many of Supreme's limited-release collaboration items fetch well above their list prices due to a passionate and competitive collector community. For both Supreme and Rolex, the inflated prices in the secondary market are largely due to a shortage of supply relative to popular demand. The enormous lines outside Supreme boutiques are more-or-less the equivalent of the multi-year waitlists for the new, stainless steel Rolex GMT-Master II with Cerachrom "Pepsi" bezel insert.
Due to their similar cult-like market standing and unmatched ability to make their respective products the absolute must-have items upon their releases, many people have long wished for a collaboration collection between the two companies; however, a true collaboration of this nature is almost guaranteed to never happen. While Supreme is famous for their numerous and diverse collaborations, which range from Louis Vuitton to Vans, Rolex has made a longstanding point to almost never produce jointly-developed products with other companies or individuals.
However for their Spring/Summer 2013 collection, Supreme decided to customize a small handful of Rolex watches and gift them to a lucky select group of friends and family members of the company. The watch that was selected to be customized was the reference 114060 no-date Submariner with Cerachrom bezel insert, and it is believed that only 20 of these exclusive watches were ever produced.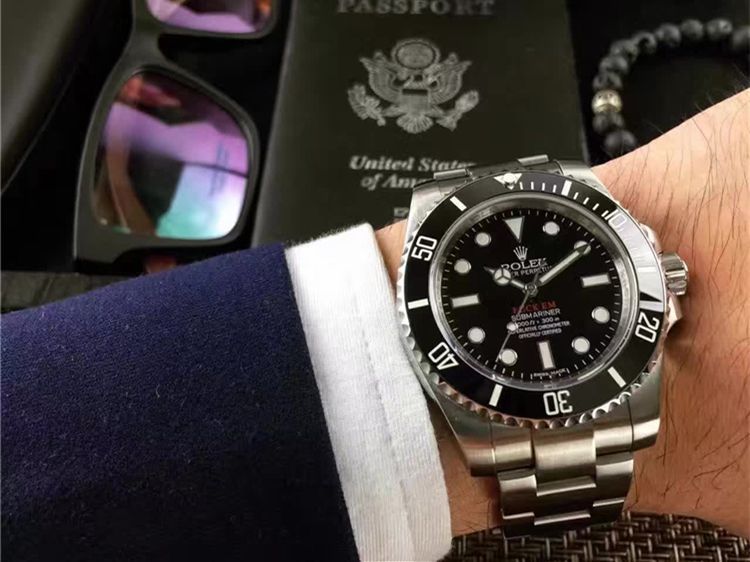 As these customized Submariner watches were not an official collaboration between Rolex and Supreme, the actual customization work was carried out by Bamford Watch Department. Additionally, the extent of the customization work was overall rather subtle and minimal. Supreme's "FUCK EM" slogan appears in bold, red text above the Submariner name on the dial (more than slightly reminiscent of a red-line Submariner or Sea-Dweller), and the case-back is engraved with Supreme's signature "box" logo. Other than these two relatively minor changes, the "Supreme Submariner" is entirely identical to a regular reference 114060.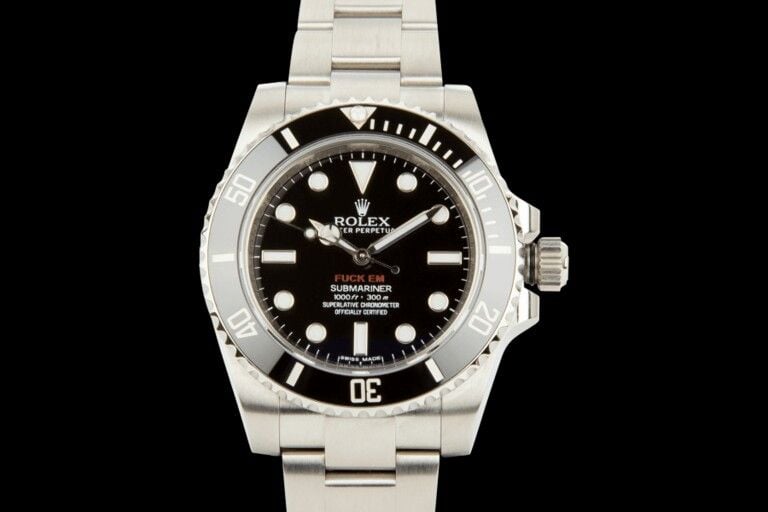 It is rumored that Supreme initially intended to sell these watches for a price somewhere in the neighborhood of $10,000 to $12,000; however, possibly due to a legal pressure from Rolex, these watches were never formally released to the public, and instead ended up in the hands of a few lucky friends and family members. Much like other Supreme and Rolex products, when a few of these watches surfaced again on the secondary market, they were selling for significantly more than their initially intended retail price: a staggering $50,000.
Since the watch was not an official collaboration with Rolex, most die-hard watch collectors and purists will likely consider the Supreme Submariner to be just another custom/modified watch; however, for those who are fans of Supreme, this timepiece represents the most exclusive and expensive of Supreme-branded accessories. Although we will likely never see a true Supreme and Rolex collaboration, the insane level of resale value in the secondary market for the Supreme Submariner does give us some idea of what we might expect to see if the two brands were to ever formerly release a collaboratively designed, limited edition timepiece.
Recommended Articles:
Rolex Announces New 2021 Watches