We're constantly getting new timepieces into the Bob's Watches vault and we like to keep you guys up to date as much as we can about what's coming in. And while the under $5k category might not seem all that exciting – especially when we are talking about Rolex watches, where the sky is the limit on pricing, there are always timepieces here that catch our eye.
Whether you're just getting into luxury watches or you're an avid collector – we hope you'll take the time to check out the great watches that we have coming into this budget-friendly category. To get you started, We picked out a few that caught my eye this month.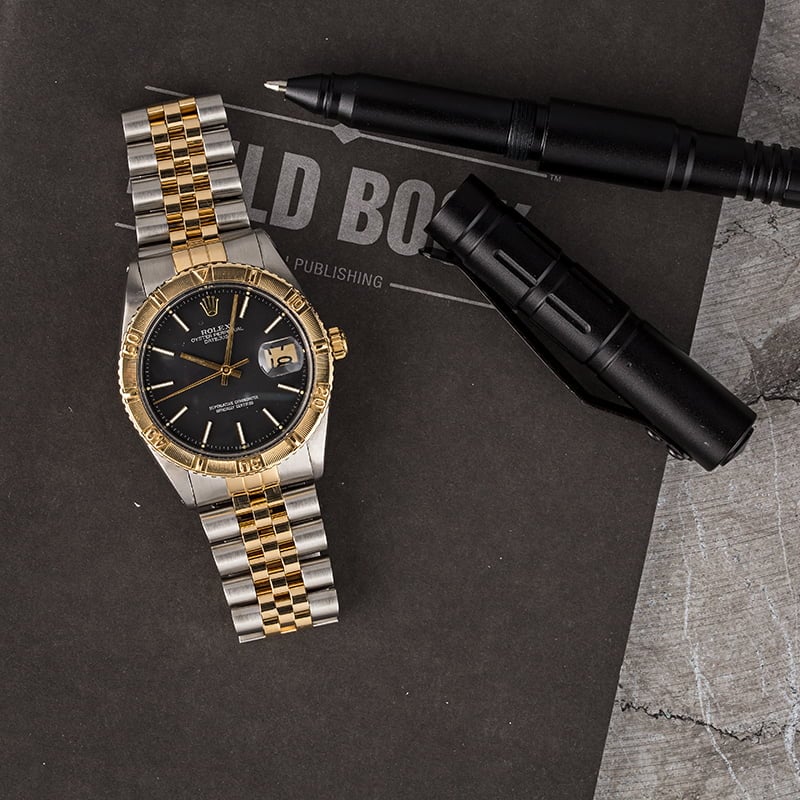 Two-Tone Rolex Datejust ref. 16013

Admittedly, there are a lot of Rolex Datejust watches in the under $5k category. But that's kinda great because every Rolex collector needs at least one in their watch box. This two-tone 36mm Rolex Datejust ref. 16013 caught my eye because despite being from the late 1880's, it is in excellent to like-new condition. Plus, the stainless on 18k yellow gold – like on that dressy Jubilee bracelet – is obviously timeless and makes for the perfect everyday timepiece that you can dress up or down. If you have yet to get your hands on a Datejust, or if you're looking for one that feels a bit more elevated, then don't look any further than this number right here.
Rolex Oyster Perpetual ref. 3372

Have you seen anything like this before? This incredibly rare Oyster Perpetual ref. 3372 from the 1940's is the perfect timepiece for vintage collectors or those who want a totally unique Rolex. Clocking in at 32mm, this watch is authentically tiny. But, what drew us to this watch was the fact that it has a cream dial that's developed a rich patina – and that rose gold engine turned bezel. These vintage and time-aged features are highly sought after, and will make for a cherished addition to any collection – especially at under $5k. Word of advice? Grab it before someone else does.
Rolex Cellini ref. 5112

Every man needs a dress watch, and this Cellini ref. 5112 is a classic that'll take you from date night to black tie for years to come. Everything about this watch oozes refinement – from the matching 18k gold Roman hour markers to the slender 32mm case in 18k yellow gold. The white Jubilee dial also features that wonderful "Cellini" text written in calligraphy above six o'clock. Inside ticks a manual winding cal. 1602 movement with 20 jewels. This watch has all-around great value and is an excellent price for a watch that will receive compliments when worn, but that you probably won't strap on all that often. Unless you're Obama – because that man knows how to rock a Cellini year-round.
Rolex Air-King Date ref. 5701

The Air-King often gets overlooked in the Rolex catalog of timepieces. But, it's hard to gloss over this rare two-tone Air-King Date ref. 5701 with a killer champagne dial. What's so unique about this vintage model from the mid-1980's is that date complication, which you almost never find on an Air-King. Additionally, age has only served it well, with the lume and dial surface developing a gentle warm patina over the years. The case is also unique because the fluted bezel is actually constructed from 14k yellow gold (compared to the 18k used on many other Rolex watches). This is the kind of watch that looks great and is going to be a perfect conversation starter with fellow collectors.

Rolex DateJust "Thunderbird" ref. 1625
To finish this list off strong, We've got to end with this cool vintage 36mm Datejust "Thunderbird" ref. 1625. It's from the 1970's, so the later end of the production years for this model. Nonetheless, it's looks are totally striking with that black "pie-pan" dial, tritium hands, date feature, and the 14k yellow gold rotating Turn-O-Graph bezel – the defining feature of the watch. The rotating bezel on the Turn-O-Graph line pre-dates its appearance on many of Rolex's iconic sports models like the GMT-Master and Submariner. Because of this heritage, it's a really cool piece to add to the collection. Don't miss out!