With a storied history, timeless design, and great value retention, the Rolex Submariner is one of the best watches money can buy. In fact, not only is the Submariner one of the world's most sought-after sports watches, but it is arguably Rolex's most famous timepiece.
Throughout its long and eventful life that has broken records and made its way into mainstream pop culture, the Rolex Submariner has become more than just a purpose-built dive watch, but an essential milestone for any serious watch collector to own. Whether you seek a shiny new model or a rare vintage reference with just the right amount of patina, the allure, legacy, and value of this iconic watch is undeniable.
The Rolex Submariner
Submariner Fast Facts:
– First introduced in 1953
– The first watch to achieve 100-meters of water resistance
– 60-minute rotating timing diving bezel
– Rolex Oyster Case with screw-down crown and case-back
– Luminous hands and hour markers
– The original watch of James Bond
– Versions issued to branches of the Military
– Offered in both Date and No-Date formats
Click here for our Ultimate Buying Guide on the Rolex Submariner.

The Submariner's Design Evolution Makes It Incredibly Collectable
As an exercise in intentional design, there are few watches that rival the Submariner – although, many imitate. Perfectly simple, purely functional, and effortlessly sophisticated, the Rolex Submariner has had minimal styling changes over the last 50+ years, as a true testament to its design brilliance. Elements that have never changed (but, have been altered) include its use of the waterproof Rolex Oyster case with a screw-down crown and case-back, a 60-minute rotating timing bezel, and its luminous hands and hour markers to aid with visibility in dark, murky waters.
However, while there have only been slight changes to the structure of the design over the years, the Rolex Submariner has had major aesthetic upgrades and alterations, like the addition of Rolesor (two-tone) models in the 1980s, a green bezel in the early 2000s, and Cerachrom (ceramic) bezels in the 2010s. Of course, the lume on the dial has also been changed and upgraded over the years as technology developed and improved.
However, it's also important to note that some of the most collectible vintage Submariner watches, like the ref. 1680 'Red Sub' are also particularly valuable due to their slight dial design variations. Even the slightest differences on the dial can skyrocket one Submariner's price over the other, further adding to the excitement for collectors and enthusiasts.
All of these variables not only make the Rolex Submariner incredibly fun to hunt down and collect but they also generally add value to the watch, with some small details accounting for thousands of dollars in value. Today, the Submariner is among the world's most sought-after watches because of all these variations to an otherwise unwavering and iconic design.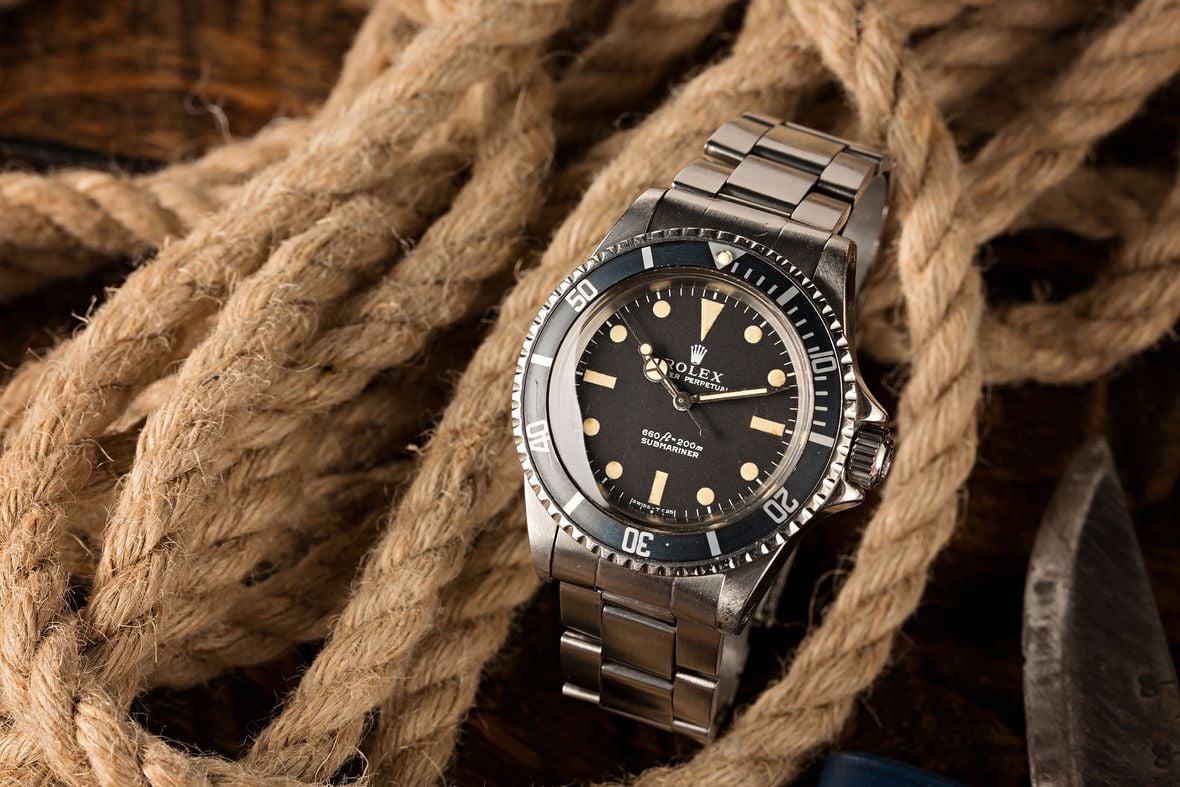 The History of the Rolex Submariner Adds Value
One of the best things about the Rolex Submariner is its storied history. Over the years, this watch has made its mark on the world and made some big changes that have impacted its value and made it a highly collectible timepiece and a fantastic Rolex to buy.
First released in 1953, the Submariner was among the first dive watches to ever be produced. But, that wasn't enough for Rolex, who made sure its dive watch was going to stand out from the crowd by being the first timepiece to achieve 100 meters (330 feet) of water resistance.
Fast forward a handful of years to when the Rolex Submariner cemented its place in history when the James Bond films featured the Submariner. In the books, Bond author Ian Fleming made it clear that Rolex was the watch of choice for agent 007, writing in Casino Royal, "He could not just wear a watch. It had to be a Rolex… a gentleman's choice of timepiece says as much about him as does his Savile Row suit."
It is said that Fleming wore a Rolex Explorer himself, yet it was the Submariner that was chosen for the Bond in the films. Now, all these years later, we're still talking about Sean Connery sporting one in the first James Bond movie from 1962. From that point, the Submariner's legacy was set and it would go on to be featured in a number of other Bond films throughout the years.
Another significant milestone for the Submariner is the 50th-anniversary edition from 2003, the iconic green bezel ref. 16610LV. By this time, the world had been introduced to yellow gold and two-tone Rolesor models with blue bezels that were quite eye-catching. However, the green Anniversary Edition Submariner was so unique that it completely caught the world by storm. While it was initially slow to catch on with collections, uncertainty quickly turned into complete adoration.
Finally, two of the biggest upgrades were the most recent. In 2010, Rolex finally gave the Submariner a Cerachrom ceramic bezel, which is highly scratch and fade resistant. This was a big move adding this new material to this historic timepiece – especially when you consider all the faded, scratched bezels that appeared over the years on previous models. However, this fading is a 'flaw' that many collectors still seek out. Then, in 2020, Rolex made the major decision to upgrade the size of the case from 40 to 41mm. It is the only time since 1959 that Rolex had made a change in size to the case, ushering in a new era for this timeless treasure.
With such a rich history, the Submariner has made its mark on everything from the watch world to pop culture, making it a superb Rolex to buy, either brand-new or pre-owned.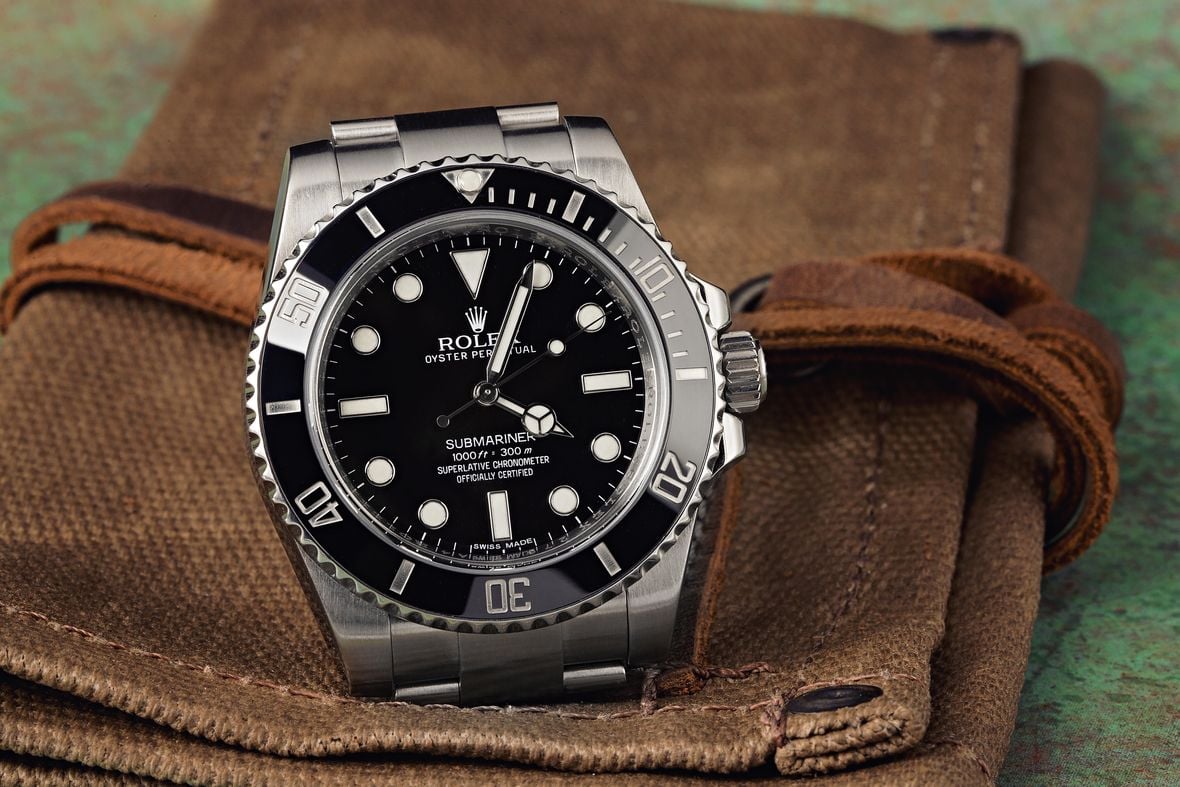 Timeline of the Rolex Submariner
Below is a timeline that will give you a quick overview of the Rolex Submariner's changes over the years. This timeline also provides an interesting perspective for collectors who may be trying to decide what era of the Submariner they may want to purchase.
1953 – Rolex introduces the Submariner dive watch.
1959 – Case increases to 40mm and crown-guards are added.
1967 – Switch from gilt to matte dials.
1969 – Rolex introduces the Submariner Date; first gold Submariner.
1979 – First sapphire crystal on a Submariner watch.
1984 – Switch from matte to gloss dials with white gold markers; first two-tone Submariner.
1988 – Switch from 316L to 904L stainless steel for the Submariner
2003 – First Submariner with a green bezel (ref. 16610LV)
2010 – Ceramic bezel and Super Case design introduced.
2020 – Case increases to 41mm and lugs get redesigned.
The Submariner Is A Great Investment Over Time
When the Rolex Submariner was first released, you could pick one up for only around $150. Of course, you need to take into account inflation, but that only brings this watch up to around $1,500. By today's standards for a luxury Swiss watch, that's actually considered relatively inexpensive. However, over time, not only has the price of the Submariner increased as it became more popular (and iconic) but pre-owned and vintage models have also increased in value, making the Sub a really good Rolex to buy.
Over the next two decades, the Rolex Submariner didn't increase in price all that much, mostly due to the quartz crisis that stunted the market in the 1970s. However, the Submariner did cement itself in pop culture as the James Bond watch during this era. We actually didn't see a major price increase until the 1980s, one of the biggest examples being the 18k gold Submariner that jumped from a few thousand to $10,850. With inflation taken into account, that's $26,859. This showed how the market was changing, and that the Swiss watch brands who were now marketing themselves as coveted, luxury items after the Quartz Crisis were doing so successfully.
In the 1990s, the prices continued to climb with the standard stainless steel Submariner Date clocking in at $3,350 in 1996 and then rising to $6,000 by 2008. Today, after the most recent price increase in 2020, the modern version of that same watch (ref. 126610) will cost you $9,150 – which is admittedly a huge jump in just a decade. Even the basic no-date Submariner now costs $8,100.
But while these price increases might seem daunting, there are two important things to consider as a buyer. First, the hikes illustrate just how desirable these watches truly are, both at the retail level and on the pre-owned market. Second, compared to many other Rolex watches, the prices of the Submariner are still comparatively low. This combination of desirability and great retail value means that collectors like yourself will happily sign up for waitlists that are multiple years long.
In fact, many collectors think the Submariner may be undervalued since many people are willing to pay well-above retail prices for one if they can jump the waitlist and get it on the secondary market. So, once you buy a Rolex Submariner, you're pretty much guaranteed it will go up in value if you hold onto it long enough. Take this example – right now, a stainless steel model from 2020 that costs $9,150 is being sold on our site for $14,995. Paying that price to get your hands on this watch isn't a crazy notion, as you could otherwise sit around for years just waiting for your chance to get one retail, and even then there is no guarantee.
When we start talking about the valuation of other pre-owned and vintage Submariner references, the prices only increase. These watches have proven to be incredible investments over time, and If you bought one ten years ago, it is virtually guaranteed to never be worth less than what you paid for it.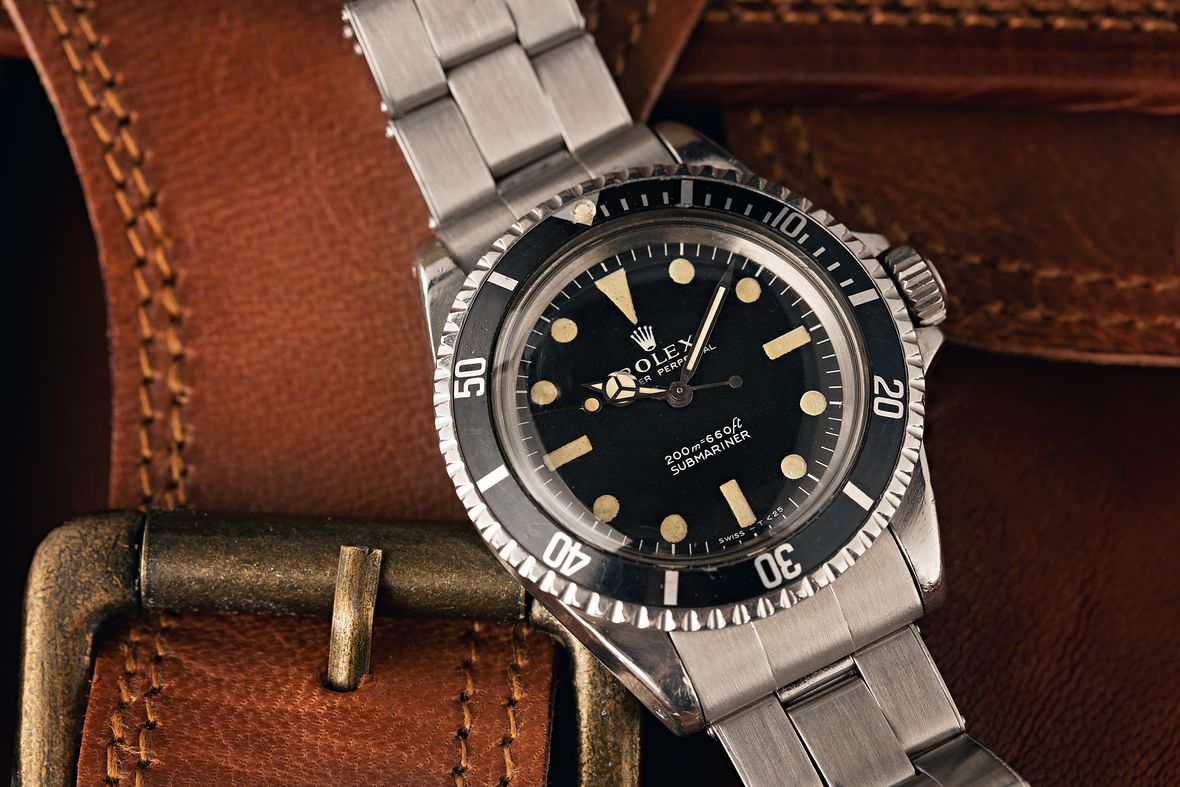 So, Is The Rolex Submariner A Good Watch To Buy?
Absolutely! The Rolex Submariner is a timeless watch that has an iconic history and a remarkable ability to retain its value over the years, despite receiving daily wear and use. Many collectors consider a Submariner a 'grail' piece to add to their collection as it is so revered by the watch world and coveted by fellow aficionados.
Despite the range of different materials and colors that have made an appearance on the Submariner collection over the years, Rolex's iconic dive watch has always maintained a consistent and timeless design. It is often said that every single dive watch in existence today was in some way or another, influenced by the Rolex Submariner.
Since 1953, the Rolex Submariner has always been in style, and over the course of the last century, prices have steadily been increasing. Today, the Rolex Submariner is one of the most popular and desirable watches in the world, and this is not likely to change any time soon. So, if you are looking to buy a Rolex, the Submariner is one of the best choices you can possibly make.