GMT watches are a particular category of timepiece that has absolutely exploded in popularity in recent years and multi-timezone models are now some of the most popular luxury watches available. A GMT watch is one with a 24-hour format that is capable of simultaneously indicating two or more timezones, and this simple yet effective complication has become a favorite for everyone from pilots to frequent travelers. Only a relative handful of watch enthusiasts actually scuba dive and require a dive watch but a significant portion of watch owners do travel, and it is likely for this reason why GMT watches are so popular and desirable among both first-time buyers and season collections alike.
When it comes to GMT watches, none are more famous than the iconic Rolex GMT-Master. However, the notoriety of the model (along with the ultra-famous nature of the Rolex brand itself) has made purchasing a GMT watch from Rolex both incredibly difficult and expensive. At retail, even the most humble Rolex GMT-Master II watches cost nearly $10,000 and since they are sold out at retailers around the globe, you can expect to pay more than twice the official retail price if you wish to buy one on the open market without the wait. Since the Rolex GMT-Master II is increasingly becoming a model that is outside the reach of many collectors, we figured we would highlight some of our favorite GMT watches that can be purchased for less than $5,000.
The Best Rolex GMT Alternatives
The Gold Standard in GMT Watches
In regards to mechanical watchmaking, it is often the simplest complications that end up being the most beneficial. For example, tourbillons and moonphases can be fantastically complex things, yet they are almost completely useless in our modern lives. On the other hand, a GMT function like the complication found on the famous Rolex GMT-Master – is something that can actually be of great use to many of us. The GMT complication is a relatively new innovation in a wristwatch, built out of necessity at the dawn of the jet age. During an era when intercontinental air travel was opening up the world to an entirely new degree, the phenomenon of crossing several time zones in quick succession threw up a brand-new challenge: jetlag.
Research carried out in the 1950s by Pan Am Airways (among others) revealed that having a method of keeping track of the time both at home and the eventual destination was enough to help pilots cope with the condition. The first Rolex GMT watch as we recognize it today, with an additional hour hand geared to run at half speed and circle the dial once every 24-hours, emerged in the mid-1950s, and the collaboration between Pan Am and Rolex resulted in the GMT-Master, one of the true icons of horology.
The Rolex GMT-Master's popularity has resulted in multi-year waiting lists at Rolex retailers all around the globe, along with the corresponding massive price premiums on the pre-owned market. This has made the contemporary version of the Rolex GMT-Master II both difficult to find and a rather expensive proposition for the average watch collector, with second-hand prices hovering between two and three times their original brand-new retail prices.
However, not all is lost! Rolex's multi-timezone masterpiece is certainly not the only GMT watch available. There are plenty of other fantastic GMT models on the market that offer similar levels of style and functionality, but remain far more obtainable, both in terms of both price and availability. Below, we take a closer look at three of our favorite GMT watches that can be purchased for less than $5,000.
Tudor Black Bay GMT
Black Bay GMT Key Features:
– Case Size: 41mm
– Materials: Stainless Steel
– Functions: Time w/ Running Seconds, Date Display, GMT-Functionality
– Dial: Black w/ Luminous Hour Markers
– Bezel: Bi-Directional, Red and Blue Aluminum Insert w/ 24-Hour Scale
– Crystal: Sapphire (Domed)
– Movement: Tudor Cal. MT5652 (COSC certified)
– Water Resistance: 200 Meters / 660 Feet
– Strap/Bracelet: Stainless Steel Bracelet; Leather Strap; Fabric Strap
– Approx. Price: $3,725 – $4,050 (New); $3,500 – $4,000 (Pre-Owned)

2018 was a great year for GMT watches. The most headline-stealing announcement at Baselworld that year was from Rolex, finally issuing a stainless steel version of its iconic GMT-Master II with a ceramic Pepsi bezel. Although the watch made its debut more than three years ago, it still remains one of the most coveted watches on the market. However, it didn't have the show to itself. Rolex's sibling company Tudor launched its very own GMT model that same year that, if anything, brought an even greater tear to nostalgic eyes.
Where Rolex's GMT watch was a thoroughly modern take on the groundbreaking original, with a split-color Cerachrom (ceramic) bezel, Parachrom hairspring, Chronergy escapement, and various other cutting-edge technologies, Tudor's model was much more of a throwback to the 1950s, even foregoing the addition of crown guards. Ironically, it was designed to appeal to a younger audience than Rolex's core demographic, with the whole vintage aesthetic very much on-trend at the moment. It is a throwback that you can't imagine the more conservative bigger brother making, and one that has opened the door for Tudor to take its share of the accolades by simply being more willing to experiment.
Inside, Tudor has even moved away from using off-the-shelf calibers from ETA/Sellita and the Black Bay GMT is driven by Tudor's own Caliber MT5652. A 4Hz movement with a 70-hour reserve, it offers the same core functionality as Rolex's latest Cal. 3285 that powers the current GMT-Master II and comes with one welcome concession to modern watchmaking: an antimagnetic silicon balance spring. Additionally, the Tudor Black Bay GMT is a "true GMT" where the local hour hand can be independently adjusted for travel, rather than the more common "caller GMT" variety, where it is the 24-hour hand that jumps backward or forwards in one-hour increments.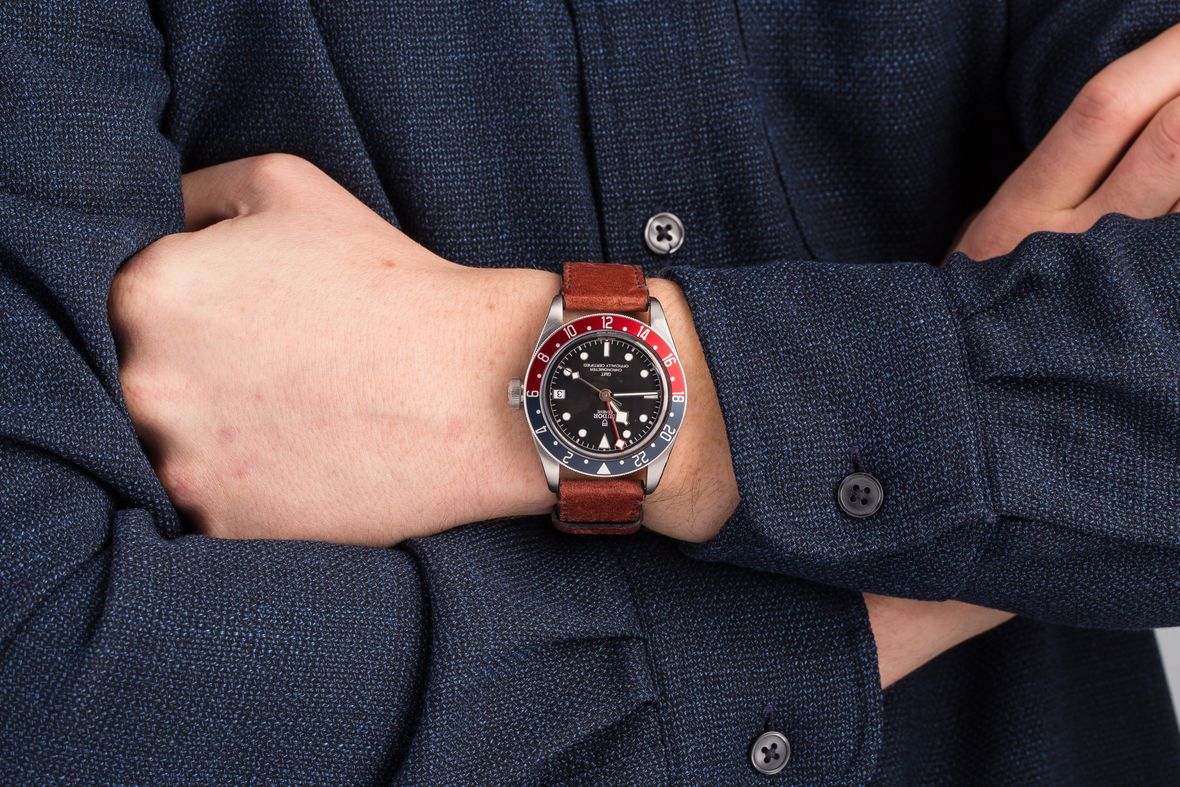 The case of the Tudor Black Bay GMT is a mixture of brushed and polished elements, 41mm in diameter and waterproof up to 200m. It has a thickness to it that gives it an aura of real strength, and the generally subdued aesthetic helps define the Black Bay GMT as a real tool watch. The aluminum bezel is a much more restrained affair than its Cerachrom counterpart, both less shiny and capable of fading and acquiring a few marks and scratches to add to the watch's character and individuality.
Overall, the Tudor Black Bay GMT gets just about everything right for modern luxury watch buyers and their current tastes. The watch has a laundry list of plus points in its favor for anyone looking for a hardworking GMT. Build quality and engineering prowess are on a par with what you might find from Tudor's famous parent company, and it features a number of spot-on historical touches in the shape of the oversized crown, lack of Cyclops lens, rivet-style bracelet, and perhaps best of all, the ability to actually buy one.
Unlike the Rolex GMT-Master II, the Tudor Black Bay GMT can actually be purchased at a retail level without spending several years on a waiting list. It is not entirely out of the question for you to be able to walk into an authorized retailer and leave with the watch on your wrist, and if you do need to wait, it will be a matter of months rather than years. With a retail price of less than $5k, it costs less than half of what you can expect to pay for Rolex's alternative (assuming that you can even get one at retail), and about one-sixth of what you will have to pay to buy the Rolex GMT without the wait. When put into that perspective, the Tudor Black Bay GMT is a value proposition that is hard to ignore.
Grand Seiko Sport Spring Drive GMT SBGE201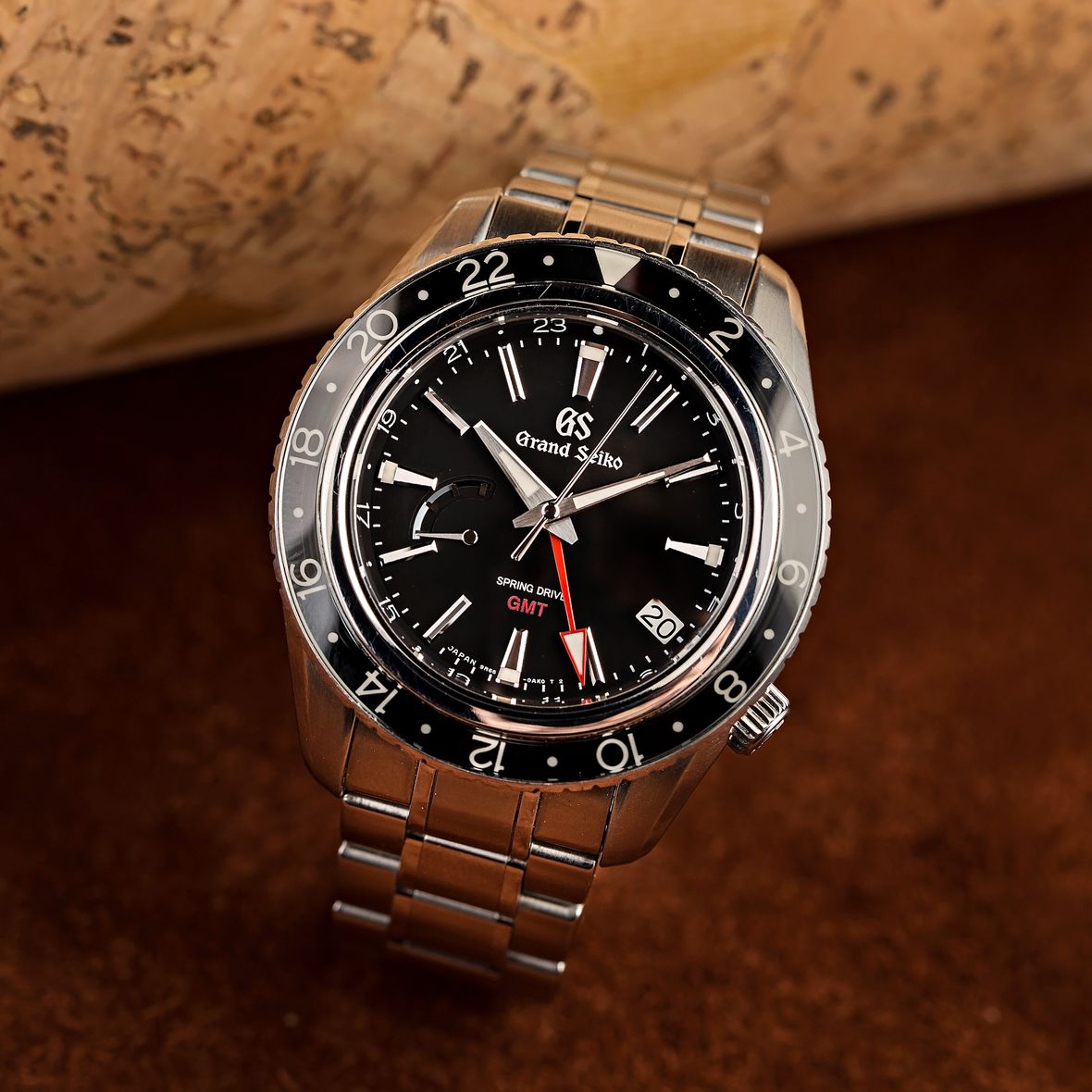 Spring Drive GMT SBGE201 Key Features:
– Case Size: 44mm
– Materials: Stainless Steel
– Functions: Time w/ Running Seconds, Date Display, GMT-Functionality
– Dial: Time w/ Running Seconds, Date Display, GMT-Functionality
– Bezel: Bi-Directional, Sapphire Insert w/ Luminous 24-Hour Scale
– Crystal: Sapphire (Domed)
– Movement: Grand Seiko Cal. 9R66 (Spring Drive)
– Water Resistance: 200 Meters / 660 Feet
– Strap/Bracelet: Stainless Steel Bracelet
– Approx. Price: $5,800 (New); $4,200 – $5,400 (Pre-Owned)

Grand Seiko might not be the first name that comes to most people's minds when they think of robust and highly capable sports watches, but the famous Japanese luxury watchmaker is increasingly changing that notion in recent years with a number of advanced sport and tool watches. As a brand, Grand Seiko is best known for its intricate dials, immaculate finishing (Zaratsu polishing), and advanced movement technologies. However, Grand Seiko's former parent company Seiko (before it became its own brand) is no stranger to making robust sports watches, and Grand Seiko has started to fill out its catalog with a range of advanced models, including a number of Spring Drive GMT watches.
Typically, watch movements fall into one of two categories: quartz or mechanical. However, Spring Drive is a unique movement technology that is entirely exclusive to Grand Seiko, and it combines the best of both mechanical and quartz movements. For the most part, a Grand Seiko Spring Drive is a mechanical movement; its power source comes from a mainspring, it has a traditional gear train, and the vast majority of its components are shared with a traditional mechanical caliber. However, when it comes to the balance and escapement, a Spring Drive movement uses a unique "Tri-synchro regulator" that relies on quartz technology to control the timekeeping of the watch. The end result is a watch that largely functions as a normal mechanical watch, but with the insane accuracy of quartz that promises less than one second of deviation per day
First released to the public in 1999 (although the first Spring Drive prototype was completed in 1982), Grand Seiko's Spring Drive movements have seen a steady increase in use over the years, and these unusual calibers can now be found in a wide range of different watches. Among the various models that make up the brand's contemporary catalog is the Grand Seiko Sport Spring Drive GMT ref. SBGE201, which is a thoroughly modern and sporty take on the traditional concept of a multi-timezone GMT watch.
While Grand Seiko now produces a number of more dressy models that feature GMT complications, the Grand Seiko Sport Spring Drive GMT SBGE201 is firmly on the sport/tool side of the brand's catalog and features a 44mm stainless steel case and bracelet with a bidirectional rotating bezel that has a luminous sapphire insert. Additionally, its black dial and bezel are punctuated by a bright red 24-hour hand and a bright red "GMT" text on the dial. Despite the fact that the SBGE201 is undeniably a sports model, the applied hour markers and hands are expertly finished, just as you would expect from a watch that bears the "Grand Seiko" name on its dial.
A date window sits at the 4 o'clock position, while a power reserve indicator sits on the interior of the 8 o'clock marker to help add balance. The dynamic case is finished with both brushed and polished surfaces and as is customary for many Seiko and Grand Seiko watches, the crown resides at 4 o'clock to help guarantee that it does not poke into the back of your hand. The luminous 24-hour scale on the sapphire bezel insert is a welcome addition and significantly facilitates the use of its GMT functionality while in low-lighting conditions.
Despite its well-executed case, the real party piece of the Grand Seiko Sport Spring Drive GMT SBGE201 is its Cal. 9R66 movement. The finely-decorated, in-house manufactured movement promises users true GMT functionality with a jumping local hour hand, a 72-hour power reserve, and timekeeping accuracy of less than 1 second per day (+/- 15 seconds per month). At a retail level, the Grand Seiko SBGE201 is priced at $5,800, which puts it slightly above our $5k budget, but on the pre-owned market, you can often find these fantastic Spring Drive GMT watches for less than $4,000, and that is a tremendous value for a unique and highly capable timepiece from Japan's premier luxury watch manufacturer.
Oris Big Crown ProPilot GMT
Big Crown ProPilot GMT Key Features:
– Case Size: 45mm
– Materials: Stainless Steel
– Functions: Time w/ Running Seconds, Date Display, GMT-Functionality
– Dial: Black w/ Luminous Hour Markers
– Bezel: Fixed, Stainless Steel, Gear-Turned Style
– Crystal: Sapphire (Domed)
– Movement: Oris Cal. 748 (base SW 220-1)
– Water Resistance: 100 Meters / 330 Feet
– Strap/Bracelet: Stainless Steel Bracelet; Leather Strap; Fabric Strap
– Approx. Price: $2,300 – $2,500 (New); $1,200 – $1,800 (Pre-Owned)

No conversation about budget-friendly Swiss luxury watches could be complete without mentioning Oris. Founded in 1904, the Holsten-based manufacturer has become a fan-favorite among collectors and enthusiasts in the last several years, and now produces a catalog of exclusively mechanical models that includes everything from solid gold pieces with advanced in-house movements to reliable and classically-styled models that dominate the under $5k price category.
Oris might be most famous for its various dive watches, but the brand also has a long and rich history of producing pilot's watches, which dates all the way back to the 1930s. While Oris now produces vintage-inspired models that recall the design of its very first pilot's watch, the brand also produces a line of modern pilot watches in the form of the Oris Big Crown ProPilot series, which builds upon the legacy of the vintage models and carries it into the next generation.
The Oris ProPilot series is vast, and alongside time and date models, chronographs, day-dates, worldtimers, and even a model with a built-in analog altimeter is a range of GMT models that take the basic design of the ProPilot series and add on the mega-useful complication of having an additional timezone display. Additionally, as you would expect from a proper GMT watch, the dial of the ProPilot GMT features a date window at 3 o'clock, which is offset by a small running seconds display at the 9 o'clock location. As the running seconds have been moved to a sub-dial, there are only three centrally-mounted hands on the ProPilot GMT, which ultimately makes for an incredibly clean and legible display.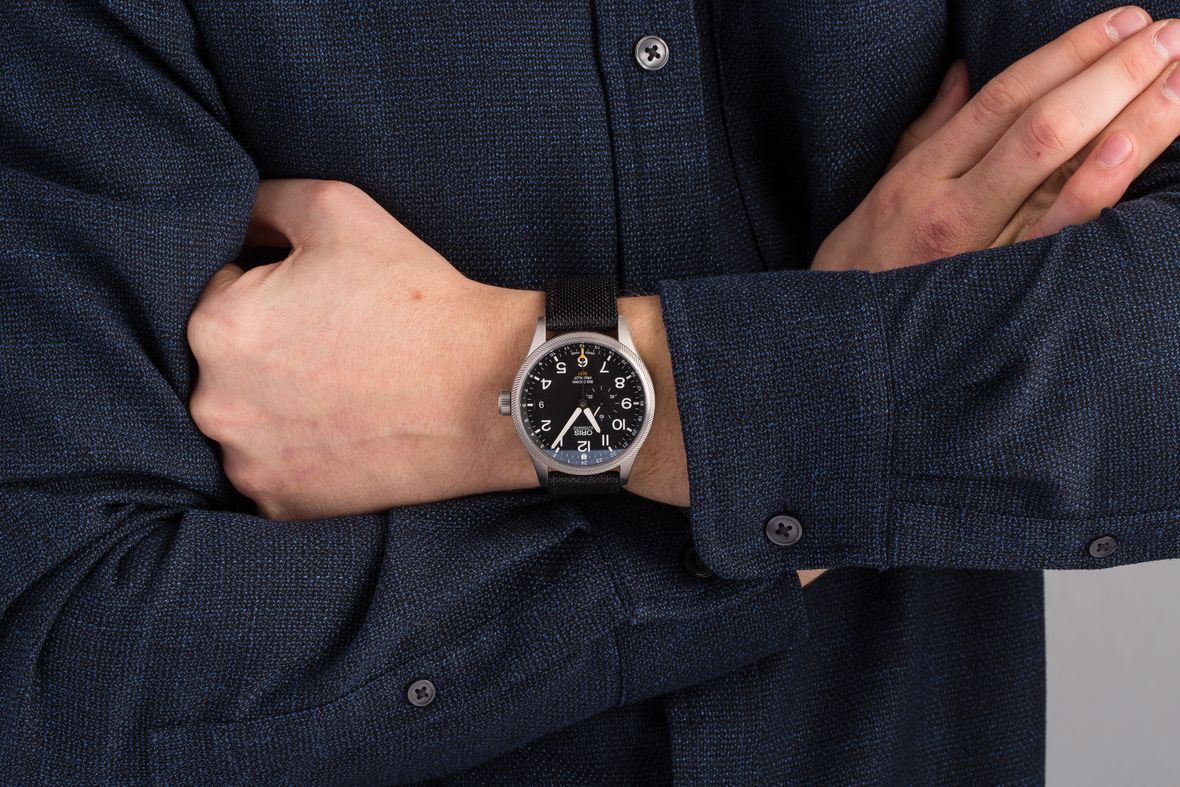 Unlike the other GMT watches on our list, the Oris Big Crown ProPilot GMT does not feature a rotating 24-hour bezel and instead includes its 24-hour scale printed along its inner bezel for a much cleaner and more traditional overall appearance. With that in mind, unlike other modern GMT watches that can display a third timezone by rotating their 24-hour bezels, the internal fixed scale on the Oris Big Crown ProPilot GMT means that it can only display two timezones, which should be more than enough for all but the most avid and active jet-setters.
One key distinction to make between the Oris ProPilot GMT and more expensive GMT watches such as those from Rolex, Tudor, and Grand Seiko is that the Cal. 748 movement used for the Oris does not feature an independently adjustable local hour hand. Instead, it is the 24-hour hand that can be adjusted either backward or forwards in one-hour increments (known as a "caller GMT" movement). Depending on your situation, there are both advantages and disadvantages of having this style of GMT watch. On one hand, you are not able to adjust your local time on the fly for layovers. However, if you are not actually traveling and instead will be speaking to different people in different locations throughout your day, then a caller GMT watch has the clear advantage since it allows you to adjust your secondary timezone without disrupting local time.
Generally speaking, caller GMT watches are quite a bit less expensive than GMT watches with independently adjustable local hour hands, and this is certainly true when it comes to the pricing of the Oris Big Crown ProPilot GMT compared to the other GMT watches on this list. A used Tudor Black Bay GMT will set you back an absolute minimum of $3,500, while the brand-new retail price for an Oris ProPilot GMT is just $2,300 and you can readily find them available for less than $2k on the pre-owned market. GMT watches are considered to be among the most popular and practical types of timepieces available, but that doesn't mean you have to spend a small fortune to add one to your collection. While the iconic Rolex GMT-Master may be increasingly moving out of the reach of many collectors, a budget of $5,000 is all that is required in order to buy some of the best Swiss-made GMT watches in the industry.