While many of you already know that Rolex launched the stainless steel Submariner in 1953, it may come as a surprise that it took another three decades for a two-tone version to join the collection. Rolex has included a two-tone Submariner in every generation since. The TT Subs are always offered with a choice of black or blue bezels, which are often paired with matching dials. However, some series also included two-tone Rolex Submariner watches with diamond dials, officially known as Serti dials. Rolex has made four generations of the two-tone Rolex Submariner, so far.
In Rolex-speak, watches that combine 18k gold and steel components are called Rolesor. Yellow Rolesor variants are those that mix yellow gold and stainless steel – a.k.a. two-tone watches to everyone else. If you're into yellow Rolesor Subs, join us as we delve into the history and evolution of the stainless steel and yellow gold two-tone Rolex Submariner. And if you're not that into them, read on anyway because one day, you may just gravitate towards that two-tone timepiece trend.
About Two-Tone Rolex Submariner
Two-Tone Rolex Submariner Quick Specs
References: 16803, 16613, 116613, 126613
Case Size: 40mm or 41mm
Case Material: 18k Yellow Gold and Stainless Steel/Oystersteel
Bezel: Aluminum or Cerachrom (ceramic); Black (LN) or Blue (LB); Unidirectional Timing Bezel (0-60 Minutes)
Dial: Hour, Minute, Seconds Center Hands, Date Window at 3 o'clock,
Dial Colors: Black, Blue, Champagne with Diamonds (Vintage), Silver with Diamonds (Vintage)
Crystal: Sapphire with Cyclops Date Magnification
Bracelet: Oyster; 18k Yellow Gold and Stainless Steel/Oystersteel
Caliber: 3035, 3135, 3235 automatic movements
Water Resistance: 300 meters (1,000 feet)
Click here for our Ultimate Buying Guide on the Rolex Submariner.
Generation 1: Two-Tone Rolex Submariner Ref. 16803
In 1984, Rolex unveiled the very first two-tone Submariner with the reference number 16803. Although two-tone versions of the ref. 1680 do exist, they are watches that were configured at individual dealers, as Rolex only officially offered the reference 1680 in either all gold or all stainless steel. The Submariner ref. 16803 is the Rolesor (Rolex's term for combining gold and steel on a watch) version within the Submariner ref. 1680x family, where the ref. 16800 is the steel model and the ref. 16808 is the full yellow gold version.
The 1680x Submariners are referred to as transitional models. Transitional models are those that remained in production for a short time but established milestone design enhancements. For instance, this generation of Submariner watches introduced sapphire crystals to the collection (replacing the previous acrylic crystals), boosted the water resistance rating to 300 meters (replacing the previous 200-meter rating), and run on Caliber 3035 movements (replacing the previous cal. 1575).
The Submariner 16803 features a 40mm Oyster case in steel, with a yellow gold winding crown and a yellow gold unidirectional rotating bezel that is fitted with an anodized aluminum bezel insert. Rolex made the Submariner ref. 16803 in two colorways: black dial with black bezel and blue dial with blue bezel. On the dial are plenty of yellow gold details, from the lume-filled index surrounds to the luminescent Mercedes-style hands. Some very early models of the 16803 came equipped with the so-called "nipple dial" that has raised gold hour markers, like those found on the all-gold version of the ref. 1680.
Like most yellow Rolesor Rolex watches, the ref. 16803 Submariner's Oyster bracelet includes yellow gold center links flanked by stainless steel outer links. Rolex stopped producing the Submariner 16803 sometime in approximately 1988.
Generation 2: Two-Tone Rolex Submariner Ref. 16613
To replace the 16803, Rolex presented the Submariner ref. 16613 in 1988. Design-wise, the newer Submariner kept a very similar (near-identical) look to its predecessor. That is to say that the Submariner 16613 also sports a two-tone 40mm Oyster case with an aluminum bezel and a two-tone Oyster bracelet. The color options are also identical, with black and blue versions of the Rolesor Submariner ref. 16613 available. With that in mind, the biggest difference can be found inside the watch case. Powering the Submariner 16613 is the Caliber 3135 automatic movement.
It is important to note, however, that because Rolex produced the Submariner 16613 for about 20 years, the model underwent plenty of enhancements and updates throughout its production run. For instance, Luminova replaced tritium as the luminescence material towards the end of the 1990s, the solid end-link (SEL) bracelets made their debut in 2000, and a few years later, lug holes were phased out.
Additionally, in the early 2000s, Rolex began engraving the watches' serial numbers, along with 'ROLEX ROLEX ROLEX' on the rehaut, as well as laser etching a micro crown on the crystal as a means to curb counterfeiting. Consequently, a mid-2000's Submariner ref. 16613 will look and feel quite different from a late 1980s Submariner ref. 16613, despite the fact that they are technically the same exact model.
Generation 3: Two-Tone Rolex Submariner Ref. 116613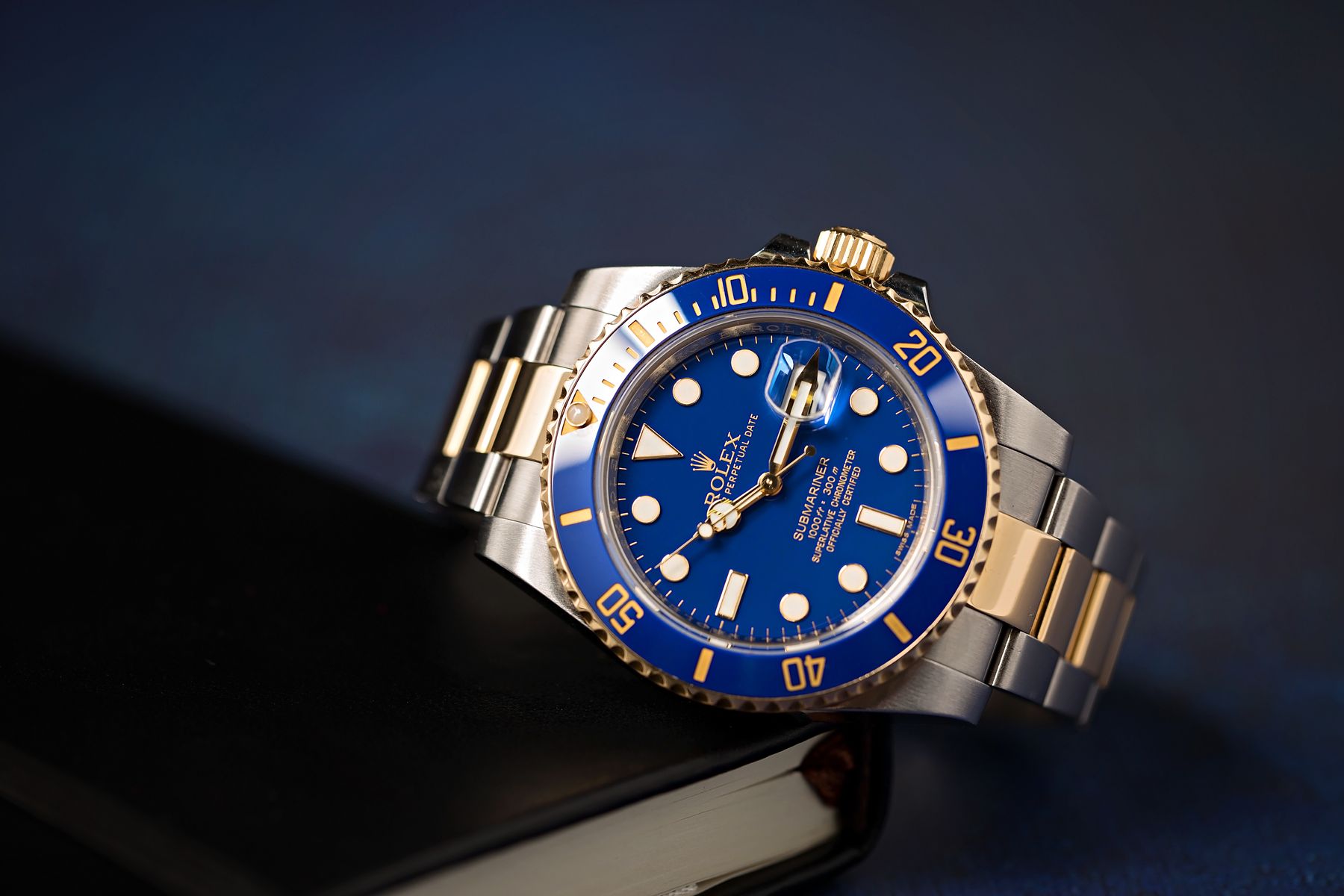 Rolex unveiled the third version of the two-tone Submariner in 2009, and with it, came a whole host of drastic changes. On paper, the Submariner ref. 116613's official case measurement is also 40mm. But hold it next to the previous ref. 16613, and you'll immediately see that the silhouette of the "Super Case" is far beefier and imposing thanks in part to bigger crown guards and fatter lugs. Adding to the heft of the then-new Submariner was the vastly improved two-tone bracelet with solid 18k yellow gold center links and a completely redesigned durable clasp.
What's more, an ultra-modern and bigger Cerachrom bezel insert replaced the old-school aluminum one. Cerachrom is Rolex's patented ceramic alloy, which is prized for its resistance to scratching and fading. Yet again, Rolex offered the six-digit two-two Submariner in either blue or black.
The dial had also been given the supersize treatment, with larger lume plots compared to the previous generation and broader Mercedes-style hands. It's worth noting that the earlier versions of the blue two-tone Submariner ref. 116613 were fitted with what is now known as the flat blue dial to better match the blue shade of the Cerachrom bezel. However, by 2013, Rolex revived the popular sunburst blue dial and phased out the flat one. Side note: the flat blue dial was available with diamond hour markers while the sunburst blue dial was not.
The Submariner ref. 116613 continued to run on the Caliber 3135, but in true Rolex form, the automatic movement underwent some key improvements over the years. For instance, in 2015, Rolex announced that all its Perpetual watches – regardless of caliber – would guarantee an accuracy rating of -2/+2 seconds per day, which is twice the requirement set out by COSC chronometer standards.
Generation 4: Two-Tone Rolex Submariner Ref. 126613
In the fall of 2020, Rolex announced a brand new Submariner collection, complete with all the metal options rather than the traditional once-a-year drop of a new case material. Of course, included in this new lineup of Rolex dive watches was the two-tone Submariner ref. 126613, again available in either blue and black.
The most obvious difference between the current-production two-tone Submariner versus the previous ones is the case size. The Submariner ref. 126613 has a 41mm case along with slightly thinner and more refined lugs (although its actual case diameter when measured is just slightly under the official 41mm that is listed on its spec sheet). This subtle, yet significant case redesign signals a return to the classic proportions of the five-digit Submariners before the arrival of the "Super Case" variants.
Another important update accompanying the latest two-tone Submariner 126613 is the new-generation Caliber 3235 automatic movement that powers the watch. Built around Rolex's proprietary Chronergy escapement and boasting a slew of patents, the new series of Rolex movements offer users an improved power reserve of approximately 70 hours (compared to the 48-hour reserve of previous references).
Other key design details of the TT Submariner remain the same, which is to say 18k yellow gold and steel cases and bracelets, unidirectional rotating Cerachrom bezels marked to 60 minutes, and a date window at 3 o'clock on the dial magnified by a Cyclops lens. Like the versions that came before it, the latest two-tone Submariner is water-resistant to 1,000 feet (300 meters). Moreover, the hour markers and Mercedes-style hands are generously coated with Chromalight lume for optimal legibility in the dark.
LN, LB, and the Bluesy Submariner
As we've outlined above, Rolex has offered every generation of the two-tone Submariner with the choice of a black or blue bezel. Two letters in the reference numbers denote this colorway difference: LN and LB. The black versions are LN, which stands for Lunette Noir (or "black bezel" in French) while the blue versions are LB, which stands for Lunette Bleu (or "blue bezel" in French). Furthermore, two-tone Submariner watches with blue bezels and dials are often nicknamed the Submariner Bluesy in collecting and enthusiast circles.
Black Two-Tone Submariner Watches: 16803LN, 16613LN, 116613LN, 126613LN
Blue Two-Tone Submariner (a.k.a. Submariner Bluesy) Watches: 16803LB, 16613LB, 116613LB, 126613LB
The yellow Rolesor two-tone Submariner has been a mainstay in Rolex's catalog for a little under 40 years now, with no signs of going anywhere. While the mix of gold and steel on the same watch is not for everyone, for those who love it, it's everything.
I think a two-tone Rolex, especially a two-tone Submariner, is fantastic. Not only do I never have to worry about matching the rest of my accessories with an all-steel or all-gold watch but it's also a metal execution that you don't see out in the wild as often as a one-color-metal watch – and I like that. With a brand as ubiquitous as Rolex and a model as popular as the Submariner, it's refreshing that the two-tone version is still considered a somewhat unexpected choice.