Rolex is easily one of the world's most famous luxury timepiece manufacturers, but how exactly are Rolex watches made? Although nearly everyone knows about the Rolex brand itself, the iconic Swiss watchmaker is notoriously secretive and is famous for almost never giving public interviews or even making formal statements about its various models or operations.
With that in mind, understanding how Rolex makes its watches is an important part of being able to fully appreciate the brand, and the more you learn about how these luxury timepieces are constructed, the more remarkable they become. Below we take a closer look at how Rolex makes its watches, from the production of the raw materials used in their construction, right down to the hand-assembly and testing of each individual timepiece.
About Rolex Watches
Rolex Key Facts:
Founded in 1905 by Hans Wilsdorf.
Headquarters in Geneva, Switzerland.
Owned by the Hans Wilsdorf Foundation.
Created the first waterproof watch in 1926.
First self-winding Perpetual movement in 1931.
Total production of approximately a million watches per year.
Sponsors many of the world's most prestigious sporting events.
Supports countless humanitarian and conservation projects.
Registered over 500 different patents
Sold in more than 100 different countries.
Click here for our Ultimate Buying Guide on Rolex watches.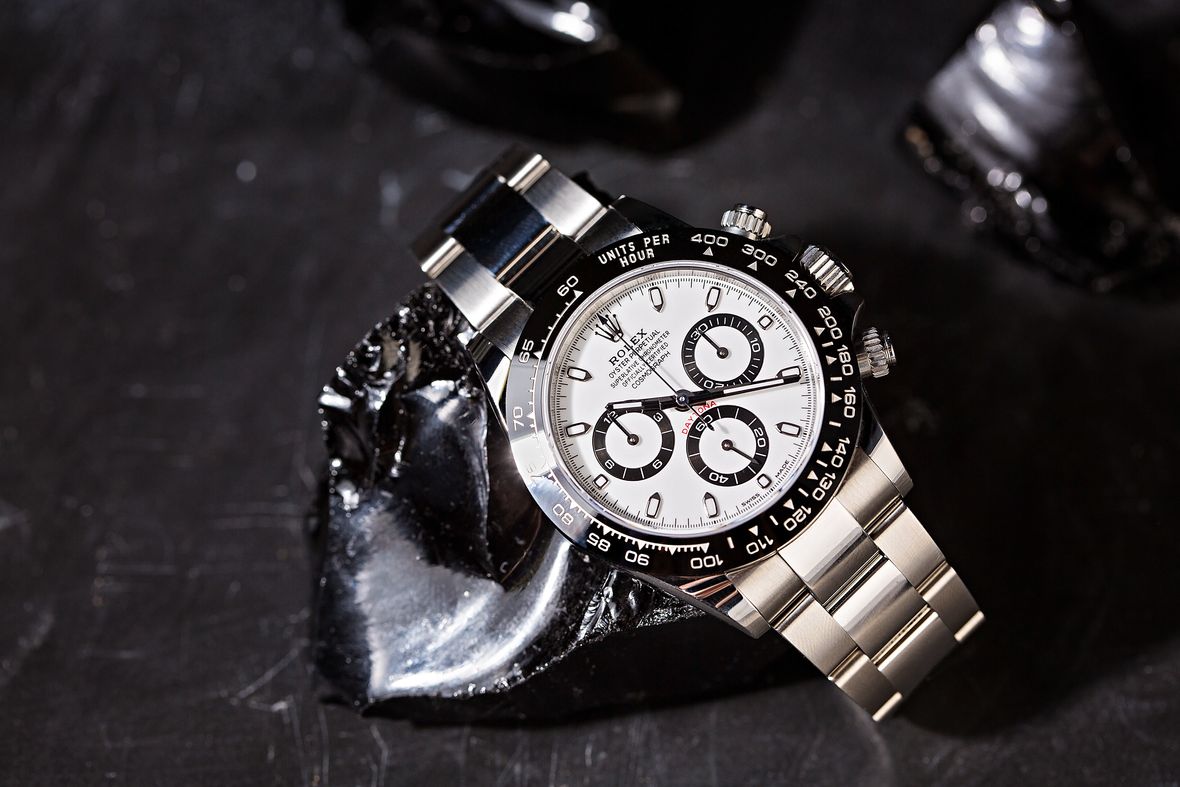 In House Materials
Many luxury watch manufacturers produce designs and components in-house, but Rolex takes things one step further and even produces some of the raw materials that get used in the construction of its watches. If you've been wondering where are Rolex watches are made you are in for a treat.
Rolex owns and operates its own in-house foundry and creates its own proprietary gold and steel alloys such as Oystersteel (a variety of 904L stainless steel) and Everose Gold (a special blend of 18k rose gold that is especially resistant to wear, fading, and discoloration). Even Rolex's classic yellow gold is a special mixture of 18k gold that has slightly evolved over the years and is entirely unique to the Rolex brand.
Rolex also owns its own laboratories and employs an army of scientists and technicians who create some of the industry's most advanced modern materials, lubricants, and mechanical movement technologies. Some of Rolex's top innovations include Cerachrom (a proprietary ceramic material), Parachrom (a highly-specialized alloy used for hairsprings), and Chromalight (the brand's blue-glowing luminescent compound), and these technologies all sit on the cutting-edge of what is possible within their respective categories.
Designed and Manufactured In-House
Rolex is one of the world's most vertically-integrated manufacturers, so it should come as no surprise that the brand designs and produces nearly every aspect of its timepieces entirely in-house. Over the course of its history, Rolex has steadily acquired all of the various other manufacturers and parts suppliers that previously produced components for its watches. It has slowly transformed itself into an international watchmaking giant that is entirely self-sufficient and capable of creating its own immaculately constructed luxury timepieces.
The production of Rolex watches now takes place in four different facilities that are all located in Switzerland. The company's headquarters are in Geneva Acacias, while cases and bracelets are made in Geneva Plan-Les-Ouates (this is also where Rolex's in-house foundry is located). All of Rolex's movements are constructed within its Bienne facility, and the production of dials (including gem-setting and selection) is carried out in Geneva Chêne-Bourg.
One of the main reasons why people choose to buy Rolex watches is because they include proprietary features and technologies that you will not find on wristwatches made by any other company. From creating its own designs to employing its own teams of chemists, metallurgists, and gemologists, Rolex is a true in-house manufacturer, and the company is one of the very few watchmaking entities that is entirely capable of taking a design concept from a simple idea and turning it into a commercially viable product with widespread distribution.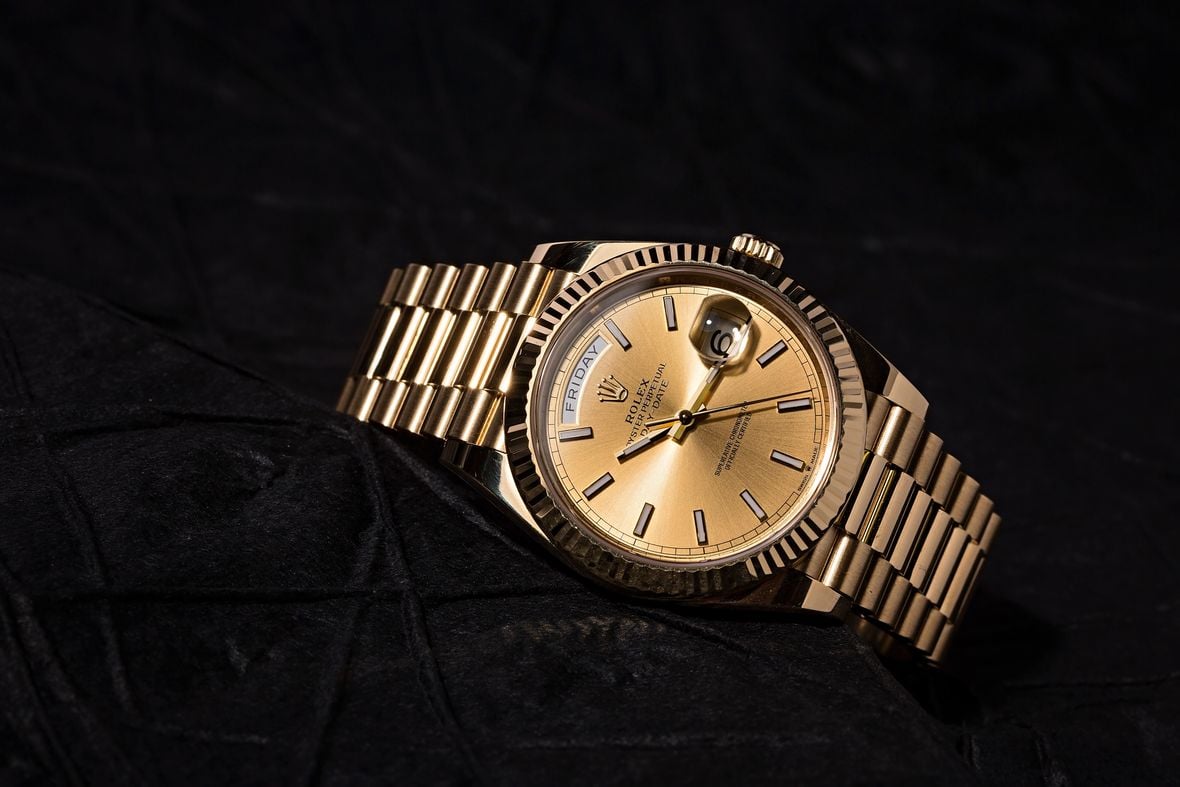 Hand-Assembled and Tested
With a current annual production output of approximately one million watches per year, Rolex is easily among the world's most prolific luxury timepiece manufacturers. However, one of the biggest misconceptions about Rolex is that the brand uses machines to build its watches. Without a doubt, highly-advanced machines are an integral part of Rolex's greater production process, but their primary functions are to perform roles such as cataloging, filing, sorting, and administration, rather than the actual assembly and finishing of the watches and movements themselves.
Everything from the assembly of the brand's in-house movements to the construction of its industry-leading bracelets is done by the touch of a trained and certified human hand. High-tech machines help with roles such as aligning parts and applying the correct amount of pressure. However, even in these limited instances, the machines are still largely human-operated (at least to some degree or another). Additionally, despite various modernizations within the assembly process, the hands-on all Rolex watches are still set by an expert watchmaker to ensure that this crucial task remains within the control of a highly-trained and experienced individual.
It Takes a Full Year to Make a Rolex Watch
Decades ago, a Rolex advertisement stated that it takes approximately one full year to create a Rolex watch. As unbelievable as this statement sounds, it is actually surprisingly true – and this statement still applies to the modern watches that the brand produces today. Although exact production figures are not made publicly available, it is estimated that Rolex now manufactures somewhere around a million chronometer-certified watches per year. However, despite increases in production, absolutely no shortcuts have been made when it comes to the overall manufacturing process.
Rolex refuses to ramp up production if it means sacrificing quality, and this is the primary reason behind the incredible waiting lists that exist for so many of the brand's most famous and desirable models. A good example of this unwavering commitment to quality is found within Rolex's dials, which are produced entirely in-house with each individual hour marker hand-applied and riveted to the surface. For many other luxury watch brands, machines are better suited to perform these highly detailed processes. However, Rolex believes that a human eye is better at spotting small inconsistencies, and this human-oriented process ensures a superior level of overall quality.
As the world's most prolific luxury watch manufacturer, it almost seems strange to think that Rolex is still capable of producing watches to the very highest standards found within this industry. However, the brand upholds the same levels of quality that were first established more than a hundred years ago, and it is for this reason why you cannot have any serious discussion about luxury timepieces without mentioning Rolex.