So, you finally purchased your grail watch. Or maybe you have a few different Rolex watches in your collection that you've always loved. What better way to show off your timepieces than to take some really great photos?
Whether you're shooting with thousands of dollars of professional photography equipment or just your smartphone, we gathered some pro tips on how to take the best photos possible of your watch.
Click here for our Ultimate Buying Guide on Rolex watches.
It's All About The Lighting
No matter what you're photographing, lighting will always be a key factor. Even more so when trying to capture the intricate details of a Rolex watch. Regardless of whether you're using your smartphone, a point and shoot camera, or a DSLR camera, your best bet will always be to use as much natural lighting as possible.
Find a spot close to a window or go outside under the cover of a patio or tree – or in other words, try to avoid direct sunlight. Watches are often made up of shiny components, such as polished metals and crystals, so it's essential to keep reflections in mind. Taking your photos away from direct sunlight prevents washy and distracting reflections on the crystal.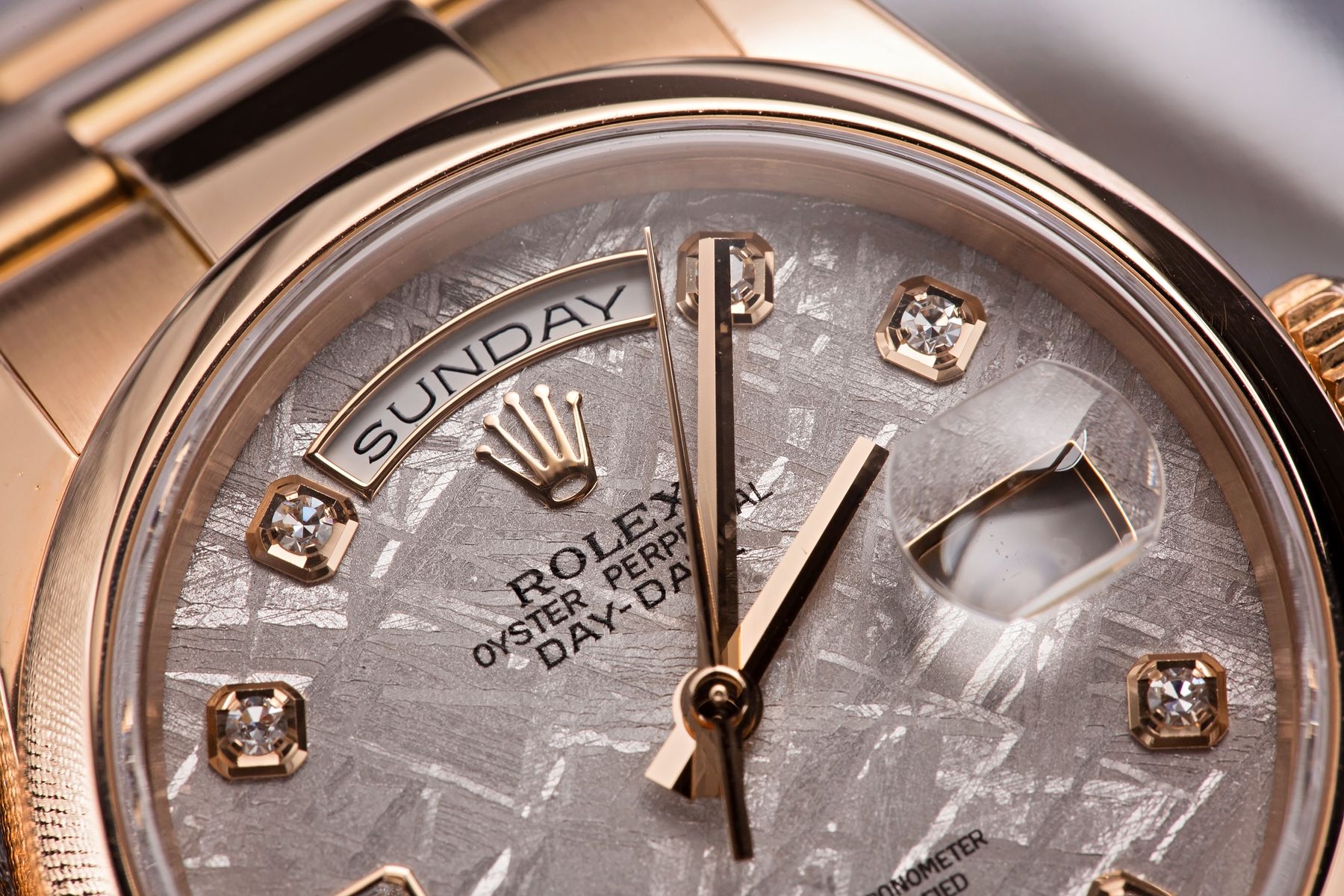 How To Take Better Watch Photos
Here is a quick checklist of things to keep in your mind when you're taking a picture of your Rolex watch:
Blurry Images: 
If you're taking a picture of your watch with your phone, the camera can sometimes focus on the object behind the watch if it is too close, so be sure that you get the focus on the watch. This can also sometimes occur when the camera is focusing on the date rather than the dial of the watch. When the camera focuses on the date, it can sometimes blur the rest of the watch.
Glare: 
Since watches are very reflective objects you should always be aware of any type of glare that you might be getting. For example, overhead lights are commonly found when people are trying to take pictures of their watch indoors.
Direct Sunlight: 
The sun can be difficult to work with since it will often distort the color of the lighting or can cast shadows or darken other parts on the watch.
On the other hand, if it's too dark, it may result in blurry or grainy images. Finding the right balance between natural sunlight and shade is important. You can also add some drama to your photos by taking advantage of interesting light, such as a single small window in a room, the glow of a neon light, or a flashlight pointed at an angle towards your watch.
A great tip that doesn't require any specialized equipment is to photograph your watch inside your car. The combination of surrounding windows and the roof overhead creates a lot of indirect light and makes a perfect environment for photographing watches.
Focus on the Details
The dial is the first thing anyone sees when they look at a Rolex watch, so it's important to highlight it as much as possible. Setting the hands at 10:10 keeps the wording on the dial unobstructed and frames the logo nicely.
Taking your photo at an angle also helps to accentuate specific features of the watch. Don't just shoot your timepiece straight-on, you can also focus on cool aspects such as the crown, bracelet, or lugs. If you have a rare watch or one that has unusual design features, images of those specific details would make for excellent photographs.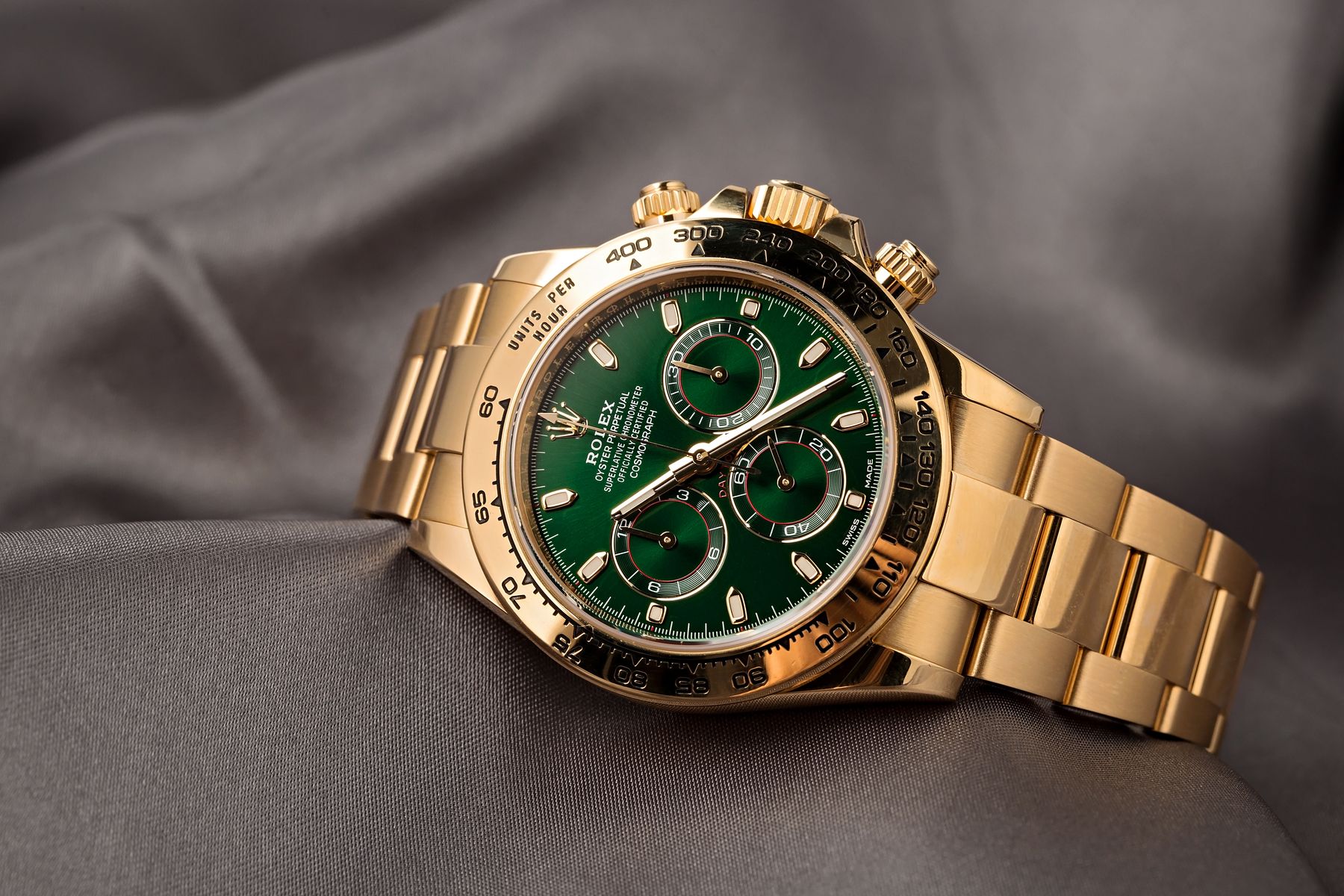 Props and Framing
To take your watch photos to the next level, try taking a picture of the watch next to something that's relevant to that model or its intended purpose. If you're shooting a Rolex Daytona, try photographing it on the steering wheel of your roadster or on the fine leather of the bucket seats. If you dive, surround your Submariner with some of your dive gear. A dress watch might look nice next to the morning newspaper or your favorite cufflinks. Shooting your Rolex on an interesting surface or texture (i.e., bricks, stones, or natural elements such as moss or tree bark) can also help to showcase each watch's specific features.
Don't be afraid to get close; your watch should fill up the frame. If you're using a DSLR, choose a macro lens. This will allow you to shoot a closer photo and will produce an amazing shot. A DSLR camera also gives you more control. If you go that route, you should also consider using a tripod to achieve the sharpest images possible, as photographing anything close-up can often be a pretty shaky process.
Most importantly, just experiment. Taking a good picture of a watch can take some time, but if you follow our tips, you'll be well on your way to capturing excellent photos. For additional watch photography inspiration, you can follow us on Instagram @bobswatches to see how we like to take our photos!