Buying Rolex Watches – New vs. Pre-Owned
In today's Rolex watch market, there are so many options it may get a bit overwhelming. Not only are there a wide variety of amazing models to choose from, one must carefully weigh between buying new and used Rolex. Without a doubt, it's always fun to purchase a brand new toy and be the first to wear it with pride. But is paying nearly two times as much for a new Rolex worth the thrill!?
Of course there are some who will answer a definite "yes the thrill is definitely worth it," even if it's the most expensive Rolex. Others may see the benefit of purchasing less expensive, used (but still oh so beautiful) goods.
What has your experience been? Have you bought new and wished that you would have bought used, or vice-versa?
Why Buy Pre-Owned or Used Rolex?
Buying a new Rolex watch is much like buying a new car. The minute you walk off the lot (i.e. out of the store), its value depreciates by 30 percent or more. The beauty of buying a pre-owned Rolex watch is that its value barely (if not at all) falls. Used Rolex hold their value and may even rise as precious metals prices increase over time. In the case that a particular Rolex model becomes a collector's item, its value may even sky rocket!
As you read, you may still be skeptical about buying used goods. You may fear that a used Rolex may be a knockoff, be defective or not include its original parts. These are all valid arguments – however, leading pre-owned Rolex specialists take tons of time to assess each and every Rolex they purchase. You can even demand a used Rolex with its original box, certificate of authenticity and original parts. You're the boss and will find exactly what you're looking for.
For those of you who have bought used, do you any tips that you would like to share with those on the fence about buying a pre-owned Rolex?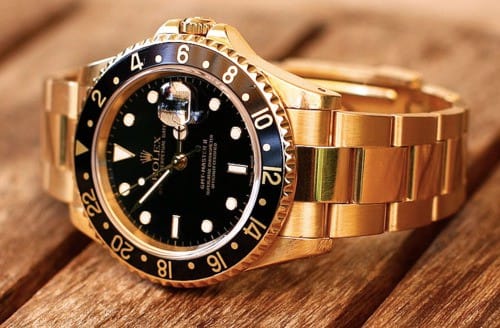 The Same Watch for Less Money
Let's say you set out on a trek for your dream Rolex watch. You travel from shop to shop in search of a brand new Rolex. At the fifth shop you've traveled to, you find IT! After trying the watch on and staring at yourself in the mirror for a few minutes, you pull out your wallet – more than willing to pay full price. The dealer swipes your credit card. You feel a bit nervous knowing that you've just spent $10,000 for your new Rolex.
Fast forward a few weeks later, and you find yourself at a business dinner. You notice that your colleague has the same exact watch! You begin chatting about how much you love Rolex and what a coincidence it is you have the same watch. At some point in the conversation, he or she reveals that they bought their Rolex watch used. You get the guts to ask how much the watch cost…the room starts spinning when you find the price tag was $6000 instead of $10,000! You're heart beats double time as you think of what you could have done with $4000 more in your bank account.
This story is more common than you know. It's possible to save thousands of dollars on the exact same Rolex, while having enough leftover cash to enjoy a week-long vacation to Hawaii!
If you've already set aside a certain amount of money for a new Rolex and find the exact watch used for thousands less, what will you do with the cash you have left over? We'd love to hear your ideas!
More Watch for the Same Money
Let's take it a step further! Say you bought your used Rolex for $10,000 and you're enjoying a cocktail with a friend one evening. He or she pulls their sleeve up to get a glimpse of the time. You notice that upon their wrist is a BEAUTIFUL Rolex that is a couple steps above your own. You've had a couple cocktails and are brave enough to ask how much they paid for their Rolex. Again, the room spins when they tell they paid only $10,000! You ask how he or she got such an amazing deal on a much nicer watch than yours – they tell you they bought used.
This scenario is also all too common. One can get much more watch for their money when purchasing a pre-owned Rolex. Instead of wearing a high-end new Rolex Datejust, you may find yourself sporting a flawless used Rolex President for the same amount of cash!
The secret when shopping for a used Rolex is to shoot for the stars. If you could have any Rolex model (regardless of price), which would you want? You may be surprised to find yourself wearing your dream watch by finding the right deal on a pre-owned Rolex.
 
Certified Pre-Owned
You've probably heard this term several times and wondered what it exactly means. In the case of used Rolex watches, it means a watch is a 100% Authentic Rolex, in perfect working order. Before even browsing a dealer's used inventory, ask if their watches are certified. Run the other way if the answer is a resounding "no." Always make sure that your pre-owned Rolex comes with a Certificate of Authenticity and serial numbers.
Why Not Buy Used?
Some consider buying anything used a risk that isn't worth taking. There is validity to this line of thought, as some used items may not have warranties, be defective, and contain replacement parts. What are your hang-ups about buying used? Feel free to share or ask questions.
Whatever your decision, be a smart shopper. Find the right deal, within your budget. Also, know that you can find near flawless used Rolex and save. The secret to success is shopping until you find the perfect pre-owned Rolex. In today's economy, it is very possible to discover a used Rolex that is like new – with all original parts, warranty and Certificate of Authenticity. By daring to purchase used, you will be amazed at how much you can save.
Share Your Experiences in Buying a New or Used Rolex!
Have you bought a new or used Rolex recently? We invite you to share your experience in an effort to guide others to make an educated decision. Please comment below, and also feel free to ask questions and one of our Rolex specialists will respond promptly.
Rolex: Is bigger better?
When you work with hundreds used Rolex watches on a daily basis, you can't help but notice trends and spotting what's hot and what's not. Although we consider ourselves "Rolex Experts" at Bob's Watches, it's almost impossible to predict what the used Rolex watch buyer will want 2, 6, or a year from now because the fact remains, so much is changing in the Rolex world. The biggest change that we are seeing- that is completely affecting the buy and sell market of used Rolex watches is the size of the new Rolex models! So here is the "great debate": Do you prefer the new larger Rolex's to the older serial number Rolex's?
The best example of this drastic change is the Deep-Sea Dweller 116660. The newer Dweller is much thicker then any other Sea Dweller, and we get a split opinion… some people LOVE the new height and weight of the new Deep Sea-Dweller Lug, and others are disappointed that the change was so large. The same thing goes with the new Submariner. Bob's Watches gets flooded with calls about older the used Submariner model watches (specifically the Z serial, and the new Oyster Bracelet with the 18k gold through the buckle), because a great deal of people prefer the old Submariner vs. new Rolex Submariners. This is the response we get, but it's also a fact that right now, bigger watches are a huge fashion trend, especially for woman. Walk down the streets of Paris or Milan and spot a beautiful fashionsta sporting a Men's DateJust or President. The good news? Rolex wearers always trading up, getting newer models and selling their pre-owned Rolex watches to Bob's Watches! So hopefully we can feed your Rolex appetite with the classic Rolex's that has won so many hearts.
We want to hear what you think! Do you think bigger is better when it comes to Rolex? Or do you prefer the smaller Rolex Watch? Let us know on Facebook or Twitter right now!