When you look at a Rolex watch, it's only natural to pay the most attention to the material, case, dial, and bracelet. However, the crystal that sits above the dial that serves to protect the face of the watch also adds its own flair to the overall design. Depending on the era that they were made, Rolex watches can either have acrylic (a.k.a. plastic) crystals or sapphire crystals.
First came acrylic (Polymethyl methacrylate), which is a transparent thermoplastic that was used as a shatter-resistant alternative to glass. It is also sold under various brands such as Hesalite, Plexiglas, Perspex, and others. Sapphire crystals started to gain popularity around the mid-20th Century, offering benefits like resistance to scratching (sapphire is ranked at a level nine on the Mohs scale for overall hardness) and improved transparency. Today, high-end watchmakers almost exclusively use sapphire crystals on their watches.
Once you've seen plenty of Rolex watches from different eras, it can be pretty easy to spot if a model has an acrylic crystal or a sapphire one. Generally speaking, acrylic crystals are convex while sapphire crystals are flat. Additionally, sapphire crystals are clearer and much less prone to scratching than acrylic. However, if you're still unsure about the one you have, then read on to learn more details about the differences between acrylic and sapphire and to find out which type of crystal is on your Rolex watch.
Acrylic Crystal Vs. Sapphire Crystal
One of the telltale signs of a vintage Rolex watch is its acrylic glass. While many may assume that modern sapphire crystal is automatically better than old-school acrylic, plastic glass has its benefits too. First off, many vintage Rolex watch collectors simply prefer the look of acrylic to sapphire. Acrylic is less shiny and lends a cool retro vibe and warmth to the watch.
In terms of practicality, acrylic does get scratched quite easily; but it's also relatively simple to buff out the scratches in a few minutes using polishing pastes (such as PolyWatch). The good news is that acrylic is durable and quite resilient to breaking. Furthermore, if it does break, it often does so by cracking in a clean manner rather than shattering. Another advantage of acrylic is that it is much cheaper to replace than sapphire.
Flat synthetic sapphire crystal has a much sleeker style and offers superb transparency to view the dial. It also doesn't present the same distortions that are sometimes produced by acrylic crystals. Also, since sapphire ranks so high on the Mohs' scale of mineral hardness, it is much more scratch-resistant, which is a significant benefit for watch wearers. However, because of its hardness, a sapphire will also shatter or chip if hit at certain angles. If this happens, not only does the watch need a costly new sapphire crystal replacement, but the movement may also need to be looked at to ensure that no shards or fragments are stuck inside.
Although acrylic and sapphire glass both have pros and cons (and devoted fans), most modern luxury watches exclusively use sapphire crystals.
When Did Rolex Introduce Sapphire Crystal?
In true Rolex fashion, rather than introducing sapphire crystal to all their watches overnight, the brand introduced it slowly. Rolex first used the sapphire crystal as early as 1964 on the unconventional-looking and manual-winding King Midas ref. 9630 watch. The King Midas ref. 9630 was the heaviest gold watch on the market at that time and Rolex limited its production run to 1,000 pieces.
Following that, Rolex used sapphire crystal on its first quartz watch, the Rolex ref. 5100 (based on the famous Beta 21 caliber) in 1970. It was a fitting choice since quartz watches were viewed as high-tech marvels during that era and sapphire would be the ideal modern crystal material to accompany Rolex's first quartz timepiece.
Rolex then used sapphire crystal again on the Rolex Date ref. 1530 and the Rolex Datejust ref. 1630. While these two models shared the same angular case shape and integrated bracelet as Rolex's quartz watches, they were automatic watches. When Rolex released the Oysterquartz collection powered by in-house quartz movements in 1977, sapphire crystal was used again across all Oysterquartz Day-Date and Oysterquartz Datejust models.
It was during the late-1970s and throughout the 1980s that Rolex really began equipping all of its watches with sapphire crystals – usually with the introduction of a new reference to the collection, with the Sea-Dweller and Day-Date being among the first collections to receive the update. Today, all current-production Rolex watches use sapphire crystal.
The First Rolex References with Sapphire Crystals
As mentioned, different Rolex watch models were fitted with sapphire crystals at different points in the brand's history. Here are the approximate dates of when the first Rolex references featured sapphire crystals instead of acrylic ones.
1964 – KING MIDAS REF. 9630
1970 – QUARTZ REF. 5100
1975 – DATE REF. 1530
1977 – OYSTERQUARTZ
1978 – DAY-DATE REF. 18038
1978 – SEA-DWELLER REF. 16660
1979 – SUBMARINER DATE REF. 16800
1983 – GMT-MASTER II REF. 16760
1983 – LADY-DATEJUST REF. 69173
1985 – EXPLORER II REF. 16550
1988 – DATEJUST REF. 16200
1988 – GMT-MASTER REF. 16700
1989 – EXPLORER REF. 14270
1989 – AIR-KING REF. 14000
1990 – SUBMARINER REF. 14060
2007 – MILGAUSS REF. 116400/116400GV
When Rolex revived the Milgauss collection after 20 years (it was discontinued from 1988 to 2007), the brand unveiled a version with a never-before-seen green-tinted sapphire crystal. According to Rolex, a green sapphire crystal is so arduous to make, that the company didn't even bother filing a patent for it. The Swiss watch giant was certain that no other watchmaker would even try replicating it. Milgauss watches with green sapphire crystals are denoted with the letters "GV" in their reference numbers (i.e. 116400GV), which stands for "Glace Verte"  – meaning "green glass" in French.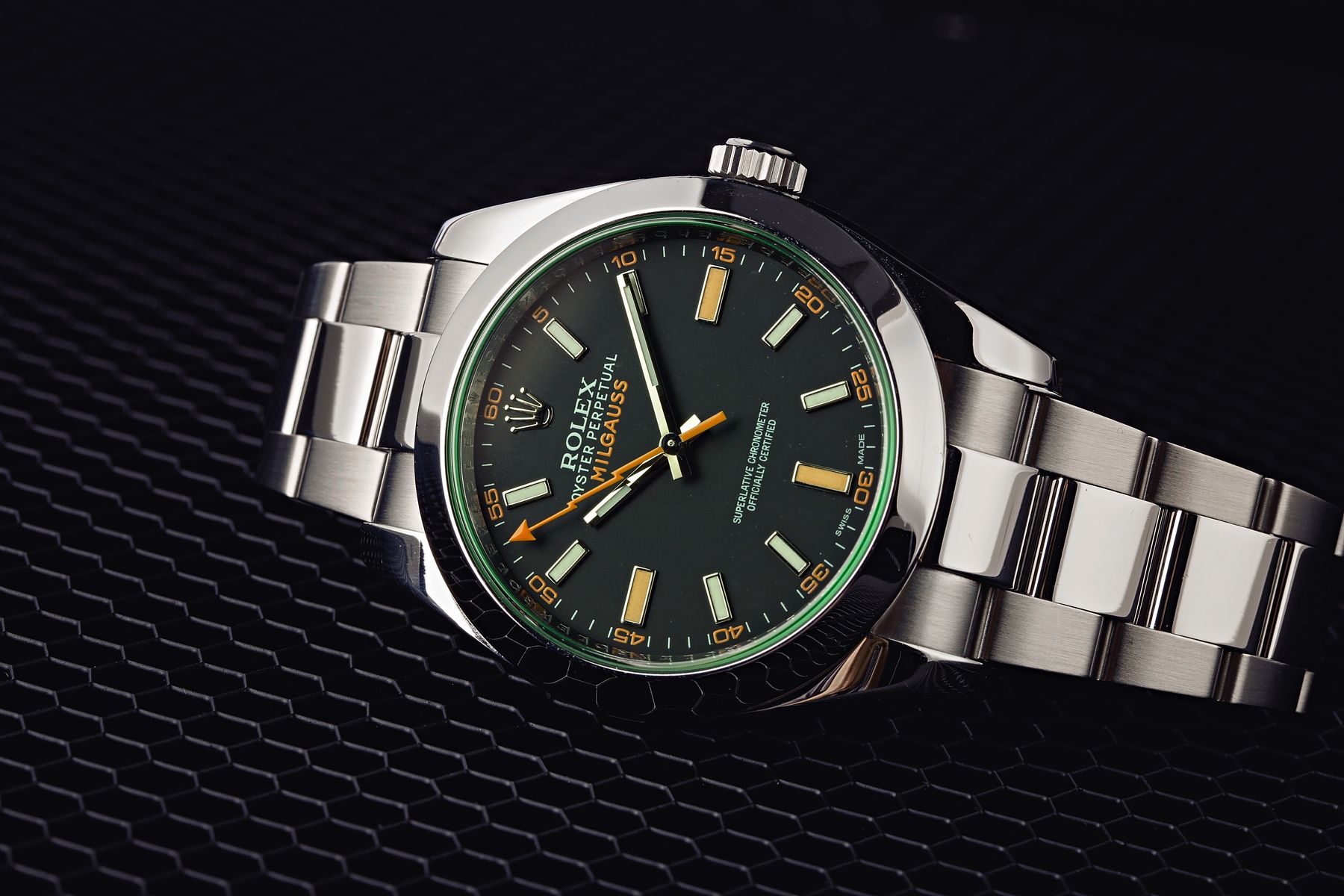 Can You Swap Rolex Acrylic and Sapphire Crystals?
If you've determined that your Rolex has an acrylic crystal, you may be wondering if you can replace it with a sapphire one. The short answer is no. If you send your vintage Rolex in for servicing at an authorized Rolex service center, they will simply use a service replacement acrylic crystal and not a sapphire one. While aftermarket sapphire crystals do exist and can be installed on older vintage Rolex models that were originally designed to have acrylic crystals, these can sometimes create problems for the watch and we'd never recommend using an aftermarket sapphire crystal to replace an original Rolex acrylic one.
Not only are acrylic crystals and sapphire crystals shaped differently (thus, they will fit the watch differently) but the bezels of Rolex watches with acrylic crystals are slightly different from those with sapphire ones. Fitting the wrong crystal to the watch could, among other things, impact the case's hermetic seal, which would leave the movement and dial vulnerable to moisture and dust. Additionally, an aftermarket crystal may not offer enough clearance for the hands, which will prevent the watch from running properly. Therefore, you cannot (should not) swap out Rolex acrylic and sapphire crystals.
Rolex Watch Crystals – Final Thoughts
To quickly summarize what we've detailed above, to see what crystal your Rolex watch has, you can either closely examine how it looks or find out what year the watch was manufactured. If it was made before the late-1970s/early-1980s, your Rolex will most likely (but not always) have an acrylic crystal. Conversely, if it was made in the late-1980s or after, it'll most likely have a sapphire crystal.
Do you prefer acrylic or sapphire crystals? Or does it not matter to you? Share your thoughts with us in the comments below.