You may not have heard of Schwarz Etienne, but they like you. Or at least they must do, given their contribution to the watch industry. Thanks to manufacture brands like Schwarz Etienne (SE), everyone, most notably the end consumer, benefits immeasurably in terms of quality, diversity, and affordability.
A Long History of Manufacturing Watch Movements 
Despite its relatively low international profile, Schwarz Etienne has been making watch movements since 1902. That's 117 years of accumulating the finest Swiss 'know-how' – the kind of knowledge you can only derive through experience.
Founded in La-Chaux-de-Fonds by husband and wife duo, Paul Schwarz and Olga Etienne, the company remained in family hands for much of its history. Recently, though, in 2007, the company was purchased by Rafaello Raddachi, a local businessman with a passionate interest in horology.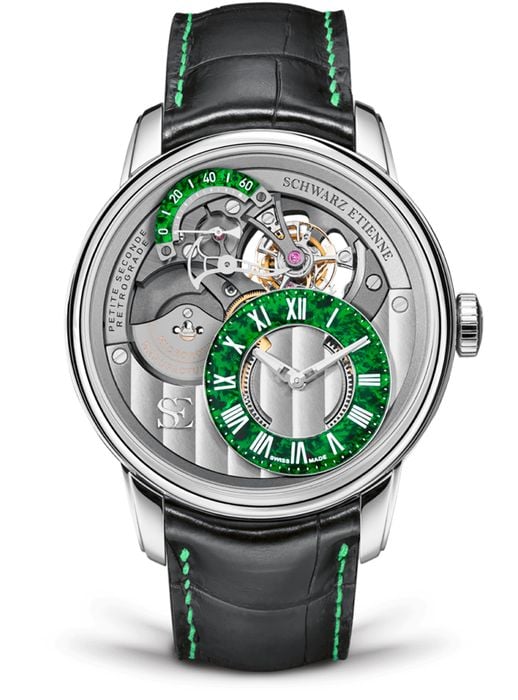 In the early days, Schwarz Etienne created movements for some pretty major labels, such as Chanel and Dunhill. It wasn't until the mid-eighties, having survived and thrived through the Quartz Crisis thanks to a willingness to diversify, that the brand finally started producing luxury watches under its own name.
The brand quickly gained a reputation for avant-garde designs, executed to an exacting standard. With so many years of caliber creation behind them, it seemed like a natural step. But rather than restrict the supply of their in-house movements to potential rivals, Schwarz Etienne did the opposite.
Now, in 2019, Schwarz Etienne is one of the most accessible suppliers of high-end movements that go well beyond the call of duty in terms of specifications and aesthetics.
Schwarz Etienne offers four categories of calibers, with a total of ten standard configurations. The extent of modification available to independents looking to use Schwarz Etienne as a supplier varies on complexity and minimum order quantities, but even the base examples are well above the standard that one would expect from such an approachable enterprise.
Impressive at Every Level
Even the 'entry-level' calibre from Schwarz Etienne is a beauty to behold. A manual winding, twin-barrel movement, boasting a whopping 96-hour power reserve, and a constant force mechanism, the MSE 100.00 – MSE stands for Manual Schwarz Etienne – sets the bar incredibly high from the start. A second manual option is available with a power reserve indicator, and dubbed the MSE 111.00
The next category of movements available from Schwarz Etienne is their automatic range. With three references available (ASE 100.00, 120.00, and 200 calibers) the option to choose between a simple three-handed display, GMT functionality, or animated seconds display is on the table.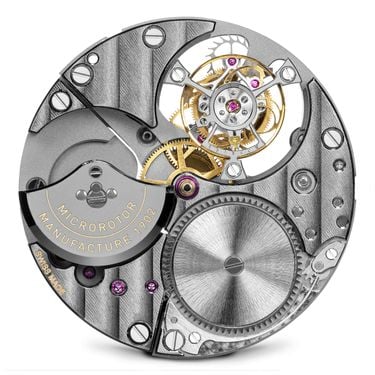 The highest degree of complication available from this provocative maker is the tourbillon, available in the TSE line. There are two options available with different dial layouts.
The TSE 121.00 features a traditional hours and minutes display in the centre of the dial, while the TSE 122.00 has an off-centre hour and minute register and a neat retrograde seconds hand at 11 o'clock, linked to the flying tourbillon cage – a special feature of that model.
Perhaps the most interesting family of movements is the ISE collection. ISE stands for 'Irreversible Schwarz Etienne', which, somewhat confusingly, denotes that the movement has, in fact, been reversed. By flipping the movement in the case, the true glory of its functionality is presented to the world. With a dial specially tailored to accentuate this visual appeal, the end result can be stunning.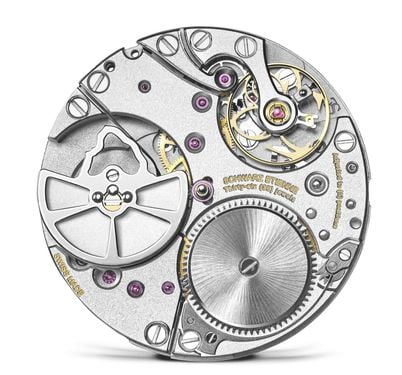 Embellishing Rather than Just Enabling Genius
As fervent fans of horology, many of us are used to obsessing over the apparently minute differences between caliberes that fall within our reach price wise. While Schwarz Etienne's output is considerably more expensive than something like Sellita, ETA, or Soprod, the level of difference you get from this independent (in every sense of the word) maker in comparison to the base-level copy-cats that power the majority of attainable timepieces is preposterous.
And although we're talking about watches that run several thousand dollars, what it means is that new, dynamic, independent designers have access to a partner that will embellish rather than simply enable their genius.
Schwarz Etienne have shown their willingness to take chances on boundary-stretching designs with their own label. Although mostly enlivened by vibrant color choices, the Roswell range in particular has an organic chaos to its display that is truly unusual. Perhaps it does not scream 'luxury' in the way its movement deserves, but it certainly screams innovation.
That's what the industry needs above all else. Creative companies and individuals that are able to leap over the walls that once stood high between them, and collaborate on funky, fresh ideas that will infuse a new generation with, above all else, enthusiasm for a craft that too often seems to operate behind closed doors.
Schwarz Etienne is a company from the past, helping to guide the industry into the future. Whatever its role may be in it, it is clear to be that Schwarz Etienne is one of those companies who will lead us there.
All images courtesy of Schwarz Etienne