Perhaps you've heard about the Rolex Milgauss watch but aren't quite sure of its significance in both the company's history and current catalog. Among Rolex watches, the Milgauss has generally been overlooked and, as a result, quite underrated. However, those who do know the Rolex Milgauss well understand that it's a watch with not only plenty of character but also one with historical importance. Similar to many other Rolex watches, the Milgauss was developed to serve a specific audience. The audience was the scientific community and the Milgauss' superpower was that it was antimagnetic, which was handy for engineers, scientists, and medical professionals that often worked in high magnetic fields. Magnetism can wreck a watch's movement, so Rolex designed the Milgauss to withstand up to 1,000 Gauss.
If you're into Rolex watches that aren't as commonly seen out in the wild as let's say the Datejust, Oyster Perpetual, and Explorer and are looking for an everyday Rolex timepiece that's different from the others, then join us as we outline several reasons to choose a Milgauss.
About Rolex Milgauss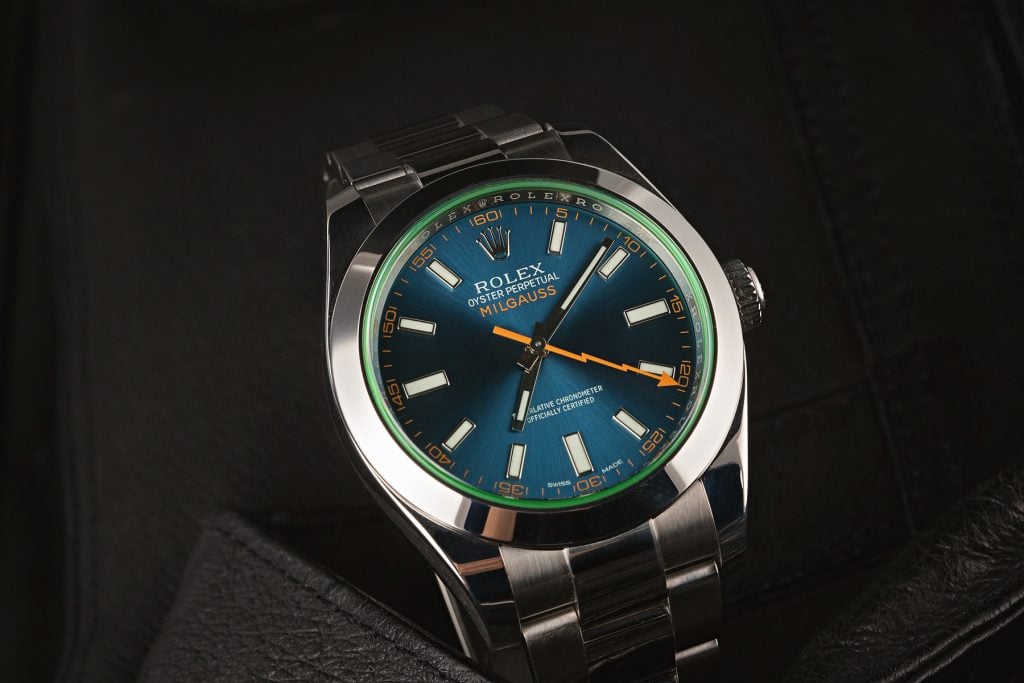 Milgauss ref. 116400 Quick Specs
Introduction Year: 2007
Case Size: 40mm
Case Materials: Stainless steel
Bezel: Domed Stainless Steel
Dial: White (discontinued), Black, or Z-Blue
Crystal: Clear Sapphire (discontinued) or Green-Tinted Sapphire (GV References)
Bracelet: Oyster
Functions: Hour, Minute, Second hands; Antimagnetic 1,000 Gauss
Water Resistance: 100 meters (330 feet)
Caliber: 3131 Automatic Movement
Retail Price: $9,150
Click here for our Ultimate Buying Guide on the Rolex Milgauss.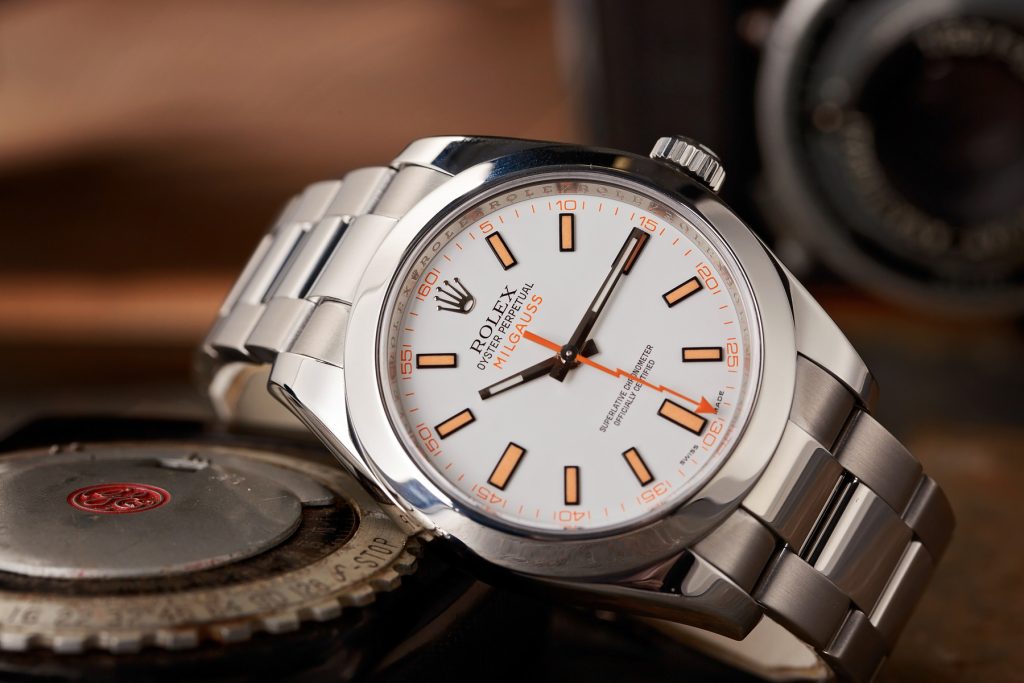 Brief History of the Rolex Milgauss
Rolex invented the Milgauss scientific watch in the mid-20th Century to withstand an electromagnetic work environment. Scientists and technicians would often discover that their watches didn't work efficiently when exposed to magnetism. What's more, in the presence of electromagnetic intensity greater than 1,000 Gauss, their watches would completely stop operating.
Rolex then sought to remedy the problem with the invention of the Milgauss watch, which officially debuted in 1956. The groundbreaking watch could withstand up to 1,000 Gauss of electromagnetic rays thanks to the use of an inner soft iron shield protecting the movement within the case. The European Organization for Nuclear Research (CERN) rigorously tested the Milgauss, and the organization confirmed that the watch could indeed resist magnetic fields of up to 1,000 Gauss. The name Milgauss is a combination of the words "Mille" (one thousand) and Gauss.
The first Milgauss watch was the reference 6543, which featured a large-for-the-era 38mm steel case, a black rotating timing bezel, and a black honeycomb dial fitted with aluminum sheets to furthermore protect the movement. This particular reference is often regarded as a prototype or test model.
The second Milgauss model that followed was reference 6541. The Milgauss 6541 retained many of the design cues of its predecessor but now included a lightning bolt seconds as a nod to the scientific community the watch was made for. Along with rotating bezel versions, Rolex also made a Milgauss 6541 with a flat steel bezel specifically for the American market.
The third Milgauss model was the reference 1019, which arrived in 1960 and did away with both the rotating bezel and lightning bolt seconds hand. It wasn't a particularly successful Rolex model, which explains why the company quietly shelved the entire Milgauss collection in 1988. Despite the 1019's poor performance during its era, vintage Rolex Milgauss 1019 watches are now highly collectible pieces.
Modern Day Milgauss References
In 2007, Rolex revived the Milgauss as an entirely redesigned antimagnetic watch. The modern Milgauss featured a 40mm steel case, an orange lightning bolt seconds hand on the dial, and a new Caliber 3131. Three models were part of the 2007 launch collection: a black dial version, a white dial version, and a special black dial version topped with a green-tinted sapphire crystal.
The green-colored sapphire of the Milgauss, denoted as GV in the reference number, is something truly special and had never been done before. In fact, Rolex claims that the company didn't even apply for a patent for the green crystal as it is simply too difficult to make.
Milgauss 116400 with a white dial and uncolored sapphire crystal (discontinued)
Milgauss 116400 with a black dial and uncolored sapphire crystal (discontinued)
Milgauss 116400GV-0001 with a black dial and green sapphire crystal
Milgauss 116400GV-0002 with a Z-Blue dial and green sapphire crystal
In 2014, Rolex released yet another Milgauss model, this time with an electric blue dial called Z-Blue. The bright dial color paired with the orange details and the green crystal makes the Milgauss Z-Blue of the most vibrant modern Rolex watches in the current catalog.
Three Reasons to Choose the Rolex Milgauss
It is safe to say that there are numerous reasons as to why the Rolex Milgauss is a brilliant choice. Here are a few reasons:
1. Revolutionary Technology
When a watch wearer places a Milgauss on the wrist, they can be inspired by the fact that they are wearing one of the most revolutionary watches ever developed. One of Rolex's selling points is that they develop watches to meet a specific set of issues. While you may not be working in an electromagnetic environment, you can be sure that it is one of the most durable watches ever developed. Plus, if you opt for the cutting-edge green-tinted sapphire (GV) version, there are no other watches that have that same look.
2. Versatile Design
The Rolex Milgauss has been designed for wear in business environments, in the great outdoors, and everywhere in between. It's made of tough steel, it sports a perfectly sized 40mm case, it's water-resistant to 100 meters (330 feet) and, of course, it's anti-magnetic. Its versatile nature makes it a top choice as a go-anywhere-do-anything (GADA) watch. Some celebrities that wear the Milgauss include Tom Hanks, Conan O'Brien, Will Ferrell, Usher, Jennifer Anniston, Katie Cassidy, and Tom Brady.
3. Good Value
Prices start at less than $10,000 for a pre-owned Rolex Milgauss ref. 116400, which is a good value in today's heated Rolex market. This is an especially attractive price if you consider that we're talking about a 40mm stainless steel Rolex watch — arguably the most popular size and metal in the pre-owned Rolex market right now.
The Milgauss is perhaps not Rolex's most popular watch model but it certainly has a cult following. Whether with a white, black, or Z-Blue dial and with or without the green crystal, Rolex's scientist watch with an orange lighting hand is a unique model in the Crown's current lineup and well worth adding to your watch collection.