To wear Longines' signature rectangular watch on your wrist is to embrace an easy-going lifestyle defined by contemporary elegance. It's fashion forward, yet the Longines DolceVita also transcends time and appeals to collectors from all generations and lifestyles. It's an absolute watch box must-have with an attractive, entry-level price range.
The collection came to market in 1997, around the same time Longines established its new brand identity, "elegance is an attitude." The DolceVita fully embraces that aesthetic with a collection of fresh design set options for men and women. Their catalog currently consists of 93 model variations in stainless steel, rose gold, or two-tone and with either an automatic or quartz movement, leather or metal bracelet, and with or without diamonds. And that doesn't even include the discontinued models on the secondary market. Choosing the perfect DolceVita for your wrist can be overwhelming, but we're here to help with our Longines DolceVita buying guide.
Click here for our Ultimate Buying Guide on Longines Watches.
Longines Debuts the DolceVita
Swiss watchmaker Longines produces close to 2 million watches every year. Their catalog alone boasts over 1,000 model variations grouped into two main collections, Classic and Sport. The DolceVita hails from the Classic collection, which itself consists of two sub-categories, the Watch Making Tradition Collections, and the Elegance Collections. The DolceVita belongs to the Elegance Collections.
Longines introduced the DolceVita in 1997, modeling its design after a successful timepiece from the 1920s. Initially, the watch was developed primarily for women and relied on quartz movements. However, the collection has recently adopted a newer design ethos, broadening its design set options to include men's sizes and even automatic movements. While there is a seemingly countless array of design set options within the DolceVita collection, one feature remains a constant, the striking rectangular case shape.
Current Longines DolceVita Collection:
Gender: Women and Men
Metal Finish: Gold, Two-tone, or stainless steel
Movement: Automatic (men's only) or Quartz
Bracelet: Leather or Metal
Women's Case Sizes: 20.80 x 32.00mm, 23.30 x 37.00mm, 26.10 x 42.00mm
Men's Case Sizes: 27.70 x 43.80mm, 28.20 x 47.00mm
Popular DolceVita Variations
Below we've gathered our top DolceVita picks, including options from each metal finish and the men's and women's ranges.
Stainless Steel DolceVita Ref. L5.512.4.16.6
With its Quartz movement and 23.30 x 37.00mm case, this edition of the DolceVita is perfect for the beginner collector. Examples are available on the secondary market for less than $1k. The case curves ever so slightly to the shape of the wearer's wrist and is almost flush with the bracelet, creating a sleek silhouette on the wrist. Reference L5.512.4.16.6 will also appeal to a broad range of collectors because it features a versatile steel-on-steel finish and a classy matte white dial. Other features include a scratch-resistant sapphire crystal, water resistance up to 30 meters, and the caliber L176 Quartz movement.
Price: $800 – $1k used
Mid-Size Stainless Steel DolceVita Ref. L5.755.4.71.6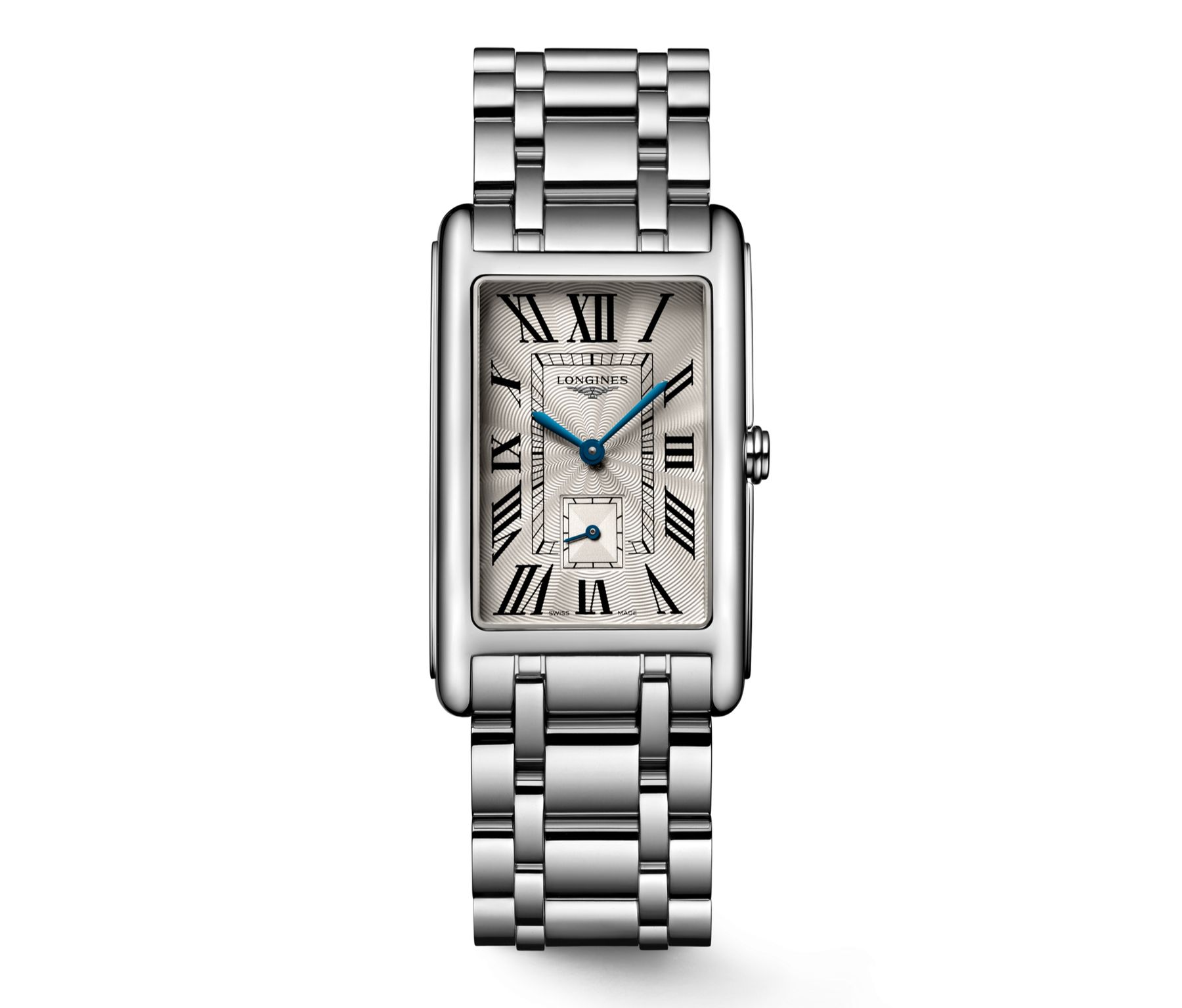 Reference L5.755.4.71.6 gets the mid-size watch trend right with a case measuring 26.10 x 42.00mm. It wears on a matching stainless steel multi-link bracelet that curves around the wrist like fine jewelry and displays the time on a silver "flinqué" textured dial via tall Roman numeral hour markers and blued hands. If you're in the market for a flattering fashion-forward statement piece, this DolceVita just might be the perfect watch for you.
Price: $1,350 retail
Longines DolceVita X YVY Collection
Longines debuted the unique DolceVita X YVY in 2022, featuring a trendsetting double strap design inspired by the brand's storied past with equestrian sports and designed by a high-end leather accessory brand YVY. It features two straps connected together, much like a harness. The wearer can also disconnect them and wear the thinner strap as a separate accessory. The YVY collection is available in two case sizes (20.80 x 32.00mm or 23.30 x 37.00mm) and features beige, black, or brown leather. The black leather option is decorated with edgy stainless steel rivets. Although unique, the YVY collection is still a DolceVita at heart, featuring the model's iconic art-deco rectangular case shape and elegant dials.
Price: $1,600 retail ($3,500 with diamonds)
Longines DolceVita Lacquered Dial Collection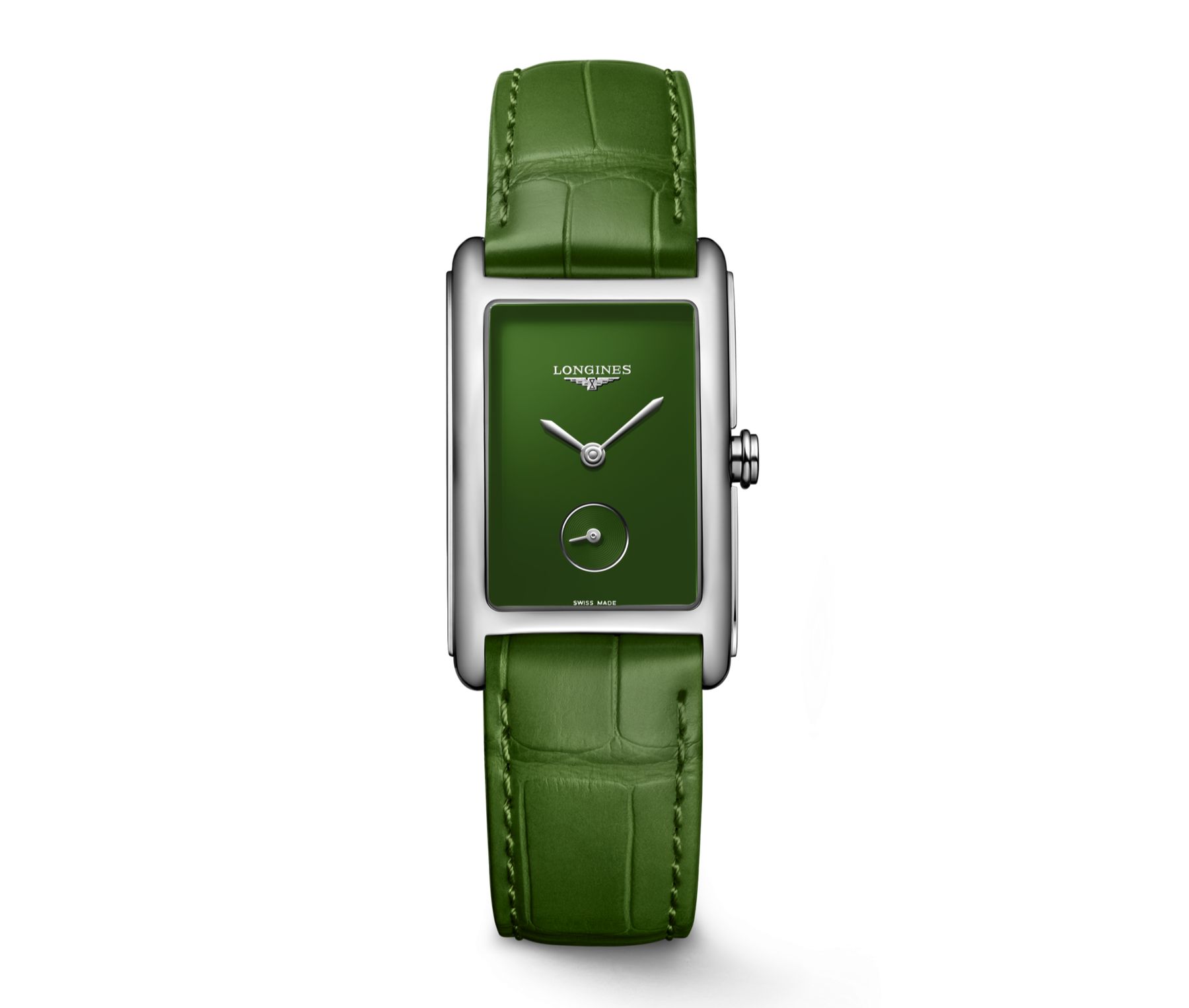 Also new for 2022 was a colorful collection of DolceVita watches, with five bright lacquered dial color options and leather bracelets to match. You can choose from orange, red, blue, green, or black monochromatic watches within the collection, each of which measures 23.30 x 37.00mm and features a stainless steel case and a Quartz movement. Longines lets the bold hues take center stage by keeping the rest of the design elements to a minimum. The dial is void of hour markers and features only two centrally mounted hands, a tiny register above 6 o'clock for seconds, and an elegant Longines logo at 12 o'clock.
Price: $1,350 retail
Two-Tone DolceVita Ref. L5.255.5.75.7
The Longines L5.255.5.75.7 is a smaller lady's model, measuring 20.80 x 32.00mm and just under 7mm thick. It's the perfect everyday watch with its modest size and weight and gorgeous steel and gold finish. It features a stainless steel case and bracelet with soft lines and accents in stylish 18k rose gold. While there are a few dial variations of this two-tone Longines and even the option for diamond embellishments, we find ref. L5.255.5.75.7 to be an excellent option for the introductory collector because it opts for a smooth bezel and classy Roman numeral dial, all for under $2k.
Price: $1,900 retail
Rose Gold DolceVita Ref. L5.512.8.75.2
This edition of the DolceVita pairs the warm rose gold finish with a cooler tone anthracite leather bracelet and a sharp black dial. The contrast is simply stunning and perfect for any stylish watch enthusiast who wants to make a bold yet sophisticated statement on the wrist. It features a 23.30 x 37.00mm case, water resistance up to 30 meters, scratch-resistant sapphire crystal, and a Quartz movement.
Price: $5,650
Men's Stainless Steel Longines DolceVita 47mm Ref. L5.767.4.73.0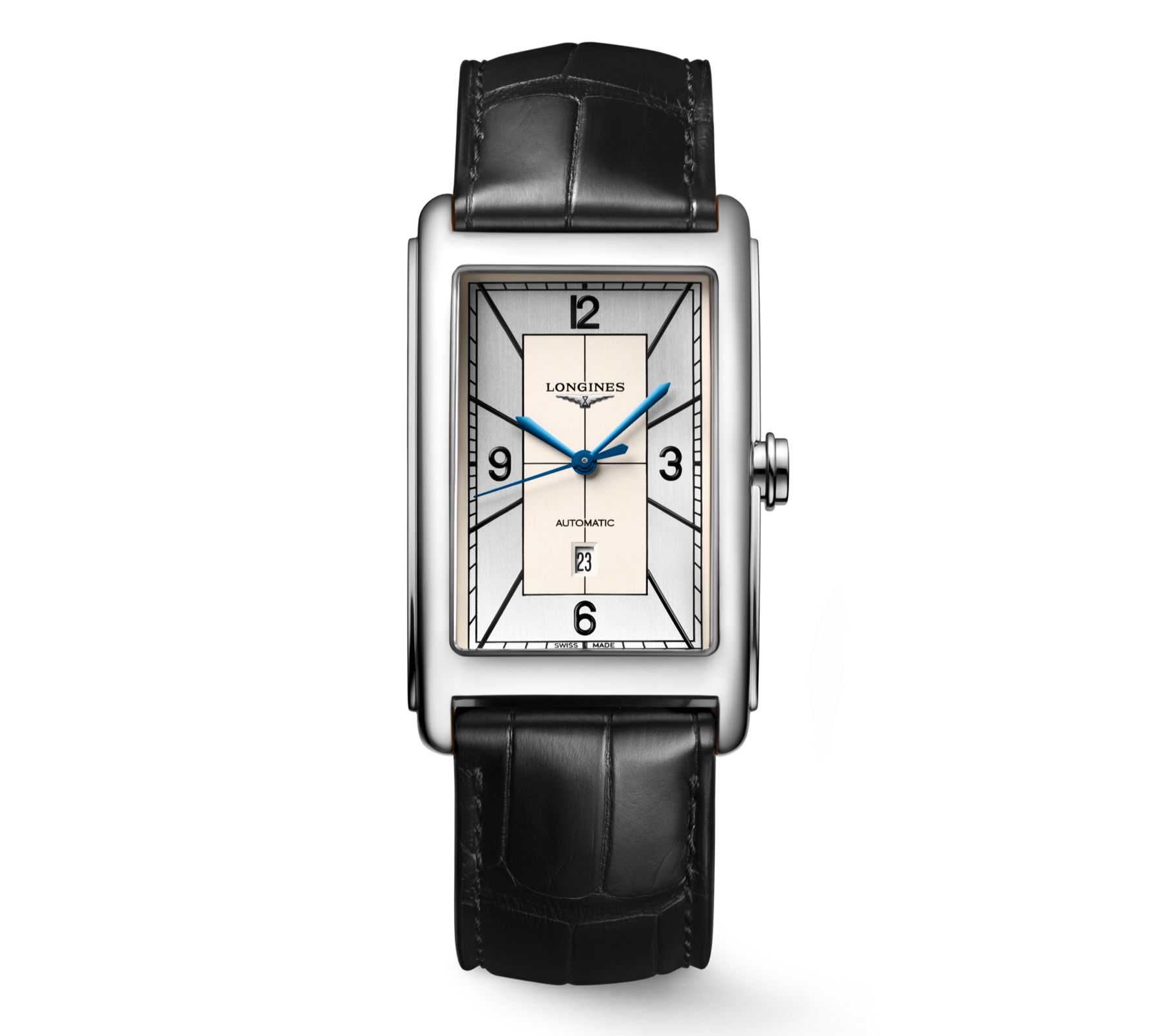 The men's range currently consists of only stainless steel models with silver dials, automatic movements, leather or metal bracelets, and either a 27.70 x 43.80mm case or a 28.20 x 47.00mm case for a total of 14 design set variations. Reference L5.767.4.73.0 is the larger option between the two. It follows a similar design code as the other watches listed in this guide with a handsome curved case and rectangular shape. It also features a versatile black leather bracelet and an irresistible Art Deco-style dial with two sectors, one for the outer section featuring the hour markers and minute hashes and one at the center with a striking retro crosshair design. It's the perfect Longines for business or formal attire.
Price: $1,675 retail
Men's Stainless Steel Longines DolceVita 43.80mm Ref. L5.757.4.71.6
If you have a smaller wrist, you might find the 27.70 x 43.80mm case size more comfortable. Even though the size difference is only a matter of a couple of millimeters, the smaller option will probably fit more snugly. The smaller case size is available on a leather or metal bracelet and with either a similar Art Deco dial as the watch we just showcased or one with Roman numeral-style hour markers. Ref. L5.757.4.71.6 is the latter, featuring a silver "Flinqué" dial and bold Roman numeral hour markers like what you might have seen from other Swiss watch brands, such as Cartier. On the metal bracelet, it's a bit more versatile than leather without forsaking the DolceVita collection's dedication to the sweetness of life. With the 43.80mm DolceVita, you'll also enjoy an automatic movement with a 45-hour power reserve, a scratch-resistant sapphire crystal, and a 30-meter depth rating.
Price: $1,675 retail