Have you heard? Or have you been living under a (space) rock? Rolex just released a brand new Daytona that's out of this world – literally. Outfitted with white gold, yellow gold, and Everose, the all-new Rolex Meteorite Dial Daytona is cool, contemporary, and coveted. We took the time to research everything there is to know about this brand-new Daytona – from the materials used to the retail price, release date and more. Plus, we're pointing out all the details you shouldn't miss. Alright, let's take a closer look!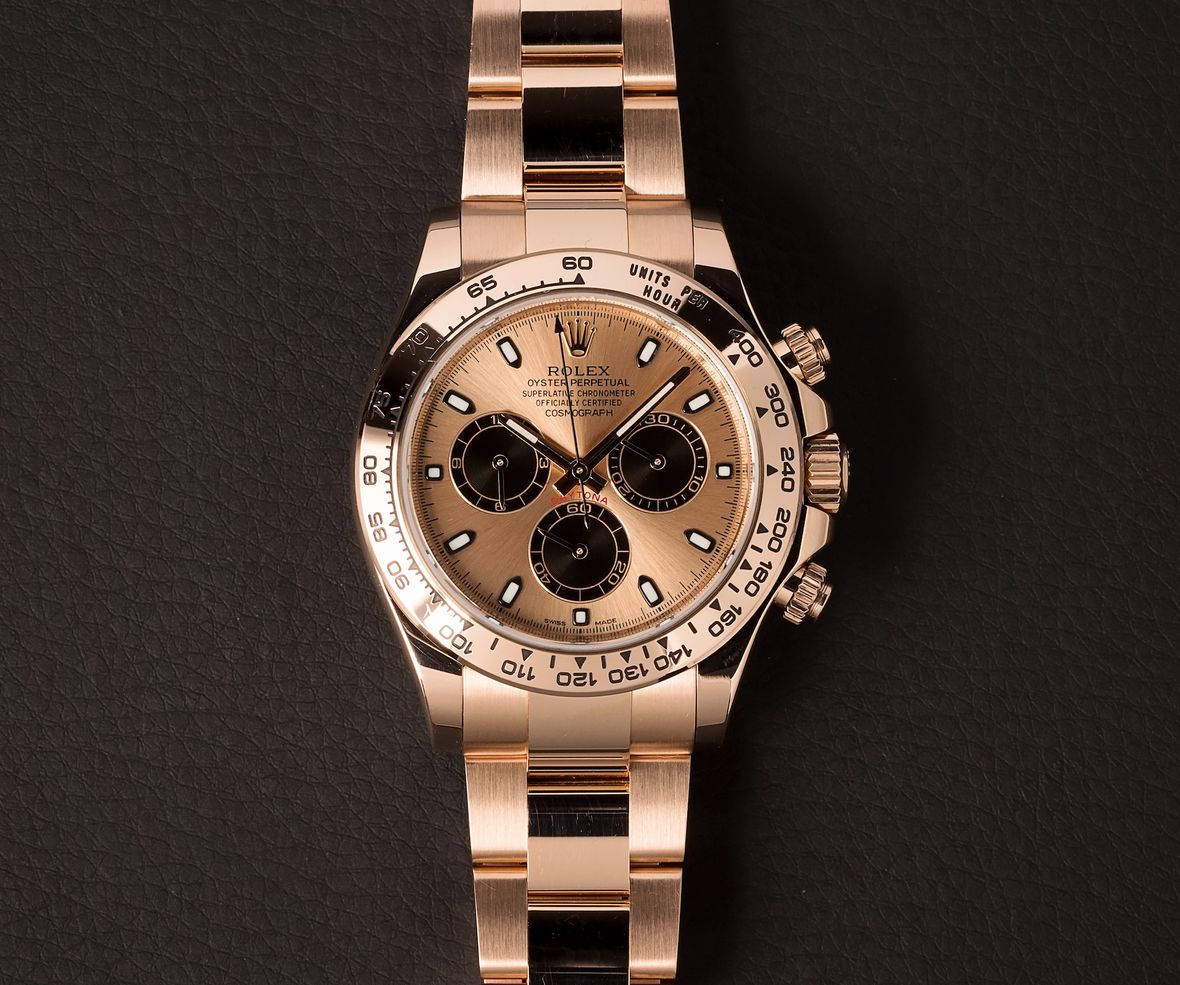 The Basics
What you need to know first is that technically, Rolex hasn't changed anything about the beloved, modern Daytona except the dial. The watch is outfitted with the same 40mm case and black ceramic or gold bezel. They have even kept the trusty 4130 movement. You also still have two options for the bracelet, either a classic Oyster bracelet in matching gold, or a titanium-enforced Oysterflex rubber bracelet.  So what shines about this new Daytona? It's that shimmering Meteorite Dial.
Model: Cosmograph Daytona
Diameter: 40mm
Thickness: 11mm
Case Material: White gold, yellow gold, Everose gold
Dial Color: Meteorite
Indexes: Applied batons, Arabic numerals
Lume: Yes, on hands and hour markers
Water Resistance: 100m / 330 feet
Strap/Bracelet: Oysterflex rubber bracelet with white-gold folding Oysterlock clasp, yellow-gold bracelet, or Everose gold bracelet
New Daytona Reference Numbers
Ref. 116519LN: White-gold case, black Cerachrom bezel, Oysterflex bracelet 
Ref. 116508: Yellow-gold case, yellow-gold bezel, yellow-gold bracelet 
Ref.  116505: Everose gold case, Everose gold bezel, Everose gold bracelet 
How Much Are The New Rolex Meteorite Daytona Watches?
White Gold Ref. 116519LN: $34,050
Yellow Gold Ref. 116508: $41,000
Everose Gold Ref. 116505 $43,700
When Will The New Daytona Be Available?
The new Rolex Daytona with a Meteorite dial isn't available, yet. It will go on sale at retailers soon, probably in the coming weeks. However, since the announcement, there have undoubtedly been thousands of people trying to get on waitlists for this watch around the world. So, it is unclear how long they will make the watch for and who on the waitlist will get it. It's also good to note that at Bob's, we don't work with a waitlist. Every day our website is updated with our newest watches – which we encourage you to keep an eye on. Often we will get brand new Rolex watches for sale on here, maybe even this one. But remember, it is first-come, first-served!
Is The New Daytona Limited Edition?
Technically, no. However, it is unclear how long Rolex will manufacture the new trio of Rolex Meteorite Daytona watches.
The 2021 Release: Daytona Meteorite Dials
While this isn't the first time Rolex has outfitted a Daytona with a meteorite dial, it is the first time Rolex has outfitted a ceramic bezel Daytona with one. The last Daytona with a meteorite dial was the ref. 116509 Daytona – which has a steel case, bracelet and bezel. This Daytona is still on the retail market, by the way, but it wasn't all that popular because of the Roman numeral dial which isn't as desirable amongst collectors.
With that in mind, we think these new Daytona Meteorite dials are going to be a meteoric success. Get it? Plus, these Meteorite Dial Daytona are outfitted in all gold cases – choose between white, yellow or Rolex's signature Everose gold. This elevates the entire look, and personally, we think matches the luxe feel of the Meteorite dial even better than the Daytona ref. 116509. We also think the new Meteorite dials just look better against this new line of watches – the black bezel on the white gold version really pops. And the bright, lustrous colors of the yellow and Everose really highlight the shine and texture of the Meteorite dial, too.
What Is A Meteorite Dial?
The Meteorite Dial isn't just a cool name – Rolex actually uses meteorites to create these unique, out-of-this-world designs. Okay, so then you may be wondering – what is a meteorite? Well, it is actually what is at the center of an asteroid – a rock that's billions of years old flying through space – that falls to the Earth. As Rolex explains, "During its journey, the centre of the meteorite is gradually transformed, producing highly unusual metallic patterns, resulting from the very slow cooling of molten asteroid cores." What Rolex does is create a dial from these space rocks – each with its own unique and distinctive geometric pattern.
So are meteorites as rare as Rolex makes them out to be? Not quite. They can be found a lot more readily than you may assume, meaning they're not all that precious or pricey to acquire. However, they are incredibly unique and most watch companies only use the meteorite on their most famous, expensive, and collectible timepieces.
The All-New Rolex Daytona Up Close
Finally, let's zero in on the details of these unique dials here. While the Meteorite may be the first element that captures your eye, there are a lot of little details that are worth noting on this dial. Firstly, we love the pointed baton hour markers that are outlined in gold (white, yellow or Everose) then filled with Rolex's highly legible Chromalight display that features long-lasting blue luminescence. Do note, at 3, 6 and 9 the batons are smaller and chubbier to make room for the subdials, and at 12-o'clock, there's no index to make room for the Rolex crown insignia.
On all three new Rolex Daytona's you'll also notice there are black subdials on top of the Meteorite dial. This looks particularly handsome against the ceramic Cerachrom bezel on the white gold Ref. 116519LN – as it adds some really beautiful contrast and continuity. But, it does subtly pick up the black Techtymeter scale in the yellow and Everose gold bezels, too. And we love how the black subdials pop against the Meteorite dials and the gold case and bracelet – it's a really sporty feel on a watch that otherwise feels totally luxurious and indulgent.
Finally, with all that's going on with this dial, it may be hard to miss the red 'Daytona' splashed out above the sundial at six o'clock. This is a signature of any Daytona dial and therefore, a detail not to be missed. We love that Rolex kept it red on this trio of new Daytonas instead of reverting to black or white.
Final Thoughts
So what are our thoughts overall? This watch is spectacular. We love the combination of gold and Meteorite, as well as the first-ever edition of a Meteorite dial with a ceramic bezel. The black subdials are also superb. At the end of the day, we think this watch is going to be a huge success – coveted now, totally collectible later.
We can't wait to get our hands on one, and we bet you can't, either. So, keep an eye out here at Bob's Watches, because you never quite know what will come into the shop!