Hundreds of watches come through our doors each month. Our Vintage of the Week series will share some of the most unique and memorable timepieces we receive. This week, we've got our hands on a nice example of the Rolex Submariner 1680 from 1978. Featuring a top hat crystal and lume in a vibrant lemony hue, this dive watch was a pleasure to examine firsthand. Join us as we take a closer look at the reference 1680's history and features.
Submariner Key Features:
– The first watch to achieve 100-meters of water resistance
– Luminous hands and hour markers
– 60-minute rotating timing bezel
– Rolex Oyster Case w/ screw-down crown and case-back
– The original watch of James Bond
Click here to learn more about the very first Rolex Submariner.
Rolex Submariner 1680 History
The Submariner sported a time-only movement when it hit the market in 1954. It was initially developed as a diver's tool watch, so there wasn't a need for a date display at the time. However, as the Submariner evolved into more of a status symbol worn by more than just professional divers, adding a date window to the dial became more of a practical notion. In 1967, Rolex introduced reference 1680, the first Submariner to feature a date mechanism.
Reference 1680 is an important part of not only Submariner history but of Rolex history as well. It's an intriguing watch to hunt for on the secondary market because countless variations were released during its production run, which lasted a little over a decade. Examples include stainless steel or yellow gold (1680/8) and several dial, bezel, and bracelet variations. With that in mind, let's dive into the nuances of the Submariner 1680 we have on hand here for this installment of Vintage of the Week.
Rolex 1680 Oyster Case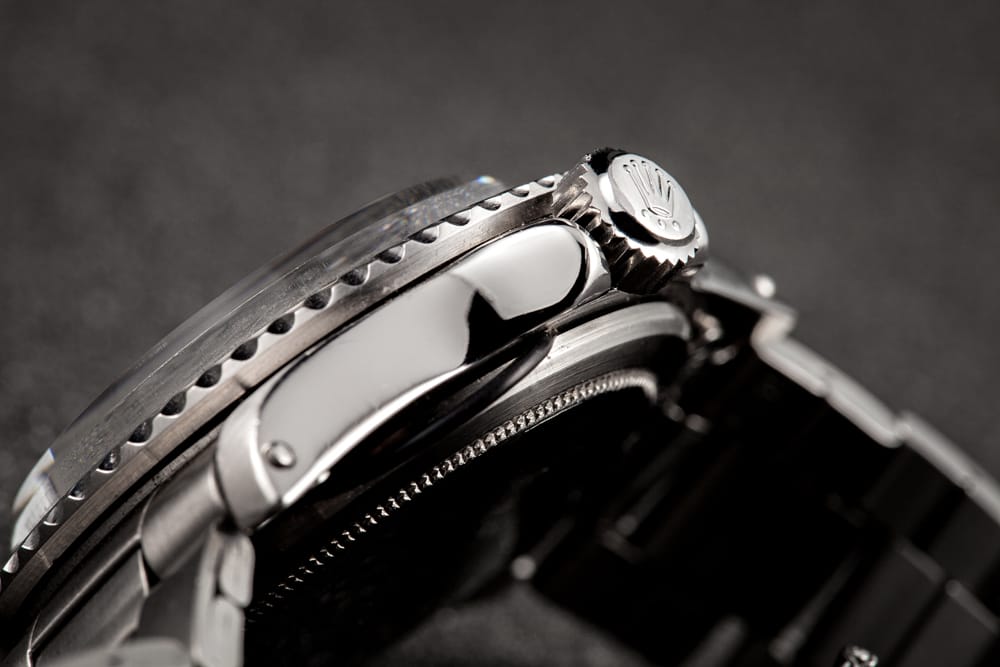 Our example from the late 1970s is in excellent condition, with some typical signs of wear. The case appears to have been polished at some point and is outfitted with a Triplock screw-down crown, as is signified by the three dots below the coronet insignia.
Reference 1680 was the only Submariner Date to feature a bi-directional bezel and an acrylic crystal. The crystal on our ref. 1680 is also known as a "Top Hat" crystal because it sits about 3mm above the rest of the case. It gives the Submariner 1680 a very distinctive vintage aesthetic that many avid collectors find hard to resist. The case also features an anodized aluminum insert with some signs of wear, including the pearl.
Rolex 1680 Dial
Rolex produced several ref. 1680 dial variations that can be divided into two broader categories, white dials or red dials. From 1967 until around 1975, the Submariner logo was printed in red. From 1975 until the end of its production run, ref. 1680 displayed the Submariner logo in white print to match the rest of the dial text. From there, the many variations between the dials are categorized by "Marks." The red dial Submariner features three "Meters First" dials, and three "Feet First" dials labeled Mark I through Mark VI. Mark VII dials are those with a white Submariner logo, which boast their own sub-categories labeled Mark I through Mark III. The white dials are "Feet First" and are virtually indistinguishable from each other aside from the exact placement of the text and the shape of the 6's in the depth rating.
It's confusing, we know. But it's these slight differences between each dial that make the Submariner 1680 so fun to hunt for on the vintage market. Our example features a rather exceptional matte black dial with a white logo and feet first text. The Tritium lume has aged over time to an attractive lemony custard hue. Otherwise, the dial itself is very clean.
Rolex Submariner 1680 Bracelet
Like the dial, reference 1680 was furnished with several bracelet variations, all Oyster with three links. Those include the 7206 with rivet links and 80 end pieces, 9315 with folded links and either 280 or 380 end links, and 93150 with solid side links and 580 end links. The Rolex 1680 in our possession is equipped with the 93150 bracelet with ten links and a clasp tamped with a "DT3" signature to indicate the year it was produced.
Calibre 1575 Perpetual Movement
Reference 1680 was only outfitted with one movement during its production run, the calibre 1575. While it didn't yet have a Quickset function, the date was designed to switch over at the stroke of midnight. It also includes a convenient hacking feature, which allows the wearer to stop the seconds hand when setting the time. It beats at a rate of 19,800 bph, offers a 48-hour power reserve, and includes precise adjustment via a free-sprung balance and Microstella regulation. As far as reliable, mass-produced Rolex movements are concerned, cal. 1575 is among one of the greatest in horology. Rolex continued to use the impressive engine for all the date watches produced during that time.
Rolex 1680 Price
The Rolex Submariner Date ref. 1680 is truly a fascinating watch with countless variations. Older examples are quite rare and often command a much higher price than those produced near the end of the 1970s. Models like our ref. 1680 made in 1978 are easier to find and often considered a gateway to vintage Rolex collecting. Our Sub 1680 will sell for a little over $20k. That's a relatively affordable price point for a Rolex as sought-after as the ref. 1680.
Which vintage will we feature next? Check back soon to find out.