When it's time to choose between a Rolex Submariner black vs blue watch some have a difficult time deciding.  Both Style and price can be important factors to consider.  Let's look at the Rolex Submariner 116618LN and 116619, which are essentially identical watches, despite a few key differences. So, to understand the price discrepancies between the two, it's important to have a firm grasp on their backstory.
It starts back in 2008 at Baselworld, an important year for Rolex, marking 100 years in business. As part of the celebration, Rolex released a slew of new models and upgrades. But the 116618 and 116619, released totally unexpectedly with new features and slick gold alloy options, were some of the most exciting of the show.
What we got was this – the 18k yellow gold 116618 available in blue (116618LB) and black (116618LN) as well as the white gold 116619 only featuring a blue face and bezel. The 116618 was clearly the more bold option thanks to that saturated yellow gold. But the white gold 116619 was slick and striking and quickly earned itself the nickname 'Smurf.' And if there's something you should know about Rolex, it's that only its most beloved watches ever garner a nickname for themselves.
So, what are the specs that made these new Sub's special? Well, it starts with the case, where it got larger lugs and crown guards which made it look a whole lot bigger despite clocking in at the same 40mm wide and just 12.2mm thick. There was also the upgraded, extremely durable Cerachrom (aka ceramic) bezel that replaced the old aluminum. Other new features include enlarged hour markers and hands, as well as matching gold Oyster bracelet with high-polished center links and a new Glidelock clasp for seamless adjustments.
Key Differences: 116618LN vs 116619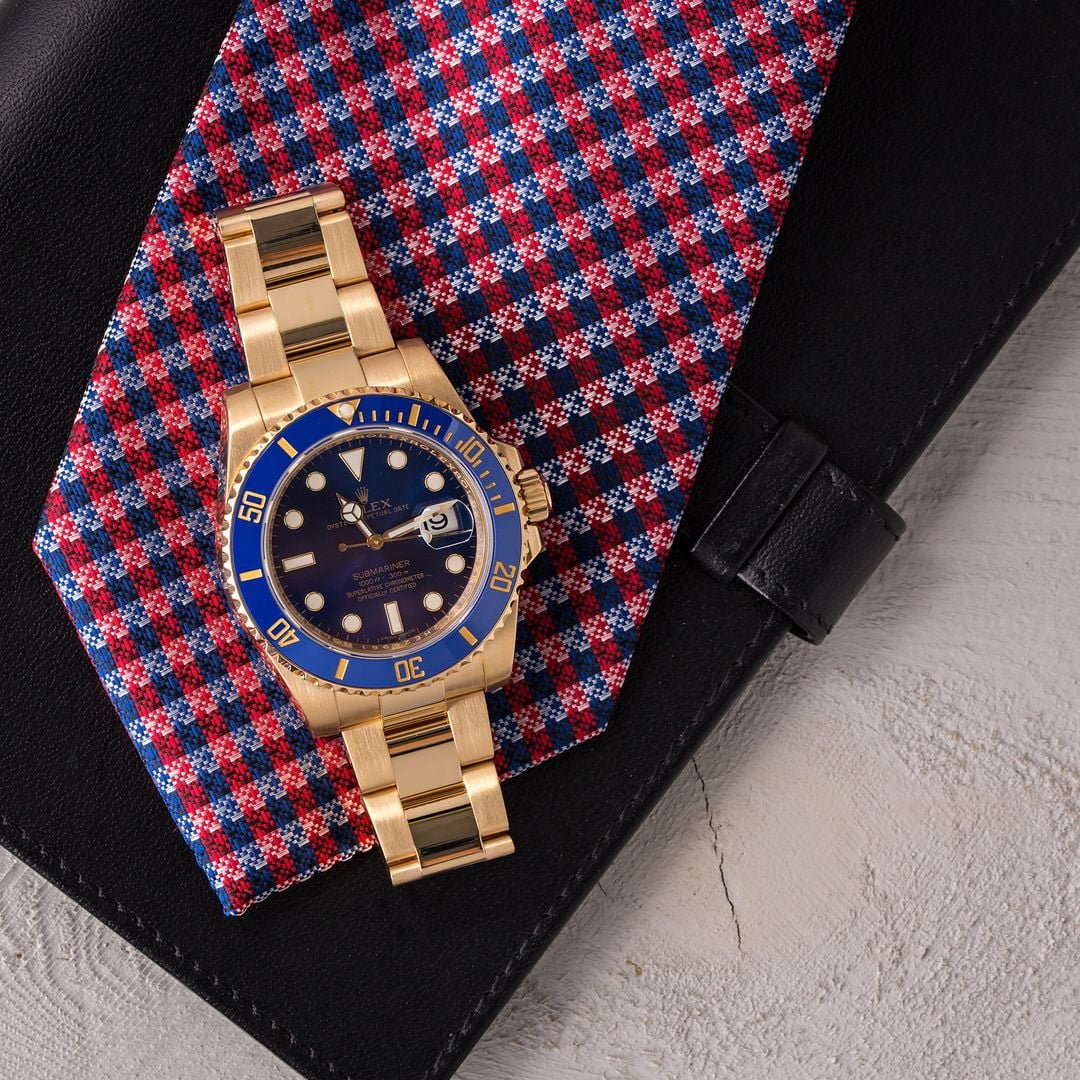 Clearly, there are two main differences between the 116618LN and 116619. The first is the alloy, the 116618LN being outfitted in 18k yellow gold where the 116619 is 18k white gold. Secondly, you'll notice that the yellow gold 116618LN has a black bezel – and in the official Rolex catalog, if you're searching for a Rolex Submariner blue you can get the yellow gold 116618 with blue face and bezel, too. However, the white gold 116619 comes in just a blue face and bezel — that's it.
The Price Comparison: 116618LN vs.116619

With all this background knowledge, you can really appreciate this interesting price comparison. Like I noted above, the yellow gold 116618 comes in both blue (116618LB) and black (116618LN) versions respectively. But, both watches remain the same retail price, €31,600, despite their different bezels. So even though the blue tends to be more popular, we see that Rolex hasn't discriminated in pricing here.
Interestingly, though, the 116619, which besides the white gold alloy, blue face and blue bezel is totally identical to the 116618LN, is priced notably higher at €34,100. With this revelation, it's safe to say that the blue bezel isn't the only feature that creates a price difference between 116618 and 116619. I think that it's actually the combination of the white gold Oyster case and bracelet that makes the 'Smurf' more expensive than it's yellow gold, black bezel counterpart.
However, once we get to the secondary market, we see that the price difference becomes far more narrow. Currently, in Bob's vault, we have a <2011 or newer 116618LN priced at $27,995. The 116619 (also 2011 or newer) however, is only a grand more at $28,995. The Smurf will continue to hold more value not only because it was more expensive on the initial retail market, but because this combination is more desirable and iconic. But, because both models are made of 18k gold, I see both timepieces holding their value very well in the short and long term. As these are quite modern watches as well, I can only expect that as they enter the vintage market they'll fetch far higher price tags.