Originally starting out as a single vintage-inspired dive watch that blended together numerous different design elements from Tudor's archives, the Tudor Black Bay has since expanded into an entire line of highly-capable sports watches, and it is widely considered to offer one of the best values for the money within the entire luxury watch industry. It's widely known that Tudor is Rolex's sibling company, and for less than $5k, you can get yourself a highly-capable professional dive watch that comes from a company with a proven track record for producing reliable and durable wristwatches.
However, not all Tudor Black Bay models are considered equal, and in addition to the standard-production models that make fantastic everyday timepieces, there are also a small handful of incredibly rare private-label Black Bay watches that were produced in extremely small numbers and never made available to the general public. Among these is the Tudor Black Bay Heritage that was created for the individuals who worked on Ed Sheeran's Divide Tour, which can easily be worth more than ten times the price of a standard Black Bay dive watch. Curious yet? Read on to get the full scoop.
Tudor Black Bay Ed Sheeran Divide Tour Limited Edition
Black Bay Divide Tour Key Features:
Year of Production: 2019
Reference Number: M79230N
Case Size: 41mm
Materials: Stainless Steel
Functions: Time w/ Running Seconds, 60-Minute Rotating Timing Bezel
Dial: Black w/ Luminous Hour Markers
Hands: Snowflake Style, Gold-Finished and Luminous
Luminous Material: Super-LumiNova
Bezel: Unidirectional, Black Aluminum Insert w/ 60-Minute Scale
Crystal: Sapphire (Domed)
Movement: Tudor Cal. MT5602 (In-House, COSC-Certified)
Water Resistance: 200 Meters / 660 Feet
Strap/Bracelet: Black Fabric Strap
Special Features: Blue 'Divide Tour' logo on dial, Commemorative Engraving from Ed Sheeran on Case-Back, Limited Edition of 80 pieces (approx.)
Click here for our Ultimate Buying Guide on the Tudor Black Bay.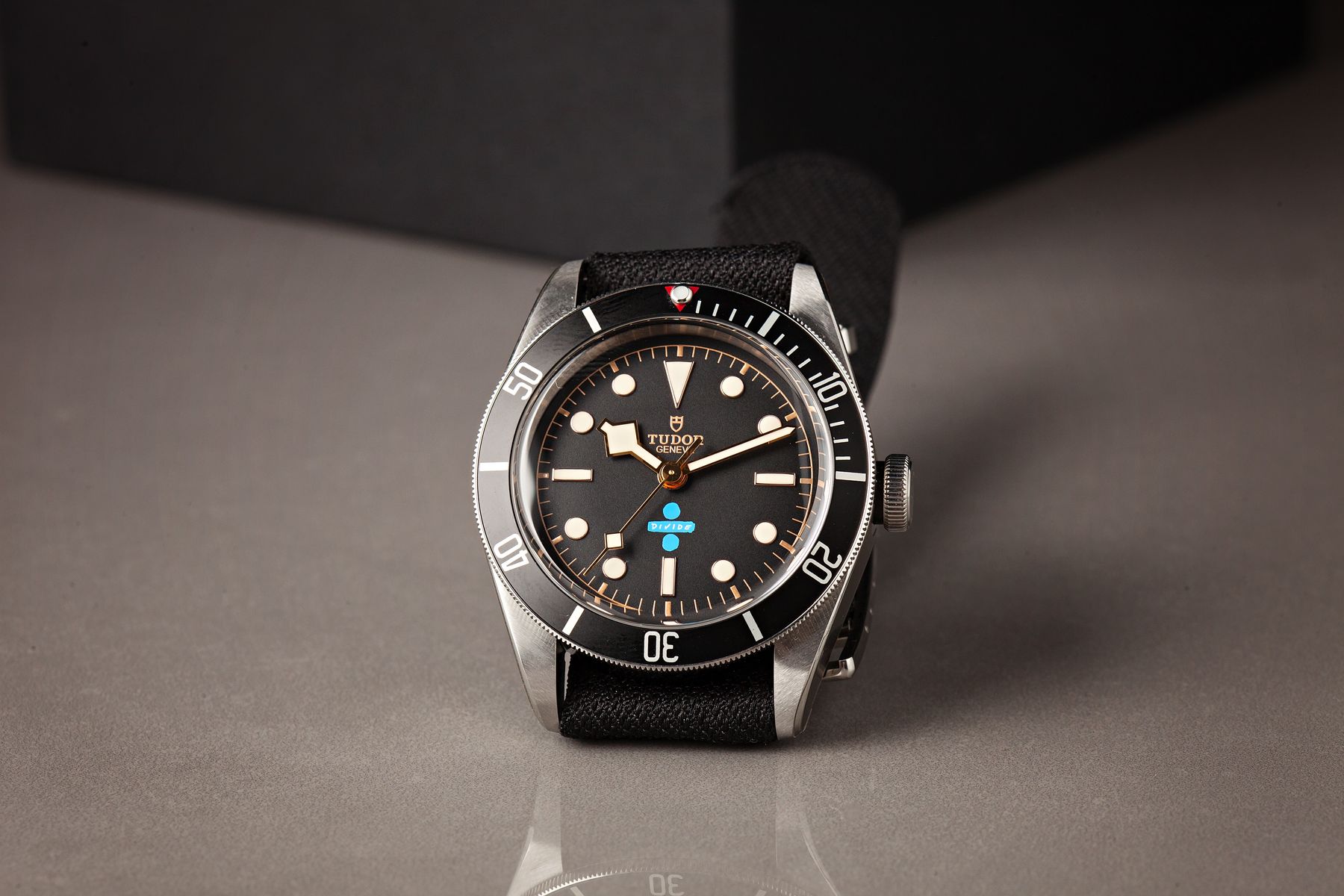 About Private-Label Tudor Black Bay Watches
Rolex's archives include numerous different watches fitted with co-branded dials that were created as custom order pieces. Notable examples include the famous COMEX Submariner and Sea-Dweller watches fitted with dials that include the logo of the French deep sea diving company, along with the Turn-O-Graph watches with dials that feature the logo of the United States Air Force Thunderbirds flight squadron. However, Rolex made numerous others, including a decent number of Air-King and Oyster Perpetual watches that were produced for Domino's Pizza.
With that in mind, Rolex no longer makes custom dials for the special-order pieces that it produces. The brand will still occasionally fulfill custom orders for select clients and companies, but the watches themselves are often just standard-production Rolex models that feature special case-back engravings. However, just because Rolex no longer makes custom dials for its special order pieces, does not mean that Tudor has entirely moved away from this practice, and even within Tudor's modern history, there are several special-order Black Bay watches fitted with dials that differ slightly from the standard-production models.
Alongside a couple of different Black Bay models that were made for Air France and feature the famous airline company's logo are several other Black Bay watches produced for various companies and organizations, including the State of Qatar, Hodinkee, Google's "Watches for Good" charity group, and even the Los Angeles streetwear company Undefeated (among others). However, among these is a Tudor Black Bay dive watch that was created for musician Ed Sheeran's Divide Tour, which offers one of the most visually striking custom dials among all of the different private-label Black Bay watches.
A Gift from Musician Ed Sheeran
Grammy Award-winning musician Ed Sheeran also happens to be a huge luxury watch collector, who owns everything from Rolex and Patek Philippe to Audemars Piguet and Richard Mille. After the release of his third studio album titled ÷ ("Divide"), Ed Sheeran set off on a world concert tour, known as the ÷ Tour (aka "Divide Tour"), which lasted more than two full years and brought him and his crew all around the globe.
The Divide Tour consisted of 260 shows and started on March 16th, 2017 in Turin, Italy and ended on August 26th, 2019 in Ipswich, England. In addition to setting world records for the highest-grossing concert tour and the most tickets sold by a tour, Ed Sheeran's Divide tour also resulted in the creation of a very special Tudor Black Bay watch.
As a thank you to his dedicated crew who worked with him throughout the Divide Tour, Ed Sheeran commissioned Tudor to create a special order of approximately 80 Black Bay dive watches that were given as gifts when his world tour finally ended. The watch itself is based on the 41mm black version of Tudor's Black Bay diver, but on the lower half of its dial instead of having the usual depth rating and chronometer-certification text, is a bright blue division symbol with the word "Divide" inside it, which was the logo for Ed Sheeran's Divide Tour. Additionally, the case-back of the watch also features a commemorative engraving, with the stylized "Divide Tour" text in the center and the words, "Thank you for all your hard work on this tour, love, Ed X" surrounding the perimeter.
Black Bay Divide Tour: A Future Collectible
Given that there are only approximately 80 examples of the Ed Sheeran Divide Tour Tudor Black Bay in existence, the watch itself is undeniably rare and can easily be considered one of the most valuable and collectible Tudor Black Bay watches in existence. However, as rare and special as it is today, there is a very good chance that this particular watch is only going to become more unique and special in the future.
In the same way that Rolex no longer produces custom dials for special order pieces, there are many who believe that Tudor will also soon stop this practice, making watches like the Divide Tour Black Bay all the more special. Any watch with double-digit production numbers is undeniably rare, but when that same timepiece is made by one of the world's most famous luxury manufacturers, it becomes far more than just the sum of its parts and truly stands out as something unique and collectible.
Given Tudor's military heritage, you expect Tudor to produce watches in collaboration with various nation's military branches – and they do (just look at the Tudor Pelagos FXD). However, what you don't expect is for Tudor to accommodate the request of a popular musician and produce a special batch of Black Bay dive watches that feature his concert tour's logo co-branded on their dials. Simply put, an Ed Sheeran Tudor Black Bay dive watch almost sounds too strange to exist, but that is precisely why it is so special.