She's Serena Williams, one of the most influential tennis players of our time. She holds the title of the most Grand Slam singles titles in the open era and was ranked number 1 in women's singles for 319 weeks, among countless other accolades. She also happens to have a seriously impressive luxury watch collection and is known for wearing some of the most jaw-dropping timepieces both on and off the court.
Being retired doesn't stop the Audemars Piguet ambassador from stealing the spotlight with her enviable watch collection, either. Her wrist has been decked out to the nines as she makes her rounds in the press since bidding her professional career farewell. Her collection is mostly a love letter to Audemars Piguet, which doesn't come as much of a surprise considering her long-standing partnership with the brand. Serena was also quoted recently about her decision to be an AP ambassador,
"For me, it's about being your true authentic self," she added. "I'm not going to work with a brand that I don't really like just because it's a big payday… people will see through that, and most of all, I will see through that. And I don't want to see through that."
It seems as though she really appreciates Audemars Piguet's distinctive aesthetic and its values. Without further ado, let's look at some of the most memorable watches Serena Williams has worn during her impressive career.
50th Anniversary Audemars Piguet Royal Oak
Our list starts strong with the most recent watch sighting this last September. The tennis superstar wore Audemars Piguet's brand-new 50th anniversary Royal Oak during an appearance on The Tonight Show with Jimmy Fallon. The Gerald Genta creation took the market by storm in 1972 with a rather unique and polarizing design featuring an octagonal bezel decorated with visible screws, a sleek integrated bracelet, and a thin, self-winding movement. It has been reimagined for 2022 and the series' 50th anniversary with a collection of different model types in a stunning array of dial colors, metal finishes, and unique design elements. Williams opted for a lovely white gold model sporting an icy light blue dial.
Royal Oak "Jumbo" Extra-Thin "50th Anniversary"
Since wrapping up her professional tennis career, Williams has been on a media blitz, attending numerous events that have kept her and her watch collection prominently in the public eye. After visiting The Tonight Show with Jimmy Fallon, she made an appearance at an AP event celebrating the release of the book "Royal Oak: From Iconoclast to Icon."
During the event, the company gifted Serena with a new 50th Anniversary Royal Oak "Jumbo" Extra-Thin with the special engravings "Serena Williams" and "GOAT." The watch is outstanding. The bevels are slightly larger, creating better contrast between the satin and polished finish. The case back is more integrated into the middle case, and the beginning links of the bracelet are now trapezoidal. The bracelet links themselves are lighter and thinner for a supremely comfortable fit on the wrist. The Royal Oak Jumbo Extra-Thin also features an upgraded movement, doing away with the original Royal Oak movement introduced in 1972, the caliber 2121, in favor of the next-generation caliber 7121. It's a watch fit for even the world's biggest tennis star.
The Royal Oak Offshore
Serena and Audemars Piguet's partnership began in 2014. Since then, she has amassed an impressive collection of AP watches in a myriad of metal finishes and only seems to wear watches from the prominent Swiss brand, which makes sense considering their nearly decade-long relationship. One of her favorite watches appears to be the Royal Oak Offshore. She won the women's singles title at the 2015 French Open while sporting a lovely women's rose gold example with a diamond bezel and a contemporary white bracelet.
Just a few years ago, in 2019, she graced the front of the famous orange Wheaties box, a bucket list item for many accomplished athletes, wearing another rose gold AP, this time with the crown on the left side of the case. Williams requested this custom modification to prevent the crown from jabbing into her wrist during her swing. It also makes for a genuinely unique AP that we're sure any horology buff would love to add to their collection just for its rare custom design set alone.
More recently, Williams wrapped up her career wearing an Audemars Piguet Royal Oak Offshore during her final US Open matches. She paired her most fashion-forward court ensembles with a Quartz Time and Date Royal Oak Offshore ref. 67540SK.ZZ.A010CA.01. The watch dazzles with a diamond-encrusted bezel, matching silver Méga Tapisserie dial, and a custom black rubber bracelet instead of the usual white. It features a 37mm case, 50-meters of water resistance, glared-proof and scratch-resistant sapphire, and a quartz-powered movement – perfect for Williams and her powerful swing. While most players save the wrist candy for their victory photo ops, Serena strapped her AP to her wrist as she played.
Audemars Piguet Millenary
Serena has always been known for her bold style, on and off the court. With that in mind, it doesn't come as a surprise to see photos of her sporting a rose gold AP Millenary decorated with glittering diamonds and a stunning black Mother of Pearl dial during the first year of her ambassadorship in 2014. She would wear several more iterations of the elegant watch, including another rose gold and diamond beauty with a white alligator leather strap as she set the record for most grand slam titles at the Australian Open in 2017.
It's refreshing to see an accomplished athlete wearing a brand that they truly seem to enjoy, one that embodies their personal style, because that's when we get to see some really remarkable timepieces, including Serena's outstanding custom left-hand watches and the newest 50th Anniversary AP models. What will she wear next now that she's retired?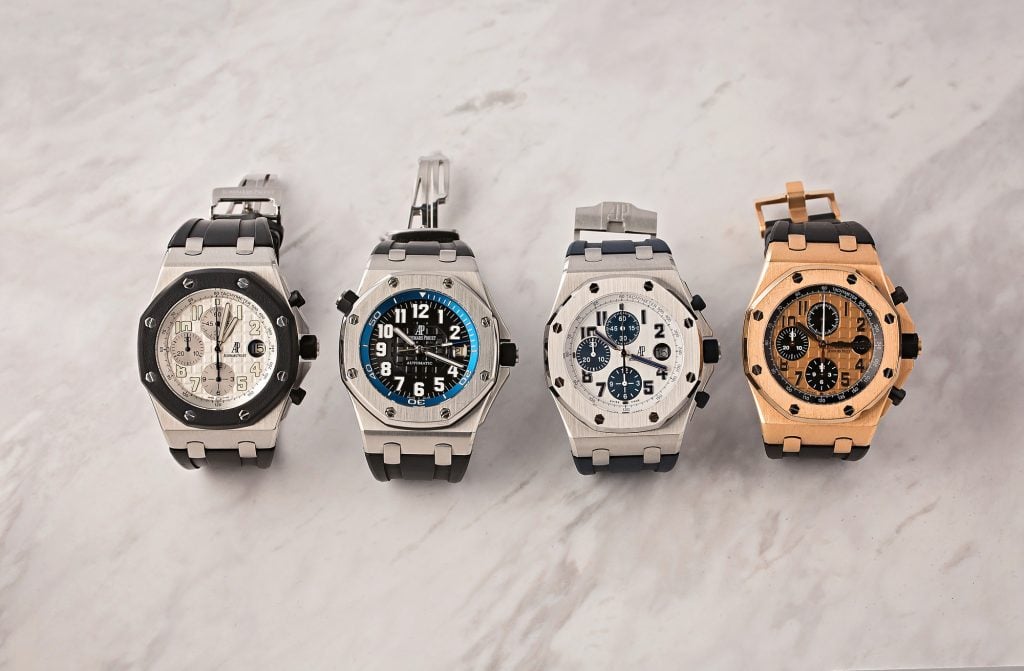 Shop Audemars Piguet Watches
Audemars Piguet is known for producing some of the finest luxury timepieces in the world, and the prestigious Swiss manufacturer is a fitting watch sponsor for a world-class athlete such as Serena Williams. While the famous tennis star tends to favor the brand's various sports models from the Royal Oak collection, Serena Williams owns a number of truly exceptional watches from that brand that she wears both on the tennis courts and on the red carpet.
If you are interested in wearing a luxury watch like Serena Williams, then shop our collection of pre-owned Audemars Piguet watches today, where you will find both modern and vintage models from this legendary Swiss luxury watch manufacturer.