If you're interested in learning about watch bezels, you've come to the right place. Over the years we've seen our fair share of Omega, and Rolex and other luxury watch bezels – from the Cerachrom ceramic bezels on Rolex's various sports watches to the solid platinum bezel of the Rolex Yacht-Master. So here, we're going to give you the low-down on the different kinds of bezels out there – hopefully, to help you shop smarter and collect better.
What is a watch bezel?
It's best to start with the basics. The bezel is the structure that surrounds the crystal and face on the outside of the watch. There are many different kinds of bezels, but they can be narrowed down to two main categories: decorative and functional.
Decorative bezels
A decorative bezel's only purpose is to add to the aesthetic of the watch face (and frequently to help hold the crystal on the watch). It can be made from a wide variety of materials, like steel and ceramic, to precious metals like gold and platinum – sometimes even set with diamonds and other precious gemstones. While there are many different decorate bezel designs to choose from, here are a few of the most popular.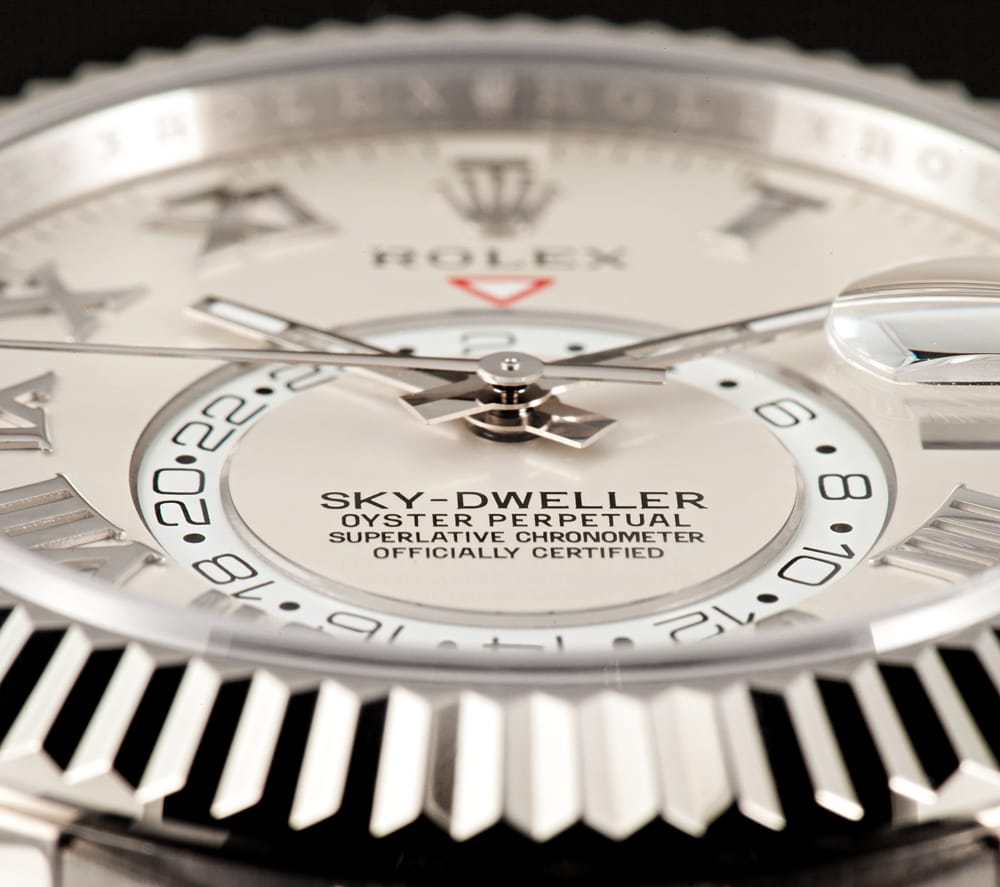 Flat/Smooth Bezel: This bezel can be made out of a variety of alloys, but it's universally flat or smooth across its entire surface. A great example is this Datejust 41 ref 126300 with its smooth stainless steel bezel.
Fluted Bezel: This style of the bezel was first developed by Rolex and is only ever constructed from solid gold (either yellow gold, white gold, or rose gold)  It features these beautiful 'ridges' across the surface that add dimension to the aesthetic and play with reflecting light. Fluted bezels are classic Rolex, and is typically associated with a more dressy and elevated look, like that of this President Day-Date ref. 118238.
Engine Turned: Engine turned bezels can come in a couple of different flavors depending on the model of watch. Some resemble a rougher, more mechanical version of a fluted bezel, while others can be distinguished by smaller ridges with thicker, smooth lines that lie directly above the hour markers. Now discontinued, engine-turned bezels can most frequently be found on older examples of Rolex Date, Datejust, and Air-King watches, like this ref. 14010.
Bark Finish: This bezel finish is typically found on vintage watches crafted from precious metals and features a fine, almost rough texture that resembles the ridges of tree bark. It's a super unique style, and we absolutely love the look on this vintage Rolex President Day-Date 18078.
Diamond / Gem-set Bezel: Because this bezel is so valuable, it is almost always crafted out of precious metals like gold or platinum, and can be encrusted with almost any type of precious gems, most frequently seen with diamonds. Here you can see this on the Datejust with a 52-diamond bezel.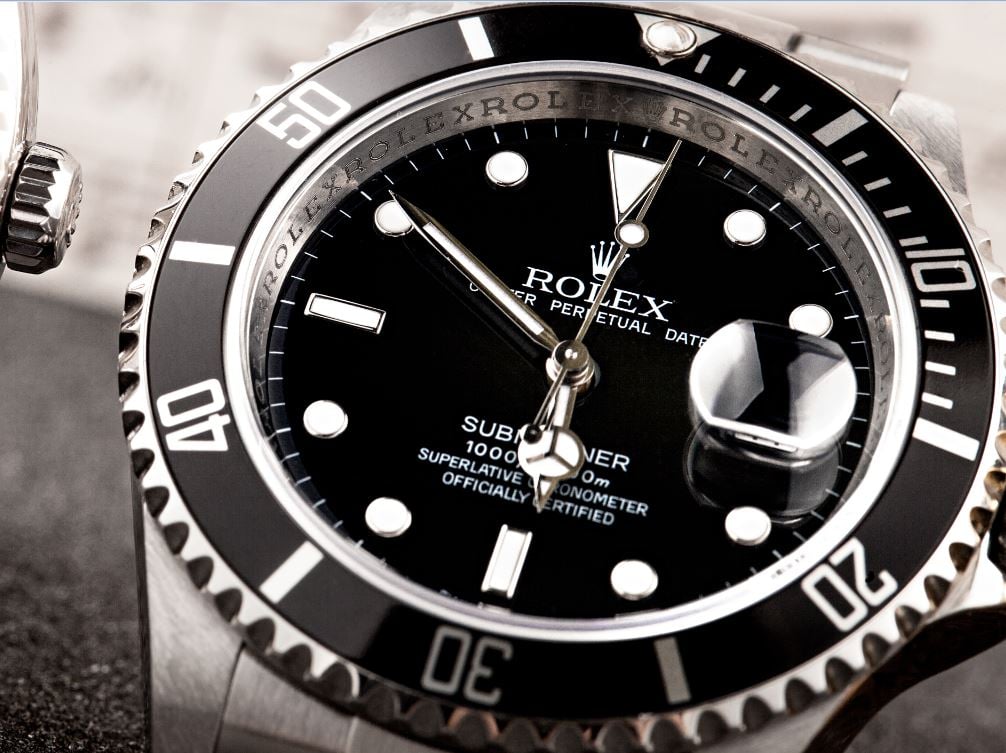 Functional Bezels
On the other hand, functional bezels (as the name suggests) are designed for specific uses. Depending on their intended purpose, functional bezels will either be fixed in position or will be able to be rotated around the face of the watch. As with decorative bezels, functional bezels are made from a variety of materials depending on the style of the watch; however, rotating bezels often need to be larger and more durable to withstand repeated turnings and often sporty and utilitarian uses.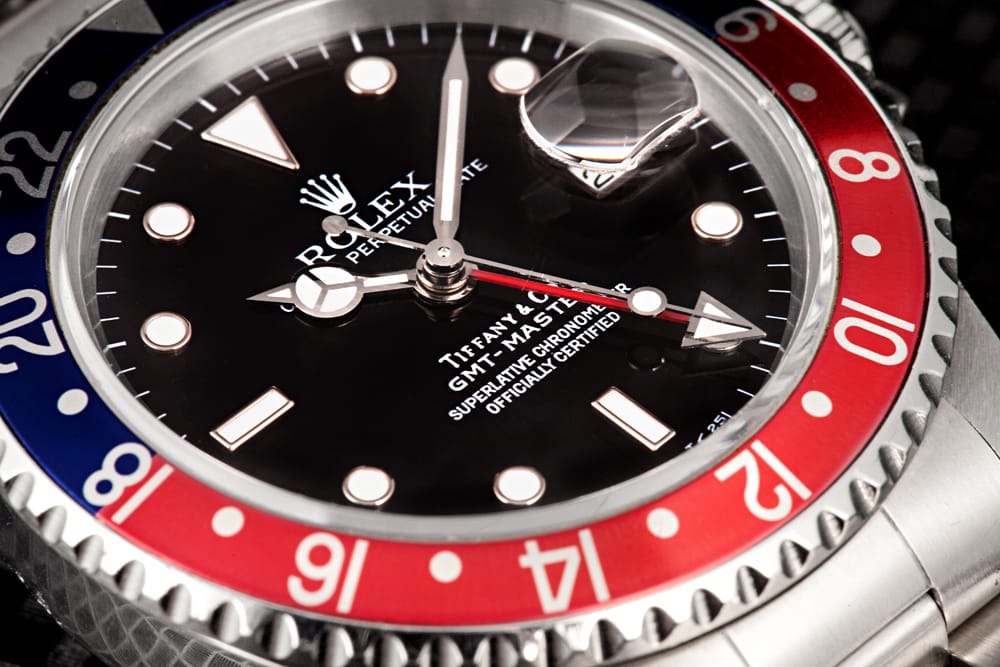 Unidirectional Bezel: This rotating bezel measures up to sixty-minutes of time and is typically found on dive watches. The uni  (or single) directional movement of the bezel was created so that it gets accidentally knocked or moved in any way, it will provide a layer of safety by overstating rather than understating immersion time. One of the most popular examples of a unidirectional rotating bezel is that of the Rolex Submariner, which you can see here in the ref. 16803.
Bidirectional Bezel: Like the name suggests, this bezel can be rotated in both directions – clockwise and counterclockwise. This feature allows the bezel to measure time in relation to events, but swaps the safety feature of the unidirectional bezel for a slightly faster and easier setting process. The Rolex Yacht-Master, which helps sailors time out regattas, has a bi-directional bezel crafted from either solid gold or platinum, and is one of the most notable examples.
24-Hour Bezel: This bezel helps the wearer tell the time in a 24-hour format. When it is a fixed bezel (compared to a rotatable bezel), it is accompanied by an extra 24-hour hand on the dial that points to the corresponding time on the bezel. An example of this is the Rolex Explorer II, like this ref. 16570 here. Additionally, when used in conjunction with independently adjustable hour hands, a 24-hour bezel can be used to help track a secondary time zone. As for rotating 24-hour bezels, you can look to examples like the Rolex GMT-Master; however, this is also a category all its own.
GMT Bezel: Similar to the 24-hour bezel, a GMT bezel is also accompanied by a designated 24-hour hand on the dial that points to the corresponding time  sometimes with half the bezel appearing in a different color to help represent daytime vs. nighttime hours of the day, like this GMT Master II 'Batman' which features a black and blue ceramic bezel. he key difference here is that a GMT bezel is able to be rotated, allowing any hour to be set to correspond to the GMT hand, allowing you to track a second or even third-time zone simultaneously.
Tachymeter Bezel: You'll find a tachymeter bezel on chronograph watches, like this Daytona 116520. This bezel is marked with a tachymeter scale, which when used in conjunction with a chronograph with a centrally-mounted seconds hand, can be used to help tell the speed based on time traveled or measure distance based on speed.
Ring Command Bezel: This is a Rolex-exclusive bezel style in which the bezel on the outside of the watch is linked to the inner movement to unlock additional functionality or facilitate the setting process. At the time of writing, Ring Command bezels are only found on the Rolex Yacht-Master II and the Rolex Sky-Dweller. It should also be noted that the "The Ring Command" name really refers to the functionality of the bezel, rather than its appearance, as the Ring Command bezel on the Yacht-Master II is decidedly sporty and marked with numerals for the countdown timer, while the one on the Sky-Dweller resembles any other classic Rolex fluted bezel.