No luxury watch can exactly be considered "cheap" but there are certainly some that are more affordable than others. Among all the various Swiss-made timepieces currently available within the industry, arguably none offer better value for the money than Oris watches. Although the brand has been receiving a lot of media attention in recent years, many buyers still have questions about Oris, so today we are answering some of the most frequently asked questions about Oris watches.
Are Oris Movements In-house?
It was not until 2014 that Oris began making its own movements under what is now recognized as its current ownership. From the period between 1904 (the year it was founded) and 1981, Oris had produced a total of 229 movements in-house; however, between 1982 and 2014, Oris sourced Swiss-made movements from other manufacturers for use inside its watches. So to answer the question – Yes, Oris now independently manufactures movements in-house once again.
Where Are Oris Watches Made?
All Oris watches are manufactured in Holstein in Switzerland. The official company name and logo is Oris Holstein 1904, depicting the year that the company was founded.
How Good Are Oris Watches?
Although older Oris models can be found with quartz movements, today all the watches that Oris produces are purely mechanical. The company has been developing beautifully refined Swiss timepieces for diving, aviation, racing, and travel since 1904. Many of these highly functional watches are equipped with a red rotor which has become a symbol of reliability and authenticity for the brand.
What Are Oris Watches Like?
Like many other high-end Swiss timepiece manufacturers, Oris uses premium materials and creates functional designs with them, producing incredibly practical and comfortable watches to live with and wear every day. With rubber straps that secure its range of diver's watches to the wrist, sophisticated stainless steel bracelets for casual business meetings, and supple leather straps for more formal occasions, Oris watches can promise comfort, accuracy, and style all rolled into one compact design.
Are Oris Watches Made in Switzerland?
Yes, all Oris watches are developed at the company's manufacturing facilities located at Ribigasse 1, CH-4424 Hölstein, Switzerland. Oris has a diverse and growing family of talented artisans, watch experts, and traditional craftsmen. These various departments are all responsible for separate yet integral aspects involved in the watchmaking process.
What is the best Oris watch?
The answer to this question will depend on your particular budget, taste, and individual needs. Collections like the Diver's Sixty-Five, the Aquis, and the ProDiver are rugged and functional diver's watches, while the Big Crown, ProPilot and the BC3 all belong to Oris' popular aviation collection. The brand has also developed several timeless dress watches like the Artelier and the Classic, as well as motorsport-inspired wristwatches like the Williams collection and the Chronoris series.
Are Oris Watches COSC Certified?
While not all Oris watches are chronometer-rated, the brand has produced a number of beautiful COSC-certified watches. Models like the Artelier Chronometer Date, for example, are equipped with movements that have passed the stringent standards required for Contrôle Officiel Suisse des Chronomètres (COSC) certification.
Are Oris Watches Reliable?
As mentioned earlier, Oris now produces a number of own in-house movements, guaranteeing a level of consistency and performance that can be traced back to time-honored methods from its heritage. Additionally, the outsourced movements that Oris uses in some of its other models are some of the best off-the-shelf movements in the industry and are all chosen specifically for their reliability and consistent performance. The watchmaker's portfolio now consists of GMT watches, business calendars, day-night indications, power reserve displays, and chronographs – to name just a few examples.
Are Oris Watches Luxury?
Although not considered prestigious enough to sit alongside the likes of Audemars Piguet, Vacheron Constantin, or Patek Philippe, Oris watches are still recognized as high-end luxury timepieces. The brand creates reliable, functional, and unique timepieces without the extreme price premiums charged by other brands, making them perfect luxury watches for daily wear.
Why Are Oris Watches So Expensive?
The answer to this question depends on what you consider 'affordable' or 'expensive' in a wristwatch. Collectors who own an Omega or a Rolex may ask, "why are Oris watch so affordable?". This is because Oris sits firmly in between both ends of the spectrum. An Oris watch is, without a doubt, considered incredibly good value for money when you take into account the fact that they are Swiss-made mechanical timepieces that offer features and functions that you won't find on watches from brands that cost several times as much.
How Much Do Oris Watches Cost?
You can buy a pre-owned Oris watch for as little as several hundred dollars, but current-production models like the Oris Aquis and Big Crown ProPilot are also very reasonably priced at around $1000 on the secondary market. For models that feature in-house movements or additional complications, prices can be noticeably higher; however, even the most expensive Oris watches retail for less than the point of entry for many other luxury watch brands.
Are Oris Watches Good Value?
Oris watches offer excellent value for the money – arguably better than any other Swiss brand that produces luxury timepieces on a large scale. Many Swiss-made watches powered by generic quartz movements can cost significantly more than Oris's mechanical watches, yet they do not offer nearly the same degree of engineering or attention to detail.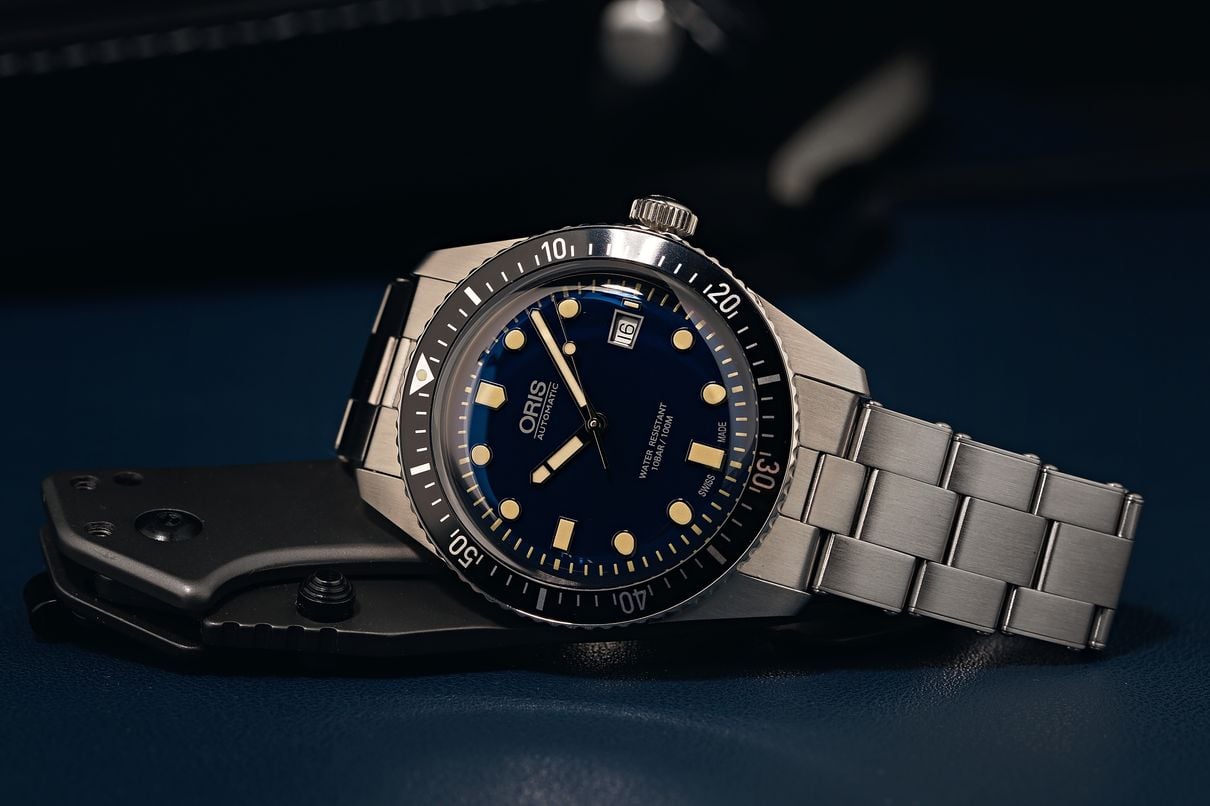 Do Oris Watches Hold Their Value?
Most watches except for certain models from brands like Rolex and Patek Philippe depreciate when sold on the pre-owned market. Despite Oris watches not often appreciating, they still maintain their value very well and are considered ideal timepieces for those looking to invest in a functional and reliable wristwatch that they can wear every single day, completely worry-free.
How Accurate Are Oris Watches?
As mentioned earlier, some Oris watches are equipped with COSC-certified chronometer movements. This means that the movements have passed a number of stringent tests to guarantee the highest standards of both accuracy and reliability. These static tests are carried out in an independent laboratory, and COSC chronmeter-certification represents the gold-standard in mechanical timekeeping.
Are Oris watches worth the money?
Oris watches are certainly worth their price tag – especially if you pick one up at a discount on the secondary market. Oris stands behinds its watches with a 2-year warranty, combining performance with affordability to offer users a high-end timepiece that is built to last a lifetime, without the extreme price premiums that accompany some of the biggest names in the luxury watch industry.