Innovation, finishing, and exceptional history aside, sometimes the real excitement behind a watch is as simple as its dial. We are not referring to just colors like blue Rolex dials in this article.  For decades the brand has been building unique variants of several of their watches like the Rolex Datejust and Day-Date that have dials that dramatically defy convention. In some cases using traditional techniques, and in others using unconventional materials, either way, the end result makes for something pretty special. There have been a good number of examples to roll in and out of the doors of Bob's Watches over the years, but here's a look at a small assortment that's currently in the shop.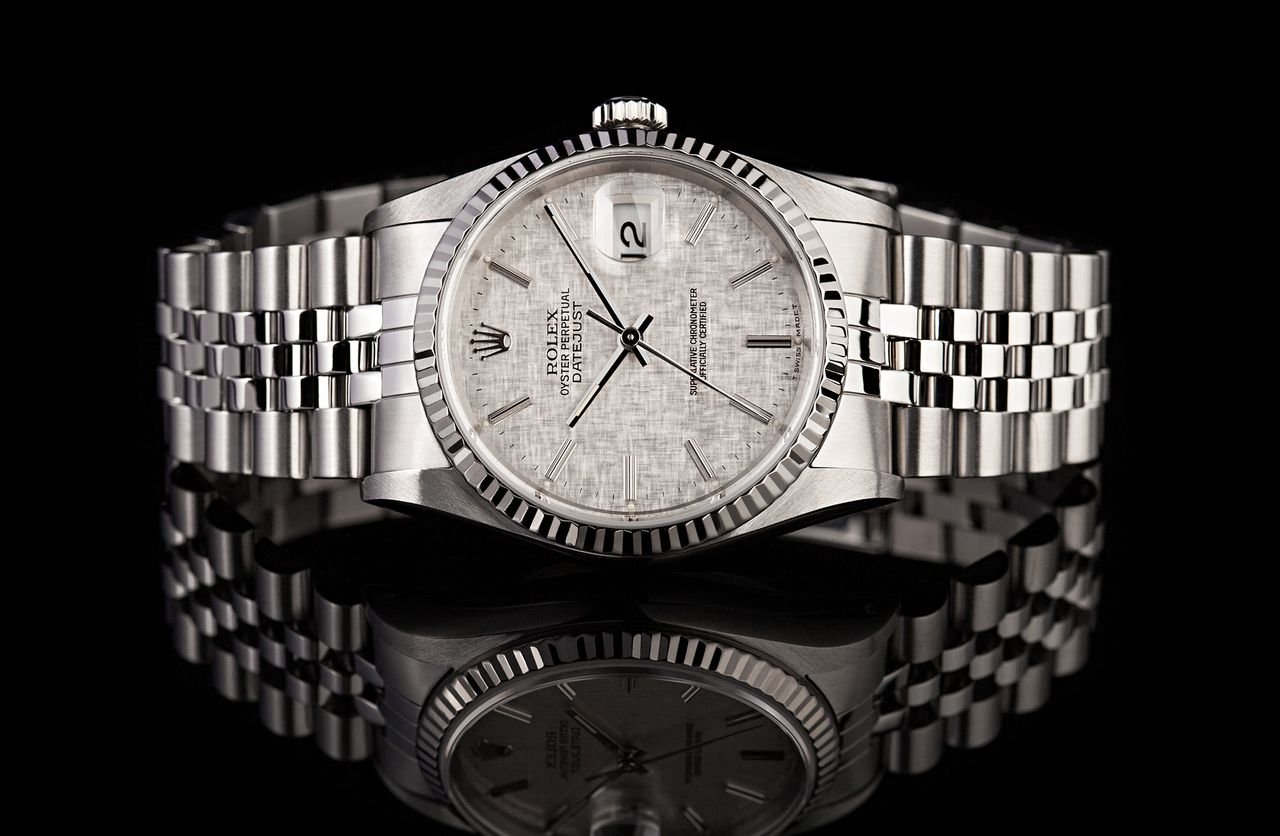 Rolex Linen Dial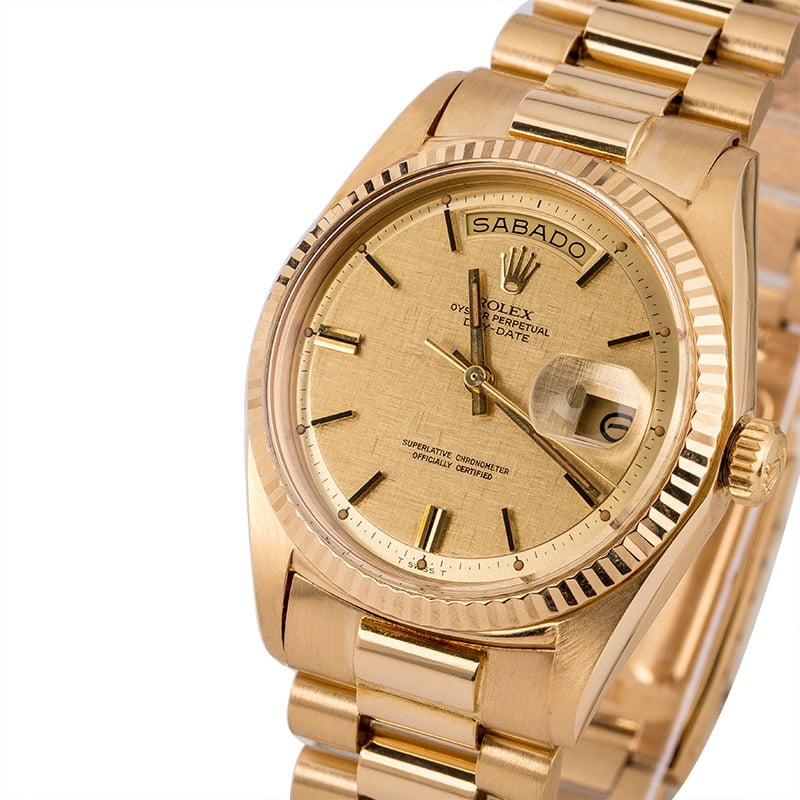 Starting things off, you're looking at one of the more common varieties of obscure dials from Rolex – the Linen dial. Its name is pretty self-explanatory, as the texture applied to the dial is very similar to what you have seen in linen fabric when viewed up close. The pattern has appeared on several Rolex President and Datejust models going back to the '60s.
Rolex Tapestry Dial
The Tapestry dial is also a '60s baby from the Rolex archives, though one not quite as common as the Linen dial seen above. It's also a fairly simple in design, as thin vertical ridges are cut into the dial surface, giving it a slightly three-dimensional vibe.
Rolex Jubilee Dial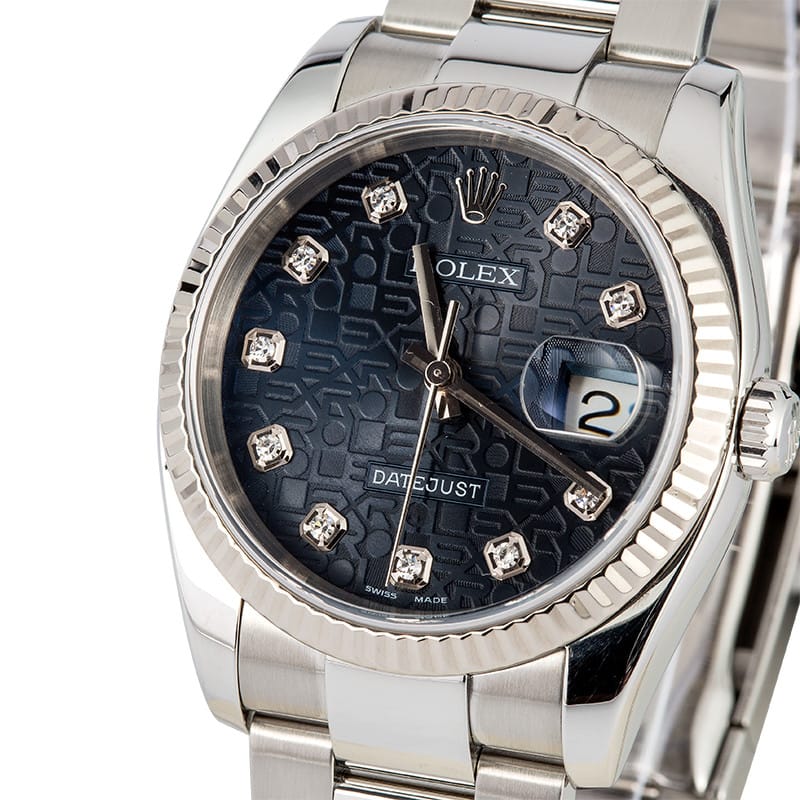 For the 40th anniversary of the Datejust in 1985, Rolex unveiled what was the beginning of an ongoing series of specially patterned dials using the Rolex name in a stylized repeating font. In some cases, the all-over pattern can be quite bold and overpowering, but in other instances, it can be incredibly subtle. Without looking too close, you would almost mistake certain Rolex Jubilee dials for more natural patterns – precisely what makes me a huge fan of the more under-the-radar examples.
Rolex Exotic Wood Dial
We see stone dials all over the place in watchmaking these days, with things like malachite and aventurine becoming surprisingly popular. That said, when was the last time you saw a wood dial? There have certainly been some here and there, but overall they are miles more rare than most other material dial options. Most can be found on Rolex watches from the 1970s and 1980s, and when combined with a yellow gold case and bracelet, it is about as quintessential '80s as it gets.
Rolex Hobnail Dial
The early to mid-2000s Cellini Prince models are a very special breed for many reasons, being the last of the hand-wound Rolex watches out there, and the only ones fitted with a sapphire crystal display back. That said, their dials are also exceptional in a lot of cases. The 18k yellow gold example uses a gold plate with an old-school hobnail pattern (also known as Clou De Paris) that also appears on the bridges of the movement. The dial choice is perfectly suited to its rectangular art deco-style case, and though it's got a very vintage/traditional vibe, it's still damned cool. It won't be for everyone, but it will certainly impress any self-respecting watch enthusiast out there.
Rolex Floral Dial
Last but not least, we have one of the strangest Rolex dials out there – the floral dial. These are still in current production and are rarely ever promoted by Rolex as a brand. Offered in a 36mm case, considered the unisex standard of the line, these things are just plain odd. The slightly cartoonish/graphic floral pattern is engraved into the sunburst dial plate, and they can be found both with and without diamond-set hour markers (diamond Rolex) at the 6 and 9 o'clock locations.