The Rolex Submariner has been in production since 1953. In a tireless quest for perfection, the celebrated model has seen many changes to its design throughout the years, including updates to its iconic dial. Properly identifying a dial can teach you a lot about a watch, and if you're new to Rolex collecting, this might seem like a daunting task. This guide will serve as a quick overview of each of the four main dial types found on the Rolex Submariner, and how you can identify them.
Gilt Dial Submariner Watches
The first generation of the Rolex Submariner was produced with a glossy gilt dial, which is characterized by a gold text and detailing set against a glossy black surface. The luminous markers – originally finished with a glowing radioactive substance (Radium or Tritium) have aged to a matching golden hue on many surviving examples. Rolex Submariner gilt dials can be found in a variety of slightly different configurations depending on the reference of Submariner and its era of production. While a number of variations exist in regards to the minute track, logo, name, and depth rating, you can easily identify gilt dials by their golden lettering.
Gilt dials are by far the rarest and most valuable type of Submariner dial, and the vast majority that were ever produced are no longer in existence. Many of the Rolex Submariner watches that were originally fitted with gilt dials have had them replaced with later-era service components over the years due to wear and damage, and due to their present-day scarcity, well-preserved examples are quite valuable. These subtle differences are what makes collecting vintage watches so exciting and can be the difference between a relatively affordable watch and one that commands well over six-figures.
Matte Dial Submariner Watches
Rolex replaced the Submariner's gilt dial in the 1960s with the matte dial. Unlike the gilt variations, the matte dial is topped with white text and Tritium luminous plots set against a slightly textured, flat (non-glossy) surface. Several iconic Rolex Submariner references were can be found with matte dials, including the first Rolex Submariner with a date complication (ref. 1680; aka 'Red Sub'), the first Submariner with crown-guards (ref. 5512), and the first Submariner to feature a scratch-resistant sapphire crystal and a water-resistance rating of 1,000 feet (ref. 16800).
While matte dials are exclusively found on vintage Rolex Submariner watches, they do have a slightly more contemporary and functional appearance than the previous generation of glossy gilt dials. Additionally, matte dials are quite a bit less rare than their gilt predecessors, and although they are still quite valuable and fiercely pursued by collectors, they remain significantly more obtainable (and affordable) on the secondary market.
Gloss Dial (White Gold Markers) Submariner Watches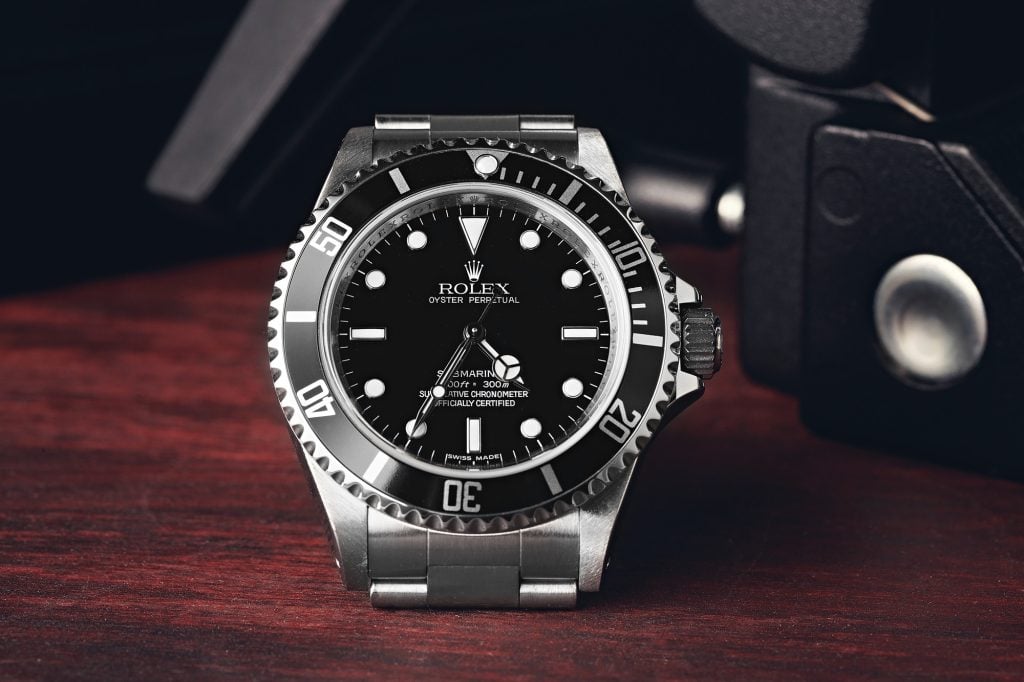 The first generation of "modern" Rolex Submariner watches began production during the 1980s. During this time, the matte dial made way for gloss dial which featured a glossy black surface with white text and hour markers with white gold surrounds around their luminous plots. The applied 18k white gold markers and glossy finish of the dial, give this generation of a noticeably more luxurious and modern aesthetic and one that continues to dominate the secondary market.
If you're new to collecting Rolex watches from the second-hand market, chances are that you've already laid eyes on the gloss dial Submariner. The most common variations to come across are the classic Submariner Date ref. 116610 and the 'No Date' version of the same generation, the ref. 14060, which is similar in appearance but does not include a date window on the dial or a cyclops magnification lens on its crystal.
Maxi Dial Submariner Watches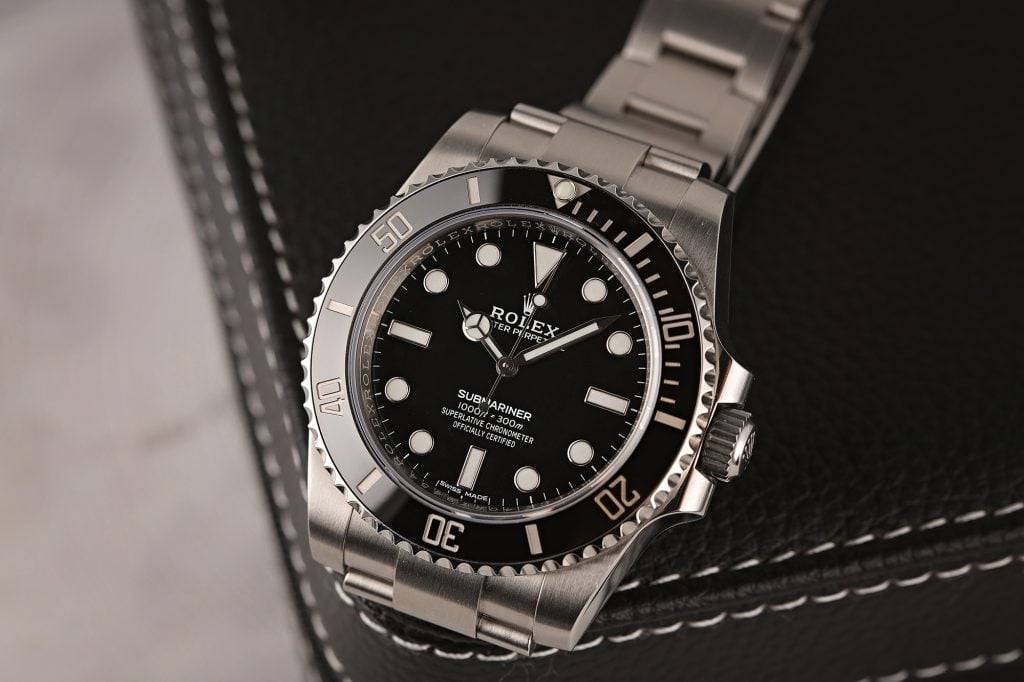 The Maxi dial is the latest generation of Rolex Submariner dials, following the overall aesthetic established by the previous generation but featuring larger hour markers (along with wider hands). The Maxi dial first made an appearance on the Submariner collection with the release of the 50th-anniversary edition Submariner ref. 16610LV "Kermit" that also is fitted with a vibrant green aluminium bezel insert. It continues to remain in production with the current 6-digit, Cerachrom ceramic bezel references and can be found on all modern Rolex Submariner watches in various colors, depending on the specific reference.
Rolex's Maxi dial is also now paired with a "Super Case" and a new-style bracelet, giving current-production Submariner watches an overall larger appearance on the wrist. If you're in the market for a bold statement piece with classic style, the Maxi dial Submariner might be your best bet. While its design has always remained true to its roots, Rolex's iconic dive watch dial has undergone a number of updates over the years. Whether you seek a rare vintage edition or a modern professional dive watch, there is guaranteed to be a Submariner reference to suit your wrist.