The Rolex price range is incredibly vast; however, the actual fair market value of a pre-owned watch isn't just about its age. In fact, a vintage Rolex can often fetch a significantly higher price than a second-hand watch from the current generation. Today, we're going to give you the inside scoop on all the factors that can determine a pre-owned Rolex price when evaluating its fair market value.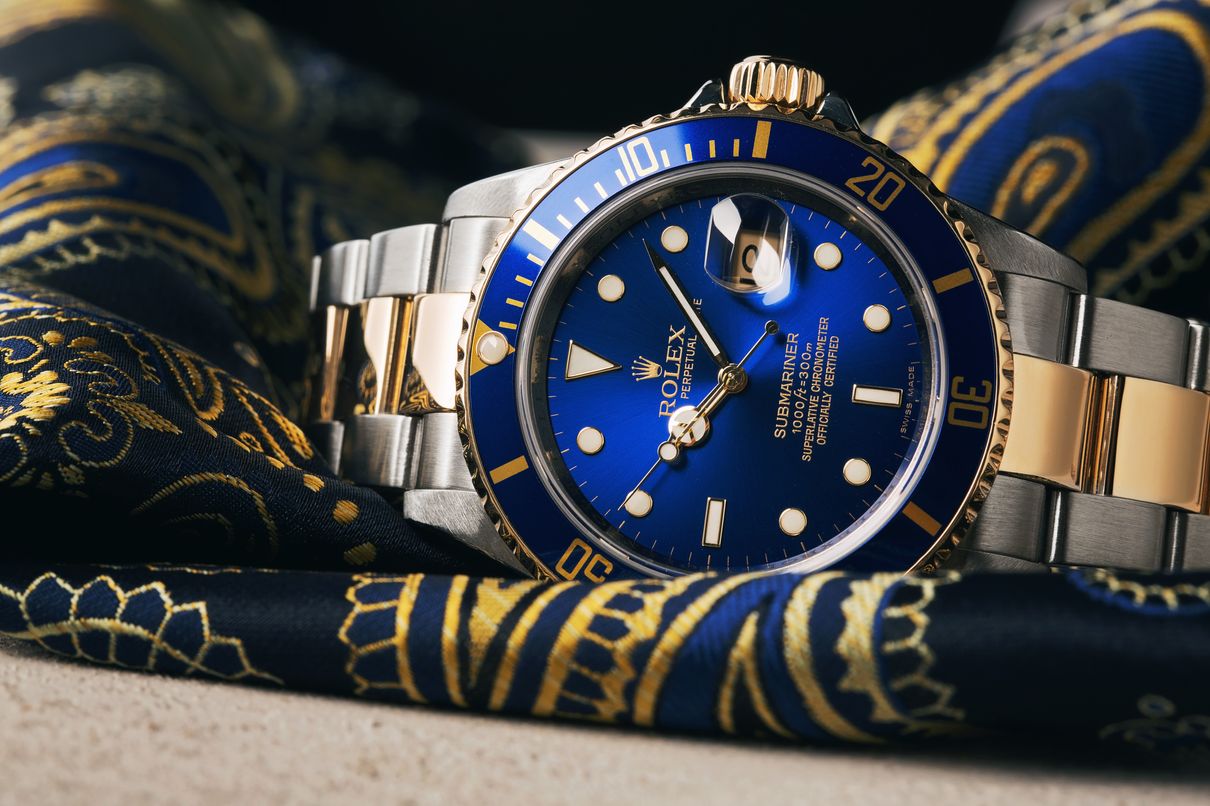 How a Rolex Price is Determined
Condition
The overall condition of a watch can make or break its value. By assessing the aesthetics and functionality of a Rolex, a knowledgeable dealer can properly price the watch at its true fair market value. In most instances, the better the condition of a watch, the higher its fair market value will be. However, sometimes when dealing with rare vintage references, certain signs of age such as tropical dials, ghost bezels, and patina can actually increase the value of the watch.
Original Features and Authenticity
There's a difference between an entirely circa-correct Rolex and an authentic Rolex, and they can both play greatly into the overall used Rolex price range for a specific pre-owned model.
An entirely circa-correct Rolex means that the watch boasts components that are all correct for the time period in which it was produced – a good sign that it likely still has all of its original factory parts (although there is no way to definitively tell that something wasn't replaced with an identical component from the exact same era at some point during its life). Typically, the vintage Rolex market is much stronger for watches that are completely circa-correct, even if they show signs of wear and age.
An authentic Rolex is a watch that is completely genuine – meaning that every single component on it is made by Rolex, with no aftermarket or custom additions whatsoever. However, a Rolex can be 100% authentic without being circa-correct. Typically when parts need to be replaced, Rolex replaced them with the newest compatible versions for that watch. These replacement components are entirely genuine, and are often superior from a purely functional standpoint; however, for certain components on highly collectible vintage models, these later-era replacement components can sometimes detract significantly from the value of the timepiece.
Box and Papers
This isn't always a huge factor, as a lot of Rolex watches sold on the pre-owned market come without the original box or papers. However, for certain vintage Rolex models, the inclusion of their original box and papers can significantly increase their value for collections. Many times, these items were lost or otherwise separated from their accompanying watches over the years, and so finding a vintage Rolex that still has its original box and paperwork is becoming increasingly a rare occurrence.
Model and Reference Number
Some Rolex watches are more popular or collectible than others, and that's just a fact. For example, most of the time a vintage Submariner is going to fetch a higher price than a vintage Datejust, simply because more Datejust watches were sold over the years, and (generally speaking) most people took better care of them.
You also have to consider the reference number of the watch itself, as there can be large and important discrepancies between them that can really drive the price up or down. For example, a ref. 5512 and a ref. 5513 Submariner may look almost identical, but there is often a significant difference in price between these two models, even when they are from a similar year of production.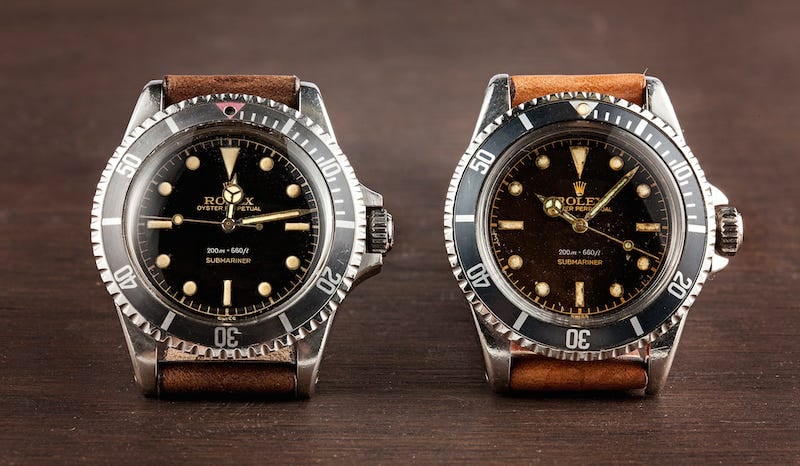 Provenance and Rarity
The model and reference number both significantly play into the overall rarity of a Rolex, and consequently influence its pricing. However, sometimes these factors hardly come into play at all. For example, you may own a rather common and inauspicious Rolex model, but if it previously belonged to a celebrity or other noteworthy individual, that gives the watch serious provenance and can significantly increase its resale value.
Similarly, rare or unusual traits can also significantly increase a Rolex price beyond what would normally be the fair market value for similar watches of the same reference. You may have a Rolex from a not-particularly-special reference, but if it has a rare dial or some other unusual feature or even a factory defect, that can make it rare and quite a bit more valuable to collectors.
Market Value
While all of these things play into determining the price of a Rolex watch, the secondary market also drives the prices of Rolex watches – just like a stock market. Bob's Watches uses this same open market system to help us both buy and sell watches at the fairest prices anywhere online. We publish both the buy and sell prices for every Rolex model so that both buyers and sellers can verify that they are getting the best possible deal.
However, because the demand for Rolex watches far exceeds the supply, multi-year waiting lists for many of the brand's top models exist at virtually all retailers around the globe. Consequently, this strong market demand can drive the fair market values for certain Rolex watches well above their original retail prices. For some ultra-desirable models like the stainless steel Rolex Daytona, if you are lucky enough to find one at retail, you can turn around and sell it for almost twice what you paid for it!