A trio of precious metals
A relic of the 1980s, the Rolex President Tridor is an interesting twist to the Day-Date. As the most prestigious of Rolex dress watches, the Day-Date family of watches is only ever constructed in gold or platinum. And the Tridor version was actually crafted using three different types of gold offering a very unique look.
Rolex Tridor
The 36mm Oyster case of this particular Rolex Day-Date ref. 18239 is built in 18k white gold but topped off with a fluted bezel in 18k yellow gold, both of which encase a silver dial with yellow gold hands and yellow gold hour-markers for an aesthetic that is classic to the President collection. It is its President bracelet, however, that gives the Tridor its name and signature style.
Blends
The mix of the three main colors of gold was considered very chic in the 1980s with tri-gold jewelry popping up everywhere and Rolex presented their version of this trend with the President Tridor. The outer semi-circular links of the iconic President bracelet of the ref. 18239 is made of 18k white gold to match the case, however, the center links were fashioned from a blend of 18k pink, yellow, and white gold. Unlike the Rolesor where the metals are fully blended together, this Tridor took a different approach. The stripes of the multicolored gold were meticulously fused together to produce perfectly straight lines running through the entire length of the bracelet — a very distinctive design that would make anyone look twice.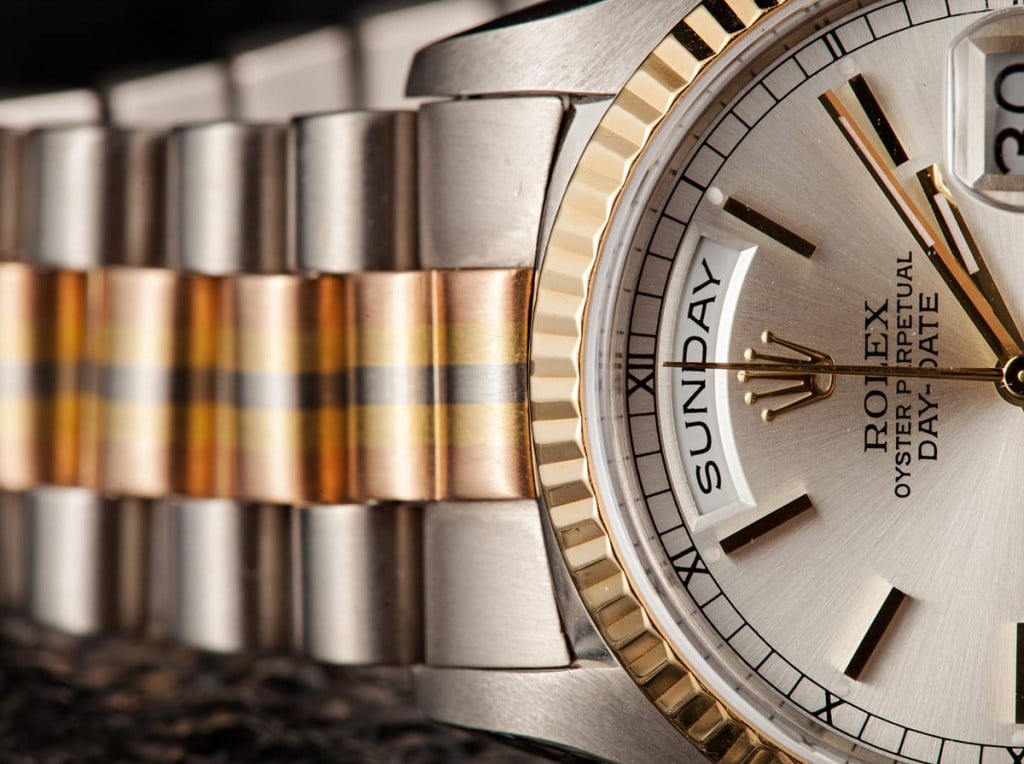 Rolex Caliber 3055
As this particular Tridor 18239 was part of the 18000 family of references, it was powered by the Rolex Caliber 3055 with the quickset date function, thus allowing both the day at the 12 o'clock position and the date window at 3 o'clock to be changed without manipulating the minute hand. Although the day of the week on this specific 18239 is written in English, it was of course also available in different languages. Furthermore, dial choices of the Tridor ranged from this subtle silver version to much more lavish possibilities in a multitude of colors, patterns and materials such as mother-of-pearl. For the ultra plush, diamonds were always an option too.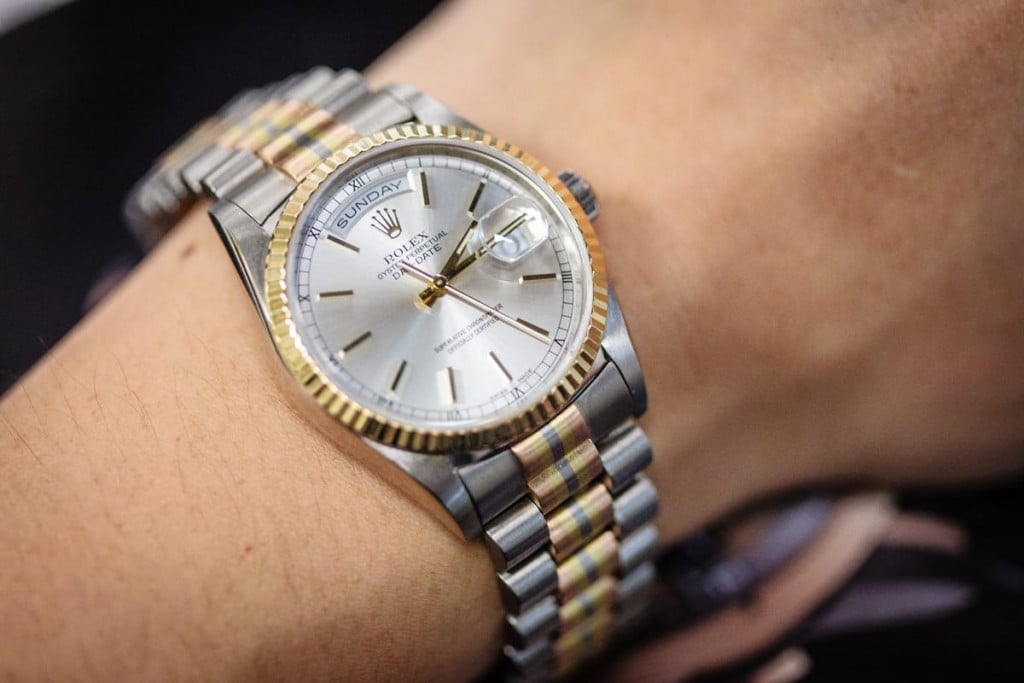 For those Rolex fans who wanted a luxury watch that was distinct and that stood out among the rest, the Day-Date Tridor was a unique choice. The Tridor was eventually discontinued in the early 2000s and today, it gives us a glimpse into a style that was very in vogue a few decades ago.