We love it when brands retool watches from their collections with the desires of enthusiasts and collectors in mind; and with the launch of this latest Ulysse Nardin Diver it has become immensely clear that the brand is listening to what today's dive watch buyer really wants.
First things first, its case size has been reduced to 42mm – the ideal dive watch sweet spot that's not overbearing for smaller wrists, and yet not too petite for those wanting a luxury watch with presence.
A New Dial with Unique Text
Getting past its case size alone, there's a brilliantly uncluttered look to the new diver previously unseen in past models. Its minute track, brand name, and date text are all color-matched across the dial, as is the more unique bit of text above its six o'clock date window.
Rather than the usual dial text that relates to depth ratings, chronometer status, or other typical Swiss watchmaking jargon that clutters up a dial, what you get with the new Ulysse Nardin Diver are GPS coordinates; specifically the coordinates of Ulysse Nardin's hometown of Le Locle, Switzerland.
Finishing off its overall design are an oversized winding crown without crown guards, and a pronounced notching to its bezel that give the piece a touch more of a rugged tool-watch aesthetic.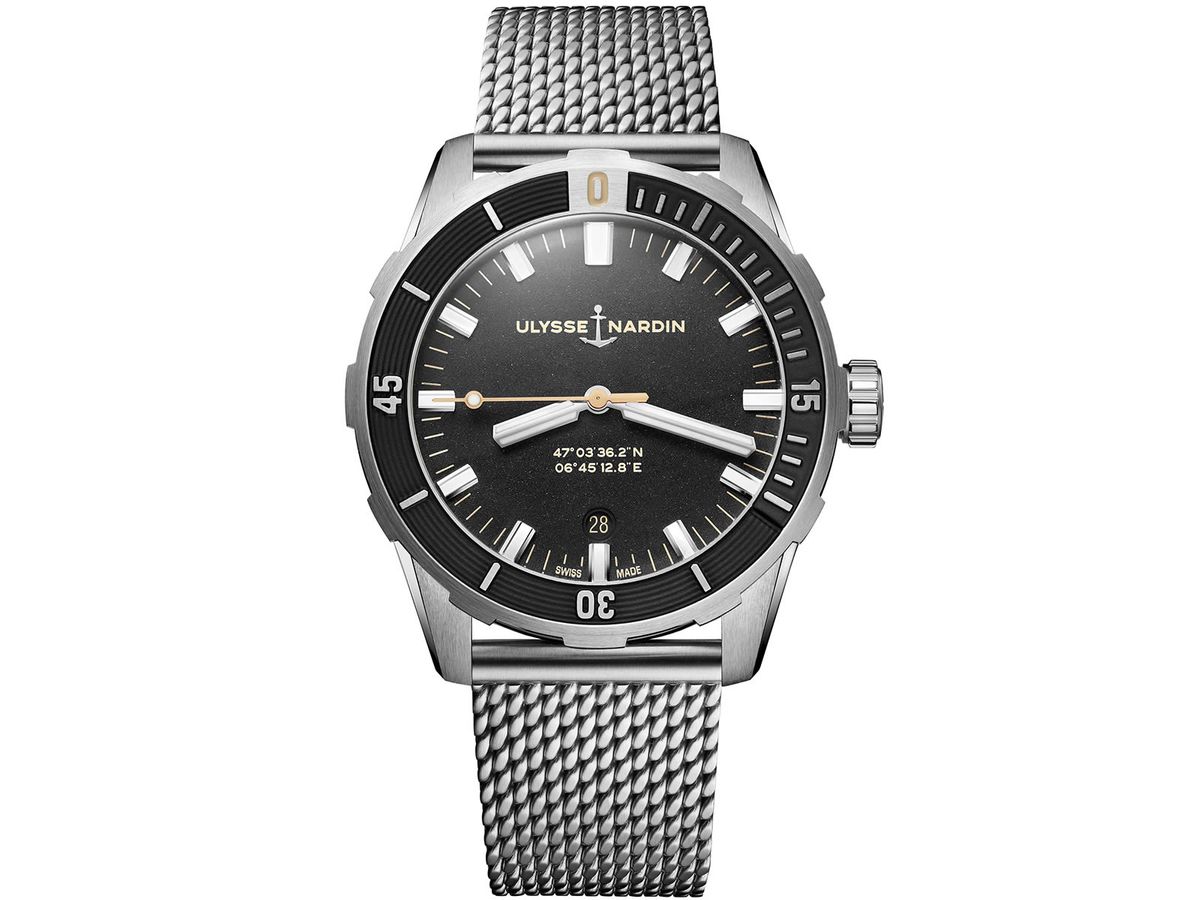 More than a Pretty Face
One additional feature that Ulysse Nardin added to the equation with this latest release is equal parts visual and functional. For the first time, a Ulysse Nardin Diver will be offered on a mesh Milanese bracelet. This supple metal bracelet option is often overlooked by brands, but seems to suit the design and case proportions of this latest release perfectly.
It inherently makes the diver a touch more flashy than a rubber or leather alternative, but from a comfort and uniqueness standpoint, I suspect a good number of these will leave authorized dealers with the Milanese bracelet option. If you've yet to try one for yourself, do it – they're effectively the most comfortable type of bracelet configuration out there during warmer summer months.