On the list of luxury watch brands that deserve far more credit and attention than they receive, Jaeger-LeCoultre sadly remains near if not at the top of the list. More in-house movement history and capability than most, consistent high quality finishing, and rock solid design are all part of the equation, not to mention that their offerings are consistently very smartly priced when compared to their competition. Of the many watches in their repertoire that offer good value, one has stood out in my mind since it first hit the market back in 2013 – the Jaeger-LeCoultre Master Ultra Thin Perpetual Calendar.
The Jaeger-LeCoultre Master Ultra Thin Perpetual Calendar
As a collector, an assumption is made fairly quickly about pricing when the words "perpetual calendar" are heard. The complication being one of the more difficult to execute, and with the most common examples being from the likes of Patek Philippe (among others), there's a reason the term "budget-friendly perpetual" isn't really a thing. That said, budgets are relative, and when it comes to this steel JLC, the term does safely apply. As you'll soon see, this is by no means a perpetual calendar manufactured on the cheap, and at a full retail price of only $20,300 I will say with confidence that you won't find a better perpetual calendar that comes close to this.
It's to be expected with the words "Ultra Thin" in its name, this JLC is quite slender for a perpetual. Its case is 9.2mm thick, and 39mm in diameter which are pretty prime dimensions for a contemporary dress watch. Those with very small wrists will likely wish it were even smaller, but again considering that we aren't looking at a bank-breaker, these are quite modest specs.
Powering the piece is the JLC Caliber 868 – a self-winding in-house manufactured movement with Côte de Genève striping, pèrlage (circular graining), and polished and beveled edges throughout. This caliber was new for the launch of this model in 2013, replacing the caliber 889/440/2, which was in the previous Master Control perpetual calendar that was phased out of production several years prior. Though its predecessor was smaller in diameter, it was also thicker, and when talking about all things "Ultra Thin," every millimeter counts.
Coming at this from a design standpoint, Jaeger definitely stuck with a more classical/traditional aesthetic. Rather than tucking its moonphase complication inside a sub-dial, as one would typically see in a Patek perpetual, JLC opted for a subtle moonphase indication below the 12 o'clock mark. Between this and the spacing of its sub-dials in the dial itself, this JLC is far more balanced than a good number of perpetual calendars out there.
IWC's Portugieser is designed in the same vein, however its sub-dials hang out much further towards the perimeter of its dial. Audemars Piguet and Blancpain on the other hand have a tendency of placing their month indication sub-dials at the 12 o'clock mark, which has a tendency to make their dials feel a little "top heavy".
Looking back at the dial of the perpetual, JLC selected very '50s dress watch inspired applied indices to surround its perimeter, which are a nice touch. Thankfully this detail is subtle enough that the watch doesn't fall into that "vintage inspired" category that continues to spread like wildfire. Adding a bit of texture to the mix, the track for the indications of each sub-dial is slightly recessed.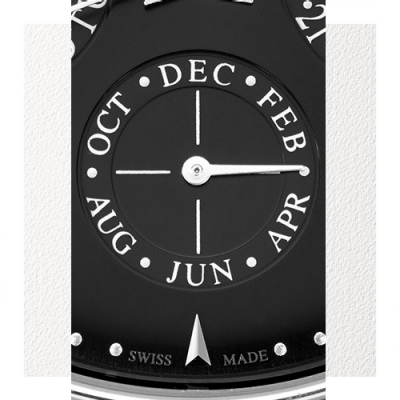 The two most subtle details you'll note are the year and do-not-set-the-calendar indications. On movements with perpetual calendar complications, changing the calendar settings while the watch displays a time within several hours of midnight, can run the risk of damaging the movement. As this watch may very well be a collectors first perpetual calendar watch, Jaeger-LeCoultre was kind enough to add a small indicator to let users know when not to adjust the calendar settings.
The small window for the year is tucked down between 7 and 8 o'clock, and is compact enough that it doesn't throw off the balance of its otherwise symmetrical dial. The do-not-set indication on the other hand rests just above its cannon pinion (where its hands are mounted). As an especially thoughtful touch, JLC created tiny cut-outs in its hour and minute hands so that the indication would remain visible even if its hands were to overlap the area.
Suffice it to say, the Master Ultra Thin Perpetual Calendar is anything but average, anything but simple, and most notably anything but overpriced. Whether you're looking at it fresh out of the box or on the secondary market, 20 grand for a piece like this more than fair. If you're the type that prefers gold, you're not out of luck – a pink gold version with an opaline dial retails for $31,500, and a white gold model with a slate grey dial comes in at $35,100. At those prices I'd be prone to see what depreciation has done to them in the secondary market, because at $35k you're quickly creeping into used Patek Philippe perpetual calendar territory.