All black watches can be a bit polarizing. Some people absolutely love the modern aesthetic that comes from a blacked-out luxury watch, while others prefer the classic appearance of natural metal due to the way that the surfaces play with light. Regardless of your personal opinion about all black watches, it is undeniable how a simple change in surface finishing makes for a significantly different presence on the wrist. Here is a list of 5 intriguing black watches that warrant a closer look.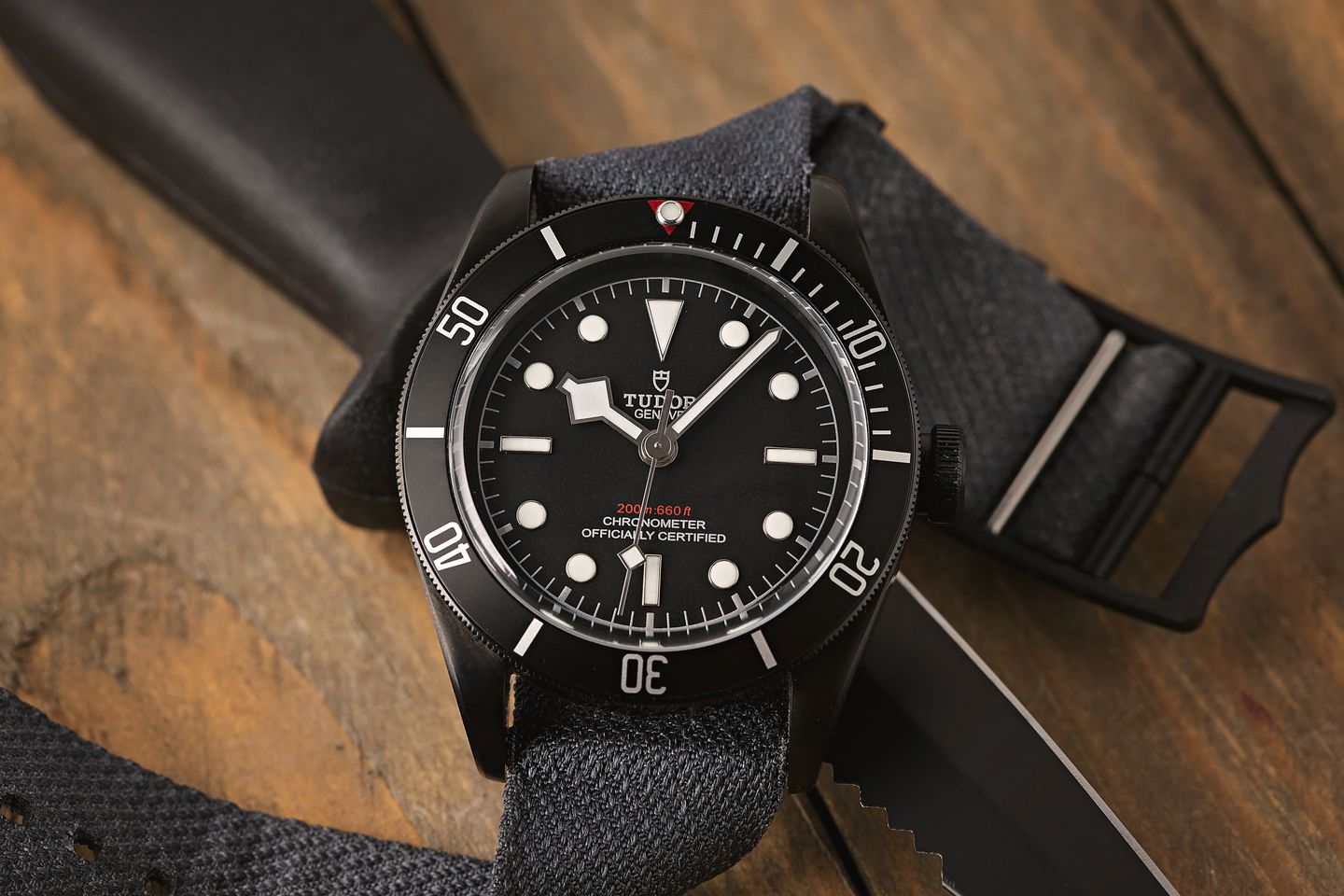 Urwerk UR-105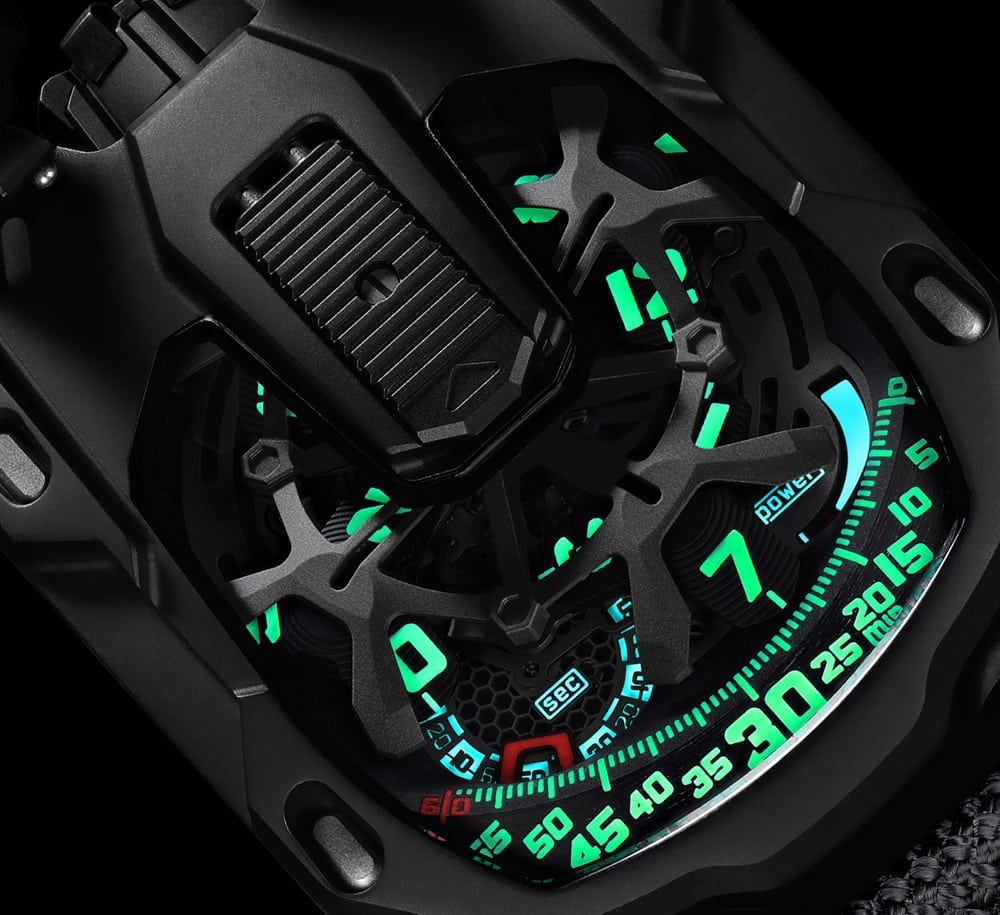 When a brand figures out its lane, it is wise to stay in it. These are challenging times in watchmaking and having a niche, heck, having a niche of a niche is not to be sniffed at. Urwerk has been known for a long time now as the brand that likes to mess things up. Imagine an Urwerk with hands. Can you do it? It just doesn't follow, does it? Urwerk ripped up the rule book and launched into existence with a completely novel way of telling the time. That's a badass move. The kind of badass move you'd expect a guy wearing a jet black watch to pull.
Perhaps that's why Urwerk watches look so good in all black. Sure, the brightly colored models are a lot of fun – and great conversation starters if you can afford to drop more than $50k on a ticking cartoon, but the real charm of Urwerk comes with that broodiness that nothing but a black case can evoke. 
Whenever I see a new Urwerk creation, I get the feeling that the designers are seriously ticked off with the world (no pun intended). It's like they've got this axe to grind with the established order of things. It's as if they want to destroy the very notion of comfort and make you question the way things are done every time you look at your wrist.
The Urwerk UR-105 is an absolute beast. It is everything a watch lover could want from the brand. The satellitic time display, the luminous elements (treated with different colors of lume), the spider-like bridge of the hour display, and the structured, industrial black housing all go together to make this watch the ultimate prop for the man or women looking to send a message from their wrist.
Zenith Defy Classic Black Ceramic
The Defy range lay dormant in the Zenith archives for many decades until it found itself reborn in 2017. Its renaissance has been an absolute blessing for a brand that needed an injection of vitality. You'll never hear me say a bad word about the El Primero, but the collection was visibly strained under the weight of carrying the brand's identity. When the classic sports chronograph style is executed conservatively and with patience at the drawing board, it is sublime; when it is forced into making waves, it can falter. The Defy range gave Zenith that outlet for a bit of zest, a vehicle in which the brand felt comfortable to pioneer its ultra-high-frequency concept movement, the Defy Lab.
A couple of years on from that mind-blowing experiment, we're seeing the Defy Classic rolled out in all manner of liveries, and it is pleasing to see just how up to the challenge it is. Something about the very "basic" case shape (which of course is meant as a compliment to the designers who no doubt spilled no little sweat over perfecting its pared-back lines) means it can carry off incredible internal complexity without feeling overawed.
The Zenith Defy Classic in Black Ceramic is about as perfect an example as I can think of, of a highly satisfying contemporary daily wear watch. An excellent brand, an esteemed heritage, a dynamic design, modern materials, and an affordable price. $7,500 seems like an absolute steal to me.
Brellum Pandial Black DLC Chronometer
When it comes to mixing high-levels of functionality with affordability, and wrapping it all up in a tasteful package that manages to look new and old all at the same time, Sebastian Muller's Brellum is hard to beat. While his most recent 17-piece limited edition (the Brellum Duobox LE.4 watch) was perhaps his most impressive from a functional perspective, it is the Brellum Pandial Black DLC Chronometer watch that always tickled my fancy.
The black and white display is satisfyingly crisp and the bulging box crystal gives the dial, which benefits from multiple surface finishes and polished, applied indices, a huge amount of depth. The 3D Wyvern logo at 3 o'clock elevates the piece to a level of luxury one might not expect to find for around $2,600.
Schofield Daymark Dark
Everybody has their biases, and one of mine as an English watchmaker myself is Schofield. Run by the engaging Giles Ellis, the Sussex-based brand has a strong cult following, mostly comprised of lovers of intellectual design. The details in these watches are apparent enough in photos, but the pieces truly come to life on the wrist.
Beyond their role as watches, Schofield products are exceptionally made objects. The inspirations taken from the world around us (especially maritime history and the Sussex countryside) are woven into an intricate whole that, like all good design, appears a lot more straightforward than it reveals itself to be once you begin unpacking and appreciating each element individually. 
The visual strength of a Schofield watch has a lot to do with the nature of its inspiration. By allowing old, ancient things to propel his creative process, Ellis, whether consciously or by some happy accident, has built objects that will endure because they are removed from the rapidly changing world of 2019. These are well-made things, built to evoke. And the Schofield Daymark Dark is perhaps the most closely knotted to the landscape that gave birth to it in the mind of its creator.
Timex American Documents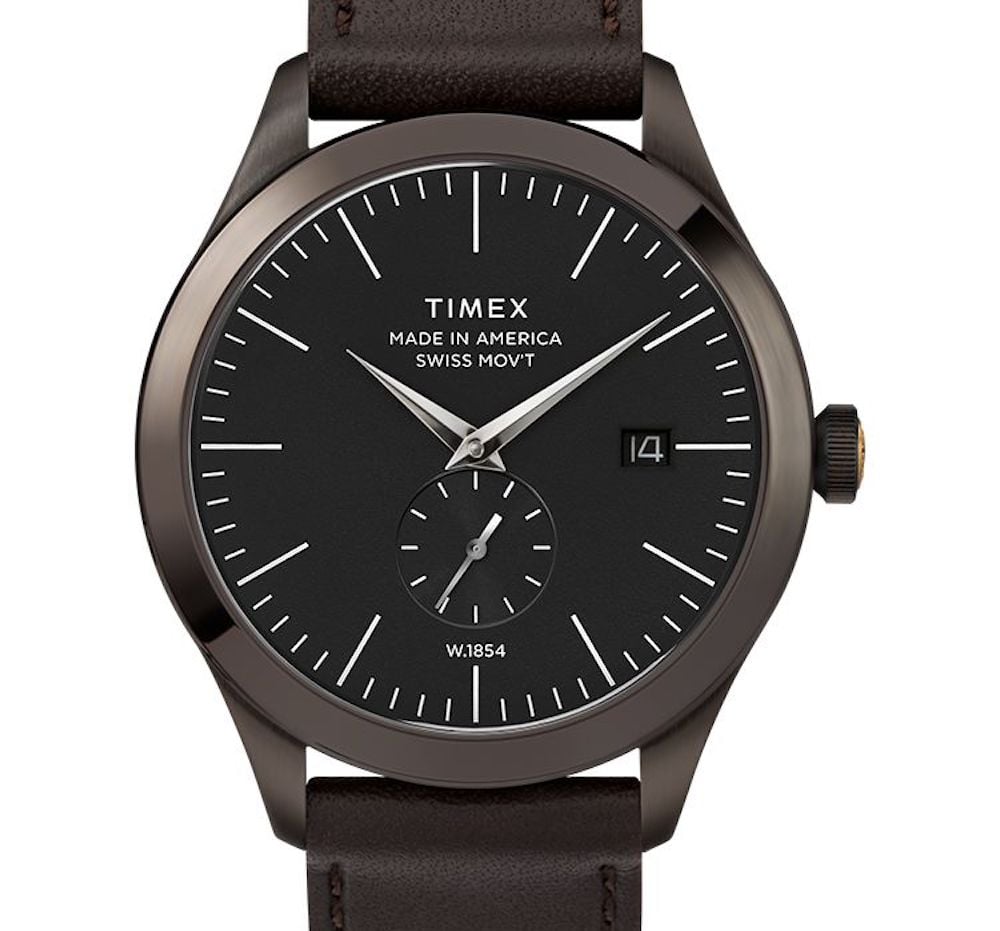 Now time for a curveball from the home of curveballs. I was a bit late cottoning on to the good work Timex has been doing in trying to bring some of their production back to home soil, but I know firsthand how difficult it is to make a commercially viable product using homegrown craftsmen and home sourced materials. But done it they have, and the result is a perfect balance between an homage to the company's past and a perfectly legible watch for the modern-day.
The Timex American Documents series has four main colorway options. There is a white dial, blue dial, gray dial, and black dial (in a gunmetal case and thus our choice for this list). All four watches have a three-hand display, with central hour and minute hands and a running seconds hand in a sub-dial located at 6 o'clock. Crucially, though, there is a date window at 3 o'clock on every piece. The reason that's so important is simple. Whether the date wheel is color-matched to the dial makes or breaks this design. 
The white dialed version is, therefore, a masterpiece of breezy clarity, with a relatively standard case enlivened by the flash of brass from the crown. The blue and gray dials are almost ruined by the white window, which is a shame because both would have looked fantastic if that extra effort had been taken while sourcing the movements from Switzerland (the only European component).
But it is the black dialed, black date windowed, black cased American Documents watch that steals the show. The brass inlay in the crown and the pressed brass medallion that decorates the caseback look amazing next to the IP-coated case. At $495, reaction to the pricing is mixed. As someone who is wholly desensitized to five, six, and even seven-figure sums changing hands for a wristwatch, anything under a grand seems cheap as chips (although that's not to say it's good value). And so I took this handsome looking watch, with a compelling story, and delightfully wholesome origins as quite the bargain. 
However, there seem to be plenty who believe that $495 warrants a cheap mechanical movement. I am inclined to disagree. Given Timex's need for a retail margin, these pieces can't be much cheaper (and certainly could not be as reliable) were they to be fitted with even the cheapest Asian movement (let alone Swiss). No, in this case, I believe Timex made the right call in going with quartz. And as a result, you can now own a slice of modern Americana for a very reasonable price indeed.